Your list is empty.
Save musicians, entertainers, speakers, and services, and they'll appear here.
Free Quick Quote
This vendor provides virtual services
Back to Princesses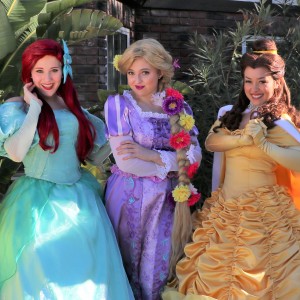 Star Brite Entertainment
4.82
(44 reviews)
Riverside, CA
Travels up to 60 miles
$125 and up depending on package desired.
Get a Free Quick Quote
Overview
Formerly Pixie Dust Entertainment, Star Brite Entertainment is one of the busiest Lookalike Character companies in So Cal! Authentic & Affordable! We take pride in our work & only have the best performers & artists. Whether it's a character, face painter or balloon twister, your performer will be professional & experienced. We use only the highest quality costumes & we pride ourselves on having the best lookalike princesses, heroes and characters. We don't cut corners! We offer several packages for every budget and can also customize your party to fit your needs. Let us help you to create magical special memories for you that you and your guests will never forget! Travel fee may apply.
---
---
Booking Info
Price Range: $125 and up depending on package desired.
Gig Length: 10 - 180 minutes
Insurance: $1,000,000 - We carry Commercial General Liabiliry Insurance.
What to Expect
All parties can be customized and we will do our best to accomodate your wishes.
Your party start off with your princess, superhero, character and/or party assistant will arrivie at your door and make a grand entrance.
He/She/they will mingle with the birthday child and take initial photos for about 5 minutes (also before she leaves). Your character will then talk with the kids about what being a true princess or superhero is all about, teach some "princess etiquette" or Superhero Training, read a story, sing, etc. (Activities vary by package).
If your package includes makeup, face painting, balloons or tattoos, your character or assistant will now take about 15-20 min for the activity (Time varies on amount of guests).

After games, music, singing, story time, etc, your character or assistant will lead the group in a birthday song and cake cutting with parents.
Depending on the time of your party, your character will take pictures with your guests and the guest of honor before or after cake, giving a round of hugs before departing.
p.s. Don't forget about the camera's, there are so many cute moments you wont want to miss.
About
Star Brite Entertainment is a family owned company with over 20 years experience in the party & entertainment business. We personally provide the entertainers for your event and take the steps to ensure that each actor is a professional performer, has experience with children & is trained appropriately. You can also be assured that the actors are "age appropriate" for the Princess or Character they are portraying (No 30yr-50yr old Princesses here! You'd be surprised...lol).
The owner, Karla is a former elementary school teacher and actress herself. With over 20 years of experience as an actor & singer, she knows talent & only hires the best! Not only is the entertainment top notch, our prices are highly competitive while giving you a memorable experience. It's true that you "get what you pay for", but it doesn't mean that it has to break the bank! We have packages to fit every budget. We fit in as many activities as we can in the time allotted, such as games, make up, singing, story time, dancing, Princess Etiquette, cake cutting, birthday song and more! We will also tailor your event to meet your specific needs of your group. So feel free to ask us what you'd like, and we will do our very best to accommodate.
Additional Booking Notes
Here are some details that will help make the Princess visit go smoothly. More FAQ are available on our website.
We request that you please save a spot for your performer(s) to park in the driveway or in front of the event location, so they will not have to fight to find parking and walk far. It also helps the party start on time as planned.
Please have water available for the character to drink throughout your party.
Have the children ready for the character's arrival and so they don't miss the Grand Entrance & also so she/he can start activities on time.
Please arrange for the eating time to be either before or after the character visit. For instance, if pizza arrives at the same time the character arrives, the two conflict with each other. We will not be able to stay passed the agreed up time due to other activities interfering.
Arrange for an area for you performer/s to conduct their activities, preferable away from loud music or bounce houses. Also, please provide a small table for the performer to place their items, a table and chairs for any face painting or makeup activities if applicable, a chair for Story Telling, and an area for the kids to sit on the ground to play games and enjoy the stories.
If the party is outside, please provide a blanket or tarp to sit on.
If your planning an outside party, please make sure the area is guarded from heat/sun, or from any wet weather. Have a clean, dry, shaded area for activities, free of dirt, mud, water and any other bad weather conditions that may cause an ill effect to the party activities and the guests.
Please be aware that if temperatures exceed 95 degrees, your Princess, Superhero or Character will need to be in a completely shaded area or indoors. If temperatures are too warm for you your performer to performer their duties comfortably and safely, please plan for indoor accommodations. Generally 95 degrees is the limit for face characters and 85 is the limit for mascot characters. Health and Safety is of the utmost importance. Please inquire within if you have any concerns regarding these guidelines. We are open to discussing alternatives.
And last but not least have your cameras ready throughout the party, you don't want to miss any special moments!
Services Offered
Past Booked Events
December 12, 2020

•

12:00pm - 8:00pm
Christmas Party

December 24, 2019

•

9:00pm - 10:00pm
Christmas Party

December 08, 2019

•

8:00am - 11:00am
Sporting Event

October 27, 2019

•

1:00pm - 2:00pm
Children's Birthday Party

October 06, 2019

•

4:00pm - 5:30pm
Children's Birthday Party

August 04, 2019

•

4:30pm - 7:00pm
Funeral/Memorial Service

July 14, 2019

•

4:30pm - 5:30pm
Children's Birthday Party

June 15, 2019

•

6:00pm - 8:00pm
Children's Birthday Party

May 26, 2019

•

4:00pm - 4:45pm
Children's Birthday Party

May 04, 2019

•

6:00pm - 7:00pm
Children's Birthday Party

April 28, 2019

•

4:30pm - 5:30pm
Children's Birthday Party

April 28, 2019

•

1:00pm - 1:30pm
Easter Party

April 20, 2019

•

3:00pm - 4:00pm
Festival

April 14, 2019

•

12:00pm - 1:00pm
Personal Occasion

March 16, 2019

•

3:00pm - 4:30pm
Children's Birthday Party

March 02, 2019

•

1:30pm - 3:00pm
Children's Birthday Party

December 24, 2018

•

6:00pm - 7:00pm
Christmas Party

September 22, 2018

•

1:00pm - 2:00pm
Children's Birthday Party

July 13, 2018

•

12:00pm - 12:30pm
Children's Birthday Party

June 24, 2018

•

11:00am - 12:30pm
Children's Birthday Party

May 27, 2018

•

1:30pm - 2:00pm
Children's Birthday Party

May 12, 2018

•

4:00pm - 5:00pm
Children's Birthday Party

May 12, 2018

•

12:00pm - 3:00pm
Children's Birthday Party

April 14, 2018

•

4:00pm - 4:30pm
Children's Birthday Party

April 01, 2018

•

9:30am - 11:30am
Easter Party

March 31, 2018

•

1:00pm - 4:00pm
Grand Opening

March 25, 2018

•

11:30am - 12:30pm
Religious Celebration

March 24, 2018

•

2:30pm - 4:00pm
Children's Birthday Party

March 24, 2018

•

2:00pm - 4:00pm
Easter Party

March 24, 2018

•

10:00am - 12:30pm
Easter Party

March 10, 2018

•

1:00pm - 2:00pm
Children's Birthday Party

February 24, 2018

•

3:00pm - 4:00pm
Children's Birthday Party

February 11, 2018

•

12:00pm - 1:00pm
Children's Birthday Party

February 10, 2018

•

2:30pm - 3:30pm
Children's Birthday Party

February 03, 2018

•

3:30pm - 4:30pm
Children's Birthday Party

January 13, 2018

•

4:00pm - 5:30pm
Children's Birthday Party

December 23, 2017

•

10:30am - 10:45am
Personal Occasion

December 22, 2017

•

12:30pm - 1:30pm
Children's Birthday Party

December 17, 2017

•

3:30pm - 4:30pm
Children's Birthday Party

December 02, 2017

•

2:30pm - 3:15pm
Children's Birthday Party

October 14, 2017

•

2:00pm - 3:00pm
Birthday (Child)

September 23, 2017

•

2:00pm - 3:30pm
Birthday (Child)

September 09, 2017

•

2:00pm - 3:30pm
Birthday (Child)

July 08, 2017

•

4:00pm - 5:00pm
Birthday (Child)

April 23, 2017

•

1:00pm - 2:00pm
Birthday (Child)
Setup Requirements
chair for performer/s
Private area for mascot to take water breaks (if applicable)
Water for performers (if applicable)