Your list is empty.
Save musicians, entertainers, speakers, and services, and they'll appear here.
Free Quick Quote
This vendor provides virtual services
Back to Johnny Depp Impersonators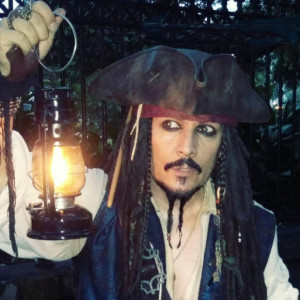 Jack Sparrowed
5.0
(143 reviews)
Los Angeles, CA
Travels up to 1500 miles
Contact for rates
Get a Free Quick Quote
Overview
California's Best Captain Jack Sparrow and Johnny Depp Impersonator! I not only look the part I sound and move exactly like Johnny Depp and Jack Sparrow. I have so much respect for Johnny and his work that I would never bother attempting such a unique endeavor if I did not feel 100% confident that I could do it both better and funnier than anyone else with both professionalism, and dignity! Every single day someone asks me if I am really Johnny Depp. Why not see for yourself? Savvy?
---
---
Booking Info
Price Range: Contact for rates
Gig Length: 60 - 360 minutes
What to Expect
BIRTHDAYS
- Treasure Hunt (to be arranged with parents beforehand)
- "Ask Jack" - Trivia Questions and Answers with prizes.
- Pirate Tutorial WITH Sword Fighting Lessons AND walk like Jack wiggle.
- Get sworn in as a member of the Black Pearl Crew
- Get your own Pirate tattoo (temporary of course)
WEDDINGS, PARTIES, CORPORATE GATHERINGS
- Make announcements, meet and greet
- role play
- distribute information, flyers, coupons
- photo and video opportunities
About
My name is Edgar Arenas, I am an actor and entertainer providing professional entertainment services for Birthday parties, weddings, engagement parties, corporate events, promotions and both photo and video shoots. I am an experienced corporate professional with 18 years of business management in the banking industry and a college graduate with degrees in Humanities and Social and Behavioral Sciences. I am a responsible parent and have years of experience working with children in schools, churches and athletics. I am also available for charity events, and as an experienced educator I am also available for school events including promoting literacy by reading to children, visiting schools to promote education and graduation ceremonies.
Additional Booking Notes
Now offering Virtual Services via Zoom Video Conferencing, IG video chat, or fb messenger video call.
Upcoming Booked Events
July 09, 2022

•

6:30pm - 8:30pm
Retirement Party

July 23, 2022

•

5:30pm - 7:00pm
Children's Birthday Party

August 06, 2022

•

8:00pm - 10:00pm
Children's Birthday Party

August 13, 2022

•

3:00pm - 5:00pm
Personal Occasion

September 17, 2022

•

4:00pm - 6:00pm
Birthday Party

October 22, 2022

•

9:00pm - 11:00pm
House Party

November 12, 2022

•

2:00pm - 5:00pm
Children's Birthday Party
Past Booked Events
June 25, 2022

•

4:30pm - 5:30pm
Children's Birthday Party

June 12, 2022

•

2:00pm - 3:00pm
Children's Birthday Party

June 04, 2022

•

6:30pm - 10:00pm
Corporate Event

May 15, 2022

•

3:00pm - 5:00pm
Children's Birthday Party

May 14, 2022

•

11:00am - 2:00pm
Children's Birthday Party

April 27, 2022

•

7:00pm - 7:45pm
Birthday Party

March 26, 2022–March 27, 2022

•

11:00pm - 1:00am
Children's Birthday Party

February 19, 2022

•

3:00pm - 5:00pm
Children's Birthday Party

February 19, 2022

•

12:00pm - 1:30pm
Children's Birthday Party

February 09, 2022

•

1:00pm - 2:00pm
Nonprofit Event

February 05, 2022

•

6:00pm - 7:00pm
Grand Opening

January 23, 2022

•

11:30am - 1:30pm
Children's Birthday Party

January 22, 2022

•

5:30pm - 6:00pm
Children's Birthday Party

January 19, 2022

•

9:00pm - 9:30pm
Virtual Event

January 19, 2022

•

12:00pm - 12:30pm
Birthday Party

January 15, 2022

•

4:00pm - 5:00pm
Children's Birthday Party

January 09, 2022

•

3:00pm - 4:30pm
Children's Birthday Party

January 02, 2022

•

4:00pm - 7:00pm
Children's Birthday Party

December 22, 2021

•

4:00pm - 5:00pm
Children's Birthday Party

December 11, 2021

•

8:00pm - 8:45pm
Birthday Party

December 04, 2021

•

12:30pm - 2:00pm
Children's Birthday Party

October 31, 2021

•

1:30pm - 3:00pm
Children's Birthday Party

October 24, 2021

•

12:30pm - 1:30pm
Children's Birthday Party

October 23, 2021

•

8:00pm - 8:30pm
Birthday Party

October 23, 2021

•

2:00pm - 3:30pm
Children's Birthday Party

October 20, 2021

•

5:00pm - 8:00pm
Birthday Party

October 16, 2021

•

5:00pm - 8:30pm
Halloween Party

September 26, 2021

•

3:00pm - 3:30pm
Children's Birthday Party

September 25, 2021

•

4:00pm - 11:00pm
Corporate Event

September 19, 2021

•

5:00pm - 7:00pm
Restaurant/Bar Event

September 18, 2021

•

4:00pm - 9:00pm
Corporate Event

September 11, 2021

•

4:00pm - 9:00pm
Corporate Event

September 05, 2021

•

12:00pm - 1:00pm
Children's Birthday Party

September 04, 2021

•

4:00pm - 9:00pm
Corporate Event

August 28, 2021

•

2:30pm - 4:30pm
Children's Birthday Party

August 14, 2021

•

7:00pm - 8:00pm
Children's Birthday Party

August 07, 2021

•

1:00pm - 7:00pm
Personal Occasion

August 05, 2021

•

7:00pm - 9:30pm
Concert

July 17, 2021

•

6:00pm - 8:00pm
Children's Birthday Party

July 09, 2021

•

6:30pm - 6:45pm
Retirement Party

June 27, 2021

•

3:30pm - 5:00pm
Children's Birthday Party

May 22, 2021

•

6:30pm - 6:45pm
Birthday Party

May 15, 2021

•

9:30pm - 9:45pm
Bachelor Party

May 15, 2021

•

3:00pm - 6:00pm
Children's Birthday Party

May 08, 2021

•

7:00pm - 7:30pm
Graduation

April 03, 2021

•

11:30am - 1:30pm
Children's Birthday Party

April 02, 2021

•

10:00am - 11:30am
Children's Birthday Party

March 20, 2021

•

4:00pm - 6:00pm
Children's Birthday Party

March 19, 2021

•

8:00pm - 8:30pm
Birthday Party

March 14, 2021

•

1:00pm - 2:00pm
Children's Birthday Party

March 06, 2021

•

4:30pm - 6:30pm
Children's Birthday Party

January 17, 2021

Children's Birthday Party

November 15, 2020

•

8:00pm - 10:00pm
Wedding Reception

November 10, 2020

•

11:00am - 1:00pm
Surprise

October 31, 2020

•

4:30pm - 5:00pm
Cocktail Party

October 25, 2020

•

4:00pm - 5:00pm
Virtual Event

October 24, 2020

•

7:00pm - 8:00pm
Virtual Event

October 02, 2020

•

7:15pm - 8:00pm
Birthday Party

October 01, 2020

•

12:00pm - 12:15pm
Virtual Event

September 18, 2020

•

9:30am - 10:00am
Corporate Event

May 26, 2020

•

10:30am - 11:00am
Virtual Event

March 07, 2020

•

2:00pm - 4:30pm
Children's Birthday Party

February 29, 2020

•

1:00pm - 3:00pm
Children's Birthday Party

February 01, 2020

•

2:30pm - 4:30pm
Children's Birthday Party

January 26, 2020

•

10:00am - 11:00am
House Party

December 31, 2019–January 01, 2020

•

8:00pm - 12:00am
New Year's Party

December 07, 2019

•

8:30pm - 10:30pm
Quinceañera

December 07, 2019

•

12:00pm - 12:45pm
Children's Birthday Party

November 17, 2019

•

11:00am - 1:30pm
Festival

October 31, 2019

•

2:00pm - 7:00pm
Corporate Event

October 26, 2019

•

9:30pm - 11:00pm
Halloween Party

October 26, 2019

•

12:00pm - 1:00pm
Children's Birthday Party

October 24, 2019

•

9:00pm - 11:00pm
Halloween Party

October 21, 2019

•

12:00pm - 12:15pm
Birthday Party

October 19, 2019

•

6:00pm - 8:00pm
Halloween Party

October 17, 2019

•

9:30am - 10:30am
Personal Occasion

September 28, 2019

•

1:00pm - 5:00pm
Children's Birthday Party

September 19, 2019

•

7:00pm - 10:00pm
Nonprofit Event

September 06, 2019

•

5:00pm - 6:30pm
Wedding Ceremony

August 24, 2019

•

9:00pm - 10:30pm
Birthday Party

August 17, 2019

•

7:00pm - 8:30pm
Teen Birthday Party

August 11, 2019

•

12:00pm - 12:30pm
Children's Birthday Party

August 10, 2019

•

5:00pm - 8:30pm
Nonprofit Event

August 09, 2019

•

6:00pm - 8:00pm
Corporate Event

July 31, 2019

•

7:30pm - 9:00pm
Corporate Event

July 27, 2019

•

8:00pm - 8:45pm
Birthday Party

July 27, 2019

•

12:00pm - 12:45pm
Children's Birthday Party

July 25, 2019

•

11:00am - 3:00pm
Corporate Event

July 20, 2019

•

1:00pm - 2:00pm
Nonprofit Event

June 22, 2019

•

12:00pm - 1:00pm
Children's Birthday Party

June 15, 2019

•

12:00pm - 1:30pm
Children's Birthday Party

June 08, 2019

•

8:00pm - 9:30pm
Graduation

May 30, 2019

•

6:00pm - 8:00pm
Corporate Event

May 20, 2019

•

2:30pm - 2:45pm
Birthday Party

May 18, 2019

•

3:00pm - 4:30pm
Children's Birthday Party

May 04, 2019

•

7:00pm - 10:00pm
Birthday Party

April 28, 2019

•

11:30am - 12:30pm
Children's Birthday Party

April 26, 2019

•

6:00pm - 8:00pm
Personal Occasion

April 13, 2019

•

12:00pm - 3:00pm
Convention/Trade Show

March 03, 2019

•

1:00pm - 2:30pm
Children's Birthday Party

February 17, 2019

•

12:30pm - 2:00pm
Children's Birthday Party

January 23, 2019

•

5:30pm - 7:00pm
Corporate Event

January 19, 2019

•

3:00pm - 4:30pm
Children's Birthday Party

January 18, 2019

•

8:30am - 11:30am
Campus Event

December 29, 2018

•

7:30pm - 9:00pm
Bar/Bat Mitzvah Party

December 15, 2018

•

6:00pm - 7:00pm
Corporate Event

December 01, 2018

•

12:00pm - 2:00pm
Children's Birthday Party

November 18, 2018

•

3:00pm - 5:00pm
Children's Birthday Party

November 17, 2018

•

2:30pm - 4:30pm
Children's Birthday Party

October 27, 2018

•

7:00pm - 9:00pm
House Party

October 20, 2018

•

6:00pm - 8:00pm
Halloween Party

October 13, 2018

•

5:30pm - 7:30pm
House Party

October 13, 2018

•

12:00pm - 3:00pm
Children's Birthday Party

September 23, 2018

•

3:30pm - 4:30pm
Children's Birthday Party

September 22, 2018

•

4:30pm - 5:30pm
Children's Birthday Party

September 21, 2018

•

4:00pm - 4:15pm
Birthday Party

September 09, 2018

•

12:00pm - 1:30pm
Children's Birthday Party

September 08, 2018

•

3:00pm - 4:00pm
Birthday Party

September 02, 2018

•

4:30pm - 5:15pm
Children's Birthday Party

August 25, 2018

•

4:00pm - 5:30pm
Children's Birthday Party

August 11, 2018

•

12:30pm - 4:30pm
Personal Occasion

July 29, 2018

•

1:00pm - 2:00pm
Children's Birthday Party

July 28, 2018

•

7:00pm - 7:30pm
Birthday Party

July 26, 2018

•

6:00pm - 10:00pm
Grand Opening

July 15, 2018

•

12:00pm - 12:45pm
Birthday Party

July 11, 2018

•

5:30pm - 11:00pm
Dinner Party

July 07, 2018

•

5:00pm - 7:00pm
Children's Birthday Party

June 16, 2018–June 17, 2018

•

10:00pm - 12:00am
Birthday Party

June 06, 2018

•

12:30pm - 2:30pm
Children's Birthday Party

June 02, 2018

•

4:00pm - 5:30pm
Children's Birthday Party

May 20, 2018

•

2:00pm - 4:00pm
Children's Birthday Party

May 09, 2018

•

3:30pm - 5:00pm
Children's Birthday Party

May 05, 2018

•

12:00pm - 2:30pm
Children's Birthday Party

April 28, 2018

•

3:00pm - 5:00pm
Children's Birthday Party

April 08, 2018

•

3:00pm - 4:30pm
Birthday Party

March 25, 2018

•

11:30am - 12:30pm
Children's Birthday Party

March 11, 2018

•

2:00pm - 3:00pm
Children's Birthday Party

March 10, 2018

•

6:30pm - 10:30pm
Fundraiser

March 10, 2018

•

2:00pm - 2:30pm
Children's Birthday Party

March 02, 2018

•

7:30pm - 9:30pm
House Party

February 17, 2018

•

2:00pm - 3:30pm
Children's Birthday Party

February 10, 2018

•

3:00pm - 5:00pm
Children's Birthday Party

January 20, 2018

•

2:00pm - 3:00pm
Children's Birthday Party

December 24, 2017

•

9:00pm - 9:30pm
Christmas Party

December 16, 2017–December 17, 2017

•

11:00pm - 12:30am
Birthday Party

December 16, 2017

•

5:30pm - 6:30pm
Children's Birthday Party

December 16, 2017

•

12:00pm - 1:00pm
Birthday (Child)

December 09, 2017

•

10:00pm - 11:00pm
Bar/Bat Mitzvah Party

December 03, 2017

•

5:00pm - 6:00pm
Children's Birthday Party

December 02, 2017

•

1:30pm - 3:00pm
Birthday (Child)

November 25, 2017

•

4:00pm - 5:30pm
Children's Birthday Party

November 18, 2017

•

5:00pm - 6:00pm
Birthday Party

November 04, 2017

•

9:00pm - 11:00pm
House Party

November 04, 2017

•

8:00pm - 9:00pm
Birthday (Adult)

October 21, 2017–October 22, 2017

•

9:30pm - 12:00am
Holiday Party (Halloween)

October 21, 2017

•

5:00pm - 8:00pm
Holiday Party (Halloween)

October 14, 2017

•

3:30pm - 5:00pm
Birthday (Child)

October 14, 2017

•

12:00pm - 3:00pm
Birthday (Child)

October 07, 2017

•

8:00pm - 11:00pm
Nonprofit Event

October 07, 2017

•

1:30pm - 3:00pm
Birthday (Child)

September 09, 2017

•

4:00pm - 5:00pm
Birthday (Child)

September 09, 2017

•

4:00pm - 6:00pm
Birthday (Child)

September 02, 2017

•

7:30pm - 9:00pm
Anniversary Party

August 19, 2017

•

3:30pm - 5:30pm
Birthday (Adult)

August 11, 2017

•

2:00pm - 4:00pm
Birthday (Child)

July 15, 2017

•

1:00pm - 2:00pm
Birthday (Child)

June 24, 2017

•

11:30am - 1:00pm
Birthday (Child)

May 18, 2017

•

5:30pm - 6:30pm
Campus Event

May 10, 2017

•

12:00pm - 12:30pm
Birthday (Adult)

March 04, 2017

•

4:00pm - 6:00pm
Birthday (Child)

January 28, 2017

•

2:30pm - 5:30pm
Birthday (Adult)

January 08, 2017

•

2:00pm - 6:00pm
Birthday (Child)

December 09, 2016

•

5:30pm - 8:30pm
Cocktail Party

November 11, 2016

•

3:00pm - 6:00pm
Birthday (Child)

October 22, 2016

•

7:00pm - 8:30pm
Holiday Party (Halloween)

October 22, 2016

•

1:00pm - 4:00pm
Birthday (Child)

October 19, 2016–October 20, 2016

•

11:00pm - 2:00am
Nonprofit Event

September 24, 2016

•

4:00pm - 7:00pm
House Party

August 13, 2016

•

2:00pm - 10:00pm
Birthday (Child)

June 11, 2016

•

5:00pm - 5:30pm
Graduation

May 07, 2016

Birthday (Child)

December 26, 2015

Birthday (Child)

November 07, 2015

Birthday (Child)

October 31, 2015

Holiday Party (Halloween)

August 16, 2015

Birthday (Child)

October 02, 2014

Other