Your list is empty.
Save musicians, entertainers, speakers, and services, and they'll appear here.
Free Quick Quote
This vendor provides virtual services
Back to Santa Clauses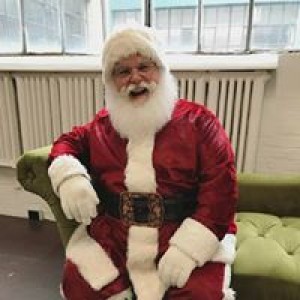 Indy Santa Fred
4.97
(26 reviews)
Indianapolis, IN
Travels up to 30 miles
Contact for rates.
Get a Free Quick Quote
Overview
Schedule Your Virtual Santa Visit For Christmas 2020.
Year-round Santa. Yes, his beard is real. You will feel the magic when you meet Indy Santa Fred. Bring a smile no matter what time of year: Birthdays, Proposals, Weddings, Valentine's Day, Christmas in July. Homes, daycares, schools, parties, churches, nursing homes, TV spots, videos. Recipient of the 2013 Community Citizenship Award by RE/MAX for years of hard work & dedication of bringing happiness to all ages as Santa Claus. Visits within Indianapolis & surrounding counties.
Speak with Santa and even Mrs. Claus online.
Mrs. Claus Photography offers Your Beautiful Photos.
Private studio photos by appointment are available.
---
---
Booking Info
Price Range: Contact for rates.
Gig Length: 15 - 300 minutes
Languages: American Sign Language, English
Insurance: $1,000,000 - Liability and Background
What to Expect
Santa can make a quick or long visit as needed to deliver a gift, share in pictures, talk to the guests informally, tell a story or as agreed upon in advance. Santa often places gifts. Santa usually has a little talk and some pictures taken during the visit. Santa can dress more casual for breakfasts or be dressed in his Santa suit. Santa also has a Polar Bear Express suit which can be worn upon request.
Indy Santa Fred can give references when needed.
The fee will be determined by what is needed for the event.
Mrs. Claus or a Elf can accompany Santa. Mrs. Claus can bring a puppet named "Jingles Noel". Santa and Mrs. Claus can sing songs. (A song can be taught in sign language.) Special Elf names can be given to each child. See Indy Santa Fred's website: www.santaknowshomes.com. Santa can send a video for an event upon given details in advance. www.SantaSaysHi.com
Mrs. Claus has an interest in photography. She would be happy to take photos of your visit with Indy Santa Fred.
The visit can be short or a longer stay within the Indianapolis metropolitan area.
Indy Santa Fred wants the process (visit) to be for Riley Children's Hospital. Often toys and other items are part of the donation to the Hospital. Also supported are other charities like Anna's House, Kendra's Call for Komfort, and Visiually Impaired Preschool Services.
Being also an Auctioneer Santa can be involved in fundraising too.
About
Real Bearded year round Santa.
Santa at Christmas or Christmas in July, as well as, other times as needed, will make a personal visit to a home or business event.
Indy Santa Fred believes that being Santa is much more than putting on a red suit. He believes in bringing love, joy, compassion, and the magic of Christmas to everyone.
Indy Santa Fred has been given a special gift to be Santa. You will feel the magic when you meet him.
Community Citizenship Award
(The following is the speech that was given when Indy Santa Fred was presented with the 2013 Community Citizenship Award by Re/Max.)
"Indy Santa Fred is recognized as Santa everywhere he goes. With his real Santa beard, he has brought joy and happiness to countless children and organizations for more than 20 years.
Indy Santa Fred has helped with fundraisers for Anna's House, Servant's Heart Pantry, and Kendra's Call for Komfort just to name a few. He has generated funds for numerous schools, daycares, and churches, many of the donations going to Children's Miracle Network.
In his community, Santa Fred would qualify as a good Samaritan. He often visits the elderly in their homes. He has been seen pushing stalled cars in his Santa suit. And even without the red suit, he takes the time to stop and smile for a picture when asked. Santa Fred believes that the Christmas spirit should be spread year-round. And when his 'regular clients' that visit Indy Santa give him gifts to give others, he makes sure that those gifts get to Riley Children's Hospital. For his many years of hard work and dedication, we present the 2013 Community Citizenship award to Indy Santa Fred."
Education and Training: Bachelor of Santa Claus, The International University of Santa Claus, Santa Technical School, Behind the Red Suit, Christmas Performer Workshops in storytelling, The Business of Santa Claus, The Santa Claus Conservatory, Professional Santa Claus School.
Additional Booking Notes
The type of event, guest present, and individual information of guest, type, and location of entry, seating location or area to mingle with guests must be pre-planned. Even the scheduled online visit or teaching storytelling is best when pre-planned.
Past Booked Events
December 24, 2020

•

6:00pm - 6:30pm
Surprise

December 21, 2020

•

10:00am - 10:45am
Nonprofit Event

December 20, 2020

•

11:30am - 11:45am
Surprise

December 16, 2020

•

1:00pm - 1:30pm
Personal Occasion

December 09, 2020

•

1:00pm - 10:00pm
cake bake

December 02, 2020

•

1:00pm - 10:00pm
santa cake bake

November 30, 2020

•

5:00pm - 5:30pm
Personal Occasion

December 25, 2019

•

4:00pm - 4:30pm
House Party

December 25, 2019

•

1:00pm - 1:15pm
Christmas Party

December 24, 2019

•

6:00pm - 6:30pm
Personal Occasion

December 23, 2019

•

6:00pm - 6:45pm
Christmas Party

December 22, 2019

•

7:00pm - 8:00pm
Christmas Party

December 21, 2019

•

7:30pm - 8:30pm
Christmas Party

December 21, 2019

•

4:00pm - 5:00pm
Christmas Party

December 16, 2019

•

7:00pm - 8:30pm
Christmas Party

December 14, 2019

•

8:30pm - 9:15pm
Christmas Party

December 28, 2018

•

6:00pm - 6:30pm
Christmas Party

December 24, 2018

•

5:30pm - 6:00pm
Personal Occasion

December 24, 2018

•

5:00pm - 5:15pm
Christmas Party

December 24, 2018

•

5:00pm - 5:30pm
Christmas Party

December 24, 2018

•

4:00pm - 5:00pm
Christmas Party

December 22, 2018

•

7:00pm - 8:00pm
Christmas Party

December 16, 2018

•

4:30pm - 5:00pm
Christmas Party

December 15, 2018

•

8:00pm - 9:00pm
Christmas Party

December 08, 2018

•

8:30am - 10:30am
Christmas Party

November 24, 2018

•

6:00pm - 10:00pm
Town Parade, Tree Lighing, visits

July 29, 2018

•

1:00pm - 3:00pm
Indy Mompreveuars

July 19, 2018

•

6:00pm - 8:00pm
Visit children & parents at children's hospital

December 24, 2017

•

6:00pm - 6:30pm
Personal Occasion

December 22, 2017

•

8:00pm - 9:00pm
Christmas Party

December 22, 2017

•

12:00pm - 1:30pm
Corporate Event

December 20, 2017

•

1:30pm - 2:30pm
School Assembly

December 15, 2017

•

6:30pm - 7:00pm
House Party

December 09, 2017

•

5:30pm - 7:30pm
Holiday Party (Christmas)

December 09, 2017

•

12:00pm - 1:30pm
Birthday (Child)

November 18, 2017

•

8:00am - 4:00pm
Studio Session

November 10, 2017

•

4:30pm - 9:00pm
Christmas Party

December 24, 2016

•

6:30pm - 7:15pm
Personal Occasion

December 23, 2016

•

7:30pm - 8:15pm
Holiday Party (Christmas)

December 22, 2016

•

12:00pm - 12:30pm
Holiday Party (Christmas)

December 14, 2016

•

6:30pm - 8:00pm
Nonprofit Event

December 10, 2016

•

8:00pm - 8:30pm
Holiday Party (Christmas)

December 10, 2016

•

10:00am - 12:00pm
Office Visit Private

December 03, 2016

•

6:00pm - 9:00pm
Santa Rockin Charity Event Indy

December 03, 2016

•

1:00pm - 4:00pm
Plainfield Charity Visit Public

December 03, 2016

•

8:00am - 10:00pm
Breakfast @ Church

November 30, 2016

•

5:00pm - 8:00pm
Ronald McDonald House Diner Visit

November 29, 2016

•

11:00am - 5:00pm
Start Season Downtown Indy Public Visits

November 24, 2016

•

5:00pm - 8:00pm
Thanksgiving Diner, Food Pantry

December 19, 2015

Holiday Party (Christmas)

December 18, 2015

Holiday Party (Christmas)

December 09, 2015

Holiday Party (Other)

December 08, 2015

Holiday Party (Christmas)

November 21, 2015

Studio Session

December 24, 2014

Private Party
Influences & Inspiration
International Brotherhood of Real Bearded Santa's IBRBS
Community Citizenship Award from RE/MAX
Santa and the Business of Being Santa, School
Member and Teacher to other Santas in Hoosier Santa's
Member Bluegrass Santas
Member of The Santa Claus Conservatory
Safety considerations with health and environment
Setup Requirements
large, soft chair
a crowd control person