Your list is empty.
Save musicians, entertainers, speakers, and services, and they'll appear here.
Free Quick Quote
This vendor provides virtual services
Back to Costumed Characters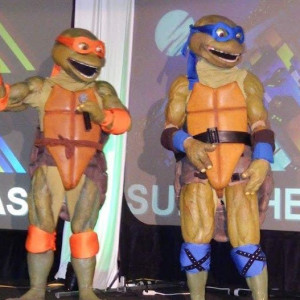 Ohio Turtle Fan
4.92
(122 reviews)
Columbus, OH
Travels up to 120 miles
We will work with you
Get a Free Quick Quote
Overview
We are a local TMNT and comic hero fan club with a collection of really awesome ninja turtle costumes. We are available for charitable events, private parties, comic conventions what ever. We just love being turtles and entertaining others who like Ninja Turtles. We have the best most realistic and authentic costumes out there, some are fully animatronic.
We offer a host of other comic hero and cartoon characters beyond Ninja Turtles in all cases our costumes are the best looking costume available. We want the quality of the character to be what we expected when we were young not a cheep costume from china.
We support many charitable groups so help us help others by giving us a try.
---
---
Booking Info
Price Range: We will work with you
Gig Length: 60 - 120 minutes
Upcoming Booked Events
December 07, 2022

•

7:00pm - 7:15pm
Children's Birthday Party

December 11, 2022

•

1:00pm - 3:00pm
Children's Birthday Party
Past Booked Events
October 22, 2022

•

1:30pm - 2:30pm
Children's Birthday Party

October 01, 2022

•

3:30pm - 5:00pm
Reunion

September 10, 2022

•

4:30pm - 6:30pm
Children's Birthday Party

September 10, 2022

•

12:00pm - 12:45pm
Festival

September 03, 2022

•

1:00pm - 1:30pm
Children's Birthday Party

August 28, 2022

•

6:00pm - 7:00pm
Children's Birthday Party

August 27, 2022

•

2:00pm - 3:30pm
Children's Birthday Party

August 21, 2022

•

1:00pm - 3:00pm
Children's Birthday Party

July 31, 2022

•

11:00am - 3:00pm
Restaurant/Bar Event

July 09, 2022

•

11:30am - 12:00pm
Children's Birthday Party

July 02, 2022

•

6:00pm - 7:00pm
Children's Birthday Party

June 26, 2022

•

11:30am - 1:00pm
House Party

June 20, 2022

•

9:00am - 11:00am
Personal Occasion

June 13, 2022

•

6:00pm - 6:45pm
Nonprofit Event

May 21, 2022

•

2:00pm - 3:30pm
Children's Birthday Party

May 15, 2022

•

3:30pm - 4:00pm
Children's Birthday Party

April 30, 2022

•

2:00pm - 3:00pm
Children's Birthday Party

April 24, 2022

•

4:00pm - 4:15pm
Children's Birthday Party

April 16, 2022

•

12:00pm - 2:30pm
Easter Party

April 16, 2022

•

8:00am - 11:30am
Easter Party

April 10, 2022

•

8:30am - 2:30pm
Easter Party

April 09, 2022

•

1:00pm - 3:00pm
Easter Party

April 09, 2022

•

10:00am - 11:30am
Nonprofit Event

April 02, 2022

•

12:00pm - 12:45pm
Easter Party

March 26, 2022

•

7:00pm - 10:00pm
School Assembly

March 21, 2022

•

12:00pm - 12:15pm
Birthday Party

March 19, 2022

•

2:30pm - 3:30pm
Children's Birthday Party

March 13, 2022

•

6:00pm - 6:15pm
Birthday Party

March 12, 2022

•

12:00pm - 12:30pm
Children's Birthday Party

March 05, 2022

•

2:00pm - 2:30pm
Children's Birthday Party

February 17, 2022

•

10:30am - 10:45am
Surprise

February 12, 2022

•

7:00pm - 10:00pm
School Assembly

December 19, 2021

•

3:00pm - 6:00pm
Nonprofit Event

December 18, 2021

•

8:00pm - 9:00pm
Concert

December 15, 2021

•

12:30pm - 1:30pm
Christmas Party

November 20, 2021

•

5:00pm - 6:00pm
Children's Birthday Party

November 13, 2021

•

5:00pm - 6:30pm
Children's Birthday Party

October 31, 2021

•

3:30pm - 5:30pm
Children's Birthday Party

October 23, 2021

•

6:30pm - 7:15pm
Children's Birthday Party

October 23, 2021

•

1:00pm - 1:45pm
Children's Birthday Party

October 16, 2021

•

11:00am - 1:00pm
Festival

October 03, 2021

•

3:00pm - 4:00pm
Children's Birthday Party

October 02, 2021

•

4:30pm - 5:30pm
Children's Birthday Party

September 24, 2021

•

1:00pm - 3:00pm
Nonprofit Event

September 11, 2021

•

3:00pm - 4:00pm
Children's Birthday Party

September 05, 2021

•

3:30pm - 4:15pm
Reunion

August 27, 2021

•

3:30pm - 4:30pm
Children's Birthday Party

August 24, 2021

•

5:00pm - 5:30pm
Children's Birthday Party

August 08, 2021

•

3:00pm - 3:45pm
Children's Birthday Party

August 07, 2021

•

4:30pm - 5:30pm
Reunion

August 04, 2021

•

9:30am - 10:30am
Personal Occasion

July 31, 2021

•

5:00pm - 7:00pm
Children's Birthday Party

July 24, 2021

•

11:30am - 12:00pm
Children's Birthday Party

July 17, 2021

•

2:00pm - 2:30pm
Children's Birthday Party

July 10, 2021

•

5:00pm - 5:30pm
Children's Birthday Party

July 01, 2021

•

12:00pm - 2:00pm
Children's Birthday Party

June 20, 2021

•

4:00pm - 5:00pm
Baby Shower

June 12, 2021

•

4:00pm - 4:15pm
Children's Birthday Party

June 08, 2021

•

10:00am - 12:00pm
School Assembly

June 06, 2021

•

1:30pm - 2:00pm
Children's Birthday Party

May 29, 2021

•

3:30pm - 3:45pm
Religious Celebration

May 23, 2021

•

3:00pm - 4:30pm
Children's Birthday Party

May 15, 2021

•

2:00pm - 2:45pm
Children's Birthday Party

April 25, 2021

•

4:00pm - 5:00pm
Children's Birthday Party

April 24, 2021

•

7:00pm - 7:45pm
Children's Birthday Party

April 18, 2021

•

3:00pm - 3:45pm
Children's Birthday Party

April 11, 2021

•

4:00pm - 5:00pm
Children's Birthday Party

April 03, 2021

•

12:00pm - 2:00pm
Personal Occasion

April 03, 2021

•

8:30am - 10:30am
Easter Party

March 30, 2021

•

5:30pm - 6:00pm
Easter Party

March 28, 2021

•

12:30pm - 1:30pm
Personal Occasion

March 27, 2021

•

12:00pm - 2:00pm
Easter Party

March 27, 2021

•

10:00am - 11:00am
Nonprofit Event

March 26, 2021

•

7:30pm - 8:00pm
Children's Birthday Party

March 25, 2021

•

6:00pm - 7:00pm
Children's Birthday Party

March 20, 2021

•

4:30pm - 5:30pm
Children's Birthday Party

January 23, 2021

•

6:00pm - 7:00pm
Children's Birthday Party

January 02, 2021

•

4:00pm - 4:30pm
Children's Birthday Party

December 31, 2020

•

12:00pm - 12:30pm
Children's Birthday Party

December 20, 2020

•

4:00pm - 5:45pm
Children's Birthday Party

December 11, 2020

•

12:00pm - 1:30pm
Corporate Event

December 05, 2020

•

12:00pm - 4:00pm
Nonprofit Event

November 21, 2020

•

1:00pm - 1:15pm
Children's Birthday Party

November 18, 2020

•

11:30am - 12:30pm
Nonprofit Event

October 18, 2020

•

3:00pm - 3:30pm
Children's Birthday Party

September 13, 2020

•

4:30pm - 5:00pm
Personal Occasion

September 12, 2020

•

3:00pm - 4:30pm
Children's Birthday Party

September 12, 2020

•

12:00pm - 1:00pm
Children's Birthday Party

September 06, 2020

•

1:30pm - 2:00pm
Children's Birthday Party

September 05, 2020

•

4:00pm - 5:00pm
Children's Birthday Party

August 29, 2020

•

1:00pm - 2:00pm
Nonprofit Event

August 15, 2020

•

3:00pm - 4:00pm
Children's Birthday Party

July 25, 2020

•

1:30pm - 4:00pm
Parade

July 04, 2020

•

5:30pm - 6:00pm
Children's Birthday Party

July 01, 2020

•

5:00pm - 5:45pm
Children's Birthday Party

May 02, 2020

•

11:00am - 11:15am
Children's Birthday Party

December 18, 2019

•

6:00pm - 7:30pm
Christmas Party

December 15, 2019

•

2:00pm - 4:00pm
Christmas Party

October 26, 2019

•

2:00pm - 2:15pm
Birthday Party

October 13, 2019

•

1:00pm - 1:30pm
Teen Birthday Party

October 11, 2019

•

1:00pm - 2:00pm
Children's Birthday Party

September 29, 2019

•

3:00pm - 4:00pm
Children's Birthday Party

September 08, 2019

•

1:30pm - 3:00pm
Children's Birthday Party

August 18, 2019

•

5:00pm - 6:00pm
Children's Birthday Party

July 07, 2019

•

12:00pm - 1:00pm
Children's Birthday Party

July 05, 2019

•

4:30pm - 5:00pm
Children's Birthday Party

June 30, 2019

•

5:00pm - 6:00pm
Children's Birthday Party

June 29, 2019

•

4:00pm - 5:00pm
Children's Birthday Party

June 29, 2019

•

12:30pm - 1:30pm
Teen Birthday Party

June 20, 2019

•

10:00am - 11:00am
School Assembly

May 20, 2019

•

10:00am - 10:15am
Birthday Party

May 05, 2019

•

12:00pm - 1:00pm
Children's Birthday Party

April 27, 2019

•

2:30pm - 3:00pm
Surprise

March 31, 2019

•

1:00pm - 1:30pm
Children's Birthday Party

March 30, 2019

•

5:00pm - 6:00pm
Children's Birthday Party

March 09, 2019

•

2:00pm - 3:00pm
Children's Birthday Party

December 15, 2018

•

6:30pm - 7:00pm
Christmas Party

December 06, 2018

•

5:30pm - 7:00pm
Christmas Party

December 04, 2018

•

4:30pm - 5:30pm
Christmas Party

December 02, 2018

•

4:00pm - 5:00pm
Children's Birthday Party

December 01, 2018

•

8:00pm - 10:00pm
Christmas Party

December 01, 2018

•

6:00pm - 7:00pm
Christmas Party

November 17, 2018

•

12:30pm - 2:30pm
Children's Birthday Party

October 20, 2018

•

5:00pm - 6:30pm
Halloween Party

October 07, 2018

•

12:00pm - 1:30pm
Children's Birthday Party

September 22, 2018

•

1:00pm - 2:00pm
Children's Birthday Party

September 16, 2018

•

1:30pm - 2:30pm
Children's Birthday Party

August 26, 2018

•

1:30pm - 2:30pm
Children's Birthday Party

July 07, 2018

•

6:00pm - 7:00pm
Children's Birthday Party

July 07, 2018

•

1:00pm - 1:30pm
Children's Birthday Party

May 12, 2018

•

3:30pm - 4:30pm
Children's Birthday Party

April 22, 2018

•

2:30pm - 4:00pm
Children's Birthday Party

April 21, 2018

•

11:00am - 1:00pm
Children's Birthday Party

April 08, 2018

•

3:00pm - 3:30pm
Children's Birthday Party

March 28, 2018

•

6:00pm - 7:00pm
Children's Birthday Party

March 24, 2018

•

5:00pm - 7:00pm
Personal Occasion

December 30, 2017

•

7:30pm - 8:30pm
Christmas Party

December 22, 2017

•

5:00pm - 7:00pm
Corporate Event

December 15, 2017

•

5:00pm - 7:00pm
Corporate Event

December 02, 2017

•

11:00am - 1:00pm
Corporate Event

November 24, 2017

•

10:00am - 2:00pm
Corporate Event

October 22, 2017

•

12:30pm - 1:00pm
Birthday (Child)

October 15, 2017

•

2:30pm - 5:00pm
Birthday (Child)

October 14, 2017

•

2:30pm - 3:30pm
Birthday (Child)

September 30, 2017

•

2:30pm - 4:00pm
Birthday (Child)

September 10, 2017

•

2:00pm - 3:00pm
Birthday (Child)

September 03, 2017

•

5:00pm - 6:00pm
Birthday (Child)

September 03, 2017

•

1:30pm - 2:15pm
Birthday (Child)

September 02, 2017

•

2:00pm - 2:30pm
Birthday (Child)

August 12, 2017

•

1:00pm - 2:00pm
Birthday (Child)

August 11, 2017

•

1:00pm - 2:30pm
Surprise

June 17, 2017

•

2:00pm - 3:30pm
Birthday (Child)

June 04, 2017

•

10:30am - 11:30am
Birthday (Child)

May 13, 2017

•

6:30pm - 7:30pm
Birthday (Child)

April 22, 2017

•

3:00pm - 3:45pm
Birthday (Child)

April 21, 2017

•

6:00pm - 6:30pm
Birthday (Child)

April 01, 2017

•

2:00pm - 3:00pm
Birthday (Child)

February 26, 2017

•

3:00pm - 4:30pm
Birthday (Child)

February 24, 2017

•

7:00pm - 7:30pm
Birthday (Child)

February 12, 2017

•

1:30pm - 2:00pm
Birthday (Child)

February 11, 2017

•

3:00pm - 5:00pm
Birthday (Child)

January 07, 2017

•

1:00pm - 1:45pm
Birthday (Child)

December 04, 2016

•

4:30pm - 5:00pm
Birthday (Child)

December 03, 2016

•

1:00pm - 3:00pm
Birthday (Child)

November 26, 2016

•

4:00pm - 5:00pm
Birthday (Child)

November 20, 2016

•

5:30pm - 7:30pm
Birthday (Child)

November 20, 2016

•

1:00pm - 3:00pm
Birthday (Child)

October 27, 2016

•

5:30pm - 7:00pm
Holiday Party (Halloween)

October 22, 2016

•

2:00pm - 3:00pm
Birthday (Child)

October 08, 2016

•

3:00pm - 3:45pm
Birthday (Child)

October 01, 2016

•

1:30pm - 2:15pm
Birthday (Child)

September 24, 2016

•

5:00pm - 6:00pm
Birthday (Child)

September 24, 2016

•

12:00pm - 12:45pm
Birthday (Child)

September 17, 2016

•

3:30pm - 4:30pm
Birthday (Child)

September 11, 2016

•

3:00pm - 5:00pm
Birthday (Teen)

August 21, 2016

•

2:30pm - 3:15pm
Birthday (Child)

August 19, 2016

•

6:30pm - 7:30pm
Wedding Cocktail Hour

August 08, 2016

•

7:00pm - 9:00pm
Surprise

July 21, 2016

Birthday (Child)

July 16, 2016

Birthday (Child)

July 14, 2016

•

4:00pm - 6:00pm
House Party

July 02, 2016

Birthday (Child)

June 16, 2016

•

1:00pm - 3:00pm
Festival

June 04, 2016

•

2:30pm - 3:30pm
Birthday (Child)

June 03, 2016

•

6:00pm - 8:00pm
Birthday (Child)

May 21, 2016

•

1:00pm - 5:30pm
Birthday (Child)

May 14, 2016

•

3:00pm - 3:45pm
Birthday (Child)

May 11, 2016

•

3:30pm - 4:00pm
Birthday (Child)

May 07, 2016

•

2:00pm - 4:00pm
Birthday (Child)

May 01, 2016

•

3:00pm - 4:00pm
Birthday (Child)

April 24, 2016

•

4:30pm - 6:30pm
Birthday (Child)

April 23, 2016

•

4:30pm - 5:00pm
Birthday (Child)

April 23, 2016

•

12:00pm - 2:00pm
Birthday (Child)

April 17, 2016

•

3:00pm - 7:00pm
Birthday (Child)

April 02, 2016

•

3:00pm - 8:00pm
Birthday (Child)

March 13, 2016

Birthday (Child)

March 12, 2016

Birthday (Child)

March 07, 2016

•

6:00pm - 7:30pm
Birthday (Child)