Your list is empty.
Save musicians, entertainers, speakers, and services, and they'll appear here.
Free Quick Quote
This vendor provides virtual services
Back to Steel Drum Players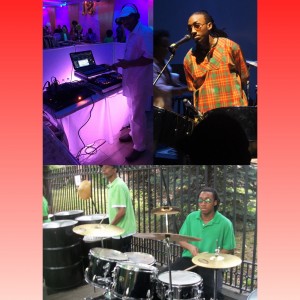 DJ PanRas
4.71
(27 reviews)
Jamaica, NY
Travels up to 90 miles
$75 and up
Get a Free Quick Quote
Overview
*14 years experience *Drumset player
*Musical Arranger *Music Teacher
*Master's degree *DJ
* DJ (all occasions)
* Swim Instructor
---
---
Booking Info
Gig Length: 30 - 300 minutes
Languages: English, Spanish, Creole
What to Expect
1. A client shall expect a variety of genres
2. A variety of styles of music
3. Great singing voice
4. An enjoyable time
5. Request songs
About
Aeron's spent his childhood from the age of three in the West Indian creole speaking island of St Lucia. His father has been an aspiring Elton John and Winfred Atwell piano player all his life, and loves the Mighty Sparrow. His mother was a singer back in London. According to Aeron's mother, she brought him to St Lucia for the first time to attend his dear grandmother's funeral. Upon return back to New York, Aeron cried feverishly, refusing to board the airplane. She calls his father telling him the situation and he insists to leave him in St Lucia. His mother agreed to keep him with his Aunts and Uncles in until he grew old enough to make his own decision to return. Aeron comes from a non-musical family. He picked up his first music instrument, the recorder in high school. Aeron spent five years of his education in high school. He only took up basic music theory during his first year, under the leadership of Ms. Jean-Louis. However, Aeron's encounter with the steel drum instrument occurred by coincidence.
It was partly cloudy Sunday afternoon and Aeron recalled that him and his best friend Denva heard the sweet sound of calypso music coming from the back of a supermarket where they went to purchase groceries for their parents. They immediately went to the director Mr. Hausan "Zoro" Griffith, and encouraged them to attend practice sessions held every Saturday for the summer program. Aeron went to rehearse two Saturday's there after. "Zoro" was ecstatic of Aeron's growth, dedication and passion for the steel drum and so he placed with the senior group known as the the Courts Babonneau big band Steel Orchestra. Aeron recalls the exact date he joined, Febraury 6th 2004. The big band arranger, Mr. Alison "Junior" Marquis met and signed him up to perform the Panorama Steel drum festival, held every year during carnival in July. From that moment on, Aeron has performed 18 panorama festivals with five different band, both in New York and St Lucia respectively. He taught himself the various steel drum instruments including the various types of basses, the double second and tenor pan just to name a few. He also grew a gratifying passion for arranging music while exploring the different steel drum instruments.
After graduating from high school Aeron decided that he would work full time with his steel band group to save money to return to New York City to attend college. He then returned to New York after two years where he applied and was accepted to the Queens Borough Community College. He changed his major once from Music Production to Music Performance and later transferred to Florida Memorial University after a year and a half at Queens Borough Community College. When asked why he chose Florida Memorial University, he states that he was thirsty to take his already learned knowledge of music theory to Miami Florida to learn what college life is away from home. Years later, Aeron is thankful to all those who contributed to his success in life. He is currently owning his business, performing and teaching music and swim lessons.
Additional Booking Notes
1. Food (preferably lol)
2. electricity
3. beverages
Services Offered
Past Booked Events
June 20, 2020

•

5:00pm - 8:00pm
Birthday Party

May 31, 2020

•

4:00pm - 5:30pm
Birthday Party

May 22, 2020

•

12:00pm - 12:30pm
Cocktail Party

March 10, 2020

•

6:30pm - 8:00pm
Holiday Party

November 16, 2019

•

6:00pm - 7:00pm
Baby Shower

September 07, 2019

•

4:30pm - 8:00pm
Birthday Party

July 28, 2019

•

1:00pm - 3:00pm
Birthday Party

March 30, 2019

•

4:00pm - 6:00pm
Birthday Party

February 01, 2019

•

5:00pm - 6:30pm
Birthday Party

December 08, 2018–December 09, 2018

•

7:00pm - 12:00am
Graduation

December 01, 2018

•

3:00pm - 4:30pm
Christmas Party

November 24, 2018

•

10:30am - 12:30pm
Funeral/Memorial Service

November 02, 2018

•

4:30pm - 6:30pm
Wedding Ceremony

September 15, 2018

•

6:30pm - 10:30pm
Nonprofit Event

September 06, 2018

•

6:00pm - 8:00pm
Corporate Event

August 19, 2018

•

4:00pm - 7:00pm
Birthday Party

June 12, 2018

•

12:00pm - 2:00pm
Retirement Community Event

May 10, 2018

•

2:00pm - 5:00pm
Product Promotion

May 05, 2018

•

4:30pm - 5:30pm
Wedding Ceremony

November 11, 2017

•

9:30pm - 11:30pm
Birthday (Adult)

November 08, 2017

•

6:30pm - 8:30pm
Cocktail Party

October 28, 2017

•

5:30pm - 9:30pm
Religious Celebration

July 23, 2017

•

10:00am - 11:30am
Religious Celebration

July 01, 2017

•

6:00pm - 8:00pm
Birthday (Adult)

June 10, 2017

•

1:00pm - 4:00pm
Birthday (Adult)

June 03, 2017

•

12:00pm - 2:30pm
Holiday Party (Other)

May 05, 2017

•

7:00pm - 8:00pm
Wedding Cocktail Hour

April 22, 2017

•

7:00pm - 8:00pm
Birthday (Adult)

March 12, 2017

•

12:00pm - 1:00pm
Wedding Cocktail Hour

March 04, 2017

•

7:30pm - 9:30pm
Anniversary Party

February 22, 2017

•

3:00pm - 8:00pm
Corporate Event

November 10, 2016

•

6:00pm - 9:00pm
Holiday Party (Other)

September 17, 2016

•

7:00am - 9:00am
Personal Occasion

July 29, 2016

•

6:00pm - 8:00pm
Birthday (Adult)

July 16, 2016

•

10:00am - 12:00pm
Wedding Reception

June 03, 2016

•

6:00pm - 8:00pm
Dinner Party

May 21, 2016

Wedding Ceremony

May 13, 2016

•

12:00pm - 12:30pm
Surprise

April 20, 2016

•

4:30pm - 8:00pm
Launch Party

March 20, 2016

•

5:00pm - 6:00pm
Wedding Cocktail Hour

March 11, 2016

•

4:00pm - 6:30pm
Grand Opening

February 19, 2016

Wedding Cocktail Hour

November 13, 2015

•

7:00pm - 8:00pm
margate
Set List
Steel drum playlist:
Reggae
1. How deep is your love – Bee Gees (reggae version)
2. Waiting in vain – Bob Marley
3. Mr. Bogangles – John Holt
4. Natural Mystic – Bob Marley
5. Three little birds – Bob Marley
6. One Love – Bob Marley
7. Jammin – Bob Marley
8. Red Red wine – UB40
9. Kingston Town – UB40
10. Love is overdue Gregory Issacs
11. Night Nurse – Gregory Issacs
12. She's Royal – Tarrus Riley
13.
Soca
1. Lord Kitchener – Sugar Boom Boom
2. Hot hot hot- Arrow
3. Dollar wine – Collin Lewis
4. Carnival Baby – Alison Hinds
5. I'll be there medley (salvation) – Mighty Sparrow
6. Soca Baptist – Blue boy
7. Soul on fire – KMC
8. Burning Flames Soca Medley
JAZZ
1. Killer Joe
2. Take five
3. Cantaloupe Island
4. Freddie freeloader
5. Song for my father
6. Satin Doll
7. Blue Bossa
Wedding Songs
1. Silhouette – Kenny G
2. Elton John – Sacrifice
3. Anita Baker – Body & Soul
4. Anita Baker – Body & Soul
5. Let's Stay together – Al Green
6. Tears in heaven – Eric Clapton
7. Sexual healing – Marvin Gaye
8. Endless – Luther Vandross
Other tunes
1. Girl from Ipanema – bossa nova
2. One note samba - samba
3. Wave - Jobim
4. Black Beauty - Beres Hammond
5. Love's theme – Barry White
6. Break my stride- Matthew Wilder
Influences & Inspiration
everything is an influence to me. I am inspired and gratified about the immediate things which I experience in life. I am an old soul, so I enjoy every kind of old school music, with a twist of the new
Setup Requirements
speakers
mics