Your list is empty.
Save musicians, entertainers, speakers, and services, and they'll appear here.
Free Quick Quote
This vendor provides virtual services
Back to Children's Party Magicians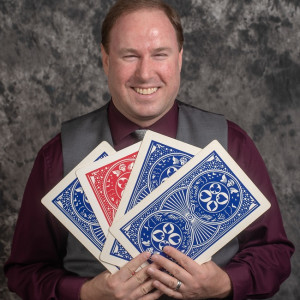 Magical Mr. J
4.96
(68 reviews)
Olmsted Falls, OH
Travels up to 120 miles
$100 and up, depends on show selection and travel
Get a Free Quick Quote
Overview
Choose from our line-up of shows or request a custom show!
Magical Kids, Daycare Laughter, Family Magic Show, Adult Parlor Show, Birthday Celebration, Halloween Not So Spooky Show, Celebrate the Holidays Show, Strolling Mystery, Silly Balloons and lots more! Send a quote request for more detailed info on the show that most interests you!
December Holiday shows can receive the local $50 discount if booked before Thanksgiving!
Allow us to film the show at your event/party for promotional use and get $25 off!
---
---
Booking Info
Price Range: $100 and up, depends on show selection and travel
Gig Length: 30 - 180 minutes
Insurance: $1,000,000 - Commercial General Liability Insurance from Specialty Insurance Agency
What to Expect
I will have all kids' and adults' attention from beginning to end with colorful props, lots of magic and comedy. I can highlight the birthday boy or girl, or whoever the head of the party might be, and use their help to create the magic!
About
Jim grew up in Cincinnati and started out his career performing magic at birthday parties and schools after he won the "Best Senior Trick" in high school. He continued perfecting his skills in college and won first place at the Bowling Green State University Family Weekend Talent Show in Bowling Green, OH. With normal jobs boring Jim, he started performing at amusement parks, including Cedar Point and Kings Island. In 2007, he got his pyrotechnics license and started working for Rozzi Fireworks shooting fireworks displays at Coney Island, Riverbend and Cedar Point, just to name a few.
Adding to his different and interesting jobs, Jim has toured for 17+ years as Illusion Manager for illusionists based out of Detroit and Las Vegas. He has also worked for Masters of Illusion Live!, a large touring magic production based on the hit CW television show of the same name.
Taking everything he learned from these amazing experiences, Jim created JMagic Productions to bring his creative magic to events all over Ohio. Now living in Olmsted Falls, southwest of downtown Cleveland, Jim is available to make your next event a magical success!
Magical Mr. J is a proud member of the International Brotherhood of Magicians!
Additional Booking Notes
If the party is big, I can bring my own sound system and microphone. No special lighting needed and I can perform in almost any space! I love to adapt to whatever your situation might be!
Upcoming Booked Events
January 22, 2022

•

2:00pm - 4:00pm
Magic Show in Salem

January 23, 2022

•

1:00pm - 3:00pm
Magic Show in Pittsburgh

January 29, 2022

•

6:30pm - 8:30pm
Magic Show in Toledo

February 10, 2022

•

7:30pm - 10:00pm
PHS

February 11, 2022

•

6:00pm - 6:45pm
Festival

February 12, 2022

•

3:00pm - 5:00pm
Magic in Elyria

February 12, 2022

•

6:30pm - 8:30pm
Magic in Cleveland

February 19, 2022

•

3:00pm - 5:00pm
Magic Show in Canton

February 22, 2022

•

6:00pm - 7:30pm
50th Birthday Party Magic Show

February 25, 2022

•

2:00pm - 4:00pm
Magic in Columbus

March 17, 2022

•

7:30pm - 10:00pm
PHS

March 18, 2022

•

6:30pm - 8:30pm
DJ School Dance

May 05, 2022

•

7:30pm - 10:00pm
PHS

May 20, 2022

•

7:30pm - 9:30pm
Schottenstein

June 16, 2022

•

7:30pm - 10:00pm
PHS

July 21, 2022

•

7:30pm - 10:00pm
PHS

August 18, 2022

•

7:30pm - 10:00pm
PHS

November 22, 2022

•

All-day event
Jason Hudy Lake Forest, IL
Past Booked Events
January 21, 2022

•

6:00pm - 8:00pm
Magic Show in Strongsville

January 08, 2022

•

7:30pm - 8:15pm
Children's Birthday Party

December 24, 2021

•

6:00pm - 7:00pm
Christmas Party

December 19, 2021

•

1:00pm - 2:00pm
Children's Birthday Party

December 18, 2021

•

8:00pm - 10:00pm
Strolling Magic

December 18, 2021

•

5:30pm - 7:30pm
Strolling Magic

December 12, 2021

•

5:30pm - 6:30pm
Holiday Magic Show in PA

December 12, 2021

•

10:00am - 12:00pm
Corporate Event

December 11, 2021

•

3:00pm - 5:30pm
Nonprofit Event

December 10, 2021

•

All-day event
Magic in Canton, MI

December 07, 2021

•

7:00pm - 8:00pm
Magic Show

December 05, 2021

•

11:30am - 12:15pm
Nonprofit Event

November 29, 2021

•

7:00pm - 8:00pm
Children's Birthday Party

November 26, 2021

•

6:00pm - 8:00pm
Birthday Party

November 16, 2021

•

3:00pm - 7:00pm
Magic for Amazon

November 14, 2021

•

2:00pm - 3:00pm
Magic Show in Columbus

November 13, 2021

•

All-day event
Live trivia shows in NY

October 30, 2021

•

12:00pm - 12:45pm
Children's Birthday Party

October 22, 2021

•

2:00pm - 3:30pm
Retirement Community Event

October 15, 2021

•

7:00pm - 9:00pm
Restaurant/Bar Event

October 02, 2021–October 03, 2021

•

All-day event
Magic in Flint, MI

September 19, 2021

•

5:00pm - 6:00pm
Children's Birthday Party

September 19, 2021

•

11:00am - 1:00pm
Corporate Event

September 18, 2021

•

11:30am - 12:00pm
Children's Birthday Party

September 17, 2021

•

3:00pm - 5:00pm
Daycare birthday magic

September 14, 2021

•

All-day event
Live Trivia Shows

September 11, 2021

•

5:00pm - 10:00pm
Cuyahoga Falls

September 05, 2021

•

All-day event
Fireworks

September 04, 2021

•

All-day event
Fireworks

September 03, 2021

•

3:00pm - 5:00pm
Magic in Rocky River

August 28, 2021

•

4:00pm - 4:30pm
Children's Birthday Party

August 26, 2021

•

6:00pm - 8:00pm
House Party

August 20, 2021

•

6:00pm - 8:00pm
Magic in Toledo

August 13, 2021

•

7:00pm - 9:00pm
Magic in Canton

July 30, 2021

•

3:30pm - 4:30pm
Day Care Magic

July 27, 2021

•

2:00pm - 3:00pm
Senior Center Magic

July 24, 2021

•

11:00am - 2:00pm
Children's Birthday Party

July 16, 2021

•

3:30pm - 5:30pm
Magic Show in Lakewood

June 27, 2021

•

2:00pm - 4:00pm
Graduation

June 19, 2021

•

All-day event
Wedding DJ

June 11, 2021

•

2:00pm - 2:45pm
Cocktail Party

May 23, 2021

•

12:00pm - 1:00pm
Magic Show

May 15, 2021

•

All-day event
Wedding DJ

May 08, 2021

•

6:00pm - 7:30pm
Children's Birthday Party

February 27, 2021

•

3:00pm - 4:00pm
Nonprofit Event

December 27, 2020

•

All-day event
Magic in Canton, MI

November 17, 2020

•

7:00pm - 8:00pm
Magic Show

November 14, 2020

•

4:00pm - 5:00pm
Children's Birthday Party

November 07, 2020

•

All-day event
Wedding DJ

October 30, 2020

•

6:00pm - 11:00pm
60th Birthday Party DJ

October 24, 2020

•

2:00pm - 11:30pm
Wedding DJ

October 18, 2020

•

12:30pm - 1:30pm
Halloween Magic Show

October 09, 2020–October 10, 2020

•

3:00pm - 1:00am
Wedding Reception DJ

September 27, 2020

•

4:00pm - 4:45pm
Children's Birthday Party

September 20, 2020

•

5:00pm - 6:00pm
Children's Birthday Party

September 18, 2020

•

2:30pm - 3:30pm
Children's Birthday Party

September 13, 2020

•

5:30pm - 7:30pm
Dinner Party

September 12, 2020

•

All-day event
DJ - Wedding

August 22, 2020

•

All-day event
DJ - Wedding

August 08, 2020

•

6:30pm - 7:00pm
Children's Birthday Party

July 25, 2020

•

All-day event
Magic Filming

July 11, 2020

•

3:00pm - 3:45pm
Children's Birthday Party

June 20, 2020

•

2:30pm - 3:00pm
Children's Birthday Party

June 16, 2020

•

1:00pm - 3:00pm
Summer Camp Magic

June 07, 2020

•

1:00pm - 3:00pm
Magic Show

June 06, 2020

•

5:00pm - 11:30pm
DJ Wedding

May 14, 2020

•

7:00pm - 10:00pm
WLA

May 07, 2020

•

7:30pm - 10:00pm
PS Show

March 19, 2020

•

7:30pm - 10:00pm
PS Show

March 15, 2020

•

1:00pm - 2:00pm
Corporate Event

March 06, 2020

•

6:30pm - 9:00pm
School Dance DJ

March 03, 2020

•

7:00pm - 10:00pm
PS Launch

February 22, 2020

•

6:00pm - 7:00pm
Children's Birthday Party

February 16, 2020

•

1:30pm - 2:30pm
Children's Birthday Party

February 13, 2020

•

7:30pm - 10:00pm
PS Show

February 08, 2020

•

2:00pm - 4:00pm
Children's Birthday Party

January 16, 2020

•

5:30pm - 6:30pm
Nonprofit Event

December 28, 2019

•

7:00pm - 9:00pm
AR in Canton, MI

December 22, 2019

•

5:30pm - 6:30pm
Children's Birthday Party

December 21, 2019

•

4:00pm - 4:30pm
Children's Birthday Party

December 15, 2019

•

2:00pm - 4:00pm
Magic Show

December 14, 2019

•

7:00pm - 10:00pm
Strolling Magic

December 14, 2019

•

10:00am - 10:45am
Children's Birthday Party

December 13, 2019

•

1:30pm - 3:30pm
Magic Show

December 12, 2019

•

7:30pm - 10:00pm
PS Show

December 07, 2019

•

11:30am - 2:30pm
3 Magic Shows

December 04, 2019

•

1:00pm - 2:30pm
JH Kirtland

December 04, 2019

•

10:30am - 12:00pm
JH Kirtland

November 30, 2019

•

2:30pm - 4:30pm
Birthday Party Magic Show

November 23, 2019

•

7:00pm - 10:00pm
Taylor, MI JH

November 16, 2019

•

6:00pm - 6:45pm
Children's Birthday Party

November 14, 2019

•

7:00pm - 10:00pm
PS Show

November 09, 2019

•

5:00pm - 7:00pm
Magic Show

November 07, 2019

•

12:00pm - 11:59pm
Theater work

November 03, 2019

•

5:00pm - 11:45pm
Theater work

October 26, 2019

•

8:00pm - 11:00pm
House Party

October 26, 2019

•

1:30pm - 2:15pm
Children's Birthday Party

October 25, 2019

•

6:30pm - 9:30pm
Halloween Magic

October 23, 2019

•

6:00pm - 9:00pm
Private Event for Apple

October 20, 2019

•

6:30pm - 9:00pm
PS Show

October 19, 2019

•

6:30pm - 9:00pm
Halloween Magic Show

October 19, 2019

•

2:30pm - 3:00pm
Children's Birthday Party

October 12, 2019

•

1:30pm - 3:30pm
Halloween magic Show

October 02, 2019

•

8:00pm - 10:00pm
Pittsburg PC

September 21, 2019

•

6:30pm - 7:00pm
Children's Birthday Party

September 14, 2019

•

2:00pm - 3:00pm
Children's Birthday Party

September 10, 2019

•

9:50am - 10:50am
Magic D

September 07, 2019

•

10:00am - 11:00pm
showcase MN

August 31, 2019

•

1:00pm - 11:00pm
Wedding DJ

August 30, 2019

•

7:00pm - 11:00pm
Show B

August 15, 2019–August 26, 2019

•

8:00am - 11:00pm
Shows in California

August 09, 2019

•

6:00pm - 7:30pm
Camp Event

August 08, 2019

•

6:00pm - 11:00pm
Show PS

August 07, 2019

•

1:00pm - 3:00pm
Magic in Brunswick

August 07, 2019

•

10:00am - 11:00am
Daycare Magic in Westlake

August 04, 2019

•

4:00pm - 6:00pm
magic in Avon

August 04, 2019

•

1:00pm - 2:45pm
Magic in Wadsworth

August 02, 2019

•

7:00pm - 10:00pm
IN Magic

August 01, 2019

•

4:00pm - 6:00pm
Magic in Strongsville

July 31, 2019

•

7:00pm - 9:00pm
Magic Show in Brooklyn

July 31, 2019

•

1:00pm - 2:00pm
Camp Event

July 31, 2019

•

10:15am - 11:00am
Daycare Magic Show

July 28, 2019

•

3:00pm - 5:00pm
magic in Hermitage, PA

July 27, 2019

•

12:30pm - 2:30pm
Magical Birthday Party in Brecksville

July 25, 2019

•

4:00pm - 6:00pm
Magic in Strongsville

July 24, 2019

•

4:30pm - 6:30pm
Magic in Cleveland

July 20, 2019

•

4:00pm - 6:00pm
Magic in Solon

July 19, 2019

•

7:30pm - 9:30pm
magic in Cleveland Heights

July 18, 2019

•

1:30pm - 2:30pm
Daycare Magic in Canton

July 17, 2019

•

1:30pm - 2:30pm
Daycare Magic in Canton

July 13, 2019

•

7:30pm - 10:00pm
Show PS

July 12, 2019

•

7:00pm - 10:00pm
IN Magic

July 10, 2019

•

6:30pm - 8:30pm
fundraiser in Akron

July 06, 2019

•

6:00pm - 11:00pm
Show PS

July 06, 2019

•

12:00pm - 2:00pm
Grand Opening

July 02, 2019–July 05, 2019

•

8:00am - 11:55pm
Fireworks in Cincinnati

June 30, 2019

•

5:00pm - 11:00pm
Show B

June 24, 2019

•

7:00pm - 10:00pm
IN Magic

June 20, 2019

•

6:00pm - 11:00pm
Show PS

June 19, 2019

•

3:00pm - 6:00pm
magic in Tiffin

June 15, 2019

•

6:00pm - 8:00pm
birthday party in Cleveland

June 14, 2019

•

9:00am - 10:00am
Elementary School in Westlake

June 11, 2019

•

7:00pm - 10:00pm
IN Magic

June 10, 2019

•

10:00am - 11:00am
Daycare Magic Show

June 06, 2019

•

7:00pm - 10:00pm
Magic RM

June 06, 2019

•

2:30pm - 4:00pm
Camp Event

June 02, 2019

•

12:00pm - 3:00pm
Magic and DJ - Chagrin Falls

June 01, 2019

•

12:00pm - 3:00pm
DJ - wedding in Sandusky

May 22, 2019

•

12:00pm - 2:00pm
birthday party

May 19, 2019

•

2:30pm - 4:30pm
birthday party in Lakewood

May 18, 2019

•

5:30pm - 11:00pm
DJ in Chippewa Lake

May 16, 2019

•

11:30am - 12:30pm
magic in Lorain

May 11, 2019

•

3:00pm - 5:00pm
birthday party in Akron

May 10, 2019

•

10:30am - 12:30pm
Magic - Grand Opening Charley's Mayfield Heights

May 08, 2019

•

11:00am - 11:00pm
Cincinnati

May 07, 2019

•

9:00am - 11:00pm
Cincinnati

May 05, 2019

•

12:00pm - 6:00pm
Battle of the Magicians Matinee

May 04, 2019

•

8:30pm - 11:00pm
Battle of the Magicians

May 04, 2019

•

2:00pm - 4:00pm
Show PS

May 03, 2019

•

11:30am - 11:00pm
Battle of the Magicians

May 02, 2019

•

6:00pm - 11:00pm
Show PS

April 28, 2019

•

3:00pm - 5:00pm
CLE Magic

April 27, 2019

•

9:00am - 11:55pm
Fireworks

April 26, 2019

•

11:00am - 3:00pm
magic in North Olmsted

April 20, 2019

•

4:30pm - 6:30pm
birthday party in Norwalk

April 20, 2019

•

11:00am - 1:00pm
balloon twisting in Olmsted Falls

April 19, 2019

•

5:00pm - 7:00pm
magic at Little Penguin in Olmsted Falls

April 18, 2019

•

7:00pm - 10:00pm
Magic RM

April 18, 2019

•

3:30pm - 5:00pm
magic in Painesville

April 13, 2019

•

5:00pm - 8:00pm
Magic at a school carnival

April 11, 2019

•

6:00pm - 11:00pm
Show PS

April 09, 2019

•

10:00am - 11:00pm
Magic in Columbus

April 07, 2019

•

10:00am - 11:55pm
Magic in Dayton

April 06, 2019

•

5:00pm - 7:00pm
Birthday Party

April 05, 2019

•

10:00am - 11:00am
Daycare show in Avon

April 04, 2019

•

6:00pm - 11:00pm
Show in Akron

March 31, 2019

•

6:00pm - 8:00pm
Magic Show

March 24, 2019

•

1:30pm - 2:30pm
Children's Birthday Party

March 18, 2019

•

10:00am - 11:00am
Morning Magic

March 17, 2019

•

1:00pm - 2:00pm
Photo Session

March 16, 2019

•

11:30am - 12:15pm
Nonprofit Event

March 14, 2019

•

6:00pm - 11:00pm
Show PS