Horse Drawn Carriages in Bangor, ME
Hire Bangor Horse Drawn Carriages by selecting your favorites and submitting a free quote request.
193 Bangor Horse Drawn Carriages
and those who serve Bangor, ME
Horse Drawn Carriage
Bar Harbor, ME
41 miles from Bangor
Horse Drawn Carriage
Sumner, ME
87 miles from Bangor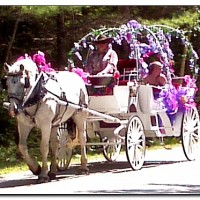 CHF Carriage Company
Weddings and events all over Maine, Southern NH and Northeastern Massachusetts including…
Horse Drawn Carriage
Casco, ME
104 miles from Bangor
We didn't find many Horse Drawn Carriages available in Bangor, Maine. Here are some additional ideas…
Let us do the shopping for you.
Complete the form below to receive FREE no-obligation quotes from performers/vendors in your area.