Your list is empty.
Save musicians, entertainers, speakers, and services, and they'll appear here.
Free Quick Quote
This vendor provides virtual services
Back to Las Vegas Style Entertainment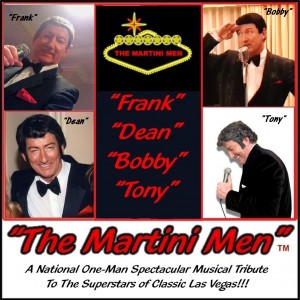 The Martini Men
5
(14 reviews)
Virginia Beach, VA
Travels nationwide
$400 - $5000
Get a Free Quick Quote
Overview
The Martini Men TM. National variety music tribute performances for 30+ years with "Las Vegas-style Entertainment Coast to Coast!" Features "Frank Sinatra, Dean Martin, Bobby Darin, Tony Bennett, Rod Stewart, Neil Diamond, Tom Jones, Engelbert Humperdinck, Billy Joel, Andy Williams, Paul Anka and your host, Johnny Carson" performing to the delight of your guests!
These exciting and popular spotlight concert performances are full-dimensional impersonations "tributes" to the superstars gents of Las Vegas!
Your guests will be definitely impressed with "The Martini Men." Perfect for all black-tie glamorous events, cocktail social mixers. Be sure to see all of the photos and videos!!!
---
---
Booking Info
Price Range: $400 - $5000
Gig Length: 15 - 180 minutes
Insurance: $1,000,000 - General Liability
Unions: NAT ASSOC. OF MOBILE ENTERTAINERS
What to Expect
"The Martini Men" is a glamorous flashback musical show for all fans of the great music of the 50's -60's -70's -80's! Featuring the full-detail tribute performances as a variety of the top names of Las Vegas "royalty," this show has a built-in fanbase of many millions of fans of Frank Sinatra, Dean Martin, Bobby Darin,Tony Bennett, Andy Williams, Paul Anka, Engelbert Humperdink, Rod Stewart, Neil Diamond, Billy Joel, Tom Jones and your Emcee of Emcees, Johnny Carson!!!...and they are all a big part of Las Vegas legend! This musical fun is the "swizzle stick in the drink" for all manners of cocktail receptions, too!
Plus, there's always a very healthy dose of comedy added, too, and lots of audience interactions! A fun example is when any of the guys have a particularly hot song , they get ladies out of the audience to join them on stage, in the lights for some fun "chorus girl" dance routines to liven up the stage, and you can believe the cameras come out to capture the fun!
Tim has been called a "One-Man Legends" tribute show, and rightly so...Depending on the time and the client's entertainment needs, Tim can be any one of his "Martini Men" for a 15-30-45-60-90 minute show, and if you want some real "dazzle-'em" for your guests, Tim has many times been 2, 3, even 4 of the Martini Men" of choice, and many combinations are possible out of the lucky dozen "Martini Men Menu!"
Having these grand choices, you can also schedule Tim for multi-day events, too! Imagine Tim as 'Johnny Carson' emceeing the opening evening banquet, and then performing as 'Dean, or Frank (or both!) the next evening, and at the grand finale' of the event's 3rd evening, hve "Rod Stewart, Neil Diamond, Billy Joel or Tom Jones" give your guests a proper and fun send off!
Shows are accomplished with Tim performing as each with his own voice, singing live, in full vocal impressions, and dressed out in a complete lookalike fashion to each, from head to toe. The music that accompanies him are prerecorded orchestrations of each popular song, to sound as much like a live band is in the wings, and to sound as well as close to the records everyone remembers each "Martini Man" had as his own hits. This music comes in several formats such as CD, Flash Drive or MP3-4 player files.
Tim also brings his own top of the line Shuire brand professional microphone to all events, whether he's using his own sound equipment or as in a "fly-in" national sense, for use with the sound system at the venue. Either way, it's a quick and very easy setup, and many sound technicians praise Tim for this clean and simple way of performing a very pleasing and successful show.
About
+ Tim Beasley, the actor - performer as all of "The Martini Men," is an international variety celebrity impersonator tribute performer, proudly producing these exciting classic Las Vegas-style shows nationally for over 30 years.
+ His clients are a majority of the giants of Fortune 500 corporations, General Motors, Bank of America, Pepsi, WalMart, UBS Financial, Sprint, Anthem Blue Cross, SunTrust Bank, Deagio Guinness, BMW, Chrysler, VW, Ford, Exxon Mobil Anheiser Busch, Phizer and hundreds of smaller private companies coast to coast.
+ He has also acted in many TV productions for Paramount Atlantis, CBN, Hallmark, New Dominion Pictures and many times on camera for the US Navy, Army, DuPont Safety for their training programs, a wide spectrum of TV commercials and PSAs locally, nationally and world-wide.
+ Being his own "creative director" Tim has written most of his own material, and also has been creating custom-scripting for a great number of clients wanting his writing talent for exciting, attention getting and fun programming!
+Tim has been his own TV commercial-PSA producer as well, writng and starring in spots for car dealerships, oil companies, food producers, shopping malls,service industries and also non-profit medical research and fund raising organizations.
+ Beginning with being an experienced standup and popular "character comedian" in the late 1970's, Tim Beasley began his licensed and insured entertainment company in 1986, and now celebrating 30 great years!
+ Gig Salad has proven another great way for the world to find Tim Beasley and his kaleidiscope of entertaining offerings. His shows have delighted many, many thousands of guests in a wide variety of special events. NYC to Las Vegas, Miami to Chicago, Orlando to New Orleans, Atanta to Palm Springs, to Houston to Calgary Canada, Los Angeles to London, "The Martini Men" have thrilled audiences of all ages!
The "musical tributes" are full concert style performances in complete detail of looks, live vocals and most importantly, the personalities of the stars he recreates. . .and grand entertainment for any sized event and audience attendances from 20 to 20,000!..."The Martini Men" is "Las Vegas-style Entertainment Coast to Coast!"
Shows are easily tailored to your event time needs, be it 15 minutes to 3+ hours as either a great "headliner" show, or opening act for your entertainment schedule. This professional musical tribute stars act features all live singing vocals, complete in true impression, mixed with "backing track instrumentals" of a big band to give the sound and feel of an actual Las Vegas concert, or with your good band that knows the tunes ...It's very high in visibility, too, with the looks, the moves, the sound and the feel of each star in a powerful yet compact and intimately staged setting...in other words, The Martini Men virtually bring Las Vegas to you and your guests!

There's a lot to see, with photos, client lists and endorsements, song lists, videos of actual performances, even ideas for your events, so please take the tour and we'll be very happy to speak with you by phone or e-mail on having "The Martini Men" entertain for your special event!
Be sure to see the many photos from actual live shows, marquee promotionals, and the videos, too! We think you'll find it entertaining and loaded with lots of great ideas for your special event!
Additional Booking Notes
To perform a pleasing and self-contained complete show, in a drivable range from Virginia Beach, VA (approx 400 miles radius) shows can come complete with top brand professional sound equipment and stage -special effects lighting. Standard 120 volt ac power of 30 amps minimum and grounded to be provided by client/event at the performance space. We can also perform through another PA -STAGE source if this is for a festival or party with a DJ setup.
Logically and in good sense, we need to observe certain precautions to have a safe and secure performance for us and your audiences. Outdoor events will require covered area protection against excessive sunlight and inclement weather. Staging or performance area should be on hard level surface, never on grass or gravel surface, never a wet area such as poolside unless there is at least a 15 feet easement between pool and performance, .and a minimum size of 8' x 10.' If performances are national, as in a "fly in" for show, the client / venue provides an adequate PA / sound system to accomplish performances.
Past Booked Events
June 01, 2022

•

4:00pm - 5:00pm
Retirement Community Event

May 21, 2022

•

7:00pm - 10:30pm
Birthday Party

March 21, 2022

•

7:00pm - 8:00pm
Concert

February 14, 2022

•

7:30pm - 8:30pm
Concert

January 29, 2022

•

8:30pm - 9:00pm
Birthday Party

October 30, 2021

•

4:00pm - 9:00pm
Birthday Party

August 21, 2021

•

4:30pm - 6:30pm
Birthday Party

August 19, 2021

•

4:00pm - 5:00pm
Retirement Community Event

August 14, 2021

•

6:00pm - 8:00pm
Anniversary Party

May 15, 2021

•

2:30pm - 3:30pm
Birthday Party

January 29, 2021

•

7:00pm - 7:45pm
Virtual Event

November 23, 2020

•

12:00pm - 1:00pm
Funeral/Memorial Service

October 27, 2020

•

4:00pm - 5:00pm
Retirement Community Event

September 19, 2020

•

7:00pm - 8:30pm
Birthday Party

August 01, 2020

•

2:30pm - 3:00pm
Birthday Party

March 03, 2020

•

6:00pm - 7:30pm
Nonprofit Event

December 31, 2019–January 01, 2020

•

7:00pm - 12:00am
Christmas Party

December 14, 2019

•

5:30pm - 6:15pm
Dinner Party

November 23, 2019

•

6:00pm - 10:00pm
Anniversary Party

November 02, 2019

•

6:00pm - 9:00pm
Birthday Party

June 08, 2019

•

4:00pm - 6:30pm
Anniversary Party

May 04, 2019

•

4:00pm - 5:30pm
Birthday Party
Set List
I can perform a complete hour set ( typically 15 - 20 songs ) of each of my "Martini Men's" greatest and most popular hits...if you know the stars I perform as, then you probably know most of the songs I'll do for each! Simply tell us "The Martini Men" you'd like to have join you, and a list of their songs you would like in our contact area....Looking forward to your inquiry!
Influences & Inspiration
All of the great music men of 50's 60's 70's 80's. This of course includes the legendary past and living legends of Las Vegas, Dean Martin, Frank Sinatra, Bobby Darin, Tony Bennett, Andy Williams, Elvis, Paul Anka, Wayne Newton, Robert Goulet, Rod Stewart, Neil Diamond and Tom Jones.
Setup Requirements
Standard 120 volt ac power of at least 30 amps
Private and secure dressing area, meaning "no restrooms, please!"
Covered performamce area for outdoors events, to protect from excessive sun and inclement weather. Thanks!
Parking as close as possible to load in -out location. Thanks!