Your list is empty.
Save musicians, entertainers, speakers, and services, and they'll appear here.
Free Quick Quote
This vendor provides virtual services
Back to Balloon Twisters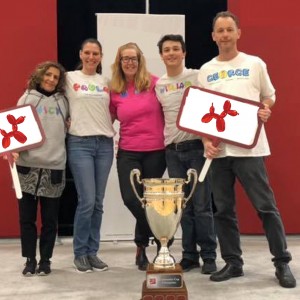 Team Twisters
4.96
(62 reviews)
Toronto, ON
Travels up to 30 miles
$90 and up
Get a Free Quick Quote
Overview
We are a team of professional Balloon Twisters that will twist up every and any occasion.
We also offer facepainting, glitter tattoos and a magic show.
---
---
Booking Info
Gig Length: 30 - 180 minutes
Insurance: $2 million - Performer Insurance covering liability for audience members.
What to Expect
Everyone loves balloons. Invite Nick the Balloonist to your next event to create some fun and colourful balloon animals. He'll really twist up your party!
Dogs, monkeys, giraffes, elephants, crazy hats. heart wands, a whole menagerie of fun. Nick can create about 25 to 40 balloon creations per hour.
About
Our team would love to come to your next event and really twist it up.
Monkeys, tigers, giraffes a whole menagerie of fun balloon animals.
Swords, heart wands, magical unicorn whatever you can dream up we can twist it up. Birthday parties, christenings, baptisms, holiday parties, corporate events and school funfairs. Some of our corporate clients include CIBC, 407ETR, Kooboo, DraftFCB, BMO, Autism Society of Ontario, Rogers, Toronto Blue Jays Foundation, Toronto Marlies Hockey Team, Shopify and many more.
Ask us about our Magician, facepainter, or other artists that will really make your party pop!
Additional Booking Notes
We bring everything we need!
Services Offered
Upcoming Booked Events
October 30, 2021

•

11:00am - 3:00pm
Halloween Party
Past Booked Events
October 24, 2021

•

3:00pm - 4:00pm
Children's Birthday Party

October 09, 2021

•

11:30am - 1:00pm
Children's Birthday Party

September 25, 2021

•

2:30pm - 4:00pm
Children's Birthday Party

September 25, 2021

•

10:00am - 11:00am
Birthday

September 19, 2021

•

5:00pm - 6:00pm
Balloons Milton or Oakville

September 11, 2021

•

5:00pm - 6:00pm
Children's Birthday Party

September 01, 2021

•

5:15pm - 6:16pm
Balloons and Glitter Birthday mississauga

August 31, 2021

•

12:00pm - 2:00pm
Balloons and Magic

August 28, 2021

•

3:00pm - 4:30pm
Children's Birthday Party

August 28, 2021

•

11:00am - 1:00pm
Personal Occasion

August 23, 2021

•

4:00pm - 5:00pm
Balloons and Glitter

August 21, 2021

•

3:00pm - 4:30pm
Talia Bday

August 21, 2021

•

1:30pm - 2:30pm
Children's Birthday Party

August 14, 2021

•

11:00am - 1:00pm
Children's Birthday Party

August 14, 2021

•

10:00am - 11:00am
Children's Birthday Party

August 09, 2021

•

1:00pm - 1:45pm
Camp Event

August 07, 2021

•

5:30pm - 6:30pm
Children's Birthday Party

August 01, 2021

•

12:30pm - 3:00pm
Nonprofit Event

July 01, 2021

•

12:30pm - 3:00pm
Nonprofit Event

October 07, 2020

•

2:00pm - 2:30pm
Personal Occasion

August 23, 2020

•

2:30pm - 3:30pm
Children's Birthday Party

August 14, 2020

•

8:00pm - 9:30pm
Children's Birthday Party

March 14, 2020

•

3:30pm - 4:30pm
Children's Birthday Party

February 02, 2020

•

3:30pm - 4:30pm
Children's Birthday Party

January 25, 2020

•

12:30pm - 2:30pm
Children's Birthday Party

December 29, 2019

•

10:00am - 11:00am
Children's Birthday Party

December 08, 2019

•

11:00am - 1:30pm
Christmas Party

December 07, 2019

•

7:30pm - 9:00pm
Children's Birthday Party

November 24, 2019

•

2:30pm - 4:00pm
Children's Birthday Party

November 23, 2019

•

6:30pm - 8:00pm
Children's Birthday Party

November 23, 2019

•

6:00pm - 7:00pm
Children's Birthday Party

November 23, 2019

•

8:30am - 11:30am
Christmas Party

November 02, 2019

•

3:00pm - 3:45pm
Halloween Party

October 27, 2019

•

1:00pm - 2:30pm
Children's Birthday Party

October 26, 2019

•

4:00pm - 5:00pm
Children's Birthday Party

October 20, 2019

•

12:00pm - 3:00pm
Fundraiser

October 19, 2019

•

3:00pm - 4:00pm
Children's Birthday Party

October 19, 2019

•

2:30pm - 3:30pm
Children's Birthday Party

October 06, 2019

•

10:30am - 2:00pm
Nonprofit Event

October 05, 2019

•

1:00pm - 2:00pm
Children's Birthday Party

September 28, 2019

•

3:30pm - 5:30pm
Children's Birthday Party

September 14, 2019

•

3:00pm - 4:00pm
Children's Birthday Party

September 08, 2019

•

2:00pm - 4:00pm
Children's Birthday Party

September 07, 2019

•

4:00pm - 5:00pm
Children's Birthday Party

September 01, 2019

•

2:00pm - 3:00pm
Children's Birthday Party

August 17, 2019

•

1:00pm - 4:00pm
Nonprofit Event

July 27, 2019

•

2:30pm - 4:00pm
Children's Birthday Party

July 27, 2019

•

12:30pm - 2:00pm
Children's Birthday Party

July 26, 2019

•

9:00am - 12:00pm
Nonprofit Event

July 20, 2019

•

12:00pm - 2:00pm
Product Promotion

July 18, 2019

•

1:00pm - 2:00pm
Corporate Event

July 18, 2019

•

10:00am - 6:00pm
Corporate Event

June 28, 2019

•

5:30pm - 6:15pm
Festival

June 23, 2019

•

2:00pm - 3:30pm
Children's Birthday Party

June 22, 2019

•

2:00pm - 2:45pm
Children's Birthday Party

June 22, 2019

•

1:00pm - 3:00pm
Children's Birthday Party

June 22, 2019

•

11:00am - 2:00pm
Nonprofit Event

June 15, 2019

•

2:30pm - 3:15pm
Children's Birthday Party

June 15, 2019

•

12:30pm - 2:30pm
Graduation

June 13, 2019

•

4:00pm - 6:30pm
Fundraiser

June 09, 2019

•

4:00pm - 5:00pm
Children's Birthday Party

June 02, 2019

•

10:30am - 11:15am
Children's Birthday Party

June 01, 2019

•

3:00pm - 4:30pm
Children's Birthday Party

May 20, 2019

•

7:00pm - 7:45pm
Children's Birthday Party

May 18, 2019

•

5:30pm - 7:00pm
Children's Birthday Party

May 18, 2019

•

12:00pm - 3:00pm
Corporate Event

May 12, 2019

•

12:30pm - 1:30pm
Children's Birthday Party

May 05, 2019

•

2:30pm - 3:30pm
Children's Birthday Party

April 27, 2019

•

12:00pm - 12:45pm
Children's Birthday Party

April 13, 2019

•

11:00am - 4:00pm
Festival

April 10, 2019

•

12:30pm - 1:15pm
Nonprofit Event

April 07, 2019

•

4:00pm - 5:30pm
Children's Birthday Party

April 06, 2019

•

12:00pm - 1:00pm
Children's Birthday Party

March 30, 2019

•

12:00pm - 1:00pm
Children's Birthday Party

March 23, 2019

•

6:30pm - 7:30pm
Children's Birthday Party

March 23, 2019

•

12:00pm - 1:00pm
Children's Birthday Party

March 17, 2019

•

11:00am - 1:00pm
Children's Birthday Party

February 09, 2019

•

6:00pm - 7:00pm
Children's Birthday Party

February 07, 2019

•

6:00pm - 6:45pm
Children's Birthday Party

January 29, 2019

•

12:00pm - 12:45pm
Corporate Event

January 19, 2019

•

3:30pm - 4:00pm
Children's Birthday Party

December 16, 2018

•

12:00pm - 12:45pm
Corporate Event

December 08, 2018

•

6:30pm - 7:30pm
Corporate Event

December 02, 2018

•

4:30pm - 5:15pm
Christmas Party

November 18, 2018

•

1:30pm - 3:00pm
Children's Birthday Party

November 15, 2018

•

4:30pm - 6:00pm
Children's Birthday Party

November 04, 2018

•

7:30pm - 8:30pm
Children's Birthday Party

October 20, 2018

•

2:00pm - 3:30pm
Children's Birthday Party

August 24, 2018

•

11:00am - 2:00pm
Personal Occasion

August 18, 2018

•

7:30pm - 10:35pm
Stardust Theatre

August 18, 2018

•

2:00pm - 6:00pm
ECRNEA

June 14, 2018

•

5:00pm - 7:00pm
School Assembly

June 02, 2018

•

4:00pm - 4:45pm
Children's Birthday Party

November 19, 2017

•

10:30am - 11:15am
Holiday Party (Christmas)

October 15, 2017

•

12:00pm - 2:00pm
Birthday (Child)

September 17, 2017

•

5:00pm - 6:00pm
Birthday (Child)

July 29, 2017

•

2:00pm - 4:00pm
Birthday (Child)

July 08, 2017

•

3:00pm - 4:00pm
Birthday (Child)

June 17, 2017

•

3:30pm - 5:30pm
Anniversary Party

May 27, 2017

•

1:30pm - 2:30pm
Personal Occasion

December 04, 2016

•

1:30pm - 2:30pm
Birthday (Child)

August 27, 2016

•

1:00pm - 2:30pm
Birthday (Child)

April 30, 2016

•

4:30pm - 5:15pm
Birthday (Child)

September 12, 2015

Birthday (Child)

September 12, 2015

Birthday (Child)

August 09, 2015

Birthday (Child)

June 07, 2015

Religious Celebration

June 06, 2015

Fundraiser

May 09, 2015

Grand Opening
Setup Requirements
small table