Your list is empty.
Save musicians, entertainers, speakers, and services, and they'll appear here.
Free Quick Quote
This vendor provides virtual services
Back to Children's Party Magicians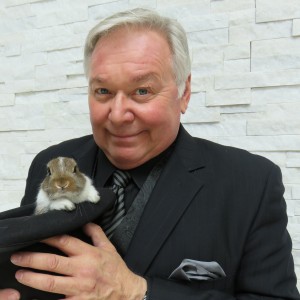 Rick Rossini Magical Entertainer
4.87
(130 reviews)
Burlington, ON
Travels up to 120 miles
Contact for rates
Get a Free Quick Quote
Overview
EXTREME Birthday Party Magic! An incredible Birthday Party experience - presented by a truly one-of-a-kind magical, family entertainer! COVID-19 secure LIVE shows & VIRTUAL shows available! Each show is extremely high energy, filled with Fun, hilarious Magic & surprises, with Different Shows for Different Ages (complete Family shows too). Not only does the birthday child become the star - but everyone gets involved in this special magic. Your child's birthday comes only once a year - make it a truly memorable experience! See the difference experience makes - Rick Rossini Magic! Plus shows for Xmas (Adult/Company too) parties, Schools, Camps & Special Events!
---
---
Booking Info
Price Range: Contact for rates
About
"Rick Rossini is the ultimate professional, from the moment we book a show with him to the follow-up with the delighted client. His shows sparkle. His client relations are excellent. He is creative in tailoring the program to fit the client or the occasion. Best of all, we thoroughly enjoy working with him. We have no hesitation in recommending him as a top Canadian entertainer."
Patricia Silver, President, Sphere Entertainment
"Rick Rossini in an energetic, incredibly talented performer ... we have appreciated our long-term working relationship throughout the years … his uplifting personality is refreshing; he provides exceptional value to his clients, and his shows are truly memorable!"
Terri Stapleton, President, Golden Canadian Productions
"Entertainment Unlimited has worked with Rick Rossini many times over the past 20 years. I have always found him to be very professional, dependable, creative, and always delivers a great show."
Judy Scott-Jacobs, President, Entertainment Unlimited
Children's Parties - Family Events - Corporate Functions - Intimate to Very Large - Mesmerizing Magic combined with Hilarious Comedy and Exciting Illusions.
See the difference proven experience makes!
Creative Unforgettable Christmas Events a Specialty!
Upcoming Booked Events
August 07, 2021

•

4:00pm - 5:00pm
Children's Birthday Party
Past Booked Events
July 21, 2021

•

1:00pm - 2:00pm
Camp Event

July 01, 2021

•

3:00pm - 4:00pm
Virtual Event

June 19, 2021

•

1:00pm - 2:30pm
Children's Birthday Party

January 13, 2021

•

7:00pm - 7:30pm
Virtual Event

December 05, 2020

•

2:00pm - 3:00pm
Children's Birthday Party

November 07, 2020

•

4:30pm - 6:00pm
Children's Birthday Party

September 27, 2020

•

1:00pm - 2:00pm
Children's Birthday Party

September 24, 2020

•

5:00pm - 5:45pm
Children's Birthday Party

September 19, 2020

•

2:30pm - 3:15pm
Children's Birthday Party

September 06, 2020

•

3:00pm - 3:45pm
Children's Birthday Party

August 08, 2020

•

3:00pm - 3:45pm
Children's Birthday Party

March 07, 2020

•

2:00pm - 3:00pm
Children's Birthday Party

March 06, 2020

•

5:30pm - 6:15pm
Children's Birthday Party

February 20, 2020

•

5:30pm - 6:30pm
Nonprofit Event

February 15, 2020

•

12:00pm - 1:00pm
Children's Birthday Party

February 08, 2020

•

2:00pm - 3:00pm
Children's Birthday Party

February 01, 2020

•

8:00pm - 8:45pm
Children's Birthday Party

January 19, 2020

•

11:30am - 12:15pm
Children's Birthday Party

January 04, 2020

•

2:30pm - 3:15pm
Children's Birthday Party

December 31, 2019

•

6:00pm - 7:00pm
New Year's Party

December 14, 2019

•

2:00pm - 2:45pm
Children's Birthday Party

December 13, 2019

•

5:00pm - 6:00pm
Holiday Party

December 11, 2019

•

5:00pm - 6:00pm
Christmas Party

December 08, 2019

•

8:30pm - 9:15pm
Christmas Party

December 06, 2019

•

1:30pm - 2:15pm
Christmas Party

November 30, 2019

•

7:00pm - 8:00pm
Fundraiser

November 23, 2019

•

2:30pm - 3:30pm
Children's Birthday Party

November 22, 2019

•

7:00pm - 8:00pm
Christmas Party

November 17, 2019

•

2:00pm - 3:00pm
Children's Birthday Party

November 16, 2019

•

10:30am - 11:30am
Fundraiser

November 09, 2019

•

12:30pm - 1:15pm
Children's Birthday Party

November 07, 2019

•

2:00pm - 3:00pm
Children's Birthday Party

November 02, 2019

•

1:00pm - 2:30pm
Children's Birthday Party

October 28, 2019

•

3:30pm - 4:15pm
Halloween Party

October 19, 2019

•

1:30pm - 2:30pm
Nonprofit Event

September 14, 2019

•

7:30pm - 8:00pm
Children's Birthday Party

September 14, 2019

•

5:00pm - 6:00pm
Children's Birthday Party

September 07, 2019

•

12:30pm - 1:30pm
Children's Birthday Party

August 22, 2019

•

1:00pm - 3:30pm
Camp Event

July 27, 2019

•

4:30pm - 5:30pm
Children's Birthday Party

July 20, 2019

•

2:30pm - 3:30pm
Children's Birthday Party

June 30, 2019

•

3:30pm - 4:30pm
Children's Birthday Party

June 30, 2019

•

1:00pm - 2:00pm
Nonprofit Event

June 29, 2019

•

6:00pm - 8:00pm
Children's Birthday Party

June 27, 2019

•

6:00pm - 8:30pm
Nonprofit Event

June 26, 2019

•

5:30pm - 6:00pm
Children's Birthday Party

June 23, 2019

•

1:30pm - 5:00pm
Fundraiser

June 15, 2019

•

3:00pm - 4:00pm
Children's Birthday Party

June 15, 2019

•

2:00pm - 2:30pm
Children's Birthday Party

June 01, 2019

•

1:00pm - 1:45pm
Children's Birthday Party

May 29, 2019

•

4:30pm - 5:30pm
Nonprofit Event

May 25, 2019

•

3:00pm - 3:45pm
Children's Birthday Party

May 14, 2019

•

5:30pm - 7:00pm
Nonprofit Event

May 11, 2019

•

2:00pm - 3:00pm
Children's Birthday Party

May 10, 2019

•

5:30pm - 6:30pm
Children's Birthday Party

May 04, 2019

•

1:00pm - 2:00pm
Children's Birthday Party

March 24, 2019

•

12:00pm - 1:00pm
Children's Birthday Party

March 23, 2019

•

4:30pm - 5:15pm
Children's Birthday Party

March 16, 2019

•

2:00pm - 2:45pm
Children's Birthday Party

March 16, 2019

•

12:00pm - 2:00pm
Children's Birthday Party

March 14, 2019

•

2:00pm - 3:00pm
Nonprofit Event

March 02, 2019

•

4:00pm - 5:00pm
Personal Occasion

March 02, 2019

•

12:00pm - 1:00pm
Children's Birthday Party

March 01, 2019

•

5:00pm - 6:00pm
Children's Birthday Party

February 09, 2019

•

6:30pm - 7:00pm
Children's Birthday Party

February 09, 2019

•

10:30am - 11:00am
Children's Birthday Party

January 27, 2019

•

4:00pm - 5:00pm
Children's Birthday Party

January 26, 2019

•

7:00pm - 8:30pm
Children's Birthday Party

January 26, 2019

•

3:30pm - 4:30pm
Children's Birthday Party

January 20, 2019

•

3:00pm - 4:00pm
Children's Birthday Party

January 13, 2019

•

2:30pm - 3:15pm
Children's Birthday Party

January 12, 2019

•

4:30pm - 6:30pm
Children's Birthday Party

January 06, 2019

•

3:00pm - 4:00pm
Children's Birthday Party

January 05, 2019

•

12:00pm - 12:45pm
Children's Birthday Party

December 23, 2018

•

6:00pm - 7:00pm
Christmas Party

December 15, 2018

•

5:30pm - 6:30pm
Children's Birthday Party

December 15, 2018

•

2:00pm - 2:45pm
Corporate Event

December 14, 2018

•

7:00pm - 7:45pm
Children's Birthday Party

December 09, 2018

•

4:00pm - 5:00pm
Christmas Party

December 06, 2018

•

3:00pm - 4:00pm
Nonprofit Event

December 03, 2018

•

7:00pm - 7:30pm
Holiday Party

December 01, 2018

•

5:30pm - 6:30pm
Children's Birthday Party

December 01, 2018

•

12:00pm - 1:00pm
Christmas Party

November 30, 2018

•

1:30pm - 2:30pm
Corporate Event

November 24, 2018

•

10:30am - 12:00pm
Christmas Party

November 04, 2018

•

5:00pm - 6:00pm
Children's Birthday Party

November 03, 2018

•

4:30pm - 5:00pm
Children's Birthday Party

October 27, 2018

•

9:00pm - 10:30pm
Birthday Party

October 27, 2018

•

3:00pm - 4:00pm
Children's Birthday Party

October 21, 2018

•

3:00pm - 4:00pm
Children's Birthday Party

October 14, 2018

•

2:00pm - 2:30pm
Children's Birthday Party

October 13, 2018

•

2:30pm - 3:30pm
Children's Birthday Party

October 13, 2018

•

1:00pm - 1:45pm
Children's Birthday Party

October 08, 2018

•

7:30pm - 8:30pm
Children's Birthday Party

September 29, 2018

•

3:00pm - 4:00pm
Children's Birthday Party

September 29, 2018

•

1:00pm - 1:45pm
Children's Birthday Party

September 22, 2018

•

7:00pm - 10:00pm
Fundraiser

September 19, 2018

•

11:30am - 12:15pm
Religious Celebration

September 16, 2018

•

5:00pm - 6:30pm
Corporate Event

August 26, 2018

•

12:00pm - 12:45pm
Children's Birthday Party

August 19, 2018

•

1:00pm - 1:45pm
Children's Birthday Party

August 18, 2018

•

4:00pm - 5:00pm
Children's Birthday Party

August 16, 2018

•

3:00pm - 4:00pm
Camp Event

August 12, 2018

•

3:00pm - 4:00pm
Birthday Party

August 06, 2018

•

4:00pm - 4:45pm
Festival

August 05, 2018

•

5:30pm - 6:30pm
Personal Occasion

August 04, 2018

•

6:00pm - 7:00pm
Children's Birthday Party

July 29, 2018

•

2:30pm - 3:00pm
Children's Birthday Party

July 28, 2018

•

12:00pm - 12:30pm
Children's Birthday Party

July 24, 2018

•

1:00pm - 2:30pm
Children's Birthday Party

July 21, 2018

•

4:00pm - 5:00pm
Children's Birthday Party

July 07, 2018

•

2:00pm - 3:30pm
Reunion

June 24, 2018

•

4:00pm - 5:00pm
Children's Birthday Party

June 02, 2018

•

3:00pm - 3:45pm
Children's Birthday Party

June 01, 2018

•

5:30pm - 8:30pm
Grand Opening

May 27, 2018

•

1:30pm - 2:30pm
Children's Birthday Party

May 19, 2018

•

2:30pm - 3:30pm
Children's Birthday Party

May 13, 2018

•

12:00pm - 2:30pm
Holiday Party

May 12, 2018

•

12:00pm - 12:30pm
Children's Birthday Party

May 02, 2018

•

3:30pm - 4:15pm
House Party

April 28, 2018

•

1:30pm - 2:30pm
Children's Birthday Party

April 14, 2018

•

1:00pm - 1:45pm
Children's Birthday Party

April 12, 2018

•

2:00pm - 3:00pm
Nonprofit Event

April 07, 2018

•

7:00pm - 8:00pm
Children's Birthday Party

April 01, 2018

•

4:00pm - 5:00pm
Religious Celebration

March 03, 2018

•

2:30pm - 3:30pm
Children's Birthday Party

February 18, 2018

•

7:00pm - 7:30pm
Children's Birthday Party

February 17, 2018

•

3:00pm - 4:00pm
Children's Birthday Party

February 10, 2018

•

12:00pm - 12:45pm
Children's Birthday Party

February 03, 2018

•

5:30pm - 6:15pm
Children's Birthday Party

January 28, 2018

•

11:00am - 12:00pm
Children's Birthday Party

January 21, 2018

•

1:00pm - 1:45pm
Children's Birthday Party

December 17, 2017

•

12:00pm - 1:00pm
Children's Birthday Party

December 17, 2017

•

10:00am - 10:45am
Corporate Event

December 16, 2017

•

3:30pm - 4:15pm
Children's Birthday Party

November 28, 2017

•

6:30pm - 7:15pm
Children's Birthday Party

November 18, 2017

•

4:00pm - 5:00pm
Children's Birthday Party

November 11, 2017

•

4:30pm - 5:30pm
Birthday (Child)

October 31, 2017

•

7:00pm - 8:00pm
Holiday Party (Halloween)

October 29, 2017

•

3:00pm - 4:00pm
Holiday Party (Halloween)

October 28, 2017

•

3:30pm - 4:15pm
Birthday (Child)

October 15, 2017

•

1:30pm - 2:00pm
Birthday (Child)

October 07, 2017

•

2:00pm - 2:45pm
Birthday (Child)

September 02, 2017

•

3:00pm - 3:30pm
Birthday (Child)

August 20, 2017

•

3:30pm - 4:00pm
Birthday (Child)

August 06, 2017

•

3:00pm - 4:00pm
Birthday (Child)

July 29, 2017

•

12:30pm - 2:00pm
Parade

July 20, 2017

•

10:00am - 11:00am
Nonprofit Event

July 16, 2017

•

4:00pm - 5:00pm
Birthday (Child)

July 13, 2017

•

10:00am - 11:00am
Nonprofit Event

June 29, 2017

•

6:30pm - 8:00pm
Corporate Event

June 17, 2017

•

2:30pm - 4:00pm
Birthday (Child)

June 10, 2017

•

4:00pm - 5:00pm
Birthday (Child)

June 03, 2017

•

11:30am - 12:30pm
Birthday (Child)

May 28, 2017

•

4:00pm - 5:00pm
Birthday (Child)

May 28, 2017

•

1:00pm - 1:45pm
Religious Celebration

May 27, 2017

•

3:00pm - 3:30pm
Birthday (Child)

May 13, 2017

•

4:00pm - 5:00pm
Birthday (Child)

May 07, 2017

•

3:30pm - 4:30pm
Religious Celebration

April 30, 2017

•

3:30pm - 4:00pm
Birthday (Child)

April 29, 2017

•

2:30pm - 3:15pm
Birthday (Child)

April 22, 2017

•

3:00pm - 4:00pm
Birthday (Child)

April 08, 2017

•

3:00pm - 4:00pm
Birthday (Child)

April 01, 2017

•

4:30pm - 5:15pm
Birthday (Child)

March 25, 2017

•

11:00am - 12:00pm
Birthday (Child)

March 12, 2017

•

5:00pm - 5:45pm
Holiday Party (Other)

March 12, 2017

•

1:00pm - 2:00pm
Birthday (Child)

March 11, 2017

•

2:00pm - 3:00pm
Birthday (Child)

March 05, 2017

•

1:00pm - 1:45pm
Birthday (Child)

February 26, 2017

•

11:30am - 12:30pm
Birthday (Child)

February 11, 2017

•

1:00pm - 3:00pm
Birthday (Child)

January 28, 2017

•

6:00pm - 7:00pm
Birthday (Child)

January 26, 2017

•

3:00pm - 3:30pm
Birthday (Child)

January 22, 2017

•

6:30pm - 7:00pm
Birthday (Child)

January 21, 2017

•

1:00pm - 1:45pm
Birthday (Child)

January 14, 2017

•

4:00pm - 4:45pm
Birthday (Child)

January 07, 2017

•

5:00pm - 5:45pm
Birthday (Child)

December 17, 2016

•

7:00pm - 8:00pm
Holiday Party (Christmas)

December 17, 2016

•

2:00pm - 3:00pm
Birthday (Child)

December 10, 2016

•

2:00pm - 3:00pm
Birthday (Child)

December 07, 2016

•

7:30pm - 8:30pm
Personal Occasion

October 28, 2016

•

5:00pm - 6:00pm
Birthday (Child)

October 22, 2016

•

4:00pm - 5:00pm
Birthday (Child)

October 01, 2016

•

5:00pm - 6:00pm
Birthday (Child)

August 28, 2016

•

2:30pm - 3:30pm
Birthday (Child)