Your list is empty.
Save musicians, entertainers, speakers, and services, and they'll appear here.
Free Quick Quote
This vendor provides virtual services
Back to Marilyn Monroe Impersonators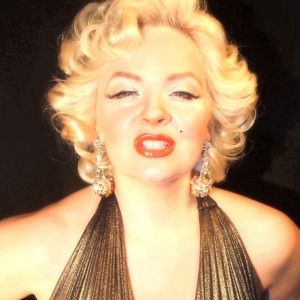 Golden Goddess Entertainment
5.0
(11 reviews)
Sayreville, NJ
Travels nationwide
Contact for rates
Get a Free Quick Quote
Overview
Golden Goddess Entertainment
Singer/Actress/Celebrity Impersonator
Tarot, Palm, Psychic Readings
---
---
Booking Info
Price Range: Contact for rates
About
Singer/Actress/Celebrity Impersonator Michele Marzano performs multiple diva celebrities from Marilyn Monroe to Elizabeth Taylor to Liza Minnelli to Cyndi Lauper. With plenty of tv, film, print and live performance credits, Michele Marzano has been described as "The Best in the business at what she does"- The Ricki Lake Show.
A strong combination of passionate vocals, movie star looks and abundant personality keeps Michele Marzano in demand and working non-stop in the entertainment industry. Having performed with major headliners on television and large venue theaters, she is equally at home on stage or screen. Always in sync with the rhythm of the moment, she combines her multitude of talents to the delight of audiences everywhere!
Michele's performance credits span: Europe, Asia and all over the USA: including major Las Vegas and Atlantic City casinos, appearances on local, national and international tv, film, magazines and Off-Broadway: Today Show, MTV, VH-1, Ricki Lake, Maury, TruTv...
Michele was born in Greenwich, CT, grew up in central NJ, is a Miss America Pageant scholarship award recipient and graduated Cum Laude from the University of Portland on an academic excellence scholarship.
Past clients include:Jon Bon Jovi, Jerry Bruckheimer, Giants, Knicks, Bloomingdales, Macys, Senator Pedro Espada, Austrian Ambassador to Belgium, ZALES Diamonds, Liz Claiborne, Calvin Klein, Turner Classic Movies, MTV,VH-1, Today Show, ID DISCOVERY.....
Michele has been reading tarot professionally for over 15 years and is s a 4th generation spiritual card reader. In addition, she has her own diverse spiritual educational background, which offers clients a wonderful variety of divination methods to choose from and enhance any party theme. A certified Angel Realm Reader and certified Fairy Elemental Reader, Michele enjoys reading for all ages and all different kinds of events. Her areas of expertise include: Tarot, Angel readings, Palm reading, Chocolate reading, Fairy and elemental readings including Mermaids and Unicorns, Tea Leaves, Medium Spiritual Readings , Past Life and Lipstick reading too.
Through her special connection with the angels, Michele always gives positive uplifting readings :)
Upcoming Booked Events
February 19, 2023

•

1:00pm - 3:00pm
Private Party
Past Booked Events
November 13, 2022

•

4:00pm - 4:30pm
Marilyn Monroe private gig

November 04, 2022

•

11:00am - 12:00pm
America Show

October 31, 2022

•

7:00pm - 9:00pm
Halloween Private Party

October 30, 2022

•

1:30pm - 3:30pm
Halloween Party

October 29, 2022

•

12:00pm - 2:00pm
Private Tarot Gig

October 27, 2022

•

9:00am - 3:30pm
Halloween Corporate Party

October 22, 2022

•

7:00pm - 9:00pm
Marilyn Monroe and The Vegas Rat Pack Event

October 15, 2022

•

7:00pm - 9:00pm
House Party

October 12, 2022

•

6:00pm - 8:00pm
Marilyn Monroe Corporate Event

October 08, 2022

•

1:00pm - 4:00pm
St. John's University

October 07, 2022

•

7:00pm - 9:00pm
Monmouth University

October 01, 2022

•

7:00pm - 8:00pm
Marilyn Monroe Private Gig

September 25, 2022

•

12:00pm - 2:00pm
Private party

September 18, 2022

•

2:00pm - 7:00pm
Private Party

September 17, 2022

•

3:00pm - 6:00pm
Private Party

September 11, 2022

•

12:00pm - 3:00pm
Private Gig

September 10, 2022

•

2:00pm - 3:00pm
Marilyn Monroe Show

September 04, 2022

•

2:30pm - 3:30pm
Marilyn Monroe

August 23, 2022

•

2:00pm - 3:00pm
Marilyn Monroe Show

August 21, 2022

•

2:00pm - 3:00pm
Marilyn Monroe Show

August 14, 2022

•

12:00pm - 5:00pm
Private corporate event

August 13, 2022

•

3:00pm - 5:00pm
Private Party

August 10, 2022

•

2:30pm - 3:30pm
Marilyn Monroe Show

August 09, 2022

•

2:00pm - 3:00pm
Michele Marzano Show

August 06, 2022

•

1:00pm - 5:00pm
Private corporate event

August 02, 2022

•

4:00pm - 8:00pm
Private Party

July 31, 2022

•

2:00pm - 3:00pm
Marilyn Monroe Show

July 30, 2022

•

2:00pm - 3:00pm
Marilyn Monroe Show

July 27, 2022

•

3:00pm - 4:00pm
Marilyn Monroe Show

July 25, 2022

•

2:00pm - 3:00pm
Marilyn Monroe Show

July 21, 2022

•

6:00pm - 10:00pm
Private Party

July 18, 2022

•

2:30pm - 3:30pm
Mae West Show

July 17, 2022

•

1:00pm - 2:30pm
Golden Hollywood Goddesses Show

July 07, 2022

•

3:00pm - 4:00pm
Marilyn Monroe Show

July 04, 2022

•

10:00am - 2:00pm
Private Party

July 02, 2022

•

12:30pm - 1:30pm
Private Birthday Party

June 29, 2022

•

8:00pm - 9:00pm
Marilyn Monroe Show

June 25, 2022

•

6:00pm - 9:00pm
Private Party

June 24, 2022

•

12:00am - 2:00am
Woodbridge Racquet Ball Club

June 23, 2022

•

11:00am - 12:00pm
Marilyn Monroe Show

June 21, 2022

•

10:00pm - 11:30pm
Branchburg Sports Complex

June 21, 2022

•

2:30pm - 3:30pm
Marilyn Show

June 18, 2022

•

8:00pm - 9:00pm
Marilyn Monroe Sweet 16 Show

June 16, 2022

•

6:00pm - 8:00pm
The Brownstone

June 14, 2022

•

2:30pm - 3:30pm
America Show

June 12, 2022

•

4:00pm - 4:15pm
Birthday Party

June 10, 2022

•

4:30pm - 8:30pm
Project Graduation

June 09, 2022

•

8:00pm - 9:00pm
Marilyn Show

June 03, 2022

•

6:00pm - 8:00pm
private party

June 01, 2022

•

2:00pm - 3:00pm
Marilyn Monroe Birthday Party

May 30, 2022

•

8:00pm - 9:00pm
Marilyn Monroe Show

May 21, 2022

•

8:00pm - 10:00pm
Birthday Party gig

May 21, 2022

•

1:30pm - 3:30pm
John F Carroll Columbian Club

May 14, 2022

•

8:00pm - 9:30pm
Children's Birthday Party

May 13, 2022

•

8:00pm - 9:00pm
Marilyn Monroe Show

May 07, 2022

•

7:30pm - 8:00pm
Marilyn Monroe

April 18, 2022

•

2:00pm - 3:00pm
Marilyn Monroe Show

April 16, 2022

•

4:00pm - 5:00pm
Birthday Party

April 09, 2022

•

4:00pm - 6:00pm
Private party

April 01, 2022

•

12:00pm - 6:00pm
Princeton Marriot

March 20, 2022

•

1:00pm - 4:00pm
Corporate Gig

January 29, 2022

•

5:00pm - 7:30pm
Birthday Party

January 26, 2022

•

1:00pm - 5:00pm
Private Corporate Event

January 23, 2022

•

5:00pm - 7:00pm
Private Corporate Party

January 16, 2022

•

12:00pm - 5:00pm
Lakewood Country Club Private Gig

January 13, 2022

•

6:00pm - 9:00pm
Private Country Club Gig

January 07, 2022

•

6:00pm - 9:00pm
Dinner Party

December 19, 2021

•

5:30pm - 7:30pm
Christmas Party

December 15, 2021

•

1:00pm - 5:00pm
Holiday Corporate Party

December 12, 2021

•

8:00pm - 10:00pm
Private Party

December 07, 2021

•

6:00pm - 9:00pm
Holiday Corporate Party

October 31, 2021

•

8:00pm - 10:00pm
Halloween Party

October 30, 2021

•

7:30pm - 9:30pm
Halloween Party

October 29, 2021

•

7:00pm - 10:00pm
Restaurant/Bar Event

October 22, 2021

•

8:00pm - 11:30pm
Temple University

October 16, 2021

•

3:00pm - 5:00pm
Private party

October 10, 2021

•

1:00pm - 3:00pm
Private gig

October 09, 2021

•

6:30pm - 9:00pm
Wedding Private Gig

September 26, 2021

•

9:00pm - 11:00pm
New Egypt, NJ

September 17, 2021

•

1:00pm - 3:00pm
Montclair State University Performance

August 28, 2021

•

6:00pm - 7:00pm
Bachelorette Party

August 08, 2021

•

3:00pm - 5:00pm
Birthday Party

July 23, 2021

•

7:00pm - 8:30pm
Birthday Party

June 24, 2021

•

7:00pm - 10:00pm
Private Party

June 23, 2021

•

9:00pm - 11:00pm
Graduation party

June 19, 2021

•

4:00pm - 6:00pm
Graduation

June 12, 2021

•

8:00pm - 10:00pm
Private Party

June 08, 2021

•

7:30pm - 9:30pm
Michele Marzano as Marilyn Monroe

May 14, 2021

•

8:30pm - 9:30pm
Teen Birthday Party

April 03, 2021

•

11:00am - 1:30pm
Bachelor Party

December 19, 2020

•

3:00pm - 5:00pm
Teen Birthday Party

October 31, 2020

•

8:00pm - 10:00pm
Halloween Party

October 30, 2020

•

6:00pm - 9:00pm
Halloween Party

October 24, 2020

•

6:00pm - 8:00pm
Halloween Party

October 24, 2020

•

6:00pm - 8:00pm
Bridal Shower

October 23, 2020

•

7:00pm - 9:00pm
Halloween Party

October 03, 2020

•

7:30pm - 8:30pm
Michele Marzano as Marilyn Monroe

February 29, 2020

•

6:00pm - 6:30pm
Birthday Party

February 02, 2020

•

8:00pm - 11:00pm
Private Party

December 28, 2019

•

8:00pm - 9:00pm
Michele Marzano as Marilyn Monroe

December 25, 2019

•

8:00pm - 9:00pm
Marilyn Monroe in Morisstown, NJ

December 05, 2019

•

8:00pm - 10:00pm
New Jersey Food Council Event

November 30, 2019

•

3:00pm - 5:00pm
Michele Marzano as Marilyn Monroe

November 17, 2019

•

2:00pm - 4:00pm
Golden Hollywood Goddesses Show

November 16, 2019–November 17, 2019

•

8:00pm - 12:00am
Birthday Party

November 02, 2019

•

8:00pm - 10:00pm
Halloween Party

November 01, 2019

•

8:00pm - 10:00pm
Halloween Party

October 31, 2019

•

8:10pm - 10:00pm
Halloween Party

October 30, 2019

•

3:00pm - 5:00pm
Halloween Party

October 19, 2019

•

8:00pm - 10:00pm
Halloween Party

October 12, 2019

•

7:30pm - 10:30pm
Halloween Party

October 03, 2019

•

7:00pm - 11:00pm
Marilyn Monroe for NJ Chief of Police Gala

September 19, 2019

•

12:00pm - 3:00pm
Corporate Gig in NYC

September 15, 2019

•

4:00pm - 6:00pm
Rock 2 Adopt Benefit Concert (Marilyn Monroe)

September 09, 2019

•

2:00pm - 3:00pm
Michele as Mae West Little Egg Harbor, NJ

September 08, 2019

•

5:25pm - 6:00pm
Michele Marzano as Marilyn Monroe

July 04, 2019

•

5:00pm - 6:00pm
Marilyn Birthday Gig in Haverton. PA

June 25, 2019

•

10:00pm - 11:55pm
Branchburg Sports Complex

June 21, 2019

•

10:00pm - 11:55pm
Jewish Community Center Edison. NJ

June 20, 2019

•

1:00pm - 4:00pm
Corporate Gig in Plainsboro, NJ

June 17, 2019

•

5:30pm - 7:30pm
Private Gig Manahawken NJ

June 16, 2019

•

2:30pm - 3:30pm
Michele as Marilyn Little Egg Harbor, NJ

June 13, 2019

•

10:00pm - 11:55pm
Branchburg Sports Complex

June 09, 2019

•

11:00pm - 11:55pm
Newark Academy Graduation

May 31, 2019

•

7:00pm - 8:00pm
Michele as MADONNA Hawthorne NJ

May 25, 2019

•

7:00pm - 9:00pm
Carnival Party Woodcliff Lakes NJ

May 16, 2019

•

7:30pm - 9:30pm
Michele as CYNDI LAUPER Asbury Lanes, Asbury Park

May 08, 2019

•

7:00pm - 7:15pm
Birthday Party

May 02, 2019

•

12:00pm - 3:00pm
Corporate Gig in NYC

April 27, 2019

•

8:00pm - 9:00pm
Marilyn Birthday Gig in Maplewood NJ

March 21, 2019

•

11:00pm - 11:55pm
Private Marilyn gig Woodbridge, NJ

March 07, 2019

•

8:30pm - 10:30pm
Le Vaudeville Noir

February 09, 2019

•

6:00pm - 8:00pm
Marilyn Monroe Corporate Event Bethlehem PA

January 07, 2019

•

6:00pm - 9:00pm
Private Corporate Gig Whitehouse Station, NJ

December 18, 2018

•

6:00pm - 10:00pm
Private Corporate Gig Cipriani's NYC

December 14, 2018

•

1:00pm - 4:00pm
Holiday Gig Domenica Vacca Club NYC

December 12, 2018

•

7:00pm - 11:00pm
Private Corporate Gig Hotel Hugo NYC

October 27, 2018

•

8:00pm - 10:00pm
private gig in Westfield, NJ

October 13, 2018

•

12:00pm - 3:00pm
NJIT Tarot Gig

September 30, 2018

•

4:00pm - 6:30pm
Rock 2 Adopt Popcorn Park Zoo Tom's River, NJ

August 28, 2018

•

6:00pm - 10:00pm
MNN- TV shoot Mae West 125th Birthday Special

August 20, 2018

•

8:00pm - 11:00pm
VH-1 Save The Music

June 24, 2018

•

3:00pm - 5:30pm
Golden Hollywood Goddesses Show Toms River, NJ

June 22, 2018

•

9:00pm - 9:30pm
Private gig as MARILYN MONROE NYC

June 14, 2018

•

1:30pm - 4:30pm
Private Corporate Gig Painsboro, NJ

June 10, 2018

•

10:00pm - 11:00pm
Private gig Mendham NJ

May 25, 2018

•

9:00pm - 9:30pm
Westbury LI, Country Club as Marilyn Monroe

May 15, 2018

•

7:00pm - 9:00pm
Private MADONNA gig Paramus NJ

May 14, 2018

•

2:00pm - 4:00pm
MNN- TV shoot as MARILYN MONROE

May 06, 2018

•

8:00pm - 8:30pm
Davia's Restaurant as MARILYN MONROE Fairlawn, NJ

April 26, 2018

•

1:00pm - 4:00pm
TV show shoot as MARILYN MONROE

April 15, 2018

•

3:30pm - 5:00pm
Private Party Summit, NJ

March 22, 2018

•

7:00pm - 9:00pm
The Palace, Somerset, NJ

March 13, 2018

•

5:00pm - 6:30pm
Hamilton Radio Show

March 06, 2018

•

5:00pm - 6:00pm
Hamilton Radio

December 20, 2017

•

8:00pm - 10:00pm
private gig

December 07, 2017

•

5:00pm - 9:00pm
private party

December 05, 2017

•

1:00pm - 2:00pm
Marilyn Monroe Show in Staten Island

November 03, 2017

•

6:00pm - 8:00pm
Rumtober at Bahama Breeze

October 28, 2017

•

8:30pm - 11:30pm
Private Party Halloween Watchung, NJ

October 27, 2017

•

6:00pm - 8:00pm
Rumtober at Bahama Breeze

October 20, 2017

•

6:00pm - 8:00pm
Rumtober at Bahama Breeze

October 13, 2017

•

6:00pm - 8:00pm
Rumtober at Bahama Breeze

October 06, 2017

•

6:00pm - 8:00pm
Rumtober at Bahama Breeze