Your list is empty.
Save musicians, entertainers, speakers, and services, and they'll appear here.
Free Quick Quote
This vendor provides virtual services
Back to Magicians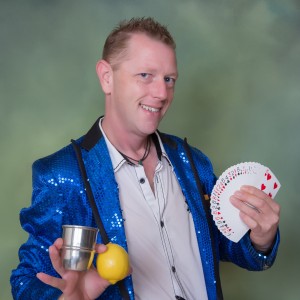 Kane Magic Entertainment
4.46
(3 reviews)
Dallas, TX
Travels up to 500 miles
$275 and up
Get a Free Quick Quote
Overview
NEW VIRTUAL MAGIC SHOWS ARE AVAILABLE!

Kendal Kane is one of the top leading and busiest entertainment magicians in Dallas, TX. It is because of his dedication and determination he has created the first of its kind magic shows with an original concept combining a unique blend of magic, music, and mystery, with an enchanting mix of theater, art, drama, audience participation, and fun. Take your event or party to the next level for your kid's birthday, adult birthday parties, corporate party events, and more. He is without a doubt your magic party magician, and able to make it a success!
---
3 Reviews

Verified Review
Brittney S.
•
February 15, 2020
The show was amazing and our friends had a great time at our son's birthday party! We would definitely hire him again!
Hired as:
Children's Party Magician

Mike P.
•
January 28, 2019
Really good show at our son's birthday party. The kids and adults were having fun enjoying the show. Thank you so much!
Hired as:
Children's Party Magician

Verified Review
Pat P.
•
October 19, 2015
We had over 50 guests ranging in age from 3-1/2 to 90 years of age. Mr. Kane had no trouble holding everyone's attention, young, young at heart, and everyone in between!
---
Booking Info
Gig Length: 60 - 90 minutes
Languages: English, Spanish
What to Expect
Kane Magic Entertainment is proud to customize our magic shows to fit your needs.
Since we have many clients with different requests and requirements, we are able to put together a unique and entertaining show filled with comedy magic, music, audience interaction, theater, and art.
We combine magic with music to create an enchanting and magical event. You'l be thrilled to hear all the gaps of laughter and see the smiles on everyone's face!
Whether you are planning a corporate party, special birthday, quinceanera,
church event, trade show, etc. we have an entertainment package designed just for you!
We work closely with our clients to plan and achieve a successful party or special entertainment event. This may include setting up meetings and discussions about your event.
About
Specializing In Helping Businesses And Families Create Unforgettable Parties And Events Exceeding Expectations Guaranteed!
Make Your Party Or Event Unforgettable Everyone Is Talking About In An Action Packed Non-Stop Roller Coaster Ride Full Of Magic, Music, And Mystery!
Due to the COVID-19 outbreak, Kane Magic Entertainment created VIRTUAL MAGIC SHOWS for parties and events. Since everyone should be in self-quarantine, doesn't mean your birthday party or event should be placed on hold. Everyone can still get together online and have magical and fun time celebrating magical moments!
Magic is highly interactive and usually in the audience's hands, but now is the time it seems to be more of a risk. Not to worry because magic is also visual and magicians can still utilize audience participation in different ways. With so many magic tricks and effects, we can create new magic shows designed for a Virtual Magic Show that is both entertaining and fun!
Magician Kendal Kane has created a brand new show in his magic studio filled with a lot of visual and virtual audience interaction while still putting focus on entertainment and fun!
Here's how it works:
1. We will be using the video platform Zoom with a special code for your party. Signup is free and secure.
2. You select the date and time for the magic show since everyday is Saturday now, that means more flexibility and convenience. Pay the investment via GigSalad or PayPal, invite all your friends to log on from their homes at the time of the show to join the fun and everyone stay safe! It's that easy!
3. This 40 minute magic show full of interactive magic and everyone will be able to participate and interact.
4. Everyone will learn how to do a magic trick they can try out at home. Instructions of materials needed will be provided along with a PDF file of more magic tricks they can download to learn more magic tricks.
5. Special Discount makes an extremely low investment for you. Live shows are structured differently naturally. Creativity and technology has helped us to push us forward which brings us to this time where virtual parties are a necessity.
Contact Us TODAY!
Take Your Next Party Or Event To A Whole New Level And Make It One People Can't Stop Talking About In An Action Packed Non-Stop Roller Coaster Ride Full Of Magic, Music, And Mystery!
We're off to a GREAT year full of magic and entertainment with NEW magic shows everyone will love! From the producers o Kane Magic Entertainment, we have been putting together ONE-OF-A-KIND party magic that people can't stop raving about. We'll create that WOW FACTOR you desire for your next party, convention, or event! Give us a call TODAY to find out the SECRET of hosting the most popular magic party that results in amazing and captivate your guests.
Now you can enjoy fun family magic show set to music presented by Dallas' coolest magician Kendal Kane. With a unique style of magical performance, you can get ready for a show like you have never seen before and won't ever forget! Its not the "Generic Magician" briefcase magic show, we bring the stage magic of Las Vegas to you! Kendal Kane comes in with his own backdrop, sound system and trunks full of surprises!
Music plays a major role in our show's production which is played throughout the entire show and adds texture, mood, and makes a party or event more theatrical like an interactive movie or television program which makes our show unique and the first of its kind!
BONUS 1
As a special bonus feature, you get party DJ action during our set up time and tear down time. You'll hear music that everyone is listening to now days, and it really gets the party going and sets the mood for a fun time for both kids ad adults. All the music that is played during that time is only the clean and edited versions of the songs lyrics, ensuring NO ONE gets offended in any way.
Turn Any Birthday Party Into An Action-Packed Non-Stop Roller Coaster Ride The Easy Way Featuring Dallas' Coolest Celebrity Magician Kendal Kane!
Imagine a birthday party so filled with laughter and joy that your child remembers it forever. Impossible? Dallas Birthday Party Magician for kids Kendal Kane GUARANTEES it. Your child is the star in 3 entertainment packages of the new "Magic Zone" show!
Give your child a unique magical experience they will remember for the rest of their life in a spellbinding show that puts the focus on your child's special day.!
The Music.
All of Kendal Kane's stage shows are done to music throughout the entire show. This is what you would see on TV or in Las Vegas when magicians perform grand illusions to music and dance routines. He has taken that concept to a new level and choreographs pure sleight of hand magic routines to the music.
Music is also incorporated as background music during his speaking parts and audience participation routines. So that is like watching a movie or television program. They always have music in the background which helps to carry the story along. This is the first of its kind and unique from other performers.

PACKAGE #1: BASIC BIRTHDAY PARTY MAGIC SHOW

Sidesplitting Comedy and Unbelievable Feats of Magic For Your Child's Birthday Party!
Children and adults will enjoy the magic show as Kendal presents a rapid-fire blend of sidesplitting comedy and unbelievable feats of magic that'll have eyes bulging, jaws dropping and leave you clamoring for more! The laughter and applause will ring in memory for a very long time indeed.
Lots of Fun and Audience Participation
Children don't want to sit and watch during the birthday party. They want to get involved! Adults are equally involved in the magic show making it a Clean Family Fun Environment. Dallas Birthday Party Magician Kendal Kane selects volunteers to help out with the magic and every volunteer is treated with respect making sure everyone is having a good time. Of course the true star of the magic show is the birthday child which magic happens right in their own hands! We transform the birthday kid into a magician, and they will perform their own feat of magic truly making them a star!
FREE MAGIC BOOKLET FOR EVERYONE
I make sure every kid gets to be a magician too! I give every child a magic booklet chock-full of 102 magic tricks and party tricks they can try out at home! This is a great way Kendal Kane likes to help encourage reading in all of his shows, and the kids love it because they get to take home a special gift from the magician! And it's something that is going to last!
In fact, I guarantee that every kid there will give you a huge THANK YOU!!! ovation for throwing a GREAT birthday party!
PACKAGE # 2: DELUXE BIRTHDAY PARTY MAGIC SHOW
MAGIC SET FOR THE BIRTHDAY CHILD!
Again, the focus is on your birthday party child when they receive magic man Kendal Kane's MAGIC SET making them feel extra special. The magic set includes tricks your child can easily do and put on their own magic show for their friends and family!
PACKAGE # 3: SUPER DELUXE BIRTHDAY PARTY PACKAGE is the most popular package kids and parents enjoy. Check this out.
1. FREE magic booklet for all the kids.
2. MAGIC SET for your child from Kendal Kane.
3. DJ action with music the kids will enjoy.
4. You won't believe your eyes when Kendal Kane FLOATS THE BIRTHDAY CHILD! Many people dream of floating in air, and since your child is the star of the show, Kendal Kane will actually make your child float on a magical carpet. The illusion looks GREAT and is a photo opportunity!
Adult Birthday Parties and Corporate Entertainment Shows
Here's How This Works...
You tell me exactly what kind of event you're planning to hold... school show, corporate entertainer, birthday party, wedding reception, company picnic, trade show, whatever... I ask you a few simple questions about location, who's coming, key results you want to see happen, maybe a few "inside jokes" that everyone who's coming can relate to... And I will create a totally customized program for your event just for YOU!
Check out some of our programs:
Walk Around Magic: Intimate Entertainment That Makes Events Unforgettable!
Imagine... your guests arriving to the event that's instantly charged with an atmosphere of mystery. They're greeted by Dallas' sleight-of-hand Grand Master Kendal Kane – a brilliant, award-winning performer that captivates the audience with charming delight and places emphases on ENTERTAINMENT and LAUGHTER with a light hearted approach.
People love to experience magic, especially up close, and in their own hands. You'll be delighted to hear the gasps of amazement and laughter as your guests are mesmerized with their own mini magic shows that will make a lasting, positive impression you desire.
It's during this cocktail hour that the magic happens one-on-one, right under your guest's noses and even right in their hands, setting the stage for an entire evening of fun and amazement. (If you've ever seen David Blaine or Cris Angel's magic on TV, you already know how powerful an experience this type of "close-up" magic can be!).
Magic, Music, And Mystery:An Enchanting After Dinner Show That Leaves You Spellbound!
If you are looking for a more formal show, this package is for you! This 45-minute to one hour magic show has a unique blend of magic with pure sleight of hand, mystery, and music to mesmerize your audience, clients, friends and family. This style of Cabaret Magic or Stage Magic is ideal for small parties to large events to dazzle and thrill audiences with tricks, illusions and general wizardry setting the stage for an enchanting evening of mystery appropriate for all ages.
You'll experience dramatic, artistic theater unlike anyone has seen before! You won't be getting the usual dated rabbit out of a hat Magician that you may associate with the title. You'll get a charming Magician using cards, coins, comedy, and mind reading, but it's all performed with a present day twist to thrill amaze your guests! Filled with audience interaction, ensures everyone will have a GREAT time.
The Music.
All of Kendal Kane's stage shows are done to music throughout the entire show. This is what you would see on TV or in Las Vegas when magicians perform grand illusions to music and dance routines. He has taken that concept to a new level and choreographs pure sleight of hand magic routines to the music.
Music is also incorporated as background music during his speaking parts and audience participation routines. So that is like watching a movie or television program. They always have music in the background which helps to carry the story along. This is the first of its kind and unique from other performers.
If you're looking for some entertainment for your event but you want something a little bit different with wit and edge, a Cabaret Magician Kendal Kane will do the trick!
Upcoming Booked Events
May 18, 2021

•

5:30pm - 7:30pm
Dinner Party

July 08, 2021

•

12:30pm - 1:30pm
Campus Event
Past Booked Events
February 01, 2020

•

3:00pm - 3:30pm
Children's Birthday Party

December 24, 2019

•

9:00pm - 9:30pm
Christmas Party

November 23, 2019

•

7:00pm - 8:00pm
Children's Birthday Party

October 25, 2019

•

9:00pm - 10:00pm
Birthday Party

October 17, 2015

Birthday (Adult)
Testimonials
"You did an outstanding job! Not only did the kids enjoy it, but the adults as well. My family and I thank you very much for taking the time to do this for us. It was better than expected. Thanks again."
– Anita Mungia Temple, TX
"Great job! Very appropriate for all age groups."
– Courtney Melkus
"I wish I had been looking over your shoulder the whole evening, to see the delight and amazement on everyone's face!"
– Genny White, Tiger Club
"Everyone enjoyed your comic magic show! My husband and I are still getting a laugh from your hilarious show. Thanks again for such an entertaining evening."
– Libby Crowley, Blue and Gold Banquet
"Everyone loved your combination of music. Your magic went right along with the music which was the highlight of our party!"
– Randy Smile, GM, Walmart.
"Everyone raved about your performance. I received many compliments about your show, amazing and funny were the most popular. "
– June Wilson, Fortis
"It has been such a joy to work with someone as talented as Kendal Kane. We heard so many complimentary comments about you. You were everything I expected you to be – and even more! You delighted both the young and old with your incredible magic tricks. Everyone was charmed!
– Sandy Moore H.R. – 1st Clinic.
"Thank you so much for providing the entertainment last night for our family. Everyone is still talking about it. You did a great job, and I just wanted to tell you how much we appreciated you coming."
– Jann Cox
"All I can say is it was WONDERFUL and PERFECT for my event! Everyone enjoyed it, ages 4- 70!!!
– Ashely DuLaney
"Words alone cannot express just how thankful I am for the job well done. You are indeed an expert in what you do. Once again, thank you sooo much!"
– Miriam Makina
"Never having had a performer as this, we were so delighted with the performance. I had a very pleasant experience as well all the children. What surprised me the most was the 20 or so kids at the party, ages ranging from 3 - 17, all eyes were on the magician and he amazed and astonished even the adults. I will tell all of my friends with children to book Kendal Kane."
– Jelaine Bates
"We had a Blast! All of the parents were calling me this morning telling me thier kids were crying because they wanted you at thier party! lol.. So alot of Referals were made this morning!
Your Performance was AWESOME Your ATTITUDE was GREAT and INTERACTION with the Kids and Adults was the BEST! Thank You Again! "
– Jay Rojas