Your list is empty.
Save musicians, entertainers, speakers, and services, and they'll appear here.
Free Quick Quote
This vendor provides virtual services
Back to Guitarists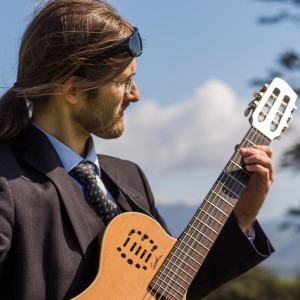 John Wayland Harr
4.95
(28 reviews)
Portland, OR
Travels up to 200 miles
$175 and up
Get a Free Quick Quote
Overview
Serving the Pacific NW's musical needs since 2008. Guitarist John Wayland Harr has provided music for MANY MANY public and private events all throughout the region. His performances have taken him to a variety of venues and locations in Portland, Eugene, Seattle, Eastern Washington, the Mt. Rainer area, the Oregon Coast, the Columbia Gorge, and many other locales.
John performs a wide variety of music on acoustic nylon and steel string guitars, and electric guitar including: classical, jazz, pop, Spanish, South American, original, and other styles as well. He is in demand as both a featured performer and a creator of inspiring ambience. Let him know how he can help your musical needs!
---
---
Booking Info
Gig Length: 45 - 300 minutes
What to Expect
A very diverse performance: listeners will hear a WIDE variety of styles on acoustic nylon and steel string guitars, electric guitar, and loop machine. This leaves no room for musical stagnation and listeners will be engaged at all times.
Clients can expect a positive working relationship with Mr. Harr.
About
Hello there! Thanks for visiting my page. Here's a bit about me and how I can help you with your special event:
I have had the privilege of providing music for MANY, MANY wineries, wine bars, cocktail parties, weddings, dinners, restaurants, concerts, and other public and private events in my career. I have been especially busy performing since moving to the Pacific NW in August 2008. I have played for events all throughout this region from Seattle to Eastern Washington, the Oregon Coast to the Columbia Gorge, Southern and Central Oregon, the Mt. Rainer area, etc. I have played at many different venues in this region including: Black Butte Ranch, Tiffany Center, Portland City Grill, Portland Hilton, RingSide Fish House, Surfsands Resort, Cave B Inn, Skamania Lodge, Crystal Mountain, Timberline Lodge, Portland Art Museum, Andina restaurant, many McMenamins locations, private residences, and many other locales. I have also served many corporate clients such as Sunset Porsche, KRUG Champagne, Ste. Michelle Wine Estates, Otak Inc., Umpqua Bank, Macy's, Orvis, PCOGS, and others.

My playing style and repertoire is largely influenced by my classical guitar and jazz studies, however, as you can see from my song list I play MUCH more than that. I also play pop, Spanish, Brazilian, South American, Baroque, original, and other styles as well. If you have specific songs/pieces you would like incorporated into your event or if you would like me to focus on a specific style of music please let me know. I am more than happy to learn them or to tailor the playlist to meet your wishes.
At my performances you can expect to hear nylon and steel string acoustic guitars, electric guitar, loop pedal, and occasional vocals. I primarily play solo instrumental guitar music, however, I also occasionally use a loop pedal which allows me to create the sound of a full band which can help keep the musical airwaves fresh and interesting. Just let me know what type of services (classical guitar, instrumental pop, jazz, etc.) you would like from me and I will gladly prepare the music you request. I also play in a guitar duo setting that plays primarily jazz. Having a duo has a different energy level and a fuller sound in general. Please let me know if you are interested in having me play in this format.
I have had the privilege of working with MANY different clients over the years and I strive to create a pleasant working experience with each one. This includes brides/grooms, restaurant owners, private party hosts, corporate companies, shop owners, and others. I make a diligent effort to respond to all emails and phone calls in a 24 hour period, to be as clear with communication as possible, and seek to fulfill the wishes of whomever I am serving. I should also mention that I really enjoy what I do. It has been my dream to be a professional guitarist since I was 12 years old. I feel very fortunate to be able to do what I love for a living.
Thanks again for visiting here. I hope to hear from you!
Additional Booking Notes
For larger spaces where amplification is required, access to a power source is required.
Services Offered
Past Booked Events
December 06, 2019

•

6:00pm - 8:00pm
Company Party (Eugene, OR)

October 19, 2019

•

5:00pm - 9:00pm
Wedding Ceremony (The Nightwood Society)

October 12, 2019

•

1:30pm - 2:30pm
Wedding Ceremony (Abbey Road Farm)

October 05, 2019

•

5:00pm - 8:00pm
Private Event (Tigard, OR)

September 29, 2019

•

4:00pm - 6:00pm
Private Event (Youngberg Hill Winery)

September 13, 2019

•

5:00pm - 8:00pm
Private Event (3 Rivers Grill)

August 16, 2019

•

3:30pm - 6:30pm
Corporate Event (Rossie Farms)

August 14, 2019

•

4:30pm - 7:00pm
Private Event (Silvan Ridge Winery)

August 13, 2019

•

4:30pm - 7:00pm
Private Event (Domaine Serene Winery)

August 07, 2019

•

4:30pm - 7:00pm
Private Event (Domaine Serene Winery)

July 29, 2019

•

7:00pm - 8:00pm
NorthWest Place

July 27, 2019

•

5:30pm - 9:30pm
Private Event (West Linn, OR)

July 25, 2019

•

5:00pm - 8:00pm
Private Event (Nordia House)

July 18, 2019

•

6:00pm - 8:00pm
Progress Ridge TownSquare

July 06, 2019

•

7:00pm - 9:00pm
Doomsday Brewing Company

July 06, 2019

•

2:00pm - 2:15pm
Funeral/Memorial Service

July 05, 2019

•

5:00pm - 8:00pm
Private Event (Alloro Vineyard)

June 29, 2019

•

6:00pm - 8:00pm
Doomsday Brewing Company (Washougal, WA)

June 22, 2019

•

7:00pm - 7:30pm
Private Event (Vancouver, WA)

January 24, 2019

•

5:30pm - 8:30pm
Corporate Event

November 03, 2018

•

10:30am - 12:30pm
Wedding Ceremony

October 20, 2018

•

3:30pm - 5:30pm
Wedding Ceremony at Cathedral Park (Portland, OR)

October 20, 2018

•

12:00pm - 1:00pm
Wedding Ceremony at Hoyt Arboretum (Portland, OR)

September 29, 2018

•

6:00pm - 8:00pm
Oswego Lake Country Club (Lake Oswego, OR)

September 28, 2018

•

5:00pm - 7:00pm
Cola Cove (Tigard, OR)

September 22, 2018

•

6:00pm - 8:00pm
Oswego Lake Country Club (Lake Oswego, OR)

September 22, 2018

•

12:00pm - 3:00pm
Wedding Ceremony (Lost Lake, OR)

September 21, 2018

•

6:00pm - 7:30pm
Rehearsal Dinner

September 13, 2018

•

6:00pm - 8:00pm
Aurora Colony Vineyards (Aurora, OR)

September 08, 2018

•

6:00pm - 8:00pm
Oswego Lake Country Club (Lake Oswego, OR)

September 08, 2018

•

3:00pm - 3:30pm
Memorial Service (Portland, OR)

September 07, 2018

•

5:00pm - 7:00pm
Cola Cove (Tigard, OR)

September 02, 2018

•

5:30pm - 8:00pm
Private Party (Portland, OR)

September 02, 2018

•

10:00am - 11:00am
First United Methodist Church (Vancouver, WA)

August 31, 2018

•

5:00pm - 7:00pm
Cola Cove (Tigard, OR)

August 30, 2018

•

6:00pm - 8:00pm
Aurora Colony Vineyards (Aurora, OR)

August 26, 2018

•

3:30pm - 4:45pm
Beach Wedding (Cannon Beach, OR)

August 26, 2018

•

10:00am - 11:00am
First United Methodist Church (Vancouver, WA)

August 25, 2018

•

6:30pm - 8:30pm
Dinner Party

August 24, 2018

•

5:00pm - 7:00pm
Cola Cove (Tigard, OR)

August 23, 2018

•

7:00pm - 10:00pm
House Concert (Corvallis, OR)

August 18, 2018

•

6:00pm - 8:00pm
Oswego Lake Country Club (Lake Oswego, OR)

August 18, 2018

•

4:00pm - 5:00pm
Wedding Ceremony (West Linn, OR)

August 17, 2018

•

5:00pm - 7:00pm
Cola Cove (Tigard, OR)

August 11, 2018

•

6:00pm - 8:00pm
Wedding Reception

August 10, 2018

•

5:00pm - 7:00pm
Cola Cove (Tigard, OR)

August 08, 2018

•

5:00pm - 9:30pm
Wedding Ceremony at Timber Line Lodge

August 04, 2018

•

6:00pm - 8:00pm
Oswego Lake Country Club (Lake Oswego, OR)

August 04, 2018

•

12:30pm - 3:30pm
Vocal Workshop (Vancouver, WA)

August 03, 2018

•

5:00pm - 7:00pm
Cola Cove (Tigard, OR)

July 27, 2018

•

5:00pm - 7:00pm
Cola Cove (Tigard, OR)

July 22, 2018

•

12:30pm - 6:00pm
Terra Vina Wines (Wilsonville, OR)

July 21, 2018

•

12:30pm - 6:00pm
Terra Vina Wines (Wilsonville, OR)

July 20, 2018

•

6:00pm - 8:00pm
Aurora Colony Vineyards (Aurora, OR)

July 14, 2018

•

4:30pm - 5:30pm
Wedding Ceremony at The Armory (Portland, OR)

July 13, 2018

•

5:00pm - 7:00pm
Cola Cove (Tigard, OR)

July 10, 2018

•

1:00pm - 7:00pm
Cola Cove (Tigard, OR)

July 08, 2018

•

9:00am - 12:00pm
Private Event (Bend, OR)

July 06, 2018

•

5:00pm - 7:00pm
Cola Cove (Tigard, OR)

June 30, 2018

•

6:00pm - 8:00pm
Oswego Lake Country Club (Lake Oswego, OR)

June 23, 2018

•

6:00pm - 8:00pm
Oswego Lake Country Club (Lake Oswego, OR)

June 22, 2018

•

6:00pm - 8:00pm
Aurora Colony Vineyards (Aurora, OR)

June 16, 2018

•

6:00pm - 8:00pm
Oswego Lake Country Club (Lake Oswego, OR)

June 15, 2018

•

5:00pm - 7:00pm
Cola Cove (Tigard, OR)

June 09, 2018

•

6:00pm - 8:00pm
Oswego Lake Country Club (Lake Oswego, OR)

June 08, 2018

•

5:00pm - 7:00pm
Cola Cove (Tigard, OR)

June 02, 2018

•

6:00pm - 8:00pm
Oswego Lake Country Club (Lake Oswego, OR)

June 01, 2018

•

5:00pm - 7:00pm
Cola Cove (Tigard, OR)

May 27, 2018

•

2:00pm - 4:00pm
Aurora Colony Vineyards (Aurora, OR)

May 26, 2018

•

6:00pm - 8:00pm
Oswego Lake Country Club (Lake Oswego, OR)

May 25, 2018

•

5:00pm - 7:00pm
Cola Cove (Tigard, OR)

May 18, 2018

•

5:00pm - 7:00pm
Cola Cove (Tigard, OR)

May 12, 2018

•

6:00pm - 8:00pm
Oswego Lake Country Club (Lake Oswego, OR)

May 11, 2018

•

5:00pm - 7:00pm
Cola Cove (Tigard, OR)

May 05, 2018

•

6:00pm - 8:00pm
Oswego Lake Country Club (Lake Oswego, OR)

May 05, 2018

•

1:00pm - 4:00pm
Hyland Estates Winery (Dundee, OR)

May 04, 2018

•

5:00pm - 7:00pm
Cola Cove (Tigard, OR)

May 04, 2018

•

3:00pm - 4:00pm
NorthWest Place (Portland, OR)

April 28, 2018

•

6:00pm - 8:00pm
Oswego Lake Country Club (Lake Oswego, OR)

April 27, 2018

•

6:00pm - 8:00pm
Aurora Colony Vineyards (Aurora, OR)

April 20, 2018

•

5:00pm - 7:00pm
Cola Cove (Tigard, OR)

April 13, 2018

•

5:00pm - 7:00pm
Cola Cove (Tigard, OR)

April 06, 2018

•

5:00pm - 7:00pm
Cola Cove (Tigard, OR)

April 05, 2018

•

5:00pm - 8:30pm
Dinner Party

March 31, 2018

•

11:30am - 1:00pm
Private Event (Portland, OR)

March 30, 2018

•

6:00pm - 8:00pm
Aurora Colony Vineyards (Aurora, OR)

March 23, 2018

•

5:00pm - 7:00pm
Cola Cove (Tigard, OR)

March 16, 2018

•

5:00pm - 7:00pm
Cola Cove (Tigard, OR)

March 09, 2018

•

5:00pm - 7:00pm
Cola Cove (Tigard, OR)

March 02, 2018

•

5:00pm - 7:00pm
Cola Cove (Tigard, OR)

February 23, 2018

•

5:00pm - 7:00pm
Cola Cove (Tigard, OR)

February 16, 2018

•

5:00pm - 7:00pm
Cola Cove (Tigard, OR)

February 14, 2018

•

5:30pm - 8:00pm
Persimmon Country Club (Gresham, OR)

February 09, 2018

•

5:00pm - 6:30pm
Cola Cove (Tigard, OR)

February 08, 2018

•

12:00pm - 1:00pm
House Party

January 21, 2018

•

10:00am - 11:00am
First United Methodist Church (Vancouver, WA)

January 05, 2018

•

6:00pm - 8:00pm
Aurora Colony Vineyards (Aurora, OR)

December 05, 2017

•

4:30pm - 6:30pm
Convention/Trade Show

October 14, 2017

•

7:00pm - 10:00pm
Private Party (Seattle, WA)

October 05, 2017

•

4:00pm - 7:00pm
Corporate Event

September 30, 2017

•

7:00pm - 10:00pm
Private Party (Portland, OR)

September 30, 2017

•

3:30pm - 5:00pm
Wedding Reception (Portland, OR)

September 30, 2017

•

2:00pm - 3:00pm
Wedding Ceremony (Portland, OR)

September 27, 2017

•

4:00pm - 7:00pm
Grand Opening (Lake Oswego, OR)

September 23, 2017

•

3:00pm - 4:30pm
Beecher Hill House (Peshastin, WA)

September 16, 2017

•

7:00pm - 9:00pm
Private House Party (Portland, OR)

September 15, 2017

•

6:00pm - 8:00pm
Aurora Colony Vineyards (Aurora, OR)

September 15, 2017

•

3:00pm - 4:00pm
Cultural Event

September 14, 2017

•

6:30pm - 9:30pm
Wedding Rehearsal Dinner (Wilsonville, OR)

September 09, 2017

•

5:00pm - 6:00pm
Tetherow (Bend, OR)

September 03, 2017

•

5:00pm - 6:30pm
Wedding Reception (Portland, OR)

September 03, 2017

•

3:00pm - 4:00pm
Wedding Ceremony (Portland, OR)

September 02, 2017

•

3:00pm - 4:30pm
Wedding Ceremony

August 31, 2017

•

7:00pm - 9:00pm
House Concert (Eugene, OR)

August 26, 2017

•

3:15pm - 6:15pm
Private Event (Pacific City, OR)

August 25, 2017

•

6:00pm - 8:00pm
Aurora Colony Vineyards (Aurora, OR)

August 24, 2017

•

8:30pm - 10:30pm
Devil's Den wine bar (Portland, OR)

August 12, 2017

•

4:30pm - 8:30pm
Funeral/Memorial Service

August 05, 2017

•

3:00pm - 5:00pm
Wedding Ceremony (Coos Bay, OR)

August 04, 2017

•

6:30pm - 9:00pm
Persimmon Country Club (Gresham, OR)

July 29, 2017

•

4:30pm - 6:00pm
Wedding Ceremony

July 21, 2017

•

6:30pm - 7:00pm
Wedding Ceremony

July 21, 2017

•

1:45pm - 2:45pm
Wedding Ceremony (Dundee, OR)

July 14, 2017

•

6:00pm - 8:00pm
Aurora Colony Vineyards (Aurora, OR)

July 09, 2017

•

3:00pm - 6:00pm
Imagine Anything Art Gallery (Sandy, OR)

July 08, 2017

•

2:30pm - 5:30pm
Imagine Anything Art Gallery (Sandy, OR)

July 01, 2017

•

7:00pm - 8:00pm
Stephanie Inn (Cannon Beach, OR)

June 24, 2017

•

7:30pm - 9:00pm
Wedding Ceremony (Eugene, OR)

June 23, 2017

•

6:00pm - 8:00pm
Aurora Colony Vineyards (Aurora, OR)

June 17, 2017

•

3:30pm - 5:00pm
Wedding Ceremony

June 03, 2017

•

5:00pm - 8:00pm
Private Party (Seattle, WA)

June 01, 2017

•

7:00pm - 8:00pm
Loowit Brewing Company (Vancouver, WA)

May 29, 2017

•

5:00pm - 8:00pm
Nisqually Red Wind Casino (Olympia, WA)

May 28, 2017

•

2:00pm - 5:00pm
Holloran Vineyards (Dundee, OR)

May 27, 2017

•

3:30pm - 7:30pm
Cedarville Lodge (Gresham, OR)

May 26, 2017

•

6:30pm - 8:30pm
Dolio Winery And Vineyard (Battle Ground, WA)

May 14, 2017

•

5:00pm - 8:00pm
Private Party (Lake Oswego, OR)

May 05, 2017

•

5:15pm - 7:30pm
The Falls At Eagle Crest (Redmond, OR)

April 21, 2017

•

6:00pm - 8:00pm
Aurora Colony Vineyards (Aurora, OR)

March 26, 2017

•

2:00pm - 3:30pm
Sacred Heart Catholic Church (Portland, OR)

March 18, 2017

•

12:00pm - 4:00pm
Domaine Serene Winery (Dayton, OR)

March 18, 2017

•

10:00am - 11:00am
Sacred Heart Catholic Church (Portland, OR)

March 11, 2017

•

6:00pm - 9:00pm
Private Event (Woodland, WA)

March 10, 2017

•

5:00pm - 8:00pm
Cultural Event

March 03, 2017

•

6:30pm - 9:00pm
Persimmon Country Club (Gresham, OR)

February 03, 2017

•

6:00pm - 8:00pm
Aurora Colony Vineyards (Aurora, OR)

January 27, 2017

•

6:00pm - 11:00pm
RingSide Fish House (guitar duo w/Ben Graves)

January 21, 2017

•

6:00pm - 8:00pm
Birthday Party

January 19, 2017

•

3:00pm - 7:00pm
Corporate Event (Portland, OR)

January 14, 2017

•

3:30pm - 4:30pm
Union/Pine (Portland, OR)

January 07, 2017

•

2:00pm - 3:00pm
Stephanie Inn (Cannon Beach, OR)

December 15, 2016

•

7:30pm - 9:30pm
House Concert (Portland, OR)

December 09, 2016

•

6:00pm - 11:00pm
RingSide Fish House (Portland, OR)

December 03, 2016

•

10:00am - 11:00am
Sacred Heart Catholic Church (Portland, OR)

December 02, 2016

•

6:30pm - 9:00pm
Persimmon Country Club (Gresham, OR)

November 27, 2016

•

2:00pm - 5:00pm
Holloran Vineyard Wines (Dundee, OR)

November 19, 2016

•

7:30pm - 10:00pm
A Night Of The Guitars (Coos Bay, OR)

November 16, 2016

•

4:30pm - 7:00pm
Open House for Income Property Management

November 11, 2016

•

6:00pm - 11:00pm
RingSide Fish House (Portland, OR)

October 30, 2016

•

2:00pm - 3:30pm
Memorial Service (Mount Angel, OR)

October 28, 2016

•

6:00pm - 11:00pm
RingSide Fish House (Portland, OR)

October 26, 2016

•

5:30pm - 8:30pm
Networking Event (Portland, OR)

October 15, 2016

•

4:00pm - 6:00pm
Private Event (Hood River, OR)

October 14, 2016

•

3:00pm - 4:00pm
Funeral/Memorial Service

October 08, 2016

•

4:00pm - 5:30pm
Wedding Ceremony (Lake Oswego, OR)

October 07, 2016

•

6:30pm - 9:00pm
Persimmon Country Club (Gresham, OR)

October 01, 2016

•

6:00pm - 9:00pm
Wedding Ceremony (Sokol Blosser Winery)

September 29, 2016

•

5:00pm - 8:00pm
MRG Law Firm (Portland, OR)

September 25, 2016

•

2:30pm - 5:00pm
Fundraiser for Save Endangered Animals Campaign

September 24, 2016

•

5:30pm - 7:30pm
Vista Hills (private event)

September 24, 2016

•

1:30pm - 2:30pm
Private Event (Lake Oswego, OR)

September 23, 2016

•

6:00pm - 11:00pm
RingSide Fish House (Portland, OR)

September 22, 2016

•

4:00pm - 6:30pm
Sunriver Resort (Sunriver, OR)

September 21, 2016

•

6:30pm - 7:15pm
Sacred Heart Catholic Church (Portland, OR)

September 21, 2016

•

11:00am - 11:45am
Sacred Heart Catholic Church (Portland, OR)

September 17, 2016

•

7:00pm - 8:00pm
Wahclella Falls (Columbia River Gorge, OR)

September 09, 2016

•

3:00pm - 4:30pm
Wedding (Scappoose, OR)

September 02, 2016

•

6:00pm - 8:00pm
Aurora Colony Vineyards (Aurora, OR)

August 28, 2016

•

4:00pm - 5:00pm
Duo w/Mitzi Zilka (Portland, OR)

August 27, 2016

•

5:00pm - 8:00pm
Wedding Ceremony (Portland, OR)

August 26, 2016

•

6:00pm - 11:00pm
RingSide Fish House

August 21, 2016

•

11:30am - 3:00pm
Private Residence (Boring, OR)

August 20, 2016

•

7:30pm - 10:00pm
Private Party (Portland, OR)

August 20, 2016

•

10:00am - 12:00pm
Wedding Ceremony

August 18, 2016

•

1:00pm - 1:45pm
Pacific Senior Living

August 15, 2016

•

6:00pm - 6:45pm
Sacred Heart Catholic Church

August 15, 2016

•

11:00am - 11:45am
Sacred Heart Catholic Church

August 13, 2016

•

7:00pm - 8:00pm
Langdon Farms Golf Course (Aurora, OR)

August 12, 2016

•

6:00pm - 11:00pm
RingSide Fish House

August 06, 2016

•

8:00pm - 10:00pm
Private Party (Sublimity, OR)

August 05, 2016

•

6:30pm - 9:00pm
Persimmon Country Club (private club member event)

July 30, 2016

•

3:00pm - 5:30pm
Reception (Ridgefield, WA)

July 29, 2016

•

6:00pm - 8:00pm
Aurora Colony Vineyards

July 26, 2016

•

4:30pm - 7:30pm
McMenamins Gearhart Hotel

July 24, 2016

•

7:00pm - 8:00pm
Gorge Crest Vineyards (Underwood, WA)

July 24, 2016

•

11:00am - 2:00pm
Crag Rats Hut (Hood River, OR)

July 23, 2016

•

6:00pm - 9:00pm
Private Party (Battle Ground, WA)

July 16, 2016

•

7:00pm - 9:30pm
Private Party (McMinnville, OR)

July 16, 2016

•

3:00pm - 4:30pm
Wedding Ceremony (Portland, OR)

July 15, 2016

•

6:00pm - 11:00pm
RingSide Fish House
Set List
A Child is Born - Thaddeus Jones
A Thousand Years - Christina Perri
Adventure Of A Lifetime - Coldplay
Air On A G String - J.S. Bach
(All) The Patchwork Below - John Wayland Harr
Alfie - Burt Bacharach
All I Have To Do Is Dream - The Everly Brothers
All The Things You Are - Kern/Hammerstein
All You Need Is Love - The Beatles
Amazing Grace - John Newton
And I Love Her - The Beatles
Annie's Song - John Denver
Arioso - J.S. Bach
Armando's Rhumba - Chick Corea
Asturias (Leyenda) - Isaac Albeniz
At Home With The Tao - John Wayland Harr
Au Privave - Charlie Parker
Autumn Leaves - Joseph Kosma
Baby, Now That I've Found You - Macaulay/MacLeod
Baker Street - Gerry Rafferty
Beast Of Burden - The Rolling Stones
Better Days Ahead - Pat Metheny
Billie's Bounce - Charlie Parker
Black Mountain Rag - Traditional
Blue Bossa - Kenny Dorham
Blues For Alice - Charlie Parker
Blues For Pat - Charlie Haden
Body And Soul - Johnny Green
Bright Size Life - Pat Metheny
Bud Powell - Chick Corea
Canon - Johann Pachelbel
Cavatina (theme from "The Deer Hunter") - Stanley Meyers
Chameleon - Herbie Hancock
Cherokee - Ray Noble
Choro de Saudade - Agustin Barrios Mangore
Choro to Catarina - Sandro Albert
Christmas/Holiday Music
Clair de Lune -Claude Debussy
Classical Gas - Mason Williams
Come Together - The Beatles
Concentration On The Peace Within - John Wayland Harr
Confirmation - Charlie Parker
Crazy For You - Madonna
Dakota Contemplations - John Wayland Harr
Darn That Dream - Van Heusen/DeLange
Deacon Blues - Steely Dan
Donna Lee - Charlie Parker
Down By The Seaside - Led Zeppelin
Edelweiss - Rodgers/Hammerstein
Eleanor Rigby - The Beatles
Emily's Consolation - John Wayland Harr
Empty - John Wayland Harr
Fantasia #9 - Alonso Mudarra
Fantasia Original - Jose Vinas
Field After Field - John Wayland Harr
Fields Of Gold - Sting
Fire And Rain - James Taylor
Fire Off Your Imagination - John Wayland Harr
First Day Of My Life - Bright Eyes
Fix You - Coldplay
Free Fallin' - Tom Petty And The Heartbreakers
Giant Steps - John Coltrane
Gimme! Gimme! Gimme! (A Man After Midnight) - ABBA
Girls Just Wanna Have Fun - Cyndi Lauper
God Only Knows - The Beach Boys
Granada - Isaac Albeniz
Green Dolphin Street - Bronislau Kaper
Groovin' High - Dizzy Gillespie
Gymnopedie No. 1 - Erik Satie
Hallelujah - Leonard Cohen
Harvest Moon - Neil Young
Have You Met Miss Jones? - Rodgers/Hart
Heartbeats - The Knife
Here Comes The Sun - The Beatles
Hey Jude - The Beatles
Home - Edward Sharpe And The Magnetic Zeros
Home - Philip Philips
How Can I Tell You? - Cat Stevens
How Great Thou Art - Hymn
How Insensitive - Antonio Carlos Jobim
Human Nature - Michael Jackson
I Can't Help Falling In Love - Elvis Presley
I Can't Help It - Michael Jackson
I Will - The Beatles
I'm Yours - Jason Mraz
I've Got Rhythm - George Gershwin
I Only Have Eyes For You - The Flamingos
I Won't Give Up - Jason Mraz
If I Only Had A Brain - Arlen/Harburg
In My Life - The Beatles
In My Room - The Beach Boys
In The Garden - C. Austin Miles
In Your Own Sweet Way - Dave Brubeck
Isn't She Lovely - Stevie Wonder
James - Pat Metheny
Jesu, Joy of Man's Desiring - J.S. Bach
Joy - John Wayland Harr
Joy Spring - Clifford Brown
Just Be Who You Are, Most Naturally - John Wayland Harr
Just What I Needed - The Cars
Karma Chameleon - Culture Club
Kiss From A Rose - Seal
La Catedral - Agustin Barrios Mangore
La Fiesta - Chick Corea
La Maja Da Goya - Enrique Granados
La Vie En Rose - Edith Piaf
Last Train Home - Pat Metheny
Lay All Your Love On Me - ABBA
Learning To Fly - Tom Petty And The Heartbreakers
Light My Fire - The Doors
Linus And Lucy - Vince Guaraldi
Love And Some Verses - Iron And Wine
Love Me Two Times - The Doors
Lucky Southern - Keith Jarrett
Lute Suite No. 1 in E Minor, BWV 996 - J.S. Bach
Lute Suite No. 4 in E Major, BWV 1006a - J.S. Bach
Maia - John Wayland Harr
Marry Me - Train
Minuet - J.S. Bach
Moment's Notice - John Coltrane
Mood For A Day - Steve Howe
Moon River - Henry Mancini
Musette - J.S. Bach
My Foolish Heart - Victor Young
My One And Only Love - Wood/Mellin
My Romance - Victor Young
Naima - John Coltrane
New Chautauqua - Pat Metheny
Nostalgia In Times Square - Charles Mingus
Nothing Else Matters - Metallica
Ocean Waves - Bola Sete
Ode To Friends - John Wayland Harr
Of Sunya - John Wayland Harr
Oleo - Sonny Rollins
-(On The Spot)- - John Wayland Harr
On The Way - David Cullen
One Note Samba - Antonio Carlos Jobim
Penny Lane - The Beatles
Prairie Etude - John Wayland Harr
Prelude from Cello Suite No. 1, BWV 1007 - J.S. Bach
Prelude In C, BWV 846 - J.S. Bach
Prelude, Fugue, And Allegro - J.S. Bach
Prelude No 1 - Heitor Villa-Lobos
Prelude No. 3 - Heitor Villa-Lobos
Question And Answer - Pat Metheny
Rainbow Connection - Williams/Ascher
Recuerdos de Ahlambra - Francisco Tarrega
Red White and Yellowstone - Stuart Weber
Rock With You - Michael Jackson
Romanza - Anonymous
Rumores de la Caleta - Isaac Albeniz
St. Thomas - Sonny Rollins
Satin Doll - Duke Ellington
Saturday In The Park - Chicago
Say The Brother's Name - Pat Metheny
Scrapple From The Apple - Charlie Parker
Sevilla - Isaac Albeniz
Simple Gifts - Joseph Brackett
Simple Man - Lynyrd Skynyrd
Smells Like Teen Spirit - Nirvana
So What - Miles Davis
Someday My Prince Will Come - Morey/Churchill
Someone To Watch Over Me - Geroge Gershwin
Something - The Beatles
Somewhat Satori - John Wayland Harr
Somewhere Over The Rainbow - Arlen/Harburg
Song For Life - John Wayland Harr
Song For Someone - U2
Spain - Chick Corea
Spring Ain't Here - Pat Metheny
Stella By Starlight - Victor Young
Stompin' At The Savoy - Edgar Sampson
Story Of My Life - One Direction
Storybook Love (theme from 'The Princess Bride') - Mark Knopfler
Striving - John Wayland Harr
Stuck In The Middle With You - Stealer's Wheel
Summer Samba - Marcos Valle
Super Mario Bros. Medley - Koji Kondo
Sweet Child Of Mine - Guns N' Roses
Sweet Home Alabama - Lynyrd Skynyrd
Take Five - Dave Brubeck
Take The A Train - Billy Strayhorn
Tenderly - Walter Gross
Thank You - Led Zeppelin
The Flinstones Theme - Hoyt Curtin
The Girl From Ipanema - Antonio Carlos Jobim
The Long Goodbye - Alan Broadbent
The Legend Of Zelda - Koji Kondo
The Message - John Wayland Harr
The Rainbow Connection - Williams/Ascher
The Wedding Song - Paul Stookey
Theme from "Un Homme Et Une Femme" - Francis Lai
Time In A Bottle - Jim Croce
Tuesday - John Wayland Harr
Unity Village - Pat Metheny
Untitled JAZZ - John Wayland Harr
Valses Poeticos - Enrique Granados
Variations on a Theme by Mozart - Fernando Sor
Villanesca - Enrique Granados
Violin Partita No. 2, BWV 1002 - J.S. Bach
Violin Sonata No. 1, BWV 1001 - J.S. Bach
Wave - Antonio Carlos Jobim
West Coast Blues - Wes Montgomery
What Is The Sound Of One Hand Clapping? - John Wayland Harr
While My Guitar Gently Weeps - George Harrison
Wild Horses - The Rolling Stones
Windows - Chick Corea
With A Little Help From My Friends - The Beatles
Without Hesitation - John Wayland Harr
Wonderful Tonight - Eric Clapton
Wonderful World - Sam Cooke
Yesterday - The Beatles
You Are So Beautiful - Fisher/Wilson/Preston
You Are The Sunshine Of My Life - Stevie Wonder
You Can't Always Get What You Want - The Rolling Stones
Your Song - Elton John
Team
| | |
| --- | --- |
| John Wayland Harr | Guitarist |
Influences & Inspiration
Chet Atkins, J.S. Bach, Julian Bream, Alan Broadbent, Jim Hall, Michael Hedges, Julian Lage, Pat Metheny, Charlie Parker, Oscar Peterson, Art Tatum, Ralph Towner, Stuart Weber, John Williams, and many others
Setup Requirements
Access to power source (when amplification is needed)