Your list is empty.
Save musicians, entertainers, speakers, and services, and they'll appear here.
Free Quick Quote
This vendor provides virtual services
Back to Children's Party Magicians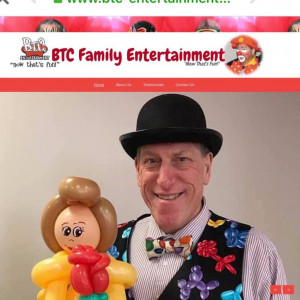 BTC Family Entertainment
5
(52 reviews)
Pittsfield, MA
Travels up to 90 miles
Please contact for rates.
Get a Free Quick Quote
Overview
Available as a clown or magician, Bowey is an award winning family entertainer that has been delighting Kids of all ages with his comical blend of hilarious magic, ventriloquism and awesome balloon art. Bowey started performing at the age of nine years old. He is a professionally trained actor, a graduate of the American academy of Dramatic Arts. Bowey entertains throughout Western Ma. and surrounding states. He has performed with Rafi and Pete Seger and thousands of birthday parties. Bowey is the entertainer that the kids always want to see again! Also available: Wonderful Face Painting by Magic Brushes.
---
---
Booking Info
Price Range: Please contact for rates.
Insurance: wheeler & Taylor
What to Expect
The Bowey show is a faced paced interactive very funny magic show with ventriloquism and awesome balloon art. Bowey also provides a walk a round format, strolling your event with very funny magic tricks and gags and creating award wining balloon art.
wonderful face painting and pirate parties are also available.
Virtual shows are available via Zoom and Google Meets.
About
Bruce Bowey became a Performer at the age of nine. The wowed audiences of all of all ages with his comical blend of magic,ventriloquism and awesome balloon art. Bowey is now a award winning entertainer and a graduate of The American Academy of Dramatic Arts. Bowey feels that being a trained actor adds realism and professionalism to his performance. He has performed with Pete Seger and Rafi.
He now runs BTC family entertainment featuring the areas best magicians. clowns, face painting, ventriloquism, balloon artists and pirate themed magic shows,
Upcoming Booked Events
May 15, 2021

•

4:00pm - 5:00pm
Children's Birthday Party

June 12, 2021

•

2:30pm - 3:00pm
Children's Birthday Party

July 21, 2021

•

2:00pm - 3:00pm
Camp Event

August 29, 2021

•

12:00pm - 3:30pm
Nonprofit Event
Past Booked Events
January 23, 2021

•

11:00am - 1:00pm
Children's Birthday Party

December 17, 2020

•

2:30pm - 3:30pm
Virtual Event

June 18, 2020

•

11:00am - 11:30am
Virtual Event

March 21, 2020

•

5:30pm - 6:00pm
Children's Birthday Party

February 15, 2020

•

12:00pm - 3:00pm
Grand Opening

February 14, 2020

•

12:00pm - 2:00pm
School Assembly

February 01, 2020

•

2:00pm - 4:00pm
Children's Birthday Party

January 25, 2020

•

12:00pm - 12:45pm
Children's Birthday Party

January 15, 2020

•

6:00pm - 6:15pm
Birthday Party

January 05, 2020

•

4:00pm - 4:45pm
Children's Birthday Party

November 03, 2019

•

5:30pm - 6:30pm
Children's Birthday Party

November 03, 2019

•

1:00pm - 1:45pm
Children's Birthday Party

October 30, 2019

•

10:30am - 12:30pm
Corporate Event

October 18, 2019

•

6:00pm - 7:30pm
Fundraiser

September 21, 2019

•

1:00pm - 2:00pm
Nonprofit Event

August 23, 2019

•

10:00am - 11:30am
Camp Event

June 22, 2019

•

3:00pm - 3:45pm
Children's Birthday Party

June 08, 2019

•

9:00am - 10:30am
Parade

May 18, 2019

•

12:30pm - 1:30pm
Children's Birthday Party

May 04, 2019

•

12:30pm - 2:00pm
Children's Birthday Party

April 18, 2019

•

1:00pm - 1:45pm
School Assembly

March 31, 2019

•

2:30pm - 3:30pm
Children's Birthday Party

January 12, 2019

•

4:00pm - 5:30pm
Children's Birthday Party

December 14, 2018

•

5:30pm - 7:30pm
Children's Birthday Party

December 01, 2018

•

12:00pm - 2:00pm
Christmas Party

October 31, 2018

•

7:30pm - 8:15pm
Halloween Party

September 01, 2018

•

1:00pm - 2:30pm
Children's Birthday Party

August 25, 2018

•

2:00pm - 2:45pm
Children's Birthday Party

July 14, 2018

•

4:00pm - 6:00pm
Children's Birthday Party

July 07, 2018

•

6:00pm - 7:00pm
Children's Birthday Party

June 16, 2018

•

1:00pm - 3:00pm
Nonprofit Event

June 02, 2018

•

2:00pm - 3:30pm
Children's Birthday Party

May 26, 2018

•

2:00pm - 3:00pm
Children's Birthday Party

May 08, 2018

•

1:30pm - 3:00pm
School Assembly

April 15, 2018

•

4:00pm - 5:30pm
Children's Birthday Party

April 08, 2018

•

2:00pm - 2:30pm
Children's Birthday Party

March 24, 2018

•

2:00pm - 3:30pm
Children's Birthday Party

March 18, 2018

•

2:30pm - 4:00pm
Religious Celebration

March 17, 2018

•

1:30pm - 2:30pm
Children's Birthday Party

February 28, 2018

•

7:00pm - 7:30pm
Nonprofit Event

February 17, 2018

•

1:00pm - 1:45pm
Children's Birthday Party

February 11, 2018

•

2:00pm - 2:30pm
Children's Birthday Party

February 10, 2018

•

1:00pm - 1:45pm
Children's Birthday Party

February 10, 2018

•

12:00pm - 12:45pm
Children's Birthday Party

January 29, 2018

•

12:00pm - 1:00pm
School Assembly

January 06, 2018

•

4:30pm - 5:30pm
Children's Birthday Party

December 27, 2017

•

1:00pm - 2:00pm
Christmas Party

November 14, 2017

•

4:00pm - 4:15pm
Retirement Party

November 11, 2017

•

1:30pm - 3:00pm
Birthday (Child)

October 22, 2017

•

1:00pm - 5:00pm
Birthday (Child)

August 12, 2017

•

1:00pm - 3:30pm
Birthday (Child)

August 01, 2017

•

3:30pm - 8:00pm
Fundraiser

July 25, 2017

•

10:00am - 11:00am
Nonprofit Event

July 22, 2017

•

5:00pm - 6:00pm
Birthday (Child)

July 20, 2017

•

1:30pm - 1:45pm
Birthday (Adult)

July 01, 2017

•

1:30pm - 2:15pm
Birthday (Child)

May 13, 2017

•

2:30pm - 3:30pm
Birthday (Child)

April 30, 2017

•

2:00pm - 4:00pm
Birthday (Child)

April 29, 2017

•

4:30pm - 5:30pm
Religious Celebration

April 08, 2017

•

2:00pm - 3:30pm
Birthday (Child)

April 01, 2017

•

6:00pm - 8:00pm
Birthday (Child)

March 04, 2017

•

10:30am - 11:30am
Birthday (Child)

February 18, 2017

•

2:00pm - 2:45pm
Birthday (Child)

January 22, 2017

•

1:00pm - 2:00pm
Birthday (Child)

January 07, 2017

•

5:30pm - 6:30pm
Birthday (Adult)

November 26, 2016

•

2:00pm - 3:00pm
Birthday (Child)

November 05, 2016

•

4:30pm - 5:15pm
Birthday (Child)

June 18, 2016

•

2:00pm - 3:00pm
Birthday (Child)

August 15, 2015

Birthday (Child)

July 31, 2015

Birthday (Adult)

March 06, 2015

Birthday Party

August 31, 2014

Birthday Party

July 26, 2014

Birthday Party