Your list is empty.
Save musicians, entertainers, speakers, and services, and they'll appear here.
Free Quick Quote
This vendor provides virtual services
Back to Motivational Speakers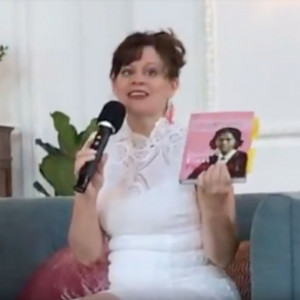 April Young Bennett
0
(0 reviews)
Salt Lake City, UT
Travels up to 200 miles
$1,000-$5,000
Get a Free Quick Quote
Overview
April Young Bennett is a feminist activist, author and motivational speaker with expertise in women's history, intersectional feminism and women's empowerment. She is author of Ask a Suffragist: Stories and Wisdom from America's First Feminists and host of the Religious Feminism Podcast. She has campaigned for better state and federal laws addressing the wage gap, healthcare, education and juvenile justice; and for gender equity within her modern-day patriarchal religious community, leading hundreds of people in marches that attracted national attention. Her message is timely during the Me Too movement and the centennial of the Nineteenth Amendment, which gave (most) women the right to vote.
---
Reviews
Be the first to review April Young Bennett
---
Booking Info
Price Range: $1,000-$5,000
What to Expect
As we celebrate the Women's Suffrage Centennial in 2020, it is a great time to look back to what we can learn from the past as we work toward a better future.
April Young Bennett, author of Ask a Suffragist: Stories and Wisdom from America's First Feminists, is a motivational speaker who can speak at your event about what modern leaders, activists and change-makers can learn from bold women from history and what she has learned about changing hearts and minds as an advocate for women, children and underserved populations. Themes include:
Leadership: How do we define our priorities? How do we motivate people?
Collaboration: How do we build our team? How do we find our niche?
Diversity: How do we work with people who are different from us? Why do we need to?
Women's Empowerment: How do we makes our voices heard? How do we break the glass ceiling?
Teamwork: How can we support our collaborators? How do we de-escalate conflict?
Resilience: How do we cope with setbacks?
Self Care: How do we balance it all?
What They are Saying
"Having courageously navigated the patriarchal waters of her religious community and beyond, April Young Bennett is a seasoned and articulate voice for women's equality. Her feminist activism, like her writing, remains consistently clear, intelligent, engaging and informed."
—Lorie Winder Stromberg, Co-founder, Equal in Faith; Executive Board Member, Ordain Women
"April Young Bennett is an inspiration for all feminists who are part of religious communities. Through her speaking, her writing and her communal work, she has tried to give voice to the values of both religion, faith and feminism. She has worked tirelessly, thoughtfully and respectfully to raise some of the most critical issues facing religious women today."
—Bat Sheva Marcus, founder and past president, the Jewish Orthodox Feminist Alliance
"I saw your presentation at Counterpoint. How happy I was to have found it here. THANK YOU for sharing it. This was a powerhouse presentation and synopsis. Wow. Wow. Wow."
—Josi Christensen, attendee
About
April Young Bennett began studying the lives of suffragists to inform her own activism. As Communications Director for Voices for Utah Children, she worked within nationwide networks of advocates for changes to state and federal policies affecting children and parents such as pay equity, healthcare, education and juvenile justice.
April Young Bennett was a founding organizer and spokesperson for the activist group Ordain Women, which has been featured in respected news outlets such as the New York Times and the Washington Post. Ordain Women collaborates with the Women's Ordination Conference (Catholic), Ordain Women Now (Lutheran), Women of the Wall (Jewish), the Parliament of World Religions Women's Task Force and other networks of religious feminists.
April produces and hosts the Religious Feminism Podcast, which provides a forum for feminists across a variety of faith communities and secular feminist organizations to learn about each other and work together toward common goals. She blogs about Mormon feminism the Exponent II, which averages 40,000 unique visitors per month.
As April has advocated for gender equity, she has noticed parallels between her modern challenges and those experienced by our first wave feminist forebears. When she marched with hundreds of women to a male-only religious meeting, the women were barred from entrance but allowed to listen over the internet, much in the same way Lucretia Mott and Elizabeth Cady Stanton were barred from the World Anti-Slavery Convention in 1840 but allowed to listen from the balcony, behind a bar and a curtain. On another occasion, she was among many women of her faith who demonstrated their desire for gender equity by wearing pants to church instead of traditional dresses. At least one male church member was so peeved that he threatened to shoot any woman who showed up at church in pants. April was reminded of our suffragist foremothers, who received a similarly visceral reaction when they wore bloomers in the 1850s. She witnessed male religious leaders denouncing outspoken women using many of the same tactics employed against women such as Angelina and Sarah Grimké, Lucy Stone and Sojourner Truth.
April began to wonder if her activist community wasn't recreating the wheel with their frantic brainstorming—the world had not changed as much as they had thought, and certainly some of the feminists who came before them had already addressed some of the problems they were facing. What could she learn from our foremothers?
April wanted to read something about this era—one book, preferably, because she was busy—but broad enough to impart the wisdom of activists from a variety of racial and socioeconomic backgrounds. She didn't want it to be limited to the most famous people because in her experience, movements are built by communities of rank-and-file workers, not solitary heroes. And while history can be fascinating, April was in a hurry—she had urgent causes to support—so she wanted something that focused on what was most pertinent to her modern concerns, like collaborative relationships, strategies and activism, but that would be lighter on dates, meeting minutes and genealogy charts.
April didn't find that book. So she read everything: memoirs, biographies, history books, archived letters and diaries, even those boring meeting minutes. She asked suffragists her questions and they answered her, but they didn't all agree with each other; they were a diverse, opinionated bunch. In their lives, April saw much to emulate and some pitfalls to avoid. The people who came before us were as deeply flawed as they were passionate and inspiring.
Now, she's written the book that she wanted to read back when she started this journey: Ask a Suffragist: Stories and Wisdom from America's First Feminists.
Services Offered