Your list is empty.
Save musicians, entertainers, speakers, and services, and they'll appear here.
Free Quick Quote
This vendor provides virtual services
Back to Wedding Officiants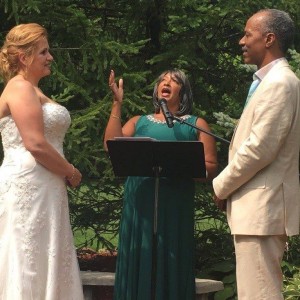 Weddings with Angie BEE
5.0
(9 reviews)
Daytona Beach, FL
Travels up to 120 miles
$350 - $500
Get a Free Quick Quote
Overview
I was ordained by American Marriage Ministries in January 2022. I was also ordained as a Christian Evangelist in July 2014. I truly believe in love and I am honored to unite ALL couples in wedded matrimony, including members of the LGBT+ Community. You may be wed on the beach, at a venue or even in your home. I work with wedding planners and decorators as well as musicians and entertainers to help complete your plans. I counsel with the couple prior to the ceremony, I travel to you, attend the rehearsal and I keep you in prayer from the very beginning.
Allow Evangelist Angie BEE the honor of officiating YOUR wedding ceremony, to your specifications with fellowship, peace and Love!
---
---
Booking Info
Gig Length: 30 - 60 minutes
What to Expect
You can expect an intimate and informative counseling session, prior to the service.
You can expect an lovely ceremony, based upon your dreams and direction.
We offer you a service filled with scripture and the history of your relationship and I can recommend a wedding planner, decorator and singers to enhance your special day.
This is a comment I received from a bride:
"Don't underestimate the importance of choosing the right officiant for your big day. This photo is from our July 2016 wedding. It was a beautiful day made even more special with Angie officiating. She performed her duties with grace, love and humor. People still remark on how truly special our ceremony was. We'll be calling on her again should we decide to renew our vows and would absolutely recommend her to friends and family" - Mrs. Kim Henderson, Michigan
You can expect the same from Evangelist Angie BEE!
About
Ordained as a Christian Evangelist by Dr. Belinda McElveen, Apostle Frank Watkins and Judge Hubert Grimes at Fellowship Church of Praise of Volusia County in June of 2014. I was invited to officiate my first wedding to join my cousin and his bride. My entire family was present, my husband sang during the reception and my heart was filled with joy to have participated.
I am a published author and a radio/TV show host veteran. I was ordained by the American Marriage Ministries in January 2022. As an award-winning entrepreneur, I narrate audio books for authors and publishing companies. As a motivational speaker I bring inspiration to audiences and as I minister, I bring a prophetic word from God through the word He allows me to preach.
Now, my desire is to see joy in other couples as they marry in comfortable settings, surrounded by family and with the love of Christ! Virtual marriage counseling is included for all couples, along with a certificate of completion. The ceremony that I will design with you will include personal touches and blessings along with scripture, tradition and music. Your guests will enjoy the service and your memories will never fade!
Additional Booking Notes
All ceremonies require the marriage license, in order to begin.
Evangelist Angie BEE must be provided with your marriage license during the rehearsal or at least one hour prior to the start of the ceremony. The signatures MUST be secured before the photo shoots and reception begins.
Services Offered
Upcoming Booked Events
June 15, 2022–June 20, 2022

•

All-day event
JUNETEENTH Parade with Jamie Elmore

July 22, 2022–July 25, 2022

•

All-day event
Birthday celebration in Detroit

August 19, 2022–August 22, 2022

•

All-day event
Birthday celebration - Detroit

September 09, 2022–September 13, 2022

•

All-day event
Cooper Beach Renewal in Daytona

September 15, 2022–September 19, 2022

•

All-day event
Bold Beautiful & Bald Weekend Retreat
Past Booked Events
May 06, 2022

•

12:00pm - 9:00pm
Live Dinner Show

April 09, 2022

•

11:00am - 2:00pm
Book Signing - 5236 Ricker Road, Jacksonville, FL

April 02, 2022

•

4:30pm - 5:30pm
Wedding Ceremony

March 13, 2022

•

2:00pm - 6:00pm
Virtual Book Signing

February 11, 2022–March 11, 2022

•

All-day event
Family vacation

January 06, 2022–January 10, 2022

•

All-day event
(link hidden)

December 09, 2021–December 13, 2021

•

All-day event
Book Signing in Sacramento, California

November 10, 2021–November 14, 2021

•

All-day event
Book Signing in Atlanta Georgia

October 07, 2021–October 11, 2021

•

12:00am - 11:59pm
Book Signing in Raleigh North Carolina

September 15, 2021–September 20, 2021

•

All-day event
Bold Beautiful & Bald Weekend Retreat for Alopecia

August 18, 2021

•

5:00pm - 8:00pm
Book Signing at CMX Theater - Daytona Beach

August 05, 2021–August 12, 2021

•

All-day event
Book Signing in Niagara Falls

July 15, 2021–July 22, 2021

•

All-day event
Book Signing in Waldorf, Maryland

June 25, 2021–June 28, 2021

•

All-day event
Wedding in Jacksonville

June 02, 2021–June 09, 2021

•

All-day event
Book signing in Frisco, Texas

April 29, 2021–May 03, 2021

•

All-day event
Book signing in Detroit

April 24, 2021

•

All-day event
Wedding in Jacksonville

April 10, 2021

•

All-day event
Book signing in Plant City Florida

April 03, 2021

•

10:00am - 12:00pm
Virtual Writing Workshop

March 07, 2021–March 08, 2021

•

All-day event
Birthday

October 29, 2020–November 01, 2020

•

All-day event
Wedding in Jacksonville

September 17, 2020–September 20, 2020

•

All-day event
Bold Beautiful & Bald Beauty Bazaar

September 04, 2020

•

7:00pm - 9:00pm
Alopecia Social Gathering Support Group

August 07, 2020

•

7:00pm - 9:00pm
Alopecia Social Gathering Support Group

July 03, 2020

•

7:00pm - 9:00pm
Alopecia Social Gathering Support Group

June 05, 2020

•

7:00pm - 9:00pm
Alopecia Social Gathering Support Group

May 01, 2020

•

7:00pm - 9:00pm
Alopecia Social Gathering Support Group

April 03, 2020

•

7:00pm - 9:00pm
Alopecia Social Gathering Support Group

March 06, 2020

•

7:00pm - 9:00pm
Alopecia Social Gathering Support Group

February 27, 2020–March 01, 2020

•

All-day event
Refearsal and Wedding at Amelia Island Florida

February 14, 2020

•

All-day event
Wedding in Apopka Florida

February 08, 2020

•

All-day event
Bridal Shower

February 07, 2020

•

7:00pm - 9:00pm
Alopecia Social Gathering Support Group

January 20, 2020

•

All-day event
Book signing at MLK event

January 14, 2020

•

4:00pm - 7:00pm
Candid Conversations TV Show interview - Orlando

January 09, 2020–January 11, 2020

•

All-day event
F.R.E.S.H. Book Festival

January 03, 2020

•

7:00pm - 10:00pm
Alopecia Group Social Gathering

December 14, 2019–December 15, 2019

•

3:00pm - 12:00am
Holiday concert with Bartee Productions

December 12, 2019

•

7:00pm - 8:00pm
District Leader Meeting

December 08, 2019

•

1:00pm - 4:00pm
Spiritual Service / Bible Study

December 06, 2019

•

7:00pm - 10:00pm
Alopecia Group Social Gathering

December 05, 2019

•

7:00pm - 8:00pm
District Committee Board Meeting

November 21, 2019

•

7:00pm - 8:00pm
District Leader Meeting

November 14, 2019

•

7:00pm - 8:00pm
District Committee Board Meeting

November 03, 2019

•

1:00pm - 4:00pm
Spiritual Service / Bible Study

November 01, 2019

•

7:00pm - 10:00pm
Alopecia Social Group Gathering

October 26, 2019–October 29, 2019

•

All-day event
Book signing in Detroit

October 06, 2019

•

1:00pm - 3:00pm
Preaching in Apopka Florida

April 07, 2019

•

2:00pm - 3:00pm
Church service in Apopka Florida

March 23, 2019

•

1:00pm - 3:00pm
Book signing in Jacksonville Florida

March 09, 2019

•

9:00am - 1:00pm
Prayer Conference - Lakeland Florida

March 03, 2019

•

2:00pm - 3:00pm
Leading Church service in Apopka Florida

February 23, 2019

•

3:00pm - 9:00pm
Gospel concert, Book signing - Orlando

February 09, 2019

•

12:00pm - 2:00pm
Prayer - Love In The Park - Orlando

July 12, 2017–July 17, 2017

•

8:00pm - 10:00pm
Dayton Ohio - Women's Conference

May 21, 2017

•

3:00pm - 5:00pm
Teen Workshop-Daytona

May 20, 2017

•

11:00am - 2:00pm
Book signing-Daytona

May 13, 2017

•

6:00pm - 10:00pm
Midtown Motown

May 13, 2017

•

8:00am - 11:00am
Daytona Brunch

April 30, 2017

•

1:00pm - 10:00pm
Fashion Show-Orlando

April 26, 2017

•

11:00am - 1:00pm
Workshop-Orlando

April 25, 2017

•

7:00pm - 9:00pm
Homeless outreach

April 15, 2017

•

11:00am - 1:00pm
Guest Speaker at Mary & Martha Ministry Tea

March 30, 2017–April 09, 2017

•

12:00pm - 2:00pm
Vacation

March 29, 2017–March 30, 2017

•

11:00am - 2:00am
Resident workshop in Orlando

March 05, 2017–March 11, 2017

•

12:00pm - 12:00pm
Family vacation

February 22, 2017

•

11:00am - 1:00pm
Resident workshop in Orlando

February 06, 2017–February 21, 2017

•

12:00pm - 12:00pm
Sabbatical

February 04, 2017

•

8:00am - 10:00pm
Apopka & Fern Park, FL

January 27, 2017–January 29, 2017

•

7:00pm - 7:00pm
The TOUR in Monroe North Carolina

January 25, 2017

•

10:00am - 2:00pm
Speaking engagement in Orlando

January 21, 2017–January 22, 2017

•

10:00am - 3:00am
Community Business Workshop at Impact Church

January 13, 2017–January 14, 2017

•

5:00pm - 7:00pm
F.R.E.S.H. Book Festival-Daytona Beach

January 12, 2017

•

5:00pm - 10:00pm
F.R.E.S.H. Film Festival at BCU-Dayton

December 17, 2016

•

10:00am - 5:00pm
Black Expo - Jacksonville, FL
Team
| | |
| --- | --- |
| Bartee | My husband and travel companion |
Influences & Inspiration
Ruth 1:16-17
But Ruth said, "Do not urge me to leave you or to return from following you. For where you go I will go, and where you lodge I will lodge. Your people shall be my people, and your God my God. Where you die I will die, and there will I be buried. May the LORD do so to me and more also if anything but death parts me from you."
Setup Requirements
a podium or music stand to hold notes and my bible
a microphone (optional, but requested)