Your list is empty.
Save musicians, entertainers, speakers, and services, and they'll appear here.
Free Quick Quote
This vendor provides virtual services
Back to Bagpipers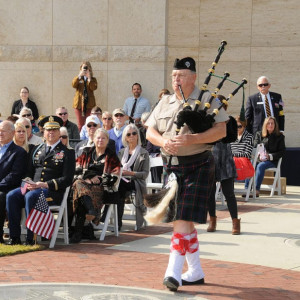 Wayne Coleman, Lord of Glencoe
5.0
(6 reviews)
Atlanta, GA
Travels up to 120 miles
Contact for rates
Get a Free Quick Quote
Overview
Wayne Coleman, a 3rd generation professional piper, has performed over 1, 000 events over 38 years. From intimate gatherings and solemn ceremonies, to full stadiums and live televised events, to large theatres and convention centers, Wayne has done it all: weddings, funerals, cocktail parties, receptions, Scot-O-Grams to surprise someone special, marketing promotions, convention openings, church services, Christmas and birthday parties, patriotic celebrations, parades, golf tournaments and other sporting events and more.
His father was the New England Junior Piping Champion. Today, Wayne plays his father's pipes, a set of Lawries, and he has the original receipt from Glasgow in 1937.
---
---
Booking Info
Price Range: Contact for rates
What to Expect
The audience would hear clear, in tune, beautiful pipe music that had been selected by the client, tunes that they might recognize and sing or hum along. If appropriate, the piper would engage the audience with patter and seeking requests. The audience would see a well-dressed piper in whatever appearance the client had selected from full fancy military doublet with jeweled dirk to standard white or khaki military shirt appearance, to Prince Charlie tuxedo kilt outfit with Ghillie Brogues and skean dhu, to casual kilted outfits for parties. The piper would be in either a predominantly red or predominantly dark green/blue tartan kilt wearing a sporran appropriate for each look.
The client would find that the piper could offer performance suggestions, both logistics and choreography based on his 35+ years of experience with over 1,000 performances. The client would also find that the piper would fulfill the client's wishes, not his, and help them achieve their goal for the event. The piper has performed from an audience of two to an audience of 100 million (Super Bowl XXXIV National Anthem with Faith Hill, televised live), with every variation of churches, parks, offices, stadiums, arenas, convention centers, night clubs, school auditoriums, hill sides, living rooms and back yards. Oh, did I mention performing on a flat rock in the middle of a North Georgia river in full regalia for a wedding on shore?
About
Wayne is a third generation piper. Both his father and grandfather played in the Springfield (MA) Kilty Band, which was established in 1917 and is still active.
Prior to his induction for World War II, Harold also played in the Canadian Legion Band (1939-1942) and was the New England Junior Piping Champion in 1940.
Today, Wayne plays his father's pipes, a set of Lawries with traditional army turnings, and he has the original receipt from Glasgow in 1937.
Wayne began music lessons at the age of five and studied classical, popular, and jazz piano through high school. At the age of sixteen he performed Mendelssohn's Piano Concerto Number 1 in G minor. He received the only A+ grade ever given by one music teacher for his term paper on the history of the bagpipes.
As an adult, he continues to take bi-weekly pipe lessons. He attended two summers at the Balmoral School of Piping and Drumming where he studied with such international piping notables as PM Jimmy McIntosh, the late PM Jimmy MacGregor, and international award winner Mike Cusack of Houston.
Wayne has an uncanny ability to play by ear which allows him to play many non-traditional and popular tunes on the pipes as well as customize performances on the spot.
He has been performing professionally in Atlanta since 1983 and is a member of the pipers' version of the Mile-High Club having played the pipes on many commercial airline flights. He is frequently heard on local Atlanta radio and television stations.
Wayne has piped with the Atholl Highlanders Pipes and Drums (USA), Stone Mountain, Georgia, since 1982. His band was selected to perform the National Anthem with Faith Hill at Super Bowl XXXIV in Atlanta and was seen by 72,000 in person and over 100 million viewers on live television around the world!
Wayne was honored to be selected to pipe a concert with a 225 voice chorus under the direction of world renowned conductor Mack Wilberg of the Mormon Tabernacle Choir.
The Atholl Highlanders perform at many annual events including The Hibernian Society's St. Patrick's Day Parade, The Georgia Steeplechase, Dunwoody July 4 Parade, numerous southeast Highland Games, the Stone Mountain Highland Games, Atlanta Veterans Day Parade, many Veterans ceremonies, the Steeplechase at Callaway Gardens, the Stone Mountain Christmas Parade and many other events. In 2013 he received the (Georgia) Governor's Commendation Medal for civilian service to the military.
Wayne has been the official piper of the annual Stone Mountain Highland Games Whisky Seminar for 35+ years! He was the official St. Patty's Week piper for Houlihan's at Park Place in Atlanta for 16 consecutive years and has been the official piper for Fado's Buckhead and Midtown for over 12 years.
What does this summary of qualifications and countless professional performances mean to you?
Quite simply, your piper will contribute to the success of your event! Wayne is very comfortable performing in front of crowds, suffers no stage fright, and he can go with the flow and spontaneously adjust his performance for you. Whether your goal is to add pomp and ceremony and/or excitement and/or fun, Wayne will deliver for you.
Additional Booking Notes
The great highland bagpipes have eight holes in the chanter allowing for nine notes played in the scale of B-flat or E-flat. The pipes do not have sharps or flats, and with only nine notes (an octave plus one) not every tune or hymn can be played on the pipes. I can frequently substitute notes for popular requests such as Danny Boy or Loch Lomond (You Take the High Road, and I'll Take the Low Road). Now if I collected just one dollar for every request for Stairway to Heaven or Free Bird ... But I surprise'em! I can play substantial parts of both of those songs.
Here's an example of changing keys in Beethoven's Ode To Joy, played frequently as a wedding recessional or church hymn. I can alternate between B-flat and E-flat on every other verse which adds great color to the hymn.
I have many chanters including an Orchestral chanter which allows me to tune to a B-flat on a piano or organ. I mention this because some clients will ask me to accompany another instrument, usually piano or organ and occasionally a full band. The Orchestral chanter allows me to be in tune with the other artists. Without an Orchestral chanter, the tuning will be discordant.
Services Offered
Set List
My Scottish and Irish repertoires are very large, and I can learn virtually anything for your event that's playable on the bagpipes. Here's a partial list:
Scotland the Brave
Rowan Tree
Highland Cathedral
Amazing Grace
Atholl Highlanders
The Gael
Going Home
Green Hills of Tyrol
We're Nae Awa Tae Bide Awa
Dark Isle
Road To the Isles
Grand Old Flag
God Bless America
Yankee Doodle Dandee
America the Beautiful
Tara's Theme
Army Goes Rolling Along (Caissons)
Marine Corp Hymn
Over There
Coast Guard Hymn
Garry Owen
Rakes of Mallow
Red Is the Rose
Loch Lomond
Loch Lubnaig
My Wild Irish Rose
When Irish Eyes Are Smiling
Galway Bay
Molly Malone
Tora Loora Loora
Wearin' of the Green
O'Sullivan's March
Dear Old Donegal
Danny Boy
Rose of Tralee
Endearing Young Charms
Harrigan
Minstrel Boy
Wi' a Hundred Pipers
Cock of the North
Bonnie Lass O' Fyvie
I See Mull
Barren Rocks of Aden
Bonnie Dundee
Terribus
Scots Wa Hae
Mairi's Wedding
Tiree Bridal Song
Massacre of Glencoe
Blue Bells of Scotland
Mull of Kintyre
The Battle's O'er
Murdo's Wedding
Intercontinental Gathering
Flett From Flotta
Wha Sae the 42nd
Skye Boat
Morag of Dunvegan
Castle Dangerous
Lochanside
Cockney Jocks
Gallant Murray
Mist Covered Mountains
The Flower of Scotland
Balmoral
The Water Is Wide
Abide With Me
This Is My Father's World
Jesus Loves Me
Jesus Christ Superstar/When the Saints Go Marching In
How Great Thou Art
Ode To Joy
Flowers of the Forest
Auld Lang Syne