Your list is empty.
Save musicians, entertainers, speakers, and services, and they'll appear here.
Free Quick Quote
This vendor provides virtual services
Back to Frank Sinatra Impersonators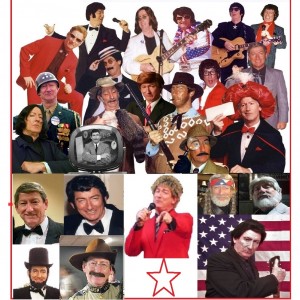 Vegas Tributes
4.92
(17 reviews)
Virginia Beach, VA
Travels nationwide
$450 - $4500
Get a Free Quick Quote
Overview
Vegas Tributes TM "Las Vegas-style Entertainment Coast to Coast!" Wide Variety of highly detailed Celebrity Impersonations & Tributes. Licensed and insured since 1986.
Rock-Pop-Country-Jazz Music, top stars Film, TV, Presidents, History, Literature, Sports figures. Speakers & Professional MCs. Performances include for all types of special events. Corporate, promotional and social entertainment for conventions, resorts, casinos, cruises, country clubs, festivals & private parties, too!
Many Video & Photos! As a truly unique one-man performance, you can also request any combination of 1,2,3, even 4 Stars to make "a multi-star show!" Much more to see in Photos Album & Videos List.
---
---
Booking Info
Price Range: $450 - $4500
Gig Length: 15 - 180 minutes
Insurance: $1,000,000.00 - General Liability, covering all manner of mishaps, physical damages, personal injury.
Unions: Member National Assoc. Of Mobile Entertainers 7 Years
What to Expect
This is a fab fun flashback musical show for all fans of the great music of the 50's -60's -70's -80's! Featuring the full -detail tribute performances as a variety of the top names in rock n' roll, this show has a "built-in" fanbase of many millions of fans of John Lennon, Jim Morrison, Rod Stewart, Buddy Holly, Neil Diamond, Elvis, Jerry Lee Lewis, Roy Orbison and Tom Jones. ...also crooners Dean Martin, Frank Sinatra, Bobby Darin,Tony Bennett, Andy Williams, Bing Crosby, Wayne Newton, Robet Goulet and country greats Willie Nelson, Waylon Jennings, Kenny Rogers, Hank Williams and Gene Autry!
In addition to these TBC Stars "Rock n Roll Heroes" TM, we also have great tributes to "TV, Film and Comedy Stars" including these stars and characterizations Johnny Carson, Donald Trump, Richard Branson, General Patton, Austin Powers, Clint Eastwood, Jed Clampett, Professor Snape, Professor Marvel, Doc Brown, Humphrey Bogart, Rod Serling, Inspector Clouseau, Charlie Chaplin, Mr. Bean, Edgar Allan Poe, Mark Twain, Teddy Rooosevelt, Abe Lincoln, George Washington, Thomas Jefferson, Bill Clinton, Ronald Reagan....plus NASCAR Superstars King Richard Petty, The Intimidator Dale Earnhardt and Awesome Bill Elliott!
About
Vegas Tributes TM - Also see other GigSalad site, "The Martini Men"
"120 Stars" of Star-power for your event! Great variety of 80 popular musical & comedy tributes.
A listing of all impersonations is below in this article. Be sure to see the many stars in the huge photo album, including shots from actual live performances. Over 40 different videos of actual live performance of each star. Also, prior show ads, press articles, 'Thank you' letters, etc. There's a lot to see. We think you'll find it entertaining!
"Rod Stewart, Neil Diamond & Tom Jones" are "Las Vegas Live!TM."
"Dean Martin, Frank Sinatra, Bobby Darin,Tony Bennett, Paul Anka and Andy Williams" are "The Martini Men TM" for the best in classic Las Vegas glamour. The perfect shows for your "casino nights," "martini socials," fundraisers, galas, corporate smoozes, product promotions, trade shows and conventions, special event attractions-anything needing a star-power performance!
Tim Beasley is an international variety celebrity impersonator tribute performer professionally for over 30 years. Vegas Tributes TM is a licensed and insured entertainment company, entertaining many thousands of delighted guests in a wide variety of special events. NYC to Las Vegas, Atlanta, Miami, Houston, Dallas, Chicago, Orlando, New Orleans, Palm Springs, Calgary Canada, Los Angeles to London, Vegas Tributes has thrilled audiences of all ages!
The "musical tributes" are full concert style performances in complete detail of looks, live vocals and most importantly, the personalities of the stars he recreates. . .and grand entertainment for any sized event and audience attendances from 50 to 50,000!...Vegas Tributes is "Las Vegas-style Entertainment Coast to Coast!"
(See lots of videos & photos!) His famous "Rock n' Roll Heroes TM" spotlight the legendary stars of rock, living and passed, that include "John Lennon, Rod Stewart, Neil Diamond, Tom Jones, Jim Morrison, Roy Orbison, Buddy Holly, Jerry Lee Lewis, Elvis of course, Chuck Berry (ya gotta see it to believe it!) Frankie Valli," ...even crooners "Dean Martin, Frank Sinatra, Bobby Darin, Tony Bennett, Andy Williams" and country giants "Willie Nelson, Gene Autry, Hank Williams and Kenny Rogers!" Plus, as a fun musical show option, any of these Vegas Tributes can also host unique GTO ("Good Time Oldies!") Karaoke, grand fun for everyone to become a music star! See much, much more on this on the TBC Stars web site-it's link is on the profile.
(See videos & photos!) As one good example of a Vegas Tributes tribute show, "John Lennon" has performed in many world famous venues, such as the Hard Rock Cafe Orlando Universal, also Disney World's Coronado Springs Resort Convention Center, the "Abbey Road on the River" Beatles Festivals (2 years) in Cleveland, also for the "Liverpool Days" Beatles Festival,Pasadena, CA, and in NYC for BBC TV special appearance.
"Lennon" performed & promoted the national premiere of the "Beatles Anthology" CD's -DVD's and books, also the premiere of the '98 VW Beetle at the International Auto Shows and also the '03 and '04 premiere of the BMW Mini Cooper, again at International Auto Shows, plus many appearances for Wal-Mart grand openings, military exchange grand openings, music festivals of all types and hundreds of private parties - birthdays, weddings, anniversaries, too!
Every one of Tim's "Vegas Tributes" has an impressive resume' of national appearances and kudos galore.
(See over 50 different videos & many, many photos)
Either as a 30 minute, or one-two hours one-star concert, or grouping together 2-3-even 4 and 5 into an entire evening's one-man show spectacular, Vegas Tributes is a wonderful show performance with "Superstar Power!" ...and guests all love to get "paparazzi photos" with Tim's "Vegas Tributes."
The groupings are very creative for a wide spectrum of special events...40's 50's 60's 70's 80's 90's themes, Hollywood, British Invasion, Italian, French, Country, Wild West, 007, Favorite TV shows and Movies, History, Sports, Literature.
A popular grouping is having Tim's "Johnny Carson" or "Conan O'Brien" as the comical emcee who also transforms into his own "musical guest" like magic right before the audience's amazed eyes!
More ideas involve having Tim's "General Patton" speaking in his motivational (and super cheer provoking ) "Flag Speech to Your Troops," or maybe "Ronald Reagan" in a warm and respectful tribute to the great 40th President and a fond look back at the 1980's, or even "Clint Eastwood" as the meet and greet MC to round up your "Good Bad & Ugly" at your "Wild West" event.
Quite a few of Tim's "Vegas Tributes" are truly unique, such as his "Edgar Allan Poe, Rod Serling and Professor Snape" for any mysterious or supernatural theme events, and consider his fine performances as "Humphrey Bogart, Austin Powers, Clint Eastwood, Charlie Chaplin, Inspector Clouseau and Lt. Columbo" for any Hollywood / Detective themes.
Here's the List of Impersonations, Tributes and Emcees:
Rock, Pop, Country & Jazz Music Stars Include:
John Lennon - Rod Stewart - Neil Diamond - Tom Jones - Buddy Holly - Jim Morrison - Jerry Lee Lewis - Elvis - Beach Boy, Mike Love - Frankie Valli - Chuck Berry - Dean Martin - Frank Sinatra - Tony Bennett - Andy Williams - Bobby Darin - Paul Anka - Willie Nelson - Waylon Jennings - Gene Autry - Hank Williams - Kenny Rogers - Johnny Cash
TV & Film Stars Include:
Conan O'Brien - Johnny Carson - General Patton - Regis Philbin - Clint Eastwood - Donald Trump - Richard Branson - Austin Powers - Goldfinger James Bond - Beverly Hillbilly's Jed Clampett - Twlight Zone Rod Serling - Pink Panther Inspector Clouseau - Groucho Marx - Charlie Chaplin - Nightline Ted Koppel - Harry Potter Professor Snape - Wizard of Oz Professor Marvel - Back to the Future Doc Brown - Gunsmoke Doc Adams - Gunsmoke Festus Hagan - Get Smart Maxwell Smart - Dukes of Hazzard Sheriff Roscoe P. Coltrane - Addams Family Gomez Adams - Nutty Professor's Jerry Lewis - Mr. Bean - Casablanca Humphrey Bogart
Literature, History, Politics & Sports:
Edgar Allan Poe - Mark Twain - President Bill Clinton - President George Washington - President Abraham Lincoln - President Thomas Jefferson - President Teddy Roosevelt - Alexander Hamilton - Prince Charles - Nascar Richard Petty - Nascar Dale Earnhardt - Nascar Bill Elliott
There's so much more and great ideas galore at the web site with over 120 of the most popular "Celebrities" to "make your event a success with your special guest."
Additional Booking Notes
Standard 120 volt ac power of adequate amps at performance space. Covered area protection against excessive sunlight and inclement weather. Staging or performance area should be on hard level surface, never on grass or lawn surface, and a minimum size of 8' x 10.'
Past Booked Events
September 24, 2022

•

12:00pm - 1:00pm
Birthday Party

August 19, 2022

•

8:30am - 12:00pm
ROD SERLING LURAY VA

July 23, 2022

•

3:00pm - 4:00pm
Birthday Party

April 05, 2022

•

6:30pm - 7:30pm
Birthday Party

October 16, 2021

•

8:00pm - 9:00pm
Birthday Party

July 10, 2021

•

5:00pm - 6:00pm
Birthday Party

January 28, 2021

•

12:00pm - 12:15pm
Virtual Event

December 17, 2020

•

4:00pm - 5:00pm
Birthday Party

December 12, 2020

•

4:00pm - 4:45pm
Dinner Party

November 01, 2020

•

4:00pm - 4:15pm
Birthday Party

January 25, 2020

•

7:00pm - 8:00pm
Birthday Party

December 14, 2019

•

9:00am - 11:30am
Christmas Party

December 07, 2019

•

8:00pm - 9:30pm
Dinner Party

September 29, 2019

•

8:00pm - 10:00pm
Birthday Party

September 20, 2019

•

All-day event
MARK TWAIN PENSACOLA FL

September 14, 2019

•

2:00pm - 6:00pm
Personal Occasion

May 30, 2019

•

9:00pm - 11:00pm
Bachelor Party

May 18, 2019

•

2:00pm - 3:00pm
Birthday Party

December 15, 2018

•

5:00pm - 6:00pm
Birthday Party

September 06, 2018

•

9:30am - 9:45am
Corporate Event

May 19, 2018

•

11:00am - 2:45pm
Convention/Trade Show

March 09, 2018

•

9:00pm - 11:00pm
Birthday Party

February 23, 2018

•

2:00pm - 2:15pm
Personal Occasion
Set List
Performing in live vocals of the top hit songs and 'standards' of these great musical stars:
Tom Jones - Neil Diamond - Rod Stewart - Tony Bennett - Frank Sinatra - Dean Martin - Bobby Darin - John Lennon - Jim Morrison - Roy Orbison - Jerry Lee Lewis - Elvis - Buddy Holly - Andy Williams - Willie Nelson - Waylon Jennings - Kenny Rogers - Gene Autry - Wayne Newton - Robert Goulet
Influences & Inspiration
Tim Beasley has performed and delighted audiences since his great debut at the age of 7! Being influenced by the great entertainment goldmine of music, movies and TV of the 50's-60's-70's-80's, Tim's "Celebrity Stars" brings back your favorite stars, songs and shows in full -dimensional glory! Never got to see the big stars perform live? Now you can with these "living virtual reality" performances....You did see your favorites perform back in those wonderful years? Now you can go back in time! Tim Beasley's Celebrity Stars, TBC Stars, is your ticket to "Las Vegas-Style Entertainment, Coast to Coast!"
Setup Requirements
120 volt standard ac electric
8' X 10' space
covered performance area for outdoor events
easy access to load equip in and out