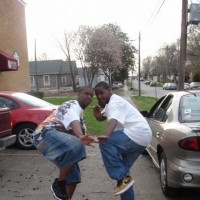 Thorough Hustle Family
Travels up to 200 miles
Contact for rates
Why book Thorough Hustle Family?
We are a group of rappers from the Chicagoland area. We all have flow and style and get any party live.
Be the first to review Thorough Hustle Family.
Whether you hire Thorough Hustle Family or another Rap Group for your Riverdale event, we strongly recommend that all communication be kept on the Gig Salad booking platform as you book your Rap Group. When you do, we're able to offer numerous benefits that we cannot guarantee if you take communication or deposit payment off the Gig Salad website. Our booking system is easy to use and handles secure deposit payments from you to the Riverdale Rap Group of your choice.
Be sure that the quote/agreement your Rap Group sends you outlines performance fees, travel fees, extras, arrival and departure times, cancellation policy, insurance information and other applicable details.
Setup Requirements
From a simple chair to full-blown stage and lighting, there are certain configurations and needs that many performers and service providers require in order to provide the best possible experience at your event. Get a free quote request to check with Thorough Hustle Family to find out what their setup requirements are.
Free Quote Request