Your list is empty.
Save musicians, entertainers, speakers, and services, and they'll appear here.
Free Quick Quote
This vendor provides virtual services
Back to New Orleans Style Entertainment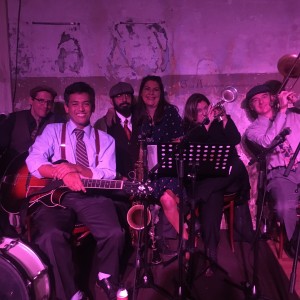 The Big Butter Jazz Band
5.0
(12 reviews)
Culver City, CA
Travels up to 90 miles
$500-$1500, dep. on # of players, distance, length
Get a Free Quick Quote
Overview
SEPTEMBER 2021 UPDATE: Our crew is fully vaccinated. For now, we are happy to consider outdoor and socially distanced gigs. Fully vaccinated gigs are preferred. We will consider indoor / mixed vaccination status gigs on a case by case basis.
Fun, classy, energetic, and swinging New Orleans Traditional Jazz, focusing on tunes from the 1910's-1930's. Band can be assembled from 3-6 players, depending on size of event and budget. A three piece is one horn, bass/tuba and banjo/guitar, 4-6 musicians adds more horns and provides the fuller sound. Gigs lasting more than 3 hours have a minimum of 4 musicians.
---
---
Booking Info
Price Range: $500-$1500, dep. on # of players, distance, length
Gig Length: 45 - 240 minutes
What to Expect
Big Butter can be configured from a quartet to a six piece, depending on size of venue and budget. We will come up with a configuration of instruments that will suit your needs.
About
The Big Butter Jazz Band is dedicated to playing New Orleans traditional jazz. Back from the times when jazz was still dance music. Whether you call it vintage jazz, early jazz, hot jazz, Dixieland, New Orleans jazz, or trad jazz, it's full of beautiful melodies, infectious energy, and a pulsing rhythm that you can't help but dance to.

The band was founded in late 2013 by drummer Mark San Filippo and guitarist Conrad Cayman. and was named after the 1926 song "Big Butter & Egg Man". The two had met as auxiliary members of Los Angeles roots orchestra / collective The Dustbowl Revival.
Drawing inspiration from the musicians of the past and the young New Orleans bands on Frenchmen Street, they'll get your feet shuffling, head bobbing, fingers snapping, and body moving with their hard-driving rhythm section and hot ensemble choruses. Big Butter is delighting LA's swing dance crowd and many others with their hot speakeasy sounds.
Additional Booking Notes
We can provide a PA with a small additional charge if you do not have one. There should be adequate electrical outlets so that we can power the PA and amps.
Water for each band member should be provided, and parking should be covered as well.
Upcoming Booked Events
June 25, 2022

•

1:00pm - 5:00pm
Birthday Party
Past Booked Events
March 20, 2022

•

12:00pm - 1:30pm
Nonprofit Event

March 01, 2022

•

4:00pm - 5:00pm
Cocktail Party

March 01, 2022

•

11:00am - 12:00pm
Campus Event

March 20, 2021

•

12:00pm - 12:30pm
Dinner Party

August 28, 2019

•

5:00pm - 6:00pm
Retirement Community Event

June 08, 2019

•

7:00pm - 8:30pm
Birthday Party

August 05, 2018

•

2:00pm - 2:30pm
Funeral/Memorial Service

June 09, 2018

•

5:00pm - 7:30pm
Cocktail Party

May 26, 2018

•

7:00pm - 10:00pm
Birthday Party

February 10, 2018

•

6:00pm - 9:00pm
House Party

January 27, 2018

•

5:30pm - 7:30pm
Nonprofit Event

November 25, 2015

•

7:00pm - 8:00pm
Rusty's Rhythm Club, Playa Del Rey

October 13, 2015

•

7:00pm - 8:00pm
Joe's Bar & Grill, Burbank

September 26, 2015

•

7:00pm - 8:00pm
Private event

September 23, 2015

•

7:00pm - 8:00pm
Areal Restaurant, Santa Monica

September 18, 2015

•

7:00pm - 8:00pm
Barkley Restaurant & Bar, South Pasadena

September 05, 2015

•

7:00pm - 8:00pm
Camp Hollywood 2015
Set List
After You've Gone (1918)
Ain't Misbehavin (1929)
All of Me (1931)
At the Codfish Ball (1936)
Avalon (1920)
Baby Won't You Please Come Home (1921)
Bei Mir Bist Du Schoen (1937)
Between the Devil & The Deep Blue Sea (1932)
Big Butter & Egg Man (1926)
Bill Bailey (1900)
Black Eyed Blues
Blue Drag (1935)
Blue Skies (1926)
Blues My Naughty Sweetie Gives to Me (1919)
Bourbon St. Parade (1951)
Bye Bye Blackbird (1926)
Careless Love (1921)
Carelessly (1937)
China Boy (1922)
Come Back, Sweet Papa (1926)
Coquette (1928)
Crazy Rhythm (1928)
Dark Eyes
Darkness on the Delta (1932)
Darktown Strutter's Ball (1917)
Deed I Do (1926)
Dinah (1925)
Do Me a Favor (1934)
Do Something
Do You Know What it Means to Miss New Orleans (1946)
Evenin' (1933)
Everybody Loves My Baby (1924)
Exactly Like You (1930)
Five Foot Two (1925)
Girl of My Dreams (1927)
Hindustan (1918)
Home (1931)
Honeysuckle Rose (1929)
Hummin' to Myself (1932)
I Can't Believe You're In Love With Me (1926)
I Can't Give You Anything But Love (1928)
I Had Someone Else (1924)
I Wish I Could Shimmy Like My Sister Kate (1919)
I Would Do Most Anything For You (1932)
If I Had You (1928)
I'll Fly Away (1932)
I'll See You In My Dreams (1924)
I'm Confessin That I Love You (1930)
I'm Crazy About My Baby (1931)
I'm Gonna Sit Right Down and Write Myself a Letter (1935)
It Had To Be You (1924)
It's a Sin to Tell a Lie (1936)
It's Only a Paper Moon (1933)
I've Found a New Baby (1926)
I've Got My Fingers Crossed (1935)
Just a Closer Walk With Thee (1944)
Keepin Out of Mischief Now (1929)
Lady Be Good (1924)
Louisiana Fairytale (1935)
Love Me Or Leave Me (1928)
Love Songs of the Nile (1933)
Lulu's Back in Town (1935)
Margie (1920)
Moonglow (1934)
My Blue Heaven (1927)
My Honey's Lovin Arms (1922)
On a Slow Boat to China (1947)
Pennies From Heaven (1936)
Porter's Love Song to a Chambermaid (1930)
Precious Lord, Take My Hand (1932)
Raining In My Heart (1958)
Riverboat Shuffle (1925)
Rose Room (1917)
Rosetta (1939)
Sheik of Araby (1921)
Shine (1924)
Shine on Harvest Moon (1908)
Si Tu Vois Ma Mere (1958)
Some of These Days (1910)
Somebody Else is Taking My Place (1937)
Someday Sweetheart (1919)
Squeeze Me (1919)
St. Louis Blues (1914)
Stardust (1929)
Sugar (1926)
Sugar Blues (1923)
Sweet Georgia Brown (1925)
Sweet Lotus Blossom (1934)
Sweet Substitute (1938)
Sweet Sue (1928)
Swing That Music (1936)
That Da Da Strain (1922)
The Song is Ended (1927)
Tiger Rag (1917)
Till We Meet Again (1918)
Tin Roof Blues (1923)
Tonight You Belong to Me (1926)
Undecided (1934)
Until the Real Thing Comes Along (1936)
Wabash Blues (1921)
Washington & Lee Swing (1910)
Way Down Yonder In New Orleans (1922)
When I Grow Too Old to Dream (1935)
When My Dreamboat Comes Home (1936)
Whispering (1920)
Who's Sorry Now (1923)
Why (1938)
Without Your Love (1937)
You're Driving Me Crazy (1930)
Influences & Inspiration
THE PAST:
Louis Armstrong's Hot Fives, Sidney Bechet, Bix Beiderbecke, Bob Crosby & The Bobcats, Fats Waller & His Rhythm, Billie Holiday, Original Tuxedo Jazz Band, Firehouse 5+2, Mills Brothers, Eddie Condon, Miff Mole & His Little Molers
THE YOUNG NEW ORLEANS FRENCHMEN ST. BANDS:
Shotgun Jazz Band, New Orleans Jazz Vipers, Tuba Skinny, Orleans 6, Aurora Nealand & the Royal Roses, Meschiya Lake & The Little Big Horns, Linnzi Zaorski
OTHERS:
The Reynolds Brothers / Ellis Island Boys, Boilermaker Jazz Band, Dan Levinson's Swing Wing, The Au Brothers Jazz Band, Molly Ryan, Janet Klein & Her Parlor Boys
Setup Requirements
Shade if the gig is outdoors, or covering if there is a chance of rain.