Your list is empty.
Save musicians, entertainers, speakers, and services, and they'll appear here.
Free Quick Quote
This vendor provides virtual services
Back to Tarot Readers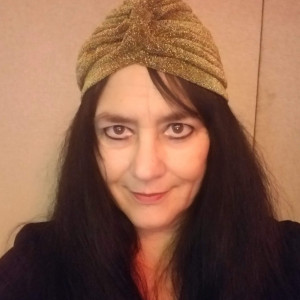 Tarotpaths
5.0
(1 review)
Etobicoke, ON
Travels up to 20 miles
$125 - $500
Get a Free Quick Quote
Overview
I live in CANADA! Please do not contact me to come to the States, I have no permit!
I offer virtual readings by Skype or Zoom for individuals or parties.
For the past twenty years, I've enjoyed reading for people (and even animals!) at various events!
My readings are truthful and upbeat; I love to help my clients.
Once again, I'm offering in-person readings for parties whether it's a small, family party or a large corporate event.
I have been reading tarot cards professionally for over twenty years for both corporate and private functions.
For small parties, I can offer tea leaf readings. Let me know if that's your preference when you request a quote!
Minimum booking is one hour.
---
1 Review

Verified Review
Katherine F.
•
September 20, 2021
Myself and all my guests loved her!! Thank you so much for everything!!!
Hired as:
Psychic Entertainment, Tarot Reader
---
Booking Info
Gig Length: 60 - 240 minutes
What to Expect
You can expect to have a professional tarot card reading by a professional reader. I have a quirky sense of humour so you may find yourself laughing as well...or not.
Outfits:
Please request if you need me to dress up or just to be casual.
I can wear regular clothes which is usually black top and skirt.
I can wear colorful "fortune-telling" outfit. I have several.
I can wear white for "angel parties" etc.
If there's a theme to the party, let me know and I'll do my best to match it!
I love Halloween parties!
Table Decorations:
I will bring tablecloths and decorations for seated readings and tea leaf reading parties.
You will provide two chairs and one small table in a location where we won't be in the way and where people can line up without getting in the way of traffic flow.
Seated Tarot Card Readings:
Two chairs, one table in a quiet spot or as quiet as possible where others can't listen in on readings. Obviously, events with huge crowds and bands won't be as quiet as a home where I can be given a private room. There will be events where there is no privacy and that's fine with me, as long as it's fine with everyone else.
The organizer should have the clients organized in a line or have a list of times so that people know when their turn will be. You can give me a list of people who want readings as well if you know.
The organizer (or whoever is in charge of the tarot station) is responsible for checking the list and organizing the people. The organizer will keep track of clients and check them off the list if there is a list. If there isn't a list, the organizer is responsible for maintaining the line and order.
The organizer can tell the clients to think of their questions while they are in line. There is no need for a question. I can read the cards with a birth date or even no information at all. But sometimes people want to know specific things and if this is only a short reading as most party readings are, they should have a question prepared to avoid disappointment. Questions cannot be about health, pregnancy, nor gambling.
No drinks or food are allowed on the tarot reading table except for water for the tarot reader.
The organizer should tell me how many people expect readings and I'll divide it out by how long I've been hired to determine how long the readings will be. Sometimes I use a timer either on my phone or a kitchen timer. If people aren't ready in their order, the next one should go right away as even five minutes in between two or three people can throw off the time by quite a bit.
If I'm supposed to stop reading for speeches etc. please let me know in advance so I can calculate the proper timing of a reading for the events where there are a specific number of people who want readings. Some events are just first come first served and it ends when it ends and that's fine as well. We just want to avoid disappointment.
Strolling readings:
These are popular for big parties such as Mardi Gras celebrations, backyard carnivals, BBQs, etc.
I will walk around the party and offer to read people's fortunes. I will have a combination of mini tarot cards and gemstones in a little pouch. People pick a stone or card and I tell their fortune. They can also just tell me their birthday. They can ask a question. I circulate the party for the required time.
Children's Parties:
Children's parties are fun but for tarot card readings, an hour for a group of five children or less is plenty. If it's a big backyard party like a circus with first come-first serve for kids and adults, two hours is likely enough for any amount. I always keep readings upbeat at parties anyway but especially do so for children. Often these turn into group readings and we all have a lot of fun giggling. The parents are a better gauge of age-appropriateness and maturity for such an event. Theme parties can often use a fortune teller.
Group Readings:
This is rare but sometimes people want readings as a group. So we all sit together and everyone gets to ask questions and hear the answers together.
Tea Leaf Reading Parties:
Tea leaf readings take about twenty minutes per reading as it takes me time to look at the leaves and have them speak to me. I often combine tarot cards with the tea leaf readings.
The client provides all the supplies with the exception of tarot cards: the loose leaf tea, teapot, boiling water, tea cups for everyone getting a reading, saucers to tip the cup upside down on, and a bucket/bowl that is used for discarded leaves and tea.
Summary
The start and end times are the time whether there are speeches, ceremonies, dances, etc. during the booked time. Overtime rates begin one minute after booked time has expired if the client asks me to stay another half hour or more.
I am a truthful tarot reader but I also won't tell negative news at a party. I keep my readings upbeat with life-affirming inspiration. I use a combination of astrology, numerology, and tarot cards to do my readings. I do not read minds. I'm not a "psychic." I don't cast spells. I don't read about health, pregnancy, or gambling.
I've been reading at events for over twenty years and know how to tailor and time my readings to the audience.
Tarot card readings, tea leaf readings, horoscopes, astrology, and crystal readings are for fun and entertainment only.
About
I have a Bachelor of Arts Degree from York University. After that, I explored the occult a bit more and now have certificates in Tarot Card Reading, Touch for Health, and Reiki.
For over twenty years I've been reading tarot cards for various clients. I've worked giant events such as Edgefest, Fan Expo, Comicon, weddings, bar mitzvahs, and more. I've also worked corporate functions such as employee appreciation nights, customer appreciation nights, and so on. I've read tarot cards at the Carnival Diablo and Something Strange Circus Sideshow. Tarot card readings are very popular for showers of every type; stag and doe, bridal, and baby.
Coffee shops, pubs, restaurants, store openings, midnight madness, street festivals, and galas are also popular places where I've read tarot cards.
I can also read tea leaves which is popular for more intimate parties.
Over the years, I've travelled to some haunted places.
I've read tarot cards, done the Ouija board, and conducted seances at the Lizzie Borden Bed and Breakfast in Fall River, Massachusetts.
I've read tarot cards at the Stanley Hotel in Colorado. You know, The Shining Hotel: The Overlook!
I've read tarot cards and gone ghost hunting with various types of equipment at many famous and not famous locations in North America.
I could lead you and your team on a ghost hunt although you would have to supply all the equipment, should you want to use any.
Apparently, on my father's side, I'm descended from Spanish gypsies. On my mother's side, I come from Finnish mediums and dream interpreters.
Additional Booking Notes
If at all possible, a quiet place with zero to little traffic.
In these particular times, an area away from others, even on a balcony or in a backyard (weather permitting) with good ventilation would be best.
I will wear a mask. When you come to sit with me, I request that you wear a mask as well.
The set up will likely be a small table with a chair on either side for tarot reading supplied by the venue.
The line up for tarot reading should be organized so it doesn't clog the party traffic flow.
If there is an opportunity for privacy, behind a screen, in a small room, in a corner, etc. it is best as we need to talk to each other across a table. The table size is determined by you. I will need some kind of dim lighting to see the cards, if possible. Away from speakers if possible. Away from espresso machines, loud vendors like clown acts, comics, musicians of any kind, puppet shows etc. if possible.
Services Offered
Setup Requirements
Tea Leaf Readings: loose leaf tea, tea pot, boiling water, tea cups for each person getting a reading, tea saucers for the cups, a bucket to pour used tea and tea leaves, spoon
2. Seated Tarot Card Readings: small table, two chairs that can be across from each other with the table inbetween. Dim lighting. Pen, paper, clipboard, time piece for the organizer to take names of people in line to ensure that every one gets a turn. The