Your list is empty.
Save musicians, entertainers, speakers, and services, and they'll appear here.
Free Quick Quote
This vendor provides virtual services
Back to Violinists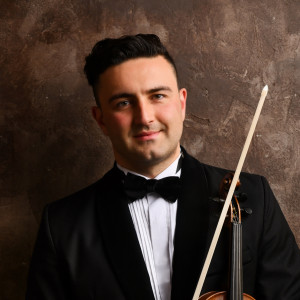 Alexandr Kislitsyn
5.0
(7 reviews)
Philadelphia, PA
Travels up to 120 miles
$250 - $100000
Get a Free Quick Quote
Overview
I am a pro - violinist, producer, artistic director of various concert music projects. Music is my passion. I love playing and sharing the beauty of sound, which makes people feel. This is the reason I chose music as my career. All the musicians I am working with are very experienced in performing wedding ceremonies/cocktail hours/receptions, private events, and large concert stages, such as Carnegie Hall, NY; Disney Hall, LA, etc., delivering highly professional and unforgettable musical experience. I was honored to perform for Presidents, Royal Families and work with the industry's most influential people. Describe your event, and I will find the best solution to complement it.
---
---
Booking Info
Price Range: $250 - $100000
Gig Length: 30 - 360 minutes
Languages: English, Russian
What to Expect
- Stress-Free Planning Assistance
- I Care About Your Experience
- Any Repertoire from Baroque Music to Contemporary, Popular Music, R&B, Hip-Hop, EDM.
- 15 - 30 Minutes of Prelude Music
- Customized Event Songs
- FREE 15-Minute Grace Period of Overtime
- The Top Musicians in The Area Performing at Your Event
About
Alexandr Kislitsyn was born into a musical family with a long tradition in the arts. From a young age, his parents - both highly-trained and accomplished musicians - sought to encourage him to carry on in the family tradition, an endeavor mitigated by Alexandr's determination. Ungratified by kindergarten's monotony, he willfully launched his informal musical training by trailing his mother to her rehearsals with the Omsk Philharmonic Symphony Orchestra. His formal training began shortly after that, and he went on to earn a Bachelor of Arts in Violin Performance from Novosibirsk State Conservatory and a Master's degree in Violin Performance from Temple University.
Alexandr made his debut as a concert violinist with the symphony orchestra at the tender age of 6. Since then, he has gone on to concertize throughout Russia, Europe, Asia, and North and South America, teaching masterclasses, giving solo recitals, and performing with symphony orchestras as well as chamber ensembles in such notable venues as Carnegie Hall, Walt Disney Concert Hall, Kimmel Center, Thailand Cultural Centre Hall, etc. Winner of numerous national and international competitions and recipient of multiple prestigious musical awards, his extensive repertoire includes significant works from solo and chamber literature.
As an experienced orchestral musician, Alexandr has performed with orchestras for diverse and distinguished audiences worldwide. He was a soloist and member of the Omsk Philharmonic Chamber Orchestra (2006-2008); principal of the Novosibirsk Conservatory Symphony Orchestra (2008-2012); guest artist of the Novosibirsk Academic Philharmonic Symphony Orchestra; member of the string ensemble, "Bright Bows" (2008-2013); guest artist in the Symphony Orchestra of the Novosibirsk State Academic Opera and Ballet Theatre (2009); assistant principal of the International Symphony Orchestra, performing for heads of state attending the ASEAN Financial Summit (2010); artistic director and principal violin for the Novosibirsk Drama Theatre's rendition of "Red Torch" (2011-2013); member of the International Symphony Orchestra of the 14th International Festival of Opera and Ballet in Thailand, where the orchestra presented a global project of the BBC's "Planet Earth" under the patronage of the Thai Royal Family (2012); member of the iPalpiti International Festival (2013-2017); principal of Temple University Symphony Orchestra (2015-2016); member of the Philadelphia International Festival (2016), member of Symphony in C Orchestra (2016 - current); substitute member of the Chamber Orchestra of Philadelphia (2018 - current); substitute member of the Curtis Symphony Orchestra (2018 - current); substitute member of the Philly POPS (2020 - current); substitute member of the Academy of Vocal Arts (2020 - current); the violinist at the 49 Burning Condors (2019 – 2020); As a chamber musician, Alexandr has participated in a plethora of musical projects and appeared on multiple concert stages around the globe. Currently, he is an artist at the Parma Recordings and a member of the Trio Casals. Besides classical music, Alexandr is developing a career as an electronic music producer while writing for other artists in various genres.
Offstage, he has served as a youth violin instructor with Temple University Music Preparatory (2014-2016), Nelly Berman School of Music (2016 - 2017), The Baldwin School (2017-2018), Symphony in C Youth Orchestra (2017 - current), Symphony in C Summer Camp (2018 and 2019), the Young Musicians Debut Orchestra (2020 - current) training the next generation of inspired musicians.
Additional Booking Notes
- Any acoustic performance can be amplified with the highest quality sound system.
- A great option for cocktail hours and receptions.
- Acoustic and electric instruments.
- Any combinations of the musicians.
- Broad experience working with the DJs
Upcoming Booked Events
October 30, 2021

•

10:30am - 12:30pm
Wedding Ceremony

August 05, 2022

•

4:30pm - 5:30pm
Wedding Ceremony
Past Booked Events
October 17, 2021–October 18, 2021

•

8:00pm - 12:00am
Dinner Party

March 05, 2021

•

4:00pm - 4:30pm
Wedding Engagement

December 12, 2020

•

5:30pm - 6:30pm
House Party

December 01, 2020

•

6:00pm - 7:00pm
Dinner Party

July 25, 2020

•

6:00pm - 6:30pm
Personal Occasion

September 21, 2019

•

5:00pm - 7:00pm
Wedding Ceremony

December 06, 2018

•

6:30pm - 9:00pm
Dinner Party

September 01, 2018

•

3:00pm - 4:00pm
Wedding Ceremony

August 07, 2018

•

7:00pm - 8:00pm
Wedding Reception

September 30, 2017

•

9:30am - 11:00am
Funeral/Memorial Service

September 01, 2017

•

6:00pm - 6:45pm
Wedding Ceremony

June 30, 2017

•

7:00pm - 7:15pm
Wedding Ceremony

June 10, 2017

•

4:30pm - 5:00pm
Wedding Ceremony

May 13, 2017

•

5:00pm - 6:00pm
Wedding Ceremony

April 22, 2017

•

7:00pm - 7:30pm
Wedding Engagement

January 17, 2017

•

4:30pm - 5:15pm
Wedding Engagement

January 09, 2017

•

11:00am - 12:00pm
Funeral/Memorial Service

August 28, 2016

•

3:00pm - 5:00pm
String Quartet Performance

August 20, 2016

•

5:00pm - 8:00pm
Wedding Ceremony and Cocktails

August 13, 2016

•

7:00pm - 10:00pm
Wedding Ceremony and Cocktails
Set List
1) Air in G - (Bach)
2) Arioso - (Bach)
3) Autumn - (Vivaldi)
4) Ave Maria - (Schubert)
5) Canon - (Pachelbel)
6) Cello Suite No. 1 – Prelude – (Bach)
7) Clair de Lune - (Debussy)
8) Entrance of the Queen of Sheba - (Handel)
9) Flower Duet from "Lakme" - (Leo Delibes)
10) Flower Song from Carmen - (Bizet)
11) Gabriel's Oboe – (Ennio Morricone)
12) Intermezzo Cavalleria Rusticana - (Mascagni)
13) Jesu Joy of Man - (Bach)
14) Meditation from Thaîs - (Massenet)
15) Minuet from the Water Music - (Handel)
16) Morning Mood from Peer Gynt Suite – (Grieg)
17) Nimrod from "Enigma Variations" – (Elgar)
18) Rigaudon - (Campra)
19) Salute d 'Amour - (Elgar)
20) Serenade - (Haydn)
21) Spring - (Vivaldi)
22) Rhapsody on Paganini Theme - (Rachmaninov)
23) The Swan - (Saint-Saens)
24) Traumerei - (Schumann)
25) Trumpet Voluntary in D - (Clarke)
26) Winter Largo - (Vivaldi)
Classical Ceremony Recessional
1) Brandenburg Concerto No. 3 – (Bach)
2) Bridal Chorus from Lohengrin - (Wagner)
3) Divertimento 1 - (Mozart)
4) Eine Kleine - (Mozart)
5) Hornpipe from the Water Music - (Handel)
6) La Réjouissance - (Handel)
7) Ode to Joy - (Beethoven)
8) Palladio – (Karl Jenkins)
9) Rondeau - (Mouret)
10) Spring - (Vivaldi)
11) Trumpet Voluntary in D - (Clarke)
12) Wedding March - (Mendelssohn)
Modern Ceremony Processional
1) All I ask of You - "Phantom of the Opera"
2) A Thousand Years - (Christina Perri)
3) At Last - (Etta James)
4) Can't Help Falling in Love - (Elvis Presley)
6) Here There Everywhere - (The Beatles)
7) Hoppipolla - (Sigur Ros)
8) I'm Yours - (Jason Mraz)
9) In My Place - (Coldplay)
10) Just Breathe - (Pearl Jam)
11) Just the Way You Are - (Billy Joel)
12) La Vie en Rose - (Edith Piaf)
13) Lucky - (Jason Mraz)
14) Marry Me - (Train)
15) Over the Rainbow - (IZ version)
16) Perfect – (Ed Sheeran)
17) Secrets – (One Republic)
18) Songbird - (Fleetwood Mac)
19) Staralfur – (Sigur Ros)
20) The Luckiest - (Ben Folds)
21) The Prayer - (Dion & Groban)
22) Time to Say Goodbye - (Bocelli)
23) Turning Page - (Sleeping At Last)
24) What a Wonderful World - (L. Armstrong)
25) Wonderful Tonight – (Eric Clapton)
26) Yellow - (Coldplay)
Modern Ceremony Recessional
1) All You Need is Love - (The Beatles)
2) Bitter Sweet Symphony - (The Verve)
3) Dear Future Husband – (Meghan Trainor)
4) Don't Stop Believin' - (Journey)
5) Happy – (Pharrell Williams)
6) Happy Together – (The Turtles)
7) Love Story – (Taylor Swift)
8) Marry You – (Bruno Mars)
9) Such Great Heights - (Postal Service)
10) Viva la Vida - (Coldplay)
11) Wake Me Up – (Avicii)
12) Wouldn't it be Nice - (Beach Boys)
Cocktail Hour
1) 1999 – (Prince)
2) All of Me - (John Legend)
3) All My Love – (Led Zeppelin)
4) Bad Romance – (Lady Gaga)
5) Best Day of My Life – (American Authors)
6) Better Together - (Jack Jackson)
7) Billie Jean - (Michael Jackson)
8) Blurred Lines – (Robin Thicke)
9) Cheerleader – (OMI)
10) Can't Stop the Feeling – (Justin Timberlake)
11) Corazon Espinado - (Santana)
12) Despacito – (Luis Fonsi)
13) Don't Stop Believin' - (Journey)
14) Finesse – (Bruno Mars)
15) Get Lucky - (Daft Punk)
16) Happy - (Pharrell Williams)
17) Happy Together - (Turtles)
18) Havana – (Camila Cabello)
19) Hey Soul Sister - (Train)
20) Here Comes the Sun - (Beatles)
21) Hotline Bling – (Drake)
22) I Will Survive – (Gloria Gaynor)
23) Is This Love – (Bob Marley)
24) Just the Two of Us - (Bill Withers)
25) Just the Way You Are - (Bruno Mars)
26) Let It Be – (The Beatles)
27) Love Story - (Taylor Swift)
28) Marry You – (Bruno Mars)
29) Moves Like Jagger - (Maroon 5)
30) Pretty Woman – (Roy Orbison)
31) Rather Be – (Clean Bandit)
32) Rolling in the Deep - (Adele)
33) September - (Earth Wind & Fire)
34) Signed Sealed Delivered - (Stevie Wonder)
35) Shake it Off - (Taylor Swift)
36) Shape of You – (Ed Sheera)
37) Smooth Criminal - (M. Jackson)
38) Sweet Child O' Mine - (Guns n' Roses)
39) Sweet Dreams Are Made - (Eurythmics)
40) The Edge of Glory - (Lady Gaga)
41) Thunderstruck – (AC/DC)
42) Uptown Funk – (Bruno Mars)
43) Viva la Vida -(Coldplay)
44) Wake Me Up - (Avicii)
45) With or Without You – (U2)
Dinner Hour Reception
1) A Dream is a Wish from "Cinderella"
2) A Summer Place – (Max Steiner)
3) A Tale as old as time from "Beauty and Beast"
4) All I Ask of You from "Phantom" - (Webber)
5) All My Loving - (The Beatles)
6) Annie's Song - (John Denver)
7) And I Love Her - (The Beatles)
8) As Time Goes By - (Hupfeld)
9) Amor I Love You - (Brazilian, Marisa Monte)
10) Begin the Beguine - (Porter)
11) Besame Mucho - (Consuelo Velázquez)
12) Blue Moon - (Richard Rodgers)
13) Blue Tango - (Anderson)
14) Can't Help Falling in Love - (Elvis Presley)
15) Chicago - (Fisher)
16) Dos Gardenias - (BVSC)
17) Edelweiss from "Sound of Music"
18) Embraceable You - (Gershwin)
19) Fly Me to the Moon - (Frank Sinatra)
20) Galway Rambler Medley - (7 Irish Dance Tunes)
21) Game of Thrones – (Ramin Djawadi)
22) In the Mood - (Joe Garland)
23) I Will - (Beatles)
24) Kiss the Girl from "The Little Mermaid"
25) La Bamba – (Traditional Mexican)
26) Maria - from "West Side Story"
27) Married Life - from "Up
28) Minor Swing - (Django / Grappelli)
29) Moon River - Breakfast at Tiffany's - (Mancini)
30) One Hand, One Heart from "West Side Story"
31) Over the Rainbow from "Wizard of Oz"
32) Por Una Cabeza Tango - (Gardel)
33) Ripple - (Grateful Dead)
34) Storybook Love from "Princess Bride"
35) Stand by me - (Ben E King)
36) Songbird - (Fleetwood Mac)
37) Tarantella Napoletana - (Italian Song)
38) That's Amore - (Dean Martin)
39) The Rose - (Bette Midler)
40) The Way You Look Tonight - (Frank Sinatra)
41) Unforgettable - (Nat King Cole)
42) What a Wonderful World - (L. Armstrong)
43) When I'm Sixty-Four - (The Beatles)
44) Wonderful Tonight - (Eric Clapton)
45) You Love is King - (Sade)
Team
| | |
| --- | --- |
| Alexandr Kislitsyn | Violinist |