Your list is empty.
Save musicians, entertainers, speakers, and services, and they'll appear here.
Free Quick Quote
This vendor provides virtual services
Back to Jazz Bands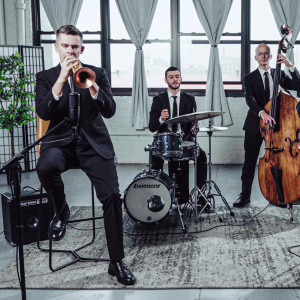 Springlight Entertainment
5.0
(34 reviews)
Fair Lawn, NJ
Travels up to 300 miles
$600 - $7000
Get a Free Quick Quote
Overview
Springlight Entertainment is a live music service operating out of NJ, NYC. This multi-instrument band is available to play at wedding ceremonies, receptions, cocktail hour and any private event. Providing a broad selection of music, these versatile musicians are well-versed in creating a memorable soundtrack to your unforgettable day.
---
---
Booking Info
Price Range: $600 - $7000
Gig Length: 45 - 300 minutes
Languages: English, Russian
What to Expect
Our musicians are passionate about creating memorable events and their talent and expertise guarantees that every event is given the utmost attention to detail.
​
Whether we are preforming at private events, wedding ceremony/receptions, or corporate events we strive to tailor our music to our cliental needs.

​
About
Pasha Karchevsky is a rising-star jazz trumpeter, composer and educator. Austin Winds and Reunion Blues artist. Pasha won many prestigious international competitions and performed at major venues and jazz festivals around the world. Over the past 10 years of his professional career, Pasha shared the stage with a number of top-tier artists such as Mireille Mathieu, Wynton Marsalis, Bob Mintzer, Conrad Herwig, Terence Blanchard, Allan Harris, Igor Butman and Alex Sipiagin among others. In 2015 Pasha published his first book "12 Jazz Trumpet Transcriptions".
Pasha was born in Novokuznetsk, Russia in 1989. His father was a driver, mother is a dispatcher. None in his family was interested in music. Just out of the blue at age of fifteen Pasha picked up his first trumpet, he fell in love with this instrument at once and no matter what Pasha made a decision to continue his life as a musician.
When he was 17, he enrolled to Novosibirsk Musical College named after Murov where he met his first teacher and mentor Vladimir Lobanov. While studying in Novosibirsk Pasha participated International Competition of Young Jazz Performers 2009. He took grand-prix. In 2010 Pasha graduated with honors from that college and went to Moscow for audition at Russian Academy of Music named after Gnesin. After successful audition Pasha was accepted to attend the Academy.
From 2010-2014 Pasha was a soloist of «Academic Band» led by the People's Artist of Russia Anatoly Kroll and «Big Jazz Orchestra» led by trumpeter Peter Vostokov. During that time Pasha took part in many festivals in Moscow and other Russian cities with these bands.
In December 2014 Pasha took part in the international competition "Gnesin Jazz". He became a winner at once in 4 nominations: "The best instrumentalist"; "The best original composition"; "The best ensemble" and "The best arrangement of the jazz standard".
On April 30, 2015 Anatoly Kroll invited Alexander Oseichuck's ensemble to the concert devoted to Day of Jazz. The leader of ensemble was Pasha Karchevsky, performed original composition. The composition "Road from" which was written by Pasha was announced by radio Jazz for the Day of Jazz in Moscow.
In June, 2015 Pasha Karchevsky published his first book "12 Jazz Trumpet Transcriptions". The book received excellent comments. Pasha became the first man in Russia who published a book for jazz trumpet. The largest jazz magazine in Russia "Jazz.ru" published an interview about this book.
In the fall 2014 Igor Butman made the special program "Future of the Jazz" on which he presented new jazz generation from the different countries: Pasha Karchevsky (Russia), Azat Bayazitov (Tatarstan), Polina Zizak (Russia), Russel Hall(USA), Evan Sherman(USA). At the concert in Tchaikovsky's Hall Pasha showed himself as an outstanding composer with extraordinary musical ability.
In 2013-2015 Pasha was a member of the worldwide famous Jazz band "The Moscow State Jazz Orchestra" consisting of outstanding Russian jazz musicians led by Igor Butman. In 1999, Igor Butman founded the Moscow Jazz Orchestra and since then it has quickly become the hottest ensemble of its kind in Russia around the World. Throughout his collaboration Pasha had (throughout all collaboration with this orchestra) tour across countries and continents in Europe, the United Kingdom, the United States, the Far East, Russia and elsewhere.
Since 2015 Pasha Karchevsky and his family have lived in New York where Pasha collaborates with many well-known musicians and bands such as David Berger Big Band, Eddie Allen Big Band, Art Lillard Big band and sextet, Ska Jazz Orchestra, J.Chardavoine Band, Revolutionary Council Afrobeat, Krohma Band, Ron Wilkins Big Band, Bump City Band, Boris Kozlov, Alex Sipiagin, Andrew Atkinson, Valery Ponomarev, Peter Brainin, Patrick Cornelious, Vitaly Golovnev, John Scarpulla, Don Harris, Dave Anderson, Max Pokrovsky and many more.
Upcoming Booked Events
September 24, 2022

•

2:30pm - 2:45pm
Surprise

September 24, 2022

•

7:30pm - 8:15pm
Nonprofit Event

October 15, 2022

•

5:00pm - 9:00pm
Wedding Reception

October 27, 2022

•

6:00pm - 10:00pm
Fundraiser
Past Booked Events
July 31, 2022

•

12:00pm - 3:30pm
Religious Celebration

June 09, 2022

•

11:00am - 1:00pm
Worship Service

June 04, 2022

•

10:30am - 11:30am
Wedding Ceremony

May 26, 2022

•

7:30pm - 9:00pm
Fundraiser

May 14, 2022

•

2:30pm - 4:30pm
Birthday Party

April 20, 2022

•

10:00pm - 11:00pm
Cocktail Party

April 17, 2022

•

8:00am - 12:30pm
Religious Celebration

March 19, 2022

•

7:30pm - 8:15pm
Children's Birthday Party

February 17, 2022

•

11:30am - 11:45am
Funeral/Memorial Service

February 12, 2022

•

9:00pm - 9:45pm
Dinner Party

January 08, 2022

•

10:00am - 10:15am
Funeral/Memorial Service

December 16, 2021

•

12:00pm - 4:00pm
Christmas Party

November 27, 2021

•

12:00pm - 12:30pm
Funeral/Memorial Service

November 03, 2021

•

5:30pm - 11:30pm
Corporate Event

August 08, 2021

•

2:00pm - 3:00pm
Funeral/Memorial Service

August 07, 2021

•

8:30am - 8:45am
Funeral/Memorial Service

July 24, 2021

•

11:00am - 11:30am
Funeral/Memorial Service

June 30, 2021

•

4:00pm - 5:30pm
Funeral/Memorial Service

June 27, 2021

•

12:00pm - 4:00pm
Birthday Party

June 17, 2021

•

12:30pm - 2:00pm
Corporate Event

June 15, 2021

•

2:30pm - 3:00pm
Funeral/Memorial Service

June 10, 2021

•

11:00am - 11:30am
Funeral/Memorial Service

June 06, 2021

•

3:30pm - 4:30pm
Anniversary Party

June 05, 2021

•

11:00am - 12:00pm
Funeral/Memorial Service

May 06, 2021

•

12:00pm - 1:00pm
Funeral/Memorial Service

April 27, 2021

•

12:30pm - 12:45pm
Funeral/Memorial Service

April 17, 2021

•

3:00pm - 4:00pm
Wedding Ceremony

October 24, 2020

•

12:30pm - 3:00pm
Children's Birthday Party

October 15, 2020

•

6:00pm - 7:00pm
Cocktail Party

September 19, 2020

•

11:00am - 12:30pm
Funeral/Memorial Service

September 17, 2020

•

9:00am - 9:30am
Funeral/Memorial Service

July 25, 2020

•

6:00pm - 6:15pm
Birthday Party

June 29, 2020

•

1:00pm - 2:00pm
Funeral/Memorial Service

June 08, 2020

•

7:00pm - 7:15pm
Surprise

June 03, 2020

•

11:00am - 11:30am
Birthday Party

May 01, 2020

•

10:00am - 10:15am
Birthday Party

December 24, 2019–December 25, 2019

•

10:30pm - 1:00am
Religious Celebration

December 19, 2019

•

5:30pm - 7:00pm
Christmas Party

December 07, 2019

•

7:30pm - 8:30pm
Corporate Event

October 01, 2019

•

12:00pm - 12:15pm
Funeral/Memorial Service

September 12, 2019

•

6:00pm - 8:30pm
Birthday Party

July 29, 2019

•

12:30pm - 1:00pm
Birthday Party

June 26, 2019

•

7:30pm - 8:30pm
Camp Event

May 25, 2019

•

8:00pm - 9:30pm
Birthday Party

May 09, 2019

•

5:00pm - 8:00pm
Fundraiser

November 02, 2018

•

4:00pm - 4:30pm
Wedding Ceremony

October 02, 2018

•

12:00pm - 12:30pm
Funeral/Memorial Service

August 11, 2018

•

9:30am - 5:30pm
Corporate Event

May 05, 2018

•

12:00pm - 12:15pm
Wedding Engagement

April 01, 2018

•

9:30am - 11:30am
Worship Service

February 13, 2018

•

4:00pm - 8:00pm
Nightclub Event
Set List
Jazz, bossa, latin:
All Of Me
Almost Like Being In Love
Autumn Leaves
All The Things You Are
At Least
Black Orpheus
Blue Bossa
Chega De Saudade
Call Me
Caravan
Come Fly With Me
Come Away With Me
Desafinado
Days Of Wine And Roses
Don't Get Around Much Anymore
Dream A Little Dream Of Me
Fly Me To The Moon
The Girl From Ipanema
I Can't Get Started With You
It Had To Be You
Love
Meditation
Misty
My Favorite Things
My Romance
Satin Doll
Stomping At The Savoy
Under My Skin
​
Ceremony music
​
All Of Me - J. Legend
Ave Maria
Amazing Grace
Bridal Chorus
Beautiful In My Eyes
Canon In D
Can You Feel The Love Tonight
Can't Help Falling In Love With You
God Gave Me You
Halleluja
Just The Way You Are
In My Life
I Will Be Here
Love Me Tender
La Vi En Rose
Marry You
Make You Feel My Love
Over The Rainbow
Put Your Head On Me
Perfect
Photograph
Stand By Me
Sunrise, Sunset
A Thousand Years
Unchained Melody
Unforgettable
Wedding March
Your Body Is A Wonderland
​
​Pop and Classics:
Just The Two Of Us
Let's Groove Tonight
September
The Way You Make Me Feel
Let's Stay Together
This Love
Sir Duke
Isn't She Lovely
You Are The Sunshine Of My Life
I Want It That Way
Sugar
My Girl
I Feel Good
Sex Maschine
Shape Of You
Come Together
Yesterday
Don't Worry Be Happy
Happy
Uptown Girl
I Just Called To Say I Love You
Stay With Me
Johnny B.Goode
​
​
Influences & Inspiration
Jazz, Pop, Latin music