Your list is empty.
Save musicians, entertainers, speakers, and services, and they'll appear here.
Free Quick Quote
This vendor provides virtual services
Back to Singing Telegrams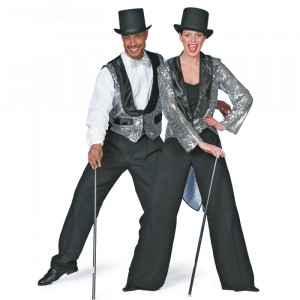 Singing Telegrams and Custom Comedy
4.51
(8 reviews)
Dallas, TX
Travels up to 60 miles
$139-1500
Get a Free Quick Quote
Overview
We offer clean customized comedy & singing telegrams for any occasion. LIVE, (socially distant) VIDEO & PHONE options offered. We get information about your guest of honor or group & personalize the comedy or song with insider information & good natured FUN. We also offer variety artist/party entertainers like a VALENTINE, celebrity impersonator, costumed character, clean comedian, keynote speaker, magician, musician, DJ, fortune teller, clown, Santa, Mrs. Claus, balloon artist, face painter or caricature artist. All entertainers are experienced professionals. All acts are clean & appropriate for a corporate setting or family atmosphere. We've been in business in the Dallas area since 1976.
---
---
Booking Info
Gig Length: 10 - 20 minutes
What to Expect
Basically, the way that we work at Custom Comedy is we get info from you about your celebrant or situation. During these times of COVID virus quarantine, we offer LIVE services practicing social distancing, VIDEO, at a discount and PHONE-GRAMS, super value priced! A working professional comic puts together a brief, personalized comedy roast, clean & good natured. They can then do a funny song & a sing-a-long. Certain entertainers are stronger singers than comics and may put your info in a custom song... we leave that choice to the artist and our clients are always pleasantly surprised! If you give us advanced notice, we also include a token gift like a rose, or balloons or a custom surprise connected to the character you choose. There are a number of costumed characters to choose from. Typical comic characters are value priced, especially considering you get a working pro that has been seen in local comedy clubs, corporate events or possibly Vegas. Parody celebrity impersonators are priced higher because they take more prep time. There are additional charges to travel outside Dallas but we will send someone anywhere in the Dallas "Metroplex" if client is willing to add for travel. Also for an extra charge, we can rent or build special wardrobe if you don't find what you want on our list! Contact us TODAY for more info and photos!
REMINDER: Late night/Sunday requests for quotes next are sent the next business day.
A LOT GOES INTO A Custom Comedy Telegram! Here is what you are getting:
You are getting a professional performer who spends considerable prep time getting into a comedy get up - the more elaborate the wardrobe, the longer the prep time.
They also work up personalized comedy or a song from our custom comedy questionnaire * prepared in advance just for your event.
Then these pro troupers trek in Dallas traffic to YOUR event location to make your celebrant feel like the most special person in the world!
Then they wrap up with a a sing a long song for YOUR occasion or Happy Birthday Sing a long.
They will mingle and sit for photos if you have cameras in your phones, so you can make memories!
About
Singing Telegrams and Custom Comedy Network is a Dallas based entertainment agency founded by Jill Christine Peters. Under different names, Custom Comedy Network has been in business since 1980. Jill Peters is a graduate of the acclaimed Southern Methodist University Theater Conservatory in Dallas TX, referred to in certain circles as the Julliard of the Southwest. She majored in directing and worked with such notable SMU grads as Powers Boothe (Nashville, Deadwood) Debra Monk, (NYPD Blue, Pump Boys and Dinettes) Pat Richardson (Home Improvement) Stephen Tobolowsky (Glee, Silicon Valley) and as the director of Pulitzer winner Beth Henley's college play writing premier. Jill had wanted a career in comedy since she watched Carol Burnett and Joan Rivers on TV in black & white! As a young adult in the era when Saturday Night Live made its debut, she has always enjoyed entertaining as a stand up comic, a character comedienne and in sketch comedy groups. She paid her dues in one of those local Dallas interactive dinner theater shows, singing, doing improvisational comedy and learning to recover when everything goes terribly wrong! At a time in Dallas when live entertainment was mostly supper clubs and topless bars, Jill brought CLEAN sketch comedy into a new emerging entertainment district, Deep Ellum.
After making the audition rounds in the Dallas theater scene, she was cast in a play, Wendy Wasserstein's Uncommon Women and Others. Yale School drama grad and (link hidden)ank Dobie prize winner Tim Hatcher saw Jill and offered to write a comedy monologue for her, to be performed in a local showcase. The piece was to have been 5 minutes. But in performance, the audience response was so outrageous Jill had to hold for laughs after almost every line, causing the piece to run 11 minutes. All in attendance agreed there was something special in Jill and Tim's collaboration. So they came together to create Jill's one woman show: "Brendene, the Lady and her Laundry," an evening of music and comedy. The show ran in theaters in Dallas, Tyler and Ft Worth, TX for a total of 181 performances, a Dallas first for a woman solo entertainer. The Dallas Observer called Jill "nothing short of magical." She has been seen on Good Morning Texas, and in films like Certain Guys with Dietrich Bader. (She enjoyed meeting Dietrich as she is a fan of the Drew Carey Show & she impersonates MIMI BOBECK)
Jill always had a love of talent, especially comedy talent. In the subsequent years she began acting as a booking agent for other comedians. At first, this was only as substitutes for jobs Jill had to turn down. Later, Jill formed the company "Custom Comedy Network" and it grew into a full blown agency emphasizing bookings for comics and other variety artists. Today Custom Comedy Network represents over 300 acts performed by over 100 artists. Custom Comedy talent is seen in metroplex area theaters like Dallas Theater Center, Theater Three, Moving Target and Circle Theater. Many of our performers also boast credits from Broadway, Off Broadway, Las Vegas, major motion pictures and national TV.
On many gig marketplace sites, talent and agencies are not necessarily screened or vetted; talent are permitted to list themselves. Our talent are all screened and known personally by owner Jill Christine Peters. Custom Comedy only reps the finest and only on referral. Book us with confidence.
Additional Booking Notes
During these times of COVID virus quarantine, we offer LIVE services practicing social distancing, VIDEO, at a discount and PHONE-GRAMS, super value priced! For LIVE services our performer can use the yard, driveway or other safe distance environment. It is requested gatherings be 10 guests or less.
For events in a public place with a lot of ambient sound, talent may bring small PA and mic OR possibly request to use one from a band or DJ. Since we do customized comedy the performance has the best impact in a setting where all can hear. Turning off background music during performance is also desirable.
REMINDER: Late night & weekend quote requests replied on next business day.
Services Offered
Past Booked Events
August 28, 2021

•

5:00pm - 5:15pm
Birthday Party

August 20, 2021

•

6:30pm - 6:45pm
Birthday Party

December 12, 2020

•

1:00pm - 1:15pm
Birthday Party

April 30, 2020

•

6:00pm - 6:15pm
Birthday Party

May 08, 2019

•

10:30am - 10:45am
Birthday Party

April 17, 2019

•

7:00pm - 7:15pm
Birthday Party

March 09, 2019

•

4:30pm - 4:45pm
Birthday Party

February 22, 2019

•

12:00pm - 12:15pm
Birthday Party

January 04, 2019

•

8:00pm - 8:15pm
Birthday Party

November 10, 2018

•

12:00pm - 12:15pm
Surprise

August 18, 2018

•

6:30pm - 7:30pm
Birthday Party

January 13, 2018

•

5:30pm - 5:45pm
Birthday Party

February 10, 2016

Prank/Surprise

November 09, 2015

Prank/Surprise

February 14, 2014

Other
Set List
NOTE we mainly offer Comedy acts -
Here is a list of:
Custom Comedy Character Choices and Celebrity Impressions
Traditional Uniformed Telegram
Mother Goose
Crazy Granny "KK"
Fairy Godmother
Biker Babe
Outer Space Babe
Brunhilde/Large Opera Lady
("And the fat lady sings...")
Super Hero
Big Tex
Cheerleader
Large "Hooters Girl"
Incredible Hunk
Disco Lounge Lizard Guy
Football Fan-atic
Bubba
Long-Lost Redneck Cousin
Country Cousin Earlene #1
Country Cousin Earlene #2
Big Baby
Cowboy Hunk
Sheriff "JJ"
Tuxedo Serenade "WW"
Sheriff Hunk
Mad Doctor
Belly Dancer
Belly Dancers
Mermaid
Gypsy Fortune Teller
Chicken
Flamingo
Beaver
Biker Chick
Card Shark "JR"
Man in Drag "JJ"
Fifties Gal or Greaser Guy
Gondolier Serenade
Cougar Lady "TB"
Clumsy Waiter
Psycho Psychic
Other Available Characters:
Disco Lounge Lizard Gal
Lady Wrestler
Betsy Ross
Pooh Bear
Tigger
G.I. Jane
Love Fairy
French Maid
Detective
Cowgirl
Nerdy IRS Bureaucrat
Tuxedo Serenade
Big Broadway Baby
Bag Lady
Lucky Shamrock Fairy
Large Scary Nurse
Cowgirl
Lady Pirate
Hippie Chick
Devil
Princess
Vampire Lady
Cruise Ship Sailor
Prom Night Nerd
Clueless School Girl
Holiday Characters:
Cool Valentine FUN
Cupid's Delivery Guy
Cupid's Delivery Hunk
Singing Valentine Heart
Easter Bunny Covered Face
Easter Bunny Open Face
Santa Claus
Mrs. Santa
North Pole Messenger
Christmas Elf
Scrooge
Custom Comedy Parody
Celebrity Impressionist Choices:
Trump & Hillary
Drew Carey & Mimi Bobek
Mimi Bobek
Mama June Shannon (from Honey Boo Boo)
Edna Turnbladtt
Elvis
Blues Brothers
Austin Powers
Dr. Evil
Father Guido Sarducci
Groucho Marx & Marx Brothers
Charlie Chaplin
Mulder & Scully (X Files)
Indiana Jones
Marilyn
Shania Twain
Cher
Sonny & Cher
Dolly Parton RM
Barbra Striesand
Paul McCartney
Roy Orbison
Johnny Cash
Elizabeth Taylor
Regis Philbin
Humphrey Bogart
Indiana Jones
Linda Richmann (Cawfee Tawk)
"KISS" band member
Tony Soprano
Batman
Spidey
Power Ranger
Muppet
Dinosaur
Telebaby
B-Dog
Johnny Depp
Jack Sparrow
Janis Joplin
Godfather
Rocky
Alice
Mad Hatter
Karate Kid
Rat Pack Swinger
Bret Michaels
Dr. Phil
Willy Wonka
Guy Fieri
Lady Ga Ga
Other Available Impressionists:
"The Situation" (Jersey Shore)
"Snookie" Wannabe (Jersey Shore)
Church Lady
Chatty Cathy (Giant)
Miss Marple
Rodney Dangerfield
Inspector Clousseau
Sp*nge Bub
Gloria Estafan
Mama Cass
Robert di Niro
Rosanne
Howard Stern
George Bush
Bill Clinton
Al Gore
Ross Perot
Ed McMahon
Influences & Inspiration
Well Known Comedians
Saturday Night Live
CNN
Golden Oldies
Hair-bands
Current events and media
Setup Requirements
In a public place with ambient sound, talent may bring small PA & mic OR possibly request use from a band or DJ. Since we do customized comedy the performance has the best impact in setting where all can hear. Turn off background music during performance.
During these times of COVID virus quarantine, we offer LIVE services practicing social distancing. For LIVE services our performer can use the yard, driveway or large safe distance space. It is requested gatherings be 10 guests or less.