Your list is empty.
Save musicians, entertainers, speakers, and services, and they'll appear here.
Free Quick Quote
This vendor provides virtual services
Back to Santa Clauses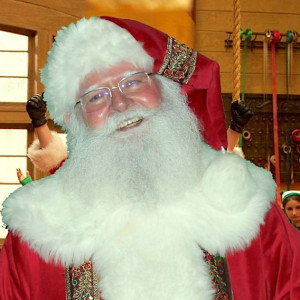 Santa Bob
5
(85 reviews)
San Jose, CA
Travels nationwide
$35 and up depending on type & length of visit
Get a Free Quick Quote
Overview
Real bearded Santa with background in theatre and film. I love BEING Santa and am available for photo shoots, Commercials, films, and Virtual Visits for home, business & private Parties.
My goal at any event is rooted in a strong belief that I am not only playing Santa, but that you expect me to be Santa. A visit with Santa can profoundly affect your children's image of Kris Kringle and their enjoyment of the holiday season. Using a custom questionnaire, I take the time to get to know your children - what they like to do in school, out of school, accomplishments, and what they would like for Christmas. I engage in a personal dialogue and give every child my utmost attention.
---
---
Booking Info
Price Range: $35 and up depending on type & length of visit
Gig Length: 10 - 600 minutes
Insurance: $2,000,000 - Full Blanket Liability
Services Offered
Past Booked Events
December 24, 2021

•

8:30pm - 9:00pm
Christmas Party

December 24, 2021

•

7:30pm - 8:00pm
Christmas Party

December 24, 2021

•

7:30pm - 8:00pm
House Party

December 24, 2021

•

5:30pm - 6:00pm
Christmas Party

December 22, 2021

•

6:00pm - 6:15pm
Personal Occasion

December 19, 2021

•

5:00pm - 6:00pm
Christmas Party

December 18, 2021

•

6:30pm - 7:00pm
House Party

December 18, 2021

•

4:30pm - 4:45pm
House Party

December 18, 2021

•

4:00pm - 4:15pm
Cocktail Party

December 11, 2021

•

3:30pm - 4:00pm
Children's Birthday Party

December 05, 2021

•

4:00pm - 5:30pm
Christmas Party

December 25, 2020

•

5:30pm - 6:00pm
Christmas Party

December 24, 2020

•

8:00pm - 8:15pm
Christmas Party

December 24, 2020

•

7:30pm - 8:00pm
Christmas Party

December 24, 2020

•

6:00pm - 6:15pm
Christmas Party

December 23, 2020

•

7:00pm - 7:30pm
Virtual Event

December 21, 2020

•

2:00pm - 2:30pm
Surprise

December 20, 2020

•

11:00am - 12:00pm
Personal Occasion

December 19, 2020

•

6:30pm - 7:00pm
Christmas Party

December 19, 2020

•

6:00pm - 6:15pm
Children's Birthday Party

December 19, 2020

•

2:00pm - 2:45pm
House Party

December 18, 2020

•

6:00pm - 6:30pm
Christmas Party

December 17, 2020

•

5:00pm - 5:15pm
Surprise

December 14, 2020

•

4:30pm - 5:00pm
Corporate Event

December 13, 2020

•

4:00pm - 4:15pm
Christmas Party

December 12, 2020

•

12:00pm - 7:00pm
Christmas Party

December 12, 2020

•

11:00am - 11:15am
Christmas Party

December 11, 2020

•

3:30pm - 5:30pm
Virtual Event

December 06, 2020

•

5:00pm - 5:15pm
Christmas Party

December 06, 2020

•

3:30pm - 3:45pm
Personal Occasion

December 05, 2020

•

6:30pm - 6:45pm
Virtual Event

December 05, 2020

•

6:00pm - 6:30pm
Virtual Event

December 05, 2020

•

6:00pm - 6:15pm
Virtual Event

December 05, 2020

•

10:00am - 2:00pm
Virtual Event

December 04, 2020

•

4:30pm - 6:30pm
Virtual Event

December 04, 2020

•

12:00pm - 6:00pm
Nonprofit Event

December 03, 2020

•

5:30pm - 7:00pm
Virtual Event

November 29, 2020

•

7:00pm - 7:30pm
Virtual Event

November 27, 2020

•

9:30am - 2:30pm
Virtual Event

December 24, 2019

•

8:00pm - 8:30pm
Christmas Party

December 24, 2019

•

7:00pm - 7:15pm
Christmas Party

December 24, 2019

•

7:00pm - 7:30pm
Personal Occasion

December 22, 2019

•

12:00pm - 3:00pm
Christmas Party

December 21, 2019

•

1:00pm - 3:00pm
Christmas Party

December 19, 2019

•

10:00am - 11:00am
School Assembly

December 18, 2019

•

6:00pm - 10:00pm
Corporate Event

December 12, 2019

•

7:00pm - 8:00pm
Corporate Event

December 11, 2019

•

7:00pm - 9:00pm
Christmas Party

December 08, 2019

•

2:30pm - 3:30pm
Christmas Party

December 08, 2019

•

10:00am - 12:00pm
Nonprofit Event

December 01, 2019

•

9:00am - 3:00pm
Personal Occasion

November 02, 2019

•

1:30pm - 3:30pm
Studio Session

July 27, 2019

•

1:00pm - 4:00pm
Corporate Event

July 11, 2019

•

5:00pm - 10:00pm
Corporate Event

December 24, 2018

•

8:30pm - 9:30pm
Christmas Party

December 24, 2018

•

8:00pm - 8:15pm
Personal Occasion

December 24, 2018

•

6:00pm - 6:45pm
Christmas Party

December 22, 2018

•

1:00pm - 3:00pm
Christmas Party

December 19, 2018

•

10:00am - 11:00am
Christmas Party

December 15, 2018

•

1:00pm - 3:00pm
Nonprofit Event

December 15, 2018

•

10:00am - 12:00pm
Christmas Party

December 13, 2018

•

1:30pm - 4:30pm
Corporate Event

December 11, 2018

•

10:00am - 1:00pm
Corporate Event

December 08, 2018

•

10:00am - 1:00pm
Christmas Party

October 13, 2018

•

6:00pm - 8:00pm
Birthday Party

December 24, 2017

•

6:00pm - 6:15pm
Holiday Party

December 24, 2017

•

6:00pm - 6:45pm
Dinner Party

December 21, 2017

•

12:00pm - 1:00pm
School Assembly

December 20, 2017

•

9:00am - 12:00pm
Corporate Event

December 19, 2017–December 23, 2017

•

4:00pm - 11:00pm
Great America

December 19, 2017

•

12:00pm - 2:00pm
Christmas Party

December 16, 2017

•

1:30pm - 3:30pm
Holiday Party (Christmas)

December 16, 2017

•

10:00am - 12:00pm
Holiday Party (Christmas)

December 15, 2017–December 17, 2017

•

4:00pm - 11:00pm
Great America

December 15, 2017

•

3:00pm - 6:00pm
Product Promotion

December 14, 2017

•

6:00pm - 7:00pm
Santa Party

December 10, 2017

•

1:00pm - 3:30pm
Corporate Event

December 09, 2017

•

1:30pm - 2:30pm
Santa Party

December 08, 2017–December 10, 2017

•

4:00pm - 11:00pm
Great America

December 07, 2017

•

6:00pm - 7:30pm
St. Louise Tree Lighting

December 06, 2017

•

2:30pm - 5:30pm
Corporate Event

December 03, 2017

•

12:00pm - 3:00pm
Rivermark Shopping Center

December 02, 2017

•

1:00pm - 3:00pm
Sand Creek Shopping center

December 01, 2017–December 03, 2017

•

4:00pm - 11:00pm
Great America

November 25, 2017

•

11:00am - 2:00pm
Festival

December 23, 2016

•

7:00pm - 8:00pm
Private Party

December 17, 2016

•

1:00pm - 3:00pm
Holiday Party (Christmas)

December 16, 2016

•

12:00pm - 1:30pm
Surprise

December 15, 2016

•

8:00pm - 9:00pm
Holiday Party (Christmas)

November 27, 2016–December 25, 2016

•

8:00am - 12:00am
All time available is now booked. Sorry.

November 25, 2016

•

4:00pm - 10:00pm
Holiday Party (Christmas)
Team
| | |
| --- | --- |
| Bob Jacobson | Santa Claus |
| Cheryl Jacobson | Mrs. Claus |