Your list is empty.
Save musicians, entertainers, speakers, and services, and they'll appear here.
Free Quick Quote
This vendor provides virtual services
Back to Santa Clauses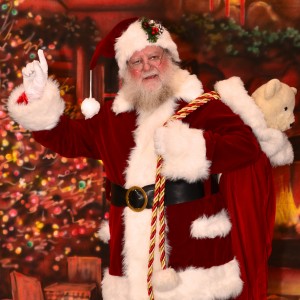 Santa Al Hockaday
4.83
(26 reviews)
Dallas, TX
Travels up to 2000 miles
$125-$500. Depends on date, time, location
Get a Free Quick Quote
Overview
Professional Santa Claus. Schooling: Int'l School for Santa Claus, Professional Santa Claus School. I am a real beard Santa. Background checked, insured, and a member of Lone Star Santa's. I have had all three vaccination shots. I am a Certified Professional Santa. Available for house parties, corporate parties, nursing homes, tree lighting, any type of event that you would want a Santa to bring joy and cheer.
---
---
Booking Info
Price Range: $125-$500. Depends on date, time, location
Gig Length: 20 - 240 minutes
Insurance: $2,000,000 - Commercial General Liability
What to Expect
A Santa who is capable of entertaining children of all ages. I have been a sports official for 50 years working with age groups from 4- 18+, I have been an independent Mfg Sales Rep since 1977 and I interact well with those I am around.
I enjoy reading Christmas stories, and I am capable of spinning a yarn or two also.
A client can expect someone who will work with them to get what they want out of a Santa appearing at their event.
Clients love it when I do "ask Santa anything" I have an answer for all questions. No limits!
About
I am a Professionally trained Santa, and a Certified Professional Santa. I have been to the Int'l School for Santa Claus and the Professional Santa Claus School in Denver.
I am available for any type of gig where a client would want a Santa to bring extra joy and cheer to the event. Ranging from House Parties, Home Visits, Corporate Events, Tree Lightings, Nursing Homes, Neighborhood Association Events, and more!
Christmas book reading and story telling are a specialty.
2017 highlights: Santa for Texas Rangers ball park tour of stadium, Ursuline Intermurals, Ursuline cookies and coco with Santa, Hackberrycreek CC, Sammons Cancer Center.
2018 so far: Santa for Texas Rangers first ever Christmas in July event during game on 7/25/18.
Additional Booking Notes
Santa is able to walk around, stand or sit.
Services Offered
Past Booked Events
December 25, 2021

•

3:00pm - 3:15pm
Virtual Event

December 23, 2021

•

6:00pm - 6:15pm
Personal Occasion

December 22, 2021

•

5:00pm - 6:30pm
Christmas Party

December 21, 2021

•

9:00am - 10:30am
Surprise

December 18, 2021

•

3:00pm - 4:00pm
Christmas Party

December 16, 2021

•

4:30pm - 8:00pm
Nonprofit Event

December 12, 2021

•

11:30am - 1:30pm
Christmas Party

December 10, 2021

•

6:00pm - 11:00pm
Christmas Party

December 26, 2020

•

6:00pm - 8:00pm
Christmas Party

December 24, 2020

•

5:00pm - 5:30pm
Christmas Party

December 24, 2020

•

4:00pm - 4:30pm
Children's Birthday Party

December 23, 2020

•

8:00pm - 8:30pm
Christmas Party

December 23, 2020

•

4:30pm - 5:30pm
Personal Occasion

December 22, 2020

•

7:00pm - 7:30pm
Christmas Party

December 21, 2020

•

6:00pm - 6:30pm
Personal Occasion

December 21, 2020

•

4:00pm - 4:30pm
Virtual Event

December 20, 2020

•

5:00pm - 5:15pm
Surprise

December 20, 2020

•

12:00pm - 12:30pm
Virtual Event

December 19, 2020

•

2:00pm - 4:00pm
Corporate Event

December 13, 2020

•

5:00pm - 6:00pm
Surprise

December 13, 2020

•

9:00am - 11:00am
Personal Occasion

December 12, 2020

•

7:30pm - 8:30pm
Christmas Party

December 12, 2020

•

5:00pm - 6:00pm
Christmas Party

December 11, 2020

•

6:00pm - 11:00pm
Christmas Party

December 11, 2020

•

12:00pm - 1:30pm
Christmas Party

December 06, 2020

•

7:30pm - 8:00pm
Christmas Party

December 06, 2020

•

3:30pm - 4:15pm
Children's Birthday Party

December 04, 2020

•

6:00pm - 7:00pm
Christmas Party

December 24, 2019

•

4:00pm - 5:00pm
Christmas Party

December 23, 2019

•

1:00pm - 1:45pm
Nonprofit Event

December 22, 2019

•

7:00pm - 8:00pm
Christmas Party

December 21, 2019

•

8:30pm - 10:00pm
Christmas Party

December 20, 2019

•

7:30pm - 8:30pm
Christmas Party

December 19, 2019

•

7:30pm - 8:30pm
Christmas Party

December 18, 2019

•

6:30pm - 8:00pm
Christmas Party

December 14, 2019

•

8:00pm - 10:00pm
Christmas Party

December 13, 2019

•

6:30pm - 8:00pm
Corporate Event

December 13, 2019

•

10:30am - 12:00pm
Christmas Party

December 07, 2019

•

8:00pm - 9:00pm
Christmas Party

December 07, 2019

•

9:30am - 12:00pm
Corporate Event

December 01, 2019

•

4:30pm - 6:30pm
Campus Event

December 24, 2018

•

10:30am - 10:45am
Christmas Party

December 22, 2018

•

6:00pm - 6:45pm
Christmas Party

December 20, 2018

•

7:00pm - 8:00pm
Christmas Party

December 19, 2018

•

9:00pm - 10:00pm
Dinner Party

December 18, 2018

•

4:30pm - 5:30pm
Christmas Party

December 15, 2018

•

9:00pm - 10:00pm
Christmas Party

December 08, 2018

•

7:30pm - 8:15pm
Christmas Party

December 08, 2018

•

6:30pm - 7:30pm
Christmas Party

December 02, 2018

•

1:00pm - 4:00pm
Corporate Event

November 23, 2018

•

6:00am - 2:00pm
Corporate Event

December 24, 2017

•

8:30pm - 9:00pm
Christmas Party

December 22, 2017

•

9:00am - 12:00pm
Corporate Event

December 19, 2017

•

2:00pm - 5:00pm
Corporate Event

December 16, 2017

•

7:00pm - 8:30pm
Christmas Party

December 16, 2017

•

4:00pm - 6:00pm
Corporate Event

December 15, 2017

•

7:00pm - 7:45pm
Christmas Party

December 09, 2017

•

9:30am - 2:00pm
Holiday Party

December 07, 2017

•

7:00pm - 9:00pm
Corporate Event

December 03, 2017

•

2:00pm - 4:00pm
Christmas Party

December 02, 2017

•

3:30pm - 6:30pm
Personal Occasion

December 02, 2017

•

9:00am - 11:00am
Corporate Event