Your list is empty.
Save musicians, entertainers, speakers, and services, and they'll appear here.
Free Quick Quote
This vendor provides virtual services
Back to Guitarists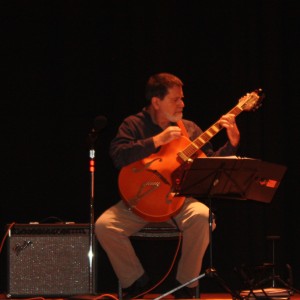 Ricardo Filipo
0
(0 reviews)
Orlando, FL
Travels up to 200 miles
US$200 - US$8000
Get a Free Quick Quote
Overview
Classical, Jazz, Bossa and Brazilian tunes. Playing guitar since 1970, Ricardo Filipo is a master in his instrument.
For performances far than 50 miles from Orlando, FL, including in other countries, the minimum fee is US $ 1,000.00 and the contractor must also pay transportation, food and stay expenses.
---
Reviews
Be the first to review Ricardo Filipo
---
Booking Info
Price Range: US$200 - US$8000
Gig Length: 20 - 180 minutes
Languages: English, Portuguese, Spanish
What to Expect
Ricardo will perform a concert. He will offer an elegant, peaceful, beauty and soft musical experience.
"He created an experience that developed into a special connection between himself and the audience."
Catalina Cuartas - Live Events Review
About
Guitarist.
At five years old, living in Sao Paulo, began his musical studies (guitar, piano and music theory). At fifteen, he began to take guidance of guitarist Escarante. As a student, graduated with Acacio Piedade, Flavio Paiva, Marco Pita and Marcio Batera, colleagues of Mackenzie, formed the group Audacia Silvestre. In 1976, he joined the SESC String Orchestra, conducted by maestro Alberto Jaffe. In 1978 he joined the Engineering course in the city of Sao Jose dos Campos, where he taught at a music school. Then, he joined the Brooklyn Conservatory in Sao Paulo, where he studied with Osvaldo Colarusso (musical perception and harmony) and Paulo Porto Alegre (classical guitar). In 1980, he moved to Rio de Janeiro, where he attended the Music School of the UFRJ and began taking private lessons with guitarist Odair Assad. He also studied with maestro Nilo Hack (arrangement and orchestration), at School of Music Villa-Lobos. He graduated from the first class of graduates guitarists of Brazil at UFRJ in 1984. In 1995, he joined the master degree at Brazilian Conservatory of Music.
In 1982 he joined the Guitar Orchestra of Rio de Janeiro, created by Turibio Santos.
Between 1982 and 1984, with the support of Fernando Lobo, director of TVE, recorded several programs for TVE, featuring works by Brazilian guitar. At that time, he served in recordings of jingles, radio commercials and TV, and albums of popular music, and started doing concerts in some areas of Rio. He also participated in summer school in Brasilia, where he formed a duet with Marcelo Gelio guitars, with whom he founded the Society of Music, specializing in music for weddings and ceremonies. Even in this period, he began teaching guitar at the Brazilian Conservatory of Music.
In 1985, a series of presentations made by several cities in Brazil as a soloist, with the support of Funarte, ending his season at the Theatro São Pedro, Porto Alegre.
In 1987, he formed a duo (vocals and guitar) with the singer Lucia Pitanguy. He began to teach at his own residence, where he set up the recording studio House of Sound
In 1989, he created the Rio Guitar Orchestra, comprised of students from the School of Music Scene, Brazilian Conservatory of Music and other guest guitarists. He worked with the orchestra until 1997.
In 1991, he formed with guitarist Duda Anízio, the Brazilian Guitar Duo, with which he recorded the CD "Carinhoso" (1996) and "Navegar e' Preciso" (2000), and conducted hundreds of presentations in Rio de Janeiro and Sao Paulo.
From 1993 to 1997, returned to teaching at the Brazilian Conservatory of Music, this time as graduation master. At the invitation of Cecilia Conde, prepared the Guitar Camerata of CBM, inviting Pedrassoli Paulo and Valmyr de Oliveira to coordinate the work and choose the members and the group's repertoire.
He has performed in several recitals with singer Kaleb Vilella, revisiting the repertoire of Brazilian popular songs.
In 1995 he formed, with colleagues from the Brazilian Conservatory of Music, the quintet Mosaic, with which he served until 1997, playing a repertoire of MPB and Brazilian jazz.
In 1997, he joined as a professor at the University Estacio de Sa, where he taught in the areas of IT, Marketing and Design.
Participated in 1999, recording the CD "Outono" by Katia Almeida. The track "Explode Coracao" (Gonzaguinha), has been acclaimed by the public for weeks at Fluminense FM Radio.
Detached from the Brazilian Guitar Duo in 2000, moving away for a period of the music scene.
In 2001, he released the CD "Guitar Camerata of MBC", recorded at the end of 1998 in the Sala Cecilia Meireles (RJ).
In 2003, he worked in the state government of Rio de Janeiro and assumed the position of president of the Association of Free Software.
In 2005, for his work on behalf of the Brazilian Software was honored at the "International Forum of Free Software", performing at the event accompanied by choro group of students from Uni-Rio.
In 2006, he founded in Sao Paulo, in partnership with graphic artist Inez Oliveira, the advertising agency Mito-Logic, to which he returned to create music tracks.
In 2010, he moved to Florida, with the aim of spreading Brazilian Culture in the United States.
Additional Booking Notes
Ricardo plays acoustic classical guitar. Sometimes he plays electric jazz guitar. He must have a chair and a place like a stage. For a better sound he will bring his own equipment, amplifiers and microphones.
Services Offered
Past Booked Events
| | |
| --- | --- |
| May 04, 2014 | Corporate Event |
Set List
Bach, Johann SebastianSuite for Violoncello BWV 1007
Bach, Johann SebastianSuite for Lute E Major BWV 1006a
Pernambuco, JoãoSons de Carrilhões
Pernambuco, JoãoGrauna
Piazzolla, AstorMilonga del Angel
Piazzolla, AstorAdios Nonino
Pixinguinha, Naquele Tempo
Pixinguinha, Lamentos
Sardinha, Anibal AugustoTristezas de um violão
Sardinha, Anibal AugustoJorge do Fusa
Sardinha, Anibal AugustoGente Humilde
Scarlatti, DomenicoSonata L-352
Scarlatti, DomenicoSonata L-483
Scarlatti, DomenicoSonata L-423
Sor, FerdinandoStudy 5
Sor, FerdinandoStudy 12
Tarrega, FranciscoAdelita
Tarrega, FranciscoLagrima
Villa-Lobos, HeitorPrelude 5
Villa-Lobos, HeitorGavotta Choro
Setup Requirements
A chair