Your list is empty.
Save musicians, entertainers, speakers, and services, and they'll appear here.
Free Quick Quote
This vendor provides virtual services
Back to Educational Entertainment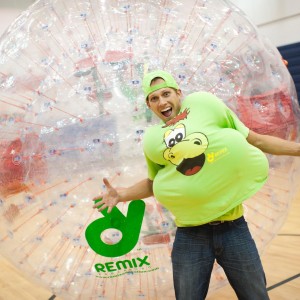 Remix Education & Inflatables
5.0
(1 review)
Lexington, KY
Travels nationwide
Contact for rates
Get a Free Quick Quote
Overview
Online or in person we use hamsterballs, toilet paper guns, mascots and giant frisbees with hilarious skits and dances to present a powerful motivational message. Our goal at Remix is to partner with schools, churches, and community organizations to motivate, inspire, and teach kids through our use of high energy, interactive assemblies and inflatable events.
Anti-drug, Anti-bullying, Testing Preparation, and Self Esteem Assemblies are a few of the ways we impact schools. In churches we present the gospel at Upward Celebrations, VBS, and Family Fun Nights.
We also offer 27 different rental options including DJ, bubble soccer, inflatable slides, obstacle courses, bounce houses and more!
---
1 Review

Laura
•
February 6, 2017
Hello, I am the Activities Coordinator for Kaleidoscope Inc. We are a younger adult day center for special needs. Remix Education adapted their program for us. To say it was "fun" is an understatement. It was a blast! Matt was simply wonderful! His program is very creative! He had us moving with his assorted creative games. Each activity was followed by a positive message.. Our Winter Carnival was a huge success! I would highly recommend Remix Education!
Hired as:
Educational Entertainment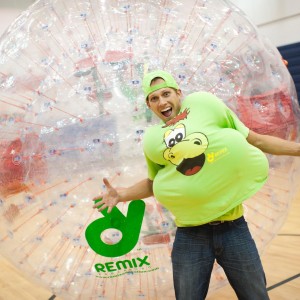 Response from Remix Education & Inflatables:
You guys were great!
---
Booking Info
Price Range: Contact for rates
Gig Length: 45 - 60 minutes
About
In 2006, I had just finished my first year as an NBA mascot for the Washington Wizards. It was the peak of my career and the dream that I had wanted for so long, yet something was missing. Every night, I would entertain thousands of people, but for what purpose…to make them laugh? I knew there was something more. After each game, I would return to my house and feel empty. I thought I was fulfilling the purpose that God had for me, but something still felt off. During a training session that summer, I attempted a trampoline dunk – a routine maneuver for me – and landed at a bad angle. Several appointments later, the doctors told me I had torn my ACL. My dreams shattered – the fame of working for the NBA, being in the spotlight, a professional mascot – all gone. Years of training and work was gone. I moved back to Lexington to have surgery and rehab. Sitting. Thinking. More sitting and more thinking. That's wNew hat I did for the next 3 months as I rehabilitated.
In February of 2007 I was asked to speak at a local celebration for a youth basketball league called Upward, I obliged. I figured I would speak to 50-60 kids and tell them my story. I was a little nervous, and then I showed up at the event… There were over 300 people there! Adults, too! My heart jumped. It was the most nervous moment of my entire life. I was used to entertaining around 18,000 people night after night…behind the mask, but 300 people face-to-face was too much. Reluctantly, I walked onto the stage and struggled through telling my testimony. Several "um's" and pauses later, I muttered my last few words, "I don't know what the future holds, but I am trusting God has a plan and a purpose for my life and yours." Looking back, I'm sure God was laughing in this moment. As I walked off the stage, they handed me an envelope with $500 in it! I had not expected payment. The nervosity ended, and a thought sparked in my mind. How could I make telling my story fun? What if we used mascot skits, dancing, and goofiness and combined it with crazy fun interactive games to present a positive message and even talk about the gospel?! God put some big thoughts in my head…
Shortly after that event, I moved back to D.C. to take a desk job with the Wizards in hope that I could walk back into the mascot position. There was hope, my dreams were alive. For seven months I continued to stay in mascot shape and work hard for them. In October, they held a tryout between myself and one other guy. I was dismissed and that was the end. Once again, my hope was crushed and I moved home to Kentucky.
Sitting. Thinking. More sitting and more thinking. Those 'big thoughts' started coming back to the front of my mind and I couldn't ignore them. I talked to my girlfriend, Jenny, (now wife) and we decided to go for it. She became my business partner. We had NO idea what we were doing, but God did, and he pushed us forward towards the goal of Remix. That first year, 2008, we put on 14 programs while also working as substitute teachers to make ends meet. In 2015, Remix had a staff of 20+ people and facilitated over 275 events in 19 different states and 4 countries. We have a regional office in Nashville, TN and a Remix International plant in southern India. Jenny and I never imagined that silly skits and crazy games would take us around the world, provide jobs for more than 50 people over the years, help us raise our kids, and teach everyone involved innumerable life lessons. I know God's not done yet, our best years are yet to come and I am eager to see what crazy twists God has in store for this ministry, this business, and the Remix Family.
Come join us. We're on a mission to show God's love by smiling big like He does. We want to bring fun because His Kingdom is forever joyful. We desire to teach truth because He IS the truth. If He can do Kingdom building through a seven-foot green fuzzy guy named Jiggy, I'm confident that He will use you and me to do greater things than our biggest dreams. His best always beats our best.
Matthew Hogg
Executive Director