Your list is empty.
Save musicians, entertainers, speakers, and services, and they'll appear here.
Free Quick Quote
This vendor provides virtual services
Back to Children's Party Magicians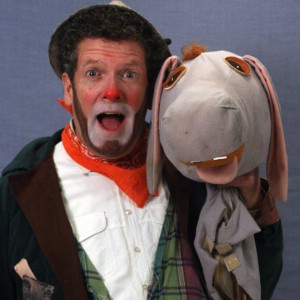 Okey Dokey Entertainment
4.89
(83 reviews)
Warwick, NY
Travels up to 120 miles
"200 and up"
Get a Free Quick Quote
Overview
A 20-year Clown/Magician with a high energy [good energy] comedy magic show with singing and giant bubbles for toddlers and kids on up to about 8 or 9 with optional musical and parachute games, face-painting and balloon sculpting [faster with my electric pump!].
---
---
Booking Info
Price Range: "200 and up"
Gig Length: 40 - 120 minutes
About
BIO FOR KEVIN ANTHONY RYAN
Recently an excerpt from Ryan's stage adaptation of FRANKENSTEIN was chosen and performed as one of the Orange County Arts Council's 2017 Ten Minute Play Festival.
In addition, Ryan wrote, directed and produced [for the stage] THE STATIONS OF GEORGE REEVES' CROSS, in Warwick, NY in 2015.
This "return to theatre" was inspired by the teachings of William Hickey, Herbert Berghof, Janet Frank, Earle Hyman, and William Packard.
Other Playwriting/Production credits include WEDDING DAZE, SCENES FROM A NIGHT'S DREAM and HAVEN OF THE MIND at various theaters in Manhattan. Ryan also directed THE BITTER TEARS OF PETRA VAN KANT and BREMEN FREEDOM at the Theatre Studio during their Rainer Werner Fassbinder marathon.
Ryan is currently a professional clown running "Okey Dokey Entertainment LLC" performing as the beloved Okey Dokey Clown character [more info at okeydokeyentertainment.com].
In 2014, Ryan made his film debut appearing in IT FELT LIKE LOVE by Eliza Hittman. Richard Brody of THE NEW YORKER reviewed the film: "Lila's relationship with her father [Ryan] is one of the wisest I have seen on screen in a while."
Additional Booking Notes
I bring everything needed.
Upcoming Booked Events
December 09, 2022

•

3:00pm - 5:00pm
Corporate Event

December 10, 2022

•

11:00am - 12:30pm
Christmas Party

December 10, 2022

•

7:00pm - 8:00pm
Christmas Party

December 10, 2022

•

7:00pm - 8:00pm
House Party

December 11, 2022

•

12:30pm - 4:30pm
Fundraiser

December 11, 2022

•

2:00pm - 3:00pm
Christmas Party

December 15, 2022

•

3:00pm - 5:00pm
Corporate Event

December 15, 2022

•

3:00pm - 5:00pm
Corporate Event

December 17, 2022

•

11:00am - 3:00pm
Corporate Event

December 17, 2022

•

3:00pm - 5:00pm
Corporate Event

December 23, 2022

•

3:00pm - 5:00pm
Corporate Event

December 24, 2022

•

8:30pm - 9:00pm
Christmas Party
Past Booked Events
December 04, 2022

•

2:30pm - 3:30pm
Christmas Party

December 03, 2022

•

4:30pm - 5:30pm
Christmas Party

December 03, 2022

•

12:00pm - 3:00pm
Corporate Event

November 19, 2022

•

7:30pm - 8:00pm
Nonprofit Event

October 29, 2022

•

2:30pm - 3:00pm
Halloween Party

October 29, 2022

•

1:00pm - 1:45pm
Baby Shower

October 22, 2022

•

7:00pm - 8:30pm
Festival

October 22, 2022

•

12:00pm - 1:30pm
House Party

October 08, 2022

•

3:30pm - 4:30pm
Children's Birthday Party

October 01, 2022

•

3:30pm - 4:30pm
Children's Birthday Party

September 30, 2022

•

3:00pm - 4:00pm
Children's Birthday Party

September 26, 2022

•

11:00am - 12:00pm
Children's Birthday Party

September 25, 2022

•

12:00pm - 12:30pm
Children's Birthday Party

August 31, 2022

•

10:30am - 11:30am
Camp Event

August 27, 2022

•

3:00pm - 4:00pm
Children's Birthday Party

August 19, 2022

•

7:30pm - 7:45pm
Surprise

August 13, 2022

•

12:00pm - 1:00pm
Nonprofit Event

August 07, 2022

•

11:30am - 12:00pm
Children's Birthday Party

August 06, 2022

•

5:00pm - 6:00pm
Children's Birthday Party

July 24, 2022

•

11:00am - 2:00pm
Nonprofit Event

July 21, 2022

•

10:00am - 11:00am
Camp Event

July 09, 2022

•

4:00pm - 4:45pm
Birthday Party

June 18, 2022

•

6:00pm - 7:00pm
Children's Birthday Party

June 12, 2022

•

3:30pm - 4:15pm
Children's Birthday Party

June 12, 2022

•

2:00pm - 4:00pm
Children's Birthday Party

June 05, 2022

•

4:00pm - 5:00pm
Religious Celebration

June 04, 2022

•

2:30pm - 3:15pm
Children's Birthday Party

May 28, 2022

•

2:30pm - 3:15pm
Children's Birthday Party

May 07, 2022

•

10:30am - 11:15am
Children's Birthday Party

April 28, 2022

•

12:30pm - 1:30pm
Corporate Event

April 03, 2022

•

2:00pm - 3:00pm
Baby Shower

March 26, 2022

•

4:30pm - 5:00pm
Children's Birthday Party

March 20, 2022

•

2:00pm - 3:00pm
Children's Birthday Party

March 16, 2022

•

7:00pm - 9:30pm
Cultural Event

March 13, 2022

•

12:30pm - 2:30pm
Children's Birthday Party

February 12, 2022

•

1:00pm - 2:00pm
Children's Birthday Party

January 29, 2022

•

11:30am - 12:00pm
Children's Birthday Party

December 25, 2021

•

10:30am - 11:00am
Christmas Party

December 24, 2021

•

9:00pm - 9:30pm
Christmas Party

December 24, 2021

•

7:30pm - 9:00pm
House Party

December 24, 2021

•

7:00pm - 7:30pm
House Party

December 24, 2021

•

5:00pm - 5:30pm
Dinner Party

December 18, 2021

•

5:00pm - 6:30pm
Children's Birthday Party

December 18, 2021

•

4:30pm - 6:00pm
Christmas Party

December 18, 2021

•

4:00pm - 4:45pm
Children's Birthday Party

December 18, 2021

•

11:00am - 2:30pm
Nonprofit Event

December 12, 2021

•

5:30pm - 6:00pm
Christmas Party

December 12, 2021

•

2:30pm - 4:00pm
Christmas Party

December 11, 2021

•

3:00pm - 4:00pm
Children's Birthday Party

December 11, 2021

•

1:00pm - 2:30pm
Children's Birthday Party

December 11, 2021

•

11:00am - 11:45am
Children's Birthday Party

December 10, 2021

•

6:00pm - 6:45pm
Children's Birthday Party

December 10, 2021

•

2:00pm - 4:00pm
Christmas Party

December 04, 2021

•

1:00pm - 4:00pm
Christmas Party

December 04, 2021

•

12:00pm - 2:00pm
Fundraiser

December 03, 2021

•

6:30pm - 7:15pm
Nonprofit Event

December 03, 2021

•

6:30pm - 9:00pm
Christmas Party

November 28, 2021

•

1:00pm - 2:00pm
Children's Birthday Party

November 24, 2021

•

12:30pm - 1:00pm
Children's Birthday Party

November 23, 2021

•

5:00pm - 5:30pm
Children's Birthday Party

November 20, 2021

•

3:00pm - 3:30pm
Children's Birthday Party

November 06, 2021

•

4:00pm - 5:00pm
Children's Birthday Party

September 26, 2021

•

3:30pm - 4:00pm
Children's Birthday Party

September 25, 2021

•

4:30pm - 6:30pm
Children's Birthday Party

September 06, 2021

•

2:30pm - 4:30pm
Children's Birthday Party

September 04, 2021

•

4:00pm - 4:30pm
Birthday Party

August 21, 2021

•

6:00pm - 8:00pm
Camp Event

August 21, 2021

•

3:00pm - 4:30pm
Children's Birthday Party

August 15, 2021

•

3:00pm - 4:30pm
Children's Birthday Party

August 15, 2021

•

2:00pm - 2:30pm
Children's Birthday Party

August 14, 2021

•

2:00pm - 2:30pm
Children's Birthday Party

August 11, 2021

•

6:00pm - 7:30pm
Children's Birthday Party

August 11, 2021

•

11:30am - 12:00pm
Camp Event

July 31, 2021

•

6:00pm - 7:00pm
Children's Birthday Party

July 31, 2021

•

2:00pm - 4:00pm
Children's Birthday Party

July 31, 2021

•

2:00pm - 7:00pm
Children's Birthday Party

July 25, 2021

•

12:30pm - 2:30pm
Corporate Event

July 11, 2021

•

4:00pm - 4:45pm
Children's Birthday Party

July 10, 2021

•

5:00pm - 5:45pm
Children's Birthday Party

July 04, 2021

•

6:00pm - 7:00pm
House Party

June 26, 2021

•

3:00pm - 3:45pm
Children's Birthday Party

June 14, 2021

•

2:00pm - 3:00pm
Children's Birthday Party

June 13, 2021

•

12:00pm - 12:45pm
Children's Birthday Party

June 06, 2021

•

5:00pm - 6:00pm
Teen Birthday Party

May 23, 2021

•

1:00pm - 2:30pm
Children's Birthday Party

May 01, 2021

•

2:00pm - 3:00pm
Children's Birthday Party

April 18, 2021

•

2:30pm - 3:30pm
Children's Birthday Party

April 16, 2021

•

6:00pm - 7:00pm
Children's Birthday Party

April 10, 2021

•

5:00pm - 5:45pm
Children's Birthday Party

December 24, 2020

•

7:00pm - 7:30pm
Surprise

December 24, 2020

•

6:00pm - 6:15pm
Surprise

December 19, 2020

•

5:00pm - 6:30pm
House Party

December 06, 2020

•

1:00pm - 2:00pm
Children's Birthday Party

November 21, 2020

•

4:00pm - 5:00pm
Nonprofit Event

October 18, 2020

•

4:00pm - 4:45pm
Children's Birthday Party

October 17, 2020

•

2:00pm - 3:00pm
Children's Birthday Party

October 17, 2020

•

1:00pm - 1:30pm
Children's Birthday Party

August 16, 2020

•

4:00pm - 4:45pm
Children's Birthday Party

July 30, 2020

•

3:00pm - 4:30pm
Camp Event

July 25, 2020

•

1:00pm - 2:00pm
Birthday Party

July 18, 2020

•

6:00pm - 7:00pm
Children's Birthday Party

February 22, 2020

•

12:30pm - 2:00pm
Children's Birthday Party

February 01, 2020

•

11:00am - 12:00pm
Children's Birthday Party

January 04, 2020

•

8:00pm - 8:45pm
Fundraiser

December 28, 2019

•

6:00pm - 7:30pm
Children's Birthday Party

December 25, 2019

•

6:00pm - 7:00pm
Christmas Party

December 24, 2019

•

8:00pm - 8:30pm
Dinner Party

December 24, 2019

•

7:30pm - 8:00pm
Christmas Party

December 24, 2019

•

7:00pm - 8:00pm
Dinner Party

December 23, 2019

•

6:00pm - 6:30pm
House Party

December 21, 2019

•

3:00pm - 3:30pm
Children's Birthday Party

December 20, 2019

•

1:00pm - 3:00pm
Camp Event

December 15, 2019

•

12:00pm - 2:00pm
Nonprofit Event

December 15, 2019

•

12:00pm - 2:30pm
Corporate Event

December 14, 2019

•

5:30pm - 7:30pm
Children's Birthday Party

December 14, 2019

•

9:30am - 10:30am
Christmas Party

December 13, 2019

•

8:30pm - 10:00pm
House Party

December 10, 2019

•

1:00pm - 1:15pm
Surprise

December 08, 2019

•

12:00pm - 1:00pm
Product Promotion

December 07, 2019

•

12:30pm - 1:00pm
Children's Birthday Party

December 07, 2019

•

8:30am - 10:00am
Nonprofit Event

December 06, 2019

•

5:00pm - 7:00pm
Christmas Party

November 24, 2019

•

1:30pm - 2:30pm
Children's Birthday Party

November 06, 2019

•

12:30pm - 1:15pm
Children's Birthday Party

November 02, 2019

•

6:00pm - 6:45pm
Children's Birthday Party

October 19, 2019

•

3:30pm - 4:30pm
Children's Birthday Party

October 19, 2019

•

3:00pm - 3:45pm
Children's Birthday Party

September 29, 2019

•

1:30pm - 2:30pm
Children's Birthday Party

September 08, 2019

•

12:00pm - 4:00pm
Nonprofit Event

August 23, 2019

•

2:00pm - 3:00pm
Camp Event

August 03, 2019

•

1:00pm - 2:00pm
Nonprofit Event

July 27, 2019

•

3:00pm - 4:00pm
Children's Birthday Party

July 12, 2019

•

2:00pm - 2:45pm
Corporate Event

June 29, 2019

•

12:00pm - 1:00pm
Nonprofit Event

May 11, 2019

•

4:00pm - 4:45pm
Children's Birthday Party

May 03, 2019

•

4:00pm - 5:00pm
Children's Birthday Party

April 06, 2019

•

4:30pm - 5:15pm
Children's Birthday Party

March 30, 2019

•

7:00pm - 8:00pm
Fundraiser

March 30, 2019

•

3:00pm - 4:30pm
Children's Birthday Party

March 23, 2019

•

4:00pm - 4:45pm
Children's Birthday Party

March 17, 2019

•

2:30pm - 3:15pm
Children's Birthday Party

March 02, 2019

•

2:30pm - 3:15pm
Children's Birthday Party

March 02, 2019

•

12:00pm - 12:45pm
Children's Birthday Party

January 05, 2019

•

7:00pm - 8:00pm
Nonprofit Event

December 25, 2018

•

11:00am - 5:00pm
Christmas Party

December 24, 2018

•

1:00pm - 1:30pm
Surprise

December 24, 2018

•

12:00am - 12:30am
Personal Occasion

December 15, 2018

•

8:00pm - 9:00pm
Christmas Party

December 08, 2018

•

2:30pm - 3:30pm
Children's Birthday Party

December 08, 2018

•

2:00pm - 4:00pm
Grand Opening

November 24, 2018

•

5:30pm - 7:30pm
Christmas Party

November 24, 2018

•

4:00pm - 5:30pm
Children's Birthday Party

November 11, 2018

•

3:00pm - 3:45pm
Children's Birthday Party

November 04, 2018

•

2:00pm - 3:00pm
Children's Birthday Party

November 03, 2018

•

4:00pm - 5:00pm
Children's Birthday Party

October 28, 2018

•

1:00pm - 3:00pm
Children's Birthday Party

October 28, 2018

•

12:00pm - 12:45pm
Children's Birthday Party

October 27, 2018

•

4:30pm - 5:00pm
Nonprofit Event

October 27, 2018

•

3:00pm - 4:00pm
Religious Celebration

October 14, 2018

•

2:00pm - 2:30pm
Children's Birthday Party

October 07, 2018

•

7:00pm - 7:30pm
Dinner Party

September 22, 2018

•

12:00pm - 1:00pm
Festival

August 26, 2018

•

12:00pm - 12:45pm
Children's Birthday Party

August 25, 2018

•

2:30pm - 4:00pm
Children's Birthday Party

August 18, 2018

•

2:30pm - 3:30pm
Children's Birthday Party

August 05, 2018

•

5:00pm - 7:00pm
Children's Birthday Party

August 04, 2018

•

4:00pm - 5:00pm
Birthday Party

July 28, 2018

•

3:00pm - 3:45pm
Children's Birthday Party

July 24, 2018

•

7:00pm - 7:45pm
Nonprofit Event

July 21, 2018

•

1:00pm - 2:00pm
Children's Birthday Party

June 18, 2018

•

9:30am - 11:30am
School Assembly

May 12, 2018

•

3:30pm - 5:30pm
Children's Birthday Party