Your list is empty.
Save musicians, entertainers, speakers, and services, and they'll appear here.
Free Quick Quote
This vendor provides virtual services
Back to Santa Clauses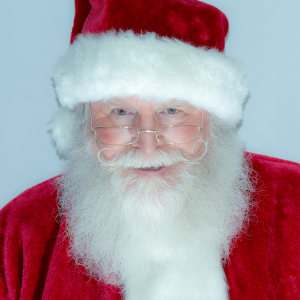 North Texas Santa
4.98
(84 reviews)
Bedford, TX
Travels up to 90 miles
$125-$500 per hour depending on date
Get a Free Quick Quote
Overview
Available Year-Round for the Ultimate Santa Experience
A Five-Star Rated Professional Real-bearded Santa
Multiple Years at
• Christmas Tree Lightings • Corporate Events • Breakfast with Santa • Private Parties • Malls • Retail Promotions • Celebrity Events • Family Portraits • Restaurants • Family Parties • School and Church Events • Daycare Centers • Nursing Homes • Commercials • Film • Advertising • Pro Photographer Mini Sessions • Christmas In June and July & More!
Background Checked, Ministry Safe® - H.E.B. ISD Volunteer. Board Member Lone Star Santas@,.
Dates fill up quickly, so please plan your event and book as early as you can as you can!
---
---
Booking Info
Price Range: $125-$500 per hour depending on date
Gig Length: 60 - 560 minutes
Insurance: $1,000,000 - Liability - Fully Insured
What to Expect
A visit from North Texas Santa can include a wide variety of activities.
Photo visits with Santa are always welcome either with a professional photographer or by families with Smart phones.
(Did you know the number one selfie subject on FaceBook is people with Santa?)
You can also request Storytelling, A Christmas trivia game (How well do you know Christmas?) during his visit. He will lead these activities as requested.
If a tree lighting is part of your event, Santa will help lead the countdown and make a proclamation if requested.
Santa will arrive at your location a few minutes ahead of time to get prepared for his entrance. He will sit wherever you request and suggests you have a sturdy chair or bench for him to sit on. A holiday setting or backdrop always makes for a nice
image.
Additional Booking Notes
To help you in making Santa's visit a most enjoyable event, here is a list of suggestions.
1. Have your camera/s ready. Be sure to have all the memory cards, thumb drives, film (if you still use that)and batteries necessary to take the photos you want, or need to get. Be sure all batteries are charged.
2. Santa will text you five minutes before he arrives. To make parking easier, his Number One Elf will be dropping him off, and taking the sleigh over to a nearby pasture so the reindeer can have a snack, and retuning to pick him up at the appointed time after his visit.
3. A host should meet Santa when he arrives: to assist him; to escort him to the location of the event. If there is a balance or payment due to Santa, place it inside a Christmas card or envelope. Never give Santa money in front of children or anyone. It can ruin the magic of the moment. The host or coordinator meeting Santa outside should take care of any final payments that are due, before Santa enters.
4. If you are including presents in your celebration, have your gifts ready. Santa normally does not bring any candy canes or gifts with him. He will hand out your candy and gifts and can carry in one bag of presents for children or guests, about 40 pounds. Presents should be well labeled. We suggest a large black marking pen and writing directly on the gift, as tags can easily fall off. All packages should fit into one 35-gallon trash bag. He will transfer the gifts to his "official" Santa Bag. If you have more than one bag, check with anta and see if there is a way to have the gifts near his chair before he arrives or if there is a way for you to have "helpers" to bring the extra gifts in after he enters.
5. Get everyone together, before Santa enters. Timing is everything. You have scheduled Santa for a set amount of time, which begins the minute he arrives. Unless otherwise arranged, he will not be able to stay longer than he has been booked for. If everyone is scattered around the house or office, you loose valuable time. Santa and you can coordinate. He will text you when he is five minutes away from arriving. That's yourcue to get everyone together If you have a large group of children to see Santa, you should assign someone to be Santa's helper, and to hand him the presents.
6. Have a sturdy chair for Santa to sit in. Folding chairs and low chairs (the one's you sink into) are not good. Santa usually likes a chair that is sturdy and stable. A good straight-back dining chair, with no arms, works well. He should be able to sit comfortably and the chair needs to support him plus a "child" on each knee.
8. Place the Chair near your Christmas tree or in a holiday setting. Your photos will have more impact when the background has a festive look. Place a wreath, a few Christmas cards or your children's drawings on the wall to make a wonderful difference. Leave a foot or two between the chair and the tree or wall. This will allow room for others to gather around and behind Santa's chair for group photos. Fireplaces do look nice but remember putting Santa too close to a real fire is not good for his comfort or health!
9. Think about photos with everyone. Yes, some teenagers might think it is too childish, to have a photo with Santa. Don't worry; Santa can stand up for a "buddy" photo. What about grandma and grandpa? Take a photo with Santa and Grandma Hugging. And Santa can take group photos with all the ladies or a "Team" photo with the guys.
And yes! Santa loves "Selfies!"
Fact: More photos of Santa show up on Facebook than almost any other celebrity.
Services Offered
Upcoming Booked Events
December 24, 2022

•

4:30pm - 5:00pm
House Party
Past Booked Events
December 24, 2021

•

9:30pm - 10:00pm
House Party

December 24, 2021

•

8:30pm - 9:00pm
Christmas Party

December 24, 2021

•

4:30pm - 5:00pm
House Party

December 23, 2021

•

6:30pm - 7:00pm
Surprise

December 18, 2021

•

8:00pm - 9:00pm
Wedding Reception

December 18, 2021

•

5:00pm - 6:00pm
Christmas Party

December 15, 2021

•

6:30pm - 7:30pm
Corporate Event

December 15, 2021

•

4:30pm - 5:30pm
Christmas Party

December 15, 2021

•

10:30am - 11:30am
School Assembly

December 14, 2021

•

5:30pm - 7:30pm
Corporate Event

December 14, 2021

•

2:30pm - 4:30pm
Corporate Event

December 11, 2021

•

6:00pm - 7:00pm
Christmas Party

December 03, 2021

•

11:30am - 12:30pm
Christmas Party

December 01, 2021

•

6:00pm - 6:30pm
Personal Occasion

October 30, 2021

•

7:30pm - 8:30pm
Halloween Party

August 14, 2021

•

11:00am - 11:45am
Children's Birthday Party

July 23, 2021

•

1:00pm - 1:45pm
Christmas Party

July 10, 2021

•

12:00pm - 12:45pm
Children's Birthday Party

December 27, 2020

•

7:00pm - 8:00pm
Christmas Party

December 24, 2020

•

10:30pm - 11:00pm
Christmas Party

December 24, 2020

•

6:15pm - 7:00pm
Big Ride prep

December 24, 2020

•

4:30pm - 5:00pm
Dinner Party

December 20, 2020

•

8:00pm - 8:30pm
Home Visit

December 20, 2020

•

6:00pm - 6:45pm
Personal Occasion

December 20, 2020

•

5:00pm - 6:00pm
Appearance

December 20, 2020

•

2:00pm - 3:00pm
Christmas Party

December 20, 2020

•

10:00am - 11:00am
Holiday party

December 19, 2020

•

7:30pm - 8:15pm
Dinner Party

December 19, 2020

•

6:30pm - 7:15pm
House Party

December 18, 2020

•

5:00pm - 5:30pm
Virtual Event

December 17, 2020

•

4:30pm - 6:30pm
Christmas Party

December 16, 2020

•

6:00pm - 6:30pm
Personal Occasion

December 16, 2020

•

3:00pm - 4:30pm
Surprise

December 15, 2020

•

4:00pm - 5:00pm
Personal Occasion

December 12, 2020

•

4:00pm - 8:00pm
Personal Occasion

December 11, 2020

•

5:30pm - 7:30pm
House Party

December 06, 2020

•

6:30pm - 7:00pm
Christmas Party

December 04, 2020

•

11:00am - 12:00pm
Corporate Event

November 18, 2020

•

10:00am - 12:00pm
Surprise

December 24, 2019

•

4:30pm - 5:00pm
House Party

December 20, 2019

•

10:00am - 11:00am
School Assembly

December 18, 2019

•

9:00am - 11:00am
Christmas Party

December 11, 2019

•

2:00pm - 4:00pm
Corporate Event

December 10, 2019

•

5:00pm - 7:00pm
Lona and Lima

December 10, 2019

•

12:00pm - 1:30pm
Festival

December 09, 2019

•

2:00pm - 4:00pm
Corporate Event

December 09, 2019

•

11:30am - 1:00pm
Christmas Party

December 05, 2019

•

2:00pm - 4:00pm
Christmas Party

December 04, 2019

•

2:00pm - 4:00pm
Christmas Party

December 03, 2019

•

2:00pm - 4:00pm
Christmas Party

January 27, 2019

•

3:00pm - 3:30pm
Children's Birthday Party

December 24, 2018

•

6:30pm - 7:00pm
House Party

December 24, 2018

•

5:30pm - 6:00pm
House Party

December 23, 2018

•

6:00pm - 6:30pm
Personal Occasion

December 22, 2018

•

7:30pm - 9:00pm
Christmas Party

December 22, 2018

•

4:00pm - 5:00pm
Christmas Party

December 19, 2018

•

9:00am - 11:00am
Holiday Party

December 15, 2018

•

8:00pm - 9:00pm
House Party

December 08, 2018

•

7:00pm - 8:00pm
Christmas Party

December 05, 2018

•

2:00pm - 4:00pm
Christmas Party

December 04, 2018

•

2:00pm - 4:00pm
Christmas Party

November 30, 2018

•

5:30pm - 8:00pm
Christmas Party

November 23, 2018

•

12:00pm - 7:00pm
Booked

November 20, 2018

•

5:00pm - 8:00pm
Corporate Event

December 31, 2017

•

6:30pm - 7:30pm
Christmas Party

December 24, 2017

•

6:00pm - 6:45pm
Holiday Party (Christmas)

December 24, 2017

•

4:30pm - 5:00pm
Christmas Party

December 24, 2017

•

1:00pm - 1:45pm
Surprise

December 23, 2017

•

10:00pm - 11:00pm
Dinner Party

December 23, 2017

•

6:30pm - 8:00pm
Christmas Party

December 23, 2017

•

2:00pm - 2:45pm
Holiday Party (Christmas)

December 20, 2017

•

2:00pm - 5:00pm
Corporate Event

December 20, 2017

•

10:00am - 11:00am
Birthday (Child)

December 19, 2017

•

7:00pm - 8:00pm
Corporate Event

December 17, 2017

•

10:30pm - 11:30pm
Christmas Party

December 17, 2017

•

9:00pm - 10:00pm
Christmas Party

December 17, 2017

•

3:30pm - 4:30pm
Nonprofit Event

December 16, 2017

•

6:00pm - 8:00pm
Hearding Reindeer

December 16, 2017

•

4:30pm - 5:30pm
Concert

December 16, 2017

•

12:00pm - 1:30pm
Christmas Party

December 16, 2017

•

8:00am - 10:00am
Workshop Safety Drills

December 15, 2017

•

7:30pm - 9:00pm
Holiday Party (Christmas)

December 14, 2017

•

4:00pm - 9:00pm
At North Pole Workshop, Unavailable

December 13, 2017

•

6:30pm - 8:30pm
Holiday Party (Christmas)

December 10, 2017

•

1:00pm - 3:30pm
Special Elf Meeting

December 09, 2017

•

6:00pm - 8:00pm
Holiday Party (Christmas)

December 09, 2017

•

3:30pm - 5:30pm
Holiday Party (Christmas)

December 09, 2017

•

9:00am - 1:00pm
At Workshop

December 08, 2017

•

12:00pm - 1:00pm
Christmas Party

December 07, 2017

•

6:30pm - 8:30pm
Working at At North Pole Workshop, Unavailable

December 06, 2017

•

7:30pm - 9:30pm
Religious Celebration

December 05, 2017

•

5:00pm - 8:00pm
Holiday Party (Other)

December 04, 2017

•

5:00pm - 8:00pm
Elf Counseling sessions

December 03, 2017

•

7:00pm - 7:45pm
Dinner Party

December 03, 2017

•

12:00pm - 5:00pm
Sleigh Flight Check

December 02, 2017

•

4:30pm - 8:30pm
Holiday Party (Christmas)

December 02, 2017

•

2:00pm - 4:00pm
Corporate Event

December 02, 2017

•

10:30am - 1:30pm
Holiday Party (Christmas)

December 01, 2017

•

5:30pm - 7:30pm
Holiday Party (Christmas)

December 01, 2017

•

11:00am - 4:00pm
Reindeer Training

November 29, 2017

•

6:30pm - 7:00pm
Christmas Party

November 28, 2017

•

4:30pm - 6:30pm
Campus Event

November 26, 2017

•

11:00am - 4:00pm
Sleigh Overhaul

November 18, 2017

•

11:00am - 1:00pm
NASA Flight Plan Clearance

November 05, 2017

•

12:00pm - 3:00pm
Studio Session

October 07, 2017

•

10:00am - 2:00pm
Elf Training Academy Meeting

May 18, 2017

•

1:00pm - 6:00pm
Convention/Trade Show

December 24, 2016

•

8:00pm - 8:30pm
Holiday Party (Christmas)

December 24, 2016

•

6:30pm - 7:00pm
Dinner Party

December 23, 2016

•

1:30pm - 2:30pm
Birthday (Child)

December 22, 2016

•

8:30pm - 9:15pm
Holiday Party (Christmas)

December 22, 2016

•

7:00pm - 8:00pm
Holiday Party (Christmas)

December 22, 2016

•

3:00pm - 3:30pm
Holiday Party (Christmas)

December 21, 2016

•

12:30pm - 1:00pm
Corporate Event

December 18, 2016

•

5:00pm - 5:30pm
Holiday Party (Christmas)

December 18, 2016

•

3:00pm - 4:00pm
Holiday Party (Christmas)

December 17, 2016

•

8:30pm - 9:15pm
Holiday Party (Christmas)

December 17, 2016

•

6:00pm - 7:30pm
Holiday Party (Christmas)

December 17, 2016

•

10:00am - 11:30am
Holiday Party (Christmas)

December 16, 2016

•

7:00pm - 9:00pm
Holiday Party (Christmas)

December 16, 2016

•

10:00am - 12:00pm
Holiday Party (Christmas)

December 15, 2016

•

2:00pm - 6:00pm
Studio Session

December 14, 2016

•

10:00am - 12:00pm
School Assembly

December 13, 2016

•

8:00pm - 8:15pm
Baby Shower

December 11, 2016

•

4:30pm - 5:30pm
Wedding Ceremony

December 10, 2016

•

8:00pm - 9:00pm
Birthday (Child)

December 10, 2016

•

6:00pm - 8:00pm
Holiday Party (Christmas)

December 10, 2016

•

10:30am - 11:30am
Holiday Party (Other)

December 09, 2016

•

10:30am - 12:00pm
Holiday Party (Christmas)

December 06, 2016

•

5:00pm - 9:00pm
Nonprofit Event

December 05, 2016

•

6:00pm - 8:00pm
Holiday Party (Christmas)

December 04, 2016

•

6:30pm - 7:30pm
Surprise

December 03, 2016

•

9:00pm - 10:00pm
Holiday Party (Christmas)

December 03, 2016

•

4:30pm - 8:30pm
Personal Occasion

December 03, 2016

•

3:00pm - 3:30pm
Birthday (Child)

December 03, 2016

•

9:00am - 1:00pm
Holiday Party (Other)

November 27, 2016

•

12:00pm - 4:00pm
Personal Occasion

November 25, 2016

•

5:30pm - 6:30pm
Dinner Party

November 20, 2016

•

12:00pm - 5:00pm
Personal Occasion

November 19, 2016

•

1:00pm - 3:00pm
Fundraiser

November 17, 2016

•

7:00pm - 8:30pm
Corporate Event

November 13, 2016

•

2:00pm - 4:00pm
Convention/Trade Show

August 02, 2016

Holiday Party (Christmas)

June 25, 2016

•

9:00pm - 10:00pm
Holiday Party (Christmas)
Influences & Inspiration
Charles W. Howard
Edmond Gwynne
Santa Tim Connagahn - International University of Santa Claus
Leon McBryde - The Brothers Claus
Stephen Gilliam - The Bothers Claus
Philip Wenz - International Santa Claus Hall of Fame