Your list is empty.
Save musicians, entertainers, speakers, and services, and they'll appear here.
Free Quick Quote
This vendor provides virtual services
Back to Belly Dancers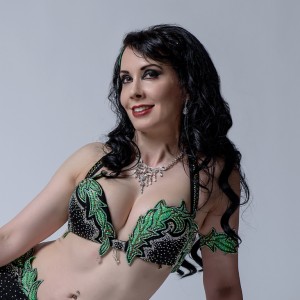 Nimeera
4.98
(47 reviews)
Springfield, VA
Travels up to 100 miles
Contact for rates
Get a Free Quick Quote
Overview
Bellydance / Snake Dance
Nimeera is happy to customize her services to your event. Highly interactive, professional, with exquisite costumes and a large selection of props including finger cymbals, candelabra, candle tray, wings, veil, fan veils, cane, sword, balance on drum, and dance with live snake. Specialties include Egyptian, Moroccan, Arabic, Turkish, Persian, Bollywood, Bhangra, Zeffa, and Khaleegy.
Award-winning second-generation top-rated entertainer with over 15 years of professional performance experience as a solo featured artist, including at several prestigious national and international venues.
---
---
Booking Info
Price Range: Contact for rates
Gig Length: 10 - 75 minutes
What to Expect
Nimeera offers a fun, sophisticated style of bellydance to delight all ages. Her easy playfulness naturally encourages audience interaction and participation. she will customize her performance to meet your specific needs, whether it's a casual family celebration, a high-end wedding, or a night out with the girls. Shows can include dancing with a veil, finger cymbals, cane, sword, Isis wings, fan veils, shamadan (candelabra), and balance on drum. Nimeera is equally comfortable dancing to both live and recorded music. Longer performances or additional dancers.
Nimeera is the premier snake charmer on the East Coast and is happy to share her lovely serpents at your event. Invite one of Nimeera's serpentine friends to your event, and watch the crowd go wild! With many beautiful snakes to choose from, she is certain to have the right one for the occasion. Need something small and cute, big and impressive, pretty and candy-colored, or even a white snake for your white party? Nimeera has the perfect one for you. All snakes are non-venomous, highly socialized, very friendly, healthy and relaxed, and specifically trained for dancing. By request, Nimeera and her snakes can extend their stay for taking photographs with the guests. Nimeera's snakes are also available your video/photoshoot, with either Nimeera modeling, or working with your own models.
Some specialties may require at least two weeks notice prior to the performance but will further enhance your special event.
Short Bellydance Show - This is a mini belly dance performance of approximately 10 minutes in length. This option is ideal for smaller parties and for surprise "hip-and-run" type bellygrams.
Classic Bellydance Show - Nimeera will perform for approximately 25 minutes. The first half of the performance is a show which may include finger cymbals, veil, cane, or other props by request. If appropriate, the second half of the performance is usually more focused on audience participation, with everyone on their feet and dancing by the end of the show. Nimeera can add a song or two in Persian, Turkish, or Indian Bollywood style by request.
Weddings - Zeffa OR Performance - Of course, you want your special day to be perfect! Nimeera is happy to help you plan all the details of the wedding performance (coordinating costume colors, special songs, guests to dance with...). She always allows extra time for weddings because she knows that uncontrollable events can effect your event schedule.
Children's Arabian Princess Party - Little girls love to dress up! Bring a little fantasy to your child's special day while you relax. Nimeera will dance just long enough to capture the children's imagination. Then everyone will dress up in scarves and jewels. All children will receive a special Arabian Princess gift bag. Finally, Nimeera will lead the group in a fun dance activity based on Middle Eastern dance. Intended for groups of 4 to 20 children ages 6 and up. Hipscarves may be provided for the duration of the activity. Activity hosted at your location of choice. Total activity time 30 - 60 minutes.
Combination performance/group lesson, at your location - This special package includes a performance plus a bellydance lesson for all your friends. Nimeera brings hip scarves and veils for the participants to use during the lesson, and a special gift for the guest of honor! This is a fun package perfect for women-only parties such as bridal and baby showers. Total activity time 45 - 60 minutes.
Past Booked Events
September 10, 2022

•

7:00pm - 7:15pm
Birthday Party

August 26, 2022

•

9:00pm - 9:30pm
Birthday Party

April 07, 2022

•

8:30pm - 8:45pm
Fundraiser

March 26, 2022

•

9:30pm - 10:30pm
Birthday Party

March 19, 2022

•

9:30pm - 10:00pm
House Party

March 01, 2022

•

6:00pm - 10:00pm
Restaurant/Bar Event

February 04, 2022

•

6:00pm - 6:30pm
Birthday Party

November 20, 2021

•

9:00pm - 10:00pm
Birthday Party

November 06, 2021

•

9:30pm - 10:00pm
Baby Shower

October 30, 2021

•

10:00pm - 11:00pm
Birthday Party

October 30, 2021

•

8:00pm - 9:00pm
Birthday Party

October 30, 2021

•

7:30pm - 8:15pm
House Party

October 02, 2021

•

8:00pm - 8:45pm
Birthday Party

September 18, 2021

•

8:00pm - 10:00pm
Birthday Party

September 18, 2021

•

6:30pm - 7:30pm
Birthday Party

September 05, 2021

•

5:30pm - 5:45pm
Wedding Reception

May 02, 2021

•

4:00pm - 4:15pm
Birthday Party

May 01, 2021

•

3:00pm - 4:00pm
Birthday Party

December 22, 2020

•

2:30pm - 4:30pm
Studio Session

September 05, 2020

•

9:00pm - 10:00pm
Birthday Party

January 04, 2020

•

6:30pm - 7:00pm
Dinner Party

December 14, 2019

•

7:00pm - 8:30pm
Christmas Party

December 07, 2019

•

8:30pm - 9:15pm
Birthday Party

December 07, 2019

•

3:00pm - 4:00pm
Personal Occasion

November 30, 2019

•

8:00pm - 9:00pm
Dinner Party

November 23, 2019

•

3:00pm - 4:00pm
Birthday Party

November 22, 2019

•

9:00pm - 9:30pm
Birthday Party

November 17, 2019

•

4:30pm - 5:00pm
Children's Birthday Party

November 07, 2019

•

8:00pm - 8:45pm
Dinner Party

November 02, 2019

•

7:00pm - 7:15pm
Cocktail Party

October 26, 2019

•

8:00pm - 8:30pm
Halloween Party

September 29, 2019

•

10:30pm - 11:15pm
Birthday Party

September 14, 2019

•

8:00pm - 8:30pm
Birthday Party

August 16, 2019–August 17, 2019

•

10:30pm - 12:30am
Nightclub Event

August 07, 2019

•

8:00pm - 8:30pm
Birthday Party

July 25, 2019

•

7:00pm - 10:00pm
Bachelorette Party

June 07, 2019

•

8:30pm - 8:45pm
House Party

May 18, 2019

•

7:00pm - 7:45pm
Wedding Engagement

May 05, 2019

•

6:30pm - 7:00pm
Birthday Party

January 29, 2019

•

8:30pm - 9:00pm
Birthday Party

December 15, 2018

•

6:00pm - 6:45pm
Birthday Party

December 01, 2018–December 02, 2018

•

9:30pm - 12:30am
New Year's Party

December 01, 2018

•

7:00pm - 7:45pm
Children's Birthday Party

November 30, 2018

•

9:00pm - 9:30pm
Birthday Party

November 03, 2018

•

6:00pm - 6:45pm
Personal Occasion

October 20, 2018

•

7:00pm - 7:30pm
House Party

September 29, 2018

•

3:00pm - 4:00pm
Baby Shower

September 22, 2018

•

7:00pm - 7:30pm
House Party

September 08, 2018

•

6:00pm - 6:30pm
Dinner Party

August 26, 2018

•

10:00am - 11:30am
Studio Session

July 22, 2018

•

5:30pm - 6:00pm
Dinner Party

July 21, 2018–July 22, 2018

•

11:00pm - 1:00am
Birthday Party

May 12, 2018

•

9:30pm - 10:30pm
Birthday Party

February 17, 2018

•

9:00pm - 9:45pm
Birthday Party

December 31, 2017

•

10:00pm - 10:30pm
Dinner Party

December 08, 2017

•

10:00pm - 11:00pm
Birthday Party

November 11, 2017

•

5:30pm - 6:00pm
Bridal Shower

November 04, 2017

•

9:30pm - 10:00pm
Bridal Shower

June 09, 2017

•

8:00pm - 8:45pm
Graduation

June 04, 2017

•

7:30pm - 8:30pm
Birthday (Adult)

March 25, 2017

•

7:00pm - 7:15pm
Birthday (Adult)

January 20, 2017

•

9:00pm - 9:30pm
Birthday (Adult)

December 31, 2016

•

10:00pm - 10:30pm
Dinner Party

December 17, 2016

•

10:00pm - 11:30pm
Birthday (Adult)

December 12, 2016

•

7:00pm - 7:15pm
Holiday Party (Other)

December 10, 2016

•

3:30pm - 3:45pm
Birthday (Adult)

November 06, 2016

•

4:00pm - 4:30pm
Birthday (Adult)

September 24, 2016

•

1:00pm - 1:30pm
Birthday (Adult)

June 18, 2016

•

7:00pm - 8:00pm
Bachelorette Party

May 29, 2016

•

7:00pm - 9:00pm
Grand Opening

April 30, 2016

•

7:00pm - 10:00pm
Birthday (Adult)

January 09, 2016

Birthday (Adult)

December 13, 2015

Graduation

December 05, 2015

Birthday (Adult)

November 14, 2015

Holiday Party (Other)

October 24, 2015

Launch Party

August 15, 2015

Birthday (Adult)

July 26, 2015

Wedding Reception