Your list is empty.
Save musicians, entertainers, speakers, and services, and they'll appear here.
Free Quick Quote
This vendor provides virtual services
Back to Storytellers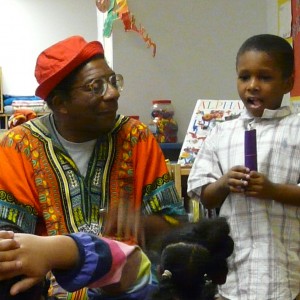 Mlanjeni Magical Theater
4.82
(67 reviews)
Philadelphia, PA
Travels up to 200 miles
$ 250 and up
Get a Free Quick Quote
Overview
Looking for a change of pace?
Expect unusual fun as Mlanjeni Magical Theater offers a form of east African theater which we call "Muungamano." It is one of Africa's interdisciplinary art-forms utilizing acting along with puppets, magical illusions, folk music and dance in traditional storytelling. The audiences are actively involved in the presentations through call-and-response singing, dancing and volunteer assistants. Presented by Africa's Ambassador of Fun, storyteller-magician Mlanjeni and son, the Amazing Mr. Q (together or as solo artists), the shows are a delight for pre-schools, elementary and middle schools, libraries, festivals and family-oriented events.
---
---
Booking Info
Price Range: $ 250 and up
Gig Length: 30 - 60 minutes
Languages: English, Kiswahili
Insurance: $1,000,000 - general liability
What to Expect
Our performance is created to match the age and attention-span of the audience. As in traditional African theater, the staging can change as the performance develops.
THE FATHER/SON TEAM TOGETHER: MLANJENI & MR. Q
If performing at a school or family event:
We begin with a bag and a chair or two..... and space for activity.......the introduction begins...the audience smiles and someone points out that they don't speak the language used in the introduction. We begin again in English. We announce that we are actors and traditional storytellers visiting with a story to tell. We sit... and they laugh for nothing happens yet. We announce that we can't begin until we are greeted and welcomed into the space......with a dance from them!
For young audiences... expect that this space will shrink as the performance brings the group into the actions of dancing, singing, and fun performing as magical assistants and interacting with the puppets.
For older children and family audiences.... expect what we call "the murmur" followed by a collective "OOHH!" for as soon as we begin they realize that they are experiencing something different...Africa's theater!...and then the real fun begins as they begin with a traditional dance and then interact in the presentations with song, dance and activities.
When performing at a festival:
Talking is at a minimum with action being primary as Mlanjeni and son and/or grandson present a series of colorful magical illusions based in eastern traditions including folk music and puppets (hand masks).
MLANJENI OR THE AMAZING MR. Q AS A SOLO EVENT
When performing solo at a school or library:
The introduction will vary depending on the event....but the format is similar... a "call-and-response" song and dance begin the show. The theme of the show is introduced and the storytelling begins.
When performing at an early childhood center:
The introduction to storytelling is presented...only to be interrupted by the puppets with their event or problem of the day...the program continues in a way that's similar to a "live" television sit-com with the children drawn into the actions of the characters. Interaction is encouraged in this style of theater.
About
Mlanjeni Magical Theater is a theater company specializing in entertainment for youth audiences. The company began in Harrisburg PA in 1975 with the help of Philadelphia's Freedom Theater director, John Allen.
The style of the theater developed is called "Muungamano." Muungamano is an interdisciplinary style of east African performance art featuring storytelling, dance, music, masks and/or puppets and magical illusions. Moving to the Delaware Valley in 1986, Mlanjeni continued to build the theater into a small touring company.
Touring the "Muungamano-style" theater in schools, libraries, day care centers and museums. Joined by his son, Marquez in the 1990's, father and son perform together and as solo acts throughout the area.
MLANJENI - STORYTELLER. PUPPETEER. VENTRILOQUIST
He has been called "the cultural ambassador of fun!" A traditional storyteller (griot), Mlanjeni Nduma provides insights into Africa with his stories on it's ancient empires and chiefs, the colonial era, and hero struggles in modern times. His stories are presented in Africa's traditional manner which includes folk music, call and response song and dance by audience, puppets (masks), magic and interactive fun.
A puppeteer and ventriloquist, Mlanjeni is known for his hand puppetry and the novel staging of stories. His ventriloquist puppets are all animals and the interaction between them makes for a hilarious time for children and family audiences.
THE AMAZING MR. Q - SERIOUSLY FUNNY STORYTELLER. COMIC MAGICIAN. PARTY ENTERTAINER
Son Marquez, a/k/a the Amazing Mr. Q is recognized for his unique magic, his visual comedy in performance, and his comic storytelling of Africa's folktales. A master magician in action... his illusions vary from those normally seen in the acts of children's entertainers, and create squeals of delight and amazement from young audiences in schools, libraries and birthday parties. His programs are very interactive! Children delight in the antics of Bow-wow the dog, Zik the rabbit, and Lucky the Zebra, the Amazing Mr. Q's puppet assistants, as they bumble and stumble their way through the magic.
SOLO AND TEAM PERFORMANCES AVAILABLE
Performance credits include the Philadelphia School District, the Coatesville School District, the Philadelphia Free Library, the Montgomery County Library, the Please Touch Museum, the Atlantic County Library, the African-American Museum of Philadelphia, the Cape May County Library System, Children's Hospital Early Head Start, Riverfest, Reading Buddies, many of the Delaware Valley's private day care centers and private schools and various schools in Maryland.
Additional Booking Notes
We have performed in rooms as small as a hospital room with two patients (Children's Hospital of Phila.) going room to room with a mini-performance on up to a 400 seat school auditorium (a high school performance).
We have performed outside and "in-the-round."
For large groups of over one hundred, a sound system is required. We can provide our own, but we prefer a tested sound system that may already have the speakers mounted in place for best acoustics. We bring a keyboard or accordion if there is no piano.
Set List
The current set list is the MLANJENI MAGICAL THEATER's 2022 - 2023 SEASON
******FESTIVALS, FAMILY FUN DAYS AND PARTIES:
The themes vary with the requests of the sponsor
*******PROGRAMS ARE AVAILABLE "LIVE" OR "VIRTUALLY"
FOR SCHOOLS:
****EARLY CHILDHOOD - GRADE 3
****GRADES 4 -8: Year round fun
A GRIOT SPEAKS
" FINDING THE STORY WITHIN" - a workshop on storytelling
I REMEMBER DR. KING
THE JOURNEY: VOYAGES IN AFRICAN-AMERICAN HISTORY
****GRADES 9 - 12 : year round fun
A GRIOT SPEAKS OF TIME
FINDING THE INNER VOICE
A 4 SESSION WRITERS WORKSHOP IS AVAILABLE YEAR ROUND FOR GRADES 4 -8.
Influences & Inspiration
The Disney Corporation and their philosophy of positive age-appropriate entertainment for young audiences.
Setup Requirements
For a small space: 2 chairs. For a large stage: 2 chairs and 3 microphones