Your list is empty.
Save musicians, entertainers, speakers, and services, and they'll appear here.
Free Quick Quote
This vendor provides virtual services
Back to Michael Jackson Impersonators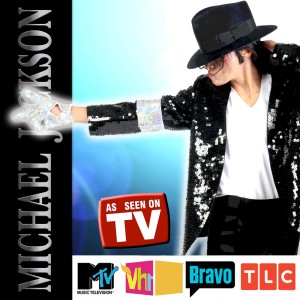 MJXpressions
5
(144 reviews)
New York City, NY
Travels nationwide
$399 and up
Get a Free Quick Quote
Overview
MJXpressions is your (#1) Number One Source for Michael Jackson & Celebrity Tribute Entertainment! Competitive rates guaranteed! Virtual Services available!
As seen on Good Morning America, Bravo TV, MTV, Vh1 and TLC. MJX, our featured Tribute Artist, is an extraordinary Michael Jackson lookalike and performer. We are proud to be the groundbreaker of Celebrity Tributes by offering REAL 5 Star Client Video Reviews. We offer no obligation, appointments prior to booking your event. 100% customer satisfaction. Don't settle for less, see what everyone is talking about!
Your event deserves the best!
---
---
Booking Info
Gig Length: 10 - 300 minutes
Insurance: Full Liability Coverage
What to Expect
MJXpressions, LLC is the (#1) Number One Source for Michael Jackson Tribute entertainment.
We service NY/NJ Tri-state area as well as the entire US and International. Our company is cutting edge, aiming for excellence by staying one step ahead in the celebrity tribute industry. See what our clients are saying in our new and innovative Video Verified Client Reviews!
We are the only Michael Jackson Tribute that offers a "Peace of Mind Policy" 100% Safe Booking Guarantee.
We are honored by our 5-star ranking in regard to client interaction and performances; while enjoying repeat bookings by ABC and MTV networks, as well as VH1 Network.
Our featured Michael Jackson tribute artist, MJX, embodies the same beliefs and dedication that Michael Jackson himself offered to worldwide audiences.
We provide Michael Jackson entertainment for all occasions and budgets. Your event might be a small birthday party or a huge live concert; we guarantee the same attention and dedication to each and every client. Working closely with you, we help your vision become a great success.
Included in our packages are unlimited photos Free of charge and many other gift enhancements to make your event exclusive and one of a kind.
Our staff consists of experienced professionals in the entertainment field, including coordinators with over 15 years of experience in customer service.
We continue to work hard to guarantee 100% customer satisfaction.
Let MJXpressions turn your dream into a reality!
__________________________________________________________________________
Frequently Asked Questions: *************************************************
Q. What sets MJXpressions apart from other tribute companies?
A. MJXpressions, LLC is a full-time Michael Jackson Tribute Company.
We take pride in the talent of our performers, combined with the important relationships we build with our clients.
It helps us to know as much as possible about you, your family, and your guests before your event begins.
Whether you are booking a Sweet 16 or full concert production, we will go out of our way to make sure your event is exactly as you have envisioned. You can count on our award-winning experience, a polished, professional attitude and our love for what we do, in keeping the spirit of Michael Jackson alive for your event.
Q. Will I get "MJX" the Michael Jackson impersonator in the promo video on your site?
A. Yes. MJX is our featured performer.
If he is already booked for your event date, don't worry!
We offer alternate premier Michael Jackson Impersonators from which you may choose for your event.
Q. Can I book any Michael Jackson Impersonator on Gigsalad, through MJXpressions, LLC?
A. Yes. MJXpressions has developed an outstanding team of professional well-known tribute artists within the business throughout the country. With limited exceptions, we can meet any specific request.
Q. I am shopping around for entertainment, how will I know if an impersonator is reputable?
A. Hiring an entertainer can be confusing and stressful, especially if you've never done it before. There are many impersonators online with various levels of experience, quality of photos, videos and websites.
Reputable companies and entertainers will often offer an opportunity to view or meet the act prior to booking. Established performers are often represented and accompanied by a coordinator or agent.
You should always expect a contract with all event details listed and agreed upon; you don't want last minute surprises or disappointments.
*Under no circumstances will a professional, reputable entertainer attempt to malign, defame or bad-mouth a competitor to a prospective client. If such activity occurs, it should be reported immediately.
Q. Can I meet the performer prior to booking my event?
A. Of course. MJX and staff are available weekly for on-site appointments in our New Jersey location.
Recently, SyFy Channels Bruce Tango of Ghost Hunters International, visited our studio to meet MJX prior to booking his celebrity benefit event. We are available to answer all of your questions personally.
Q. Are your 5 star reviews verified?
A. Yes. Recently, USA Today and The NY Times released several news reports regarding the crackdown on businesses and individuals posting Fake Online Reviews on various websites. Full report: http://nyti.ms/18PZRzT
In response to this on-going issue, we present our exclusive Video Verified Reviews. MJXpressions will always provide our clients a photo of the performer accompanied by their name and 5 - star rating.
Q. Are the other Michael Jackson impersonators you offer professional Tribute Artists?
A. Yes. We have 5 professional Michael Jackson Tribute Artists available, each offering multiple years of experience, professionalism and all sharing the same goal of making your event a true success.
Before we consider representing a performer, the act is subject to a review process; including a live or video performance as well as written and verbal testimonials by reputable booking agents, casting directors, event planners and sometimes clients. You will always know which performer you are booking for your event.
Q. Are you an agency?
A. No. MJXpressions LLC is a privately owned company. We offer standard competitive professional rates for entertainment.
Q. Do you provide entertainment other than Michael Jackson Tributes?
A. We specialize in Michael Jackson entertainment. However, through years of building strong industry relationships, we have access to music headliners and are able to provide entertainment of all genres for public, corporate and private events. We can provide everything from dance bands to celebrity impersonator shows.
Q. Do you offer discounts and promotions?
A. Yes. We offer seasonal and promotional referral discounts. Please refer to Groupon.com for our latest promotions!
Q. Do you have Liability Insurance?
A. Yes. We have full liability insurance coverage.
Q. Do you accept credit card payments?
A. Yes, we accept all major credit cards, checks and PayPal.
Q. Can I take an MJ dance lesson prior to my event?
A. Absolutely. As seen on TV, MJXpressions is the only Michael Jackson Tribute that offers exclusive Dance Programs for students of all ages! Want to rock out Thriller with Michael at your wedding? Want to steal the show at your birthday bash? Come learn all the moves with MJ and surprise your guests with a choreographed dance routine!
About
CEO / MJXpressions, LLC
MJX has always been involved in the creative and visual processes, both personally and professionally.
Before becoming a Michael Jackson tribute artist, he was a Creative Director for design companies in NYC and NJ, enjoying professional relationships with companies such as Disney, Nickelodeon and Warner Brothers.
As a small child, MJX was a huge Michael Jackson fan and, ever since, has meticulously studied Michaels music, dancing , voice and love of sharing his artistic gift. One of MJX's most treasured memories was seeing Michael Jackson live with his brothers in their Victory Tour concert.
As a solo tribute artist and with back-up dancers, MJX has performed with live bands at premier venues in NYC and NJ., as well as hundreds of private and corporate events around the country. MJX has been featured on ABC Good Morning America, TLCs Four Weddings, BravoTvs Real Housewives of New Jersey, VHIs Love and Hip Hop and MTV. MJX has performed for New York Yankee pitcher CC Sabathia's birthday and most recently featured in independent film. He is also advertised on www.michaeljacksoncelebrityclothing.com as an official model for the site.
In past performances, MJX headlined the New Years Eve Fire and Ice Spectacular in Anchorage, Alaska and performed at Citi Field in NY and for fashion designer Angel Brinks NY Fashion weeks runway show.
MJX proudly performed at the Bermuda Nights in the Park Summer Concert sponsored by the Bermuda Department of Tourism, and was privileged to be the only Michael Jackson Tribute to have ever performed on the island.
He was honored to appear on ABC's Morning Show to celebrate the 25th Anniversary of the Moonwalk. October of the same year, MJX was featured on MTVs New Artists App commercial for iphone. This same month, MJX and crew were hired by SyFy Channels Ghost Hunters International for an exclusive celebrity benefit event.
MJX was thrilled to launch the new King of Pop slot machines at Turning Stone Resort Casino.
He was also hired for the second time by VH1 to appear on a new reality TV series called "My Life."
On NYE he was featured at Seneca Niagara Casino & Hotel.
MJX was honored to be featured on ABC News for the second time in Honor of Michael Jackson's Birthday. Other highlights include performances at Harrah's Resort and Casino in AC, the Rockland Boulders Pre-Game Show, and a guest performer at The Golden Nugget Atlantic City VIP event. He performed at the New York Stock Exchange for their annual tree lighting ceremony.
MJX's goal is to solely embody a positive portrayal of Michael Jackson's image. He has turned down several TV crime documentary roles and declined controversial celebrity events that highlight an unsavory representation of The King of Pop.
MJXpressions is a proud member and licensed provider of DDD Real Life Choices, a program to give support to individuals with developmental disabilities. MJX is a highly qualified, caring individual who provides Michael Jackson dance instruction and specialized show programs to disabled children.
MJXpressions proudly offers a Celebrity Impersonator Division, Offering an exclusive Johnny Depp look a-like.
__________________________
As the founder of MJXpressions, I have one mission: "To honor Michael Jackson by keeping his spirit alive through events that share his music and choreography; and by always following in Michaels' efforts in humanitarianism."
Additional Booking Notes
MJXpressions Proudly Offers Our: "Peace of Mind Policy" 100% Safe Booking Guarantee
MJXpressions meets all 10 Points of Professional Standard Criteria!
Licensed LLC:
Credibility and Protection to Our Customers. A business that is a registered Licensed LLC represents legitimacy and authority. Consumers, vendors, and partners frequently prefer to do business with an incorporated company.


Customized Contract:
Tell Us and We Deliver. We are known for developing creative event packages customized to our clients' needs. We can create or customize the entertainment for various special occasions, such as weddings, children's birthdays, corporate events and concerts.

Full Liability Insurance:
We Protect Our Customers. Entertainment liability insurance is imperative for any entertainment company, individual or entertainer. Many events are out of the hands of event promoters, but the liability remains in the hands of those that are throwing the event. Be it weather or accident, injury or disaster, it is important to prepare for the worst. If you are holding any sort of entertainment event, it is important to make sure that you are protected against those actions which are simply outside of your control.

We Accept All Major Credit Cards:
For Your Convenience. Accepting credit cards and debit cards is a popular, flexible, and stress free payment option offered by legitimate businesses. Some customers prefer to use their credit card to minimize payment processing on their end and, potentially, to get whatever rewards or incentives that are associated with their card.

No-Obligation Appointments:
What You See is What You Get. Book a no obligation appointment for free, at our studio location with our featured tribute artist and staff members. We will talk to you about your special event and provide you with a quote. There are no obligations and you do not need to proceed with booking if you do not wish to.

100 Client Verified Video Reviews:
Real People = Real Reviews. USA Today and The NY Times have released several reports about individuals posting Fake Online Reviews on various high profile entertainment websites. A Verified Buyer is an individual who has purchased the reviewed the entertainer and submitted their review through a specific process that tracks purchase history. Our reviews are recorded live on camera, accompanied by the client's name and location of event.

Major TV Network Appearances:
As Seen On TV. Media, TV and film appearances are professional and highly relevant credentials in hiring a reputable entertainer.

Unedited Performance Videos:
Full Show Footage is Available. In addition to promotional commercials and show reels, all professional agents, corporations and entertainers offer extended and unedited show footage. Inquire for the full show DVDs and/or video links.

Male Tribute Artist(s):
Our Performers. Currently our MJXpressions roster represents all male tribute artists.

Payment Plan Options:
Choose the payment plan that best fits your needs. We understand that every situation is different, we take into consideration your ability to pay, the amount due, your payment history, length of time you have been a customer, and specific reasons why the payment plan is needed, we will work out a payment solution for you.
Past Booked Events
October 10, 2020

•

6:00pm - 6:30pm
Fundraiser

September 12, 2015

Birthday (Child)
Set List
Smooth Criminal, Billie Jean, Beat It, Thriller, The Way You Make Me Feel, PYT, Rock With You, Don't Stop Till You Get Enough, Off the Wall, Can you feel it, Leave me alone, Bad, Another Part of Me, Remember the Time, Black or White, Wanna Be Startin' Somethin', Man in The Mirror, Blood on the Dance floor, Jackson 5 and special requests.
Influences & Inspiration
MJXpressions, has one mission: "To honor Michael Jackson by keeping his spirit alive through events that share his music and choreography; and by always following in Michaels' efforts in humanitarianism."
In addition to Michael Jackson Tribute shows and appearances, MJXpressions offers exclusive Michael Jackson dance programs to children and adults at our NJ location.
We are a proud member and licensed certified provider of DDD Real Life Choices a State Program designed to give support to individuals with developmental disabilities. MJX is highly qualified, caring individual who provides Michael Jackson dance instruction and specialized show programs to disabled children and adults.
Setup Requirements
Adequate size dance floor (smooth surface) and sound system on premises is preferred.