Your list is empty.
Save musicians, entertainers, speakers, and services, and they'll appear here.
Free Quick Quote
This vendor provides virtual services
Back to Caricaturists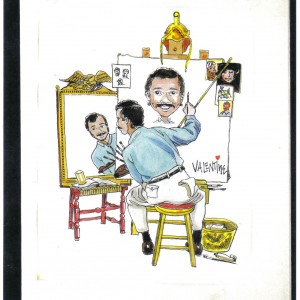 Mike Valentine Caricature Artist
4.96
(50 reviews)
Orlando, FL
Travels up to 90 miles
Contact for rates
Get a Free Quick Quote
Overview
Caricature drawings done of guests at all types of private, corporate parties and events. Currently in addition to working all types of events, Mike is a caricature artist at several Disney World locations in the Orlando, FL area. He is also a balloon twister and face painter. Mike also is a master Silhouette artist.
---
---
Booking Info
Price Range: Contact for rates
About
Mike Valentine has been entertaining audiences with his wonderful caricatures for 38 years. A full-time artist, Mike does many events throughout the tri-state metropolitan area. He has done caricatures at Bar/Bat Mitzvahs, weddings, corporate parties and picnics, birthdays, business promotions, trade shows, conventions, and many other types of events. Mike's past clients have been thrilled with his ability to capture a great likeness, as well as adding the subject's favorite, hobby, sport, occupation, etc. in the drawing as well. Mike has worked throughout Connecticut, Westchester County, NY, New Jersey, as well as Massachusetts. Mike has also worked as a caricaturist, portrait artist, and silhouette artist at two of the Disney theme parks. Mike is also a book illustrator, and has done numerous children's books. He has also drawn for several comic book companies, including DC comics.
Services Offered
Upcoming Booked Events
December 03, 2021

•

3:00pm - 6:00pm
Christmas Party

December 04, 2021

•

6:30pm - 9:00pm
Christmas Party

December 17, 2021

•

2:00pm - 5:00pm
Christmas Party

April 30, 2022

•

11:00am - 3:00pm
Personal Occasion
Past Booked Events
December 02, 2021

•

6:30pm - 8:30pm
Corporate Event

November 27, 2021

•

3:00pm - 5:00pm
Birthday Party

November 24, 2021

•

7:30pm - 9:00pm
Teen Birthday Party

November 20, 2021

•

3:00pm - 5:00pm
Children's Birthday Party

November 13, 2021

•

7:00pm - 10:00pm
Teen Birthday Party

November 12, 2021

•

6:00pm - 8:00pm
House Party

October 30, 2021

•

5:30pm - 8:30pm
Festival

October 23, 2021

•

4:00pm - 5:00pm
Children's Birthday Party

October 07, 2021

•

6:30pm - 8:30pm
Teen Birthday Party

October 02, 2021

•

3:30pm - 6:30pm
House Party

October 01, 2021

•

4:30pm - 9:00pm
Wedding Reception

September 18, 2021

•

6:00pm - 8:00pm
Wedding Cocktail Hour

September 04, 2021

•

12:30pm - 2:30pm
Bridal Shower

September 02, 2021

•

4:00pm - 7:00pm
Sporting Event

August 21, 2021–August 22, 2021

•

1:00pm - 4:00pm
Corporate Event

August 07, 2021

•

7:00pm - 11:00pm
Cocktail Party

July 18, 2021

•

2:00pm - 5:00pm
Baby Shower

July 04, 2021

•

6:00pm - 7:00pm
Personal Occasion

June 26, 2021

•

1:00pm - 3:00pm
Children's Birthday Party

June 12, 2021

•

6:30pm - 8:30pm
Wedding Reception

June 05, 2021

•

12:00pm - 3:00pm
Concert

May 15, 2021

•

5:00pm - 8:00pm
Birthday Party

May 08, 2021

•

7:00pm - 8:30pm
Fundraiser

May 02, 2021

•

1:00pm - 4:00pm
Birthday Party

May 01, 2021

•

12:00pm - 4:00pm
Personal Occasion

April 23, 2021

•

6:30pm - 9:30pm
Birthday Party

February 25, 2021

•

6:00pm - 8:00pm
Nonprofit Event

February 20, 2021

•

1:00pm - 3:00pm
Children's Birthday Party

February 13, 2021–February 14, 2021

•

8:00pm - 12:00am
House Party

February 05, 2021

•

4:00pm - 6:00pm
Children's Birthday Party

January 15, 2021

•

9:00pm - 11:00pm
Personal Occasion

December 05, 2020

•

5:00pm - 8:00pm
Christmas Party

November 21, 2020

•

3:30pm - 4:30pm
Children's Birthday Party

November 14, 2020

•

2:00pm - 4:00pm
Birthday Party

October 25, 2020

•

12:00pm - 1:00pm
Children's Birthday Party

October 03, 2020

•

2:00pm - 4:00pm
Children's Birthday Party

August 08, 2020

•

1:30pm - 3:00pm
Festival

February 02, 2020

•

6:00pm - 8:00pm
House Party

January 11, 2020

•

2:00pm - 4:00pm
Children's Birthday Party

December 21, 2019

•

7:00pm - 11:00pm
Birthday Party

December 07, 2019

•

4:00pm - 5:30pm
Children's Birthday Party

November 30, 2019

•

3:30pm - 5:30pm
Children's Birthday Party

November 09, 2019

•

1:00pm - 3:00pm
Children's Birthday Party

October 19, 2019

•

12:00pm - 3:00pm
Festival

October 12, 2019

•

6:30pm - 8:00pm
Sporting Event

August 10, 2019

•

7:30pm - 11:30pm
Wedding Reception

July 27, 2019

•

6:30pm - 7:30pm
Wedding Reception

July 19, 2019

•

9:30am - 11:30am
Nonprofit Event

July 03, 2019

•

6:00pm - 8:00pm
Corporate Event

June 29, 2019

•

5:00pm - 6:30pm
Corporate Event

May 31, 2019

•

5:30pm - 7:00pm
Nonprofit Event

May 24, 2019

•

12:00am - 5:00am
Graduation

April 20, 2019

•

6:00pm - 8:30pm
Teen Birthday Party

April 18, 2019

•

6:00pm - 8:00pm
Dinner Party

April 06, 2019

•

12:00pm - 3:00pm
Corporate Event

March 23, 2019

•

7:00pm - 8:00pm
Anniversary Party

March 21, 2019

•

6:30pm - 8:00pm
Nonprofit Event

March 16, 2019

•

5:30pm - 6:15pm
Wedding Reception

March 09, 2019

•

8:00pm - 10:00pm
Fundraiser

March 09, 2019

•

11:30am - 2:00pm
Festival

March 02, 2019

•

5:00pm - 9:00pm
Birthday Party

February 16, 2019

•

12:00pm - 2:00pm
Children's Birthday Party

January 26, 2019

•

8:00pm - 11:00pm
Birthday Party

January 19, 2019

•

7:00pm - 10:00pm
Wedding Reception

November 29, 2018

•

6:00pm - 7:30pm
Retirement Community Event

November 11, 2018

•

5:00pm - 8:00pm
Wedding Reception

October 27, 2018

•

10:00am - 12:00pm
Festival

October 19, 2018

•

4:30pm - 7:00pm
Corporate Event

September 29, 2018

•

8:00pm - 10:00pm
Wedding Reception

September 22, 2018

•

6:00pm - 7:30pm
Wedding Cocktail Hour

August 26, 2018

•

4:00pm - 9:00pm
Nightclub Event

August 04, 2018

•

12:00pm - 2:00pm
Children's Birthday Party

July 21, 2018

•

6:00pm - 10:00pm
Wedding Reception

May 12, 2018

•

11:00am - 1:00pm
House Party

April 07, 2018

•

7:30pm - 9:30pm
Wedding Reception

March 03, 2018

•

12:30pm - 2:30pm
Children's Birthday Party

February 10, 2018

•

5:00pm - 6:00pm
Birthday Party

October 21, 2017

•

10:00pm - 10:30pm
Surprise

December 17, 2016

•

7:30pm - 9:30pm
Holiday Party (Christmas)

November 12, 2016

•

5:30pm - 8:30pm
Dinner Party

September 18, 2016

•

1:00pm - 6:00pm
Corporate Event

November 15, 2015

Religious Celebration

June 20, 2015

Birthday (Adult)

February 28, 2015

Baby Shower

December 27, 2014

Ethnic Celebration

December 27, 2014

Ethnic Celebration

December 20, 2014

Holiday Party

March 22, 2014

Other

March 15, 2014

Bachelorette Party

October 06, 2013

Birthday Party

September 29, 2013

Other

September 01, 2013

Baby Shower

August 03, 2013

Other

June 13, 2013

Birthday Party

May 19, 2013

Religious Celebration