Your list is empty.
Save musicians, entertainers, speakers, and services, and they'll appear here.
Free Quick Quote
This vendor provides virtual services
Back to Singing Guitarists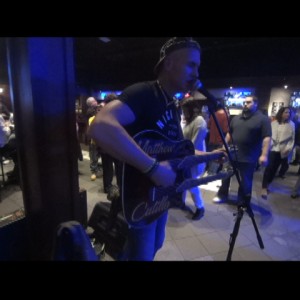 Matthew Cutillo Guitarist Vocalist Digital One Man Band
5.0
(48 reviews)
Amityville, NY
Travels up to 90 miles
$375-$1,275
Get a Free Quick Quote
Overview
Matthew is the Consummate Solo Musician.
Offering 3 presentations: Classical Fingerstyle Guitar, Solo Acoustic & Vocal (Sing 'n Strum) & Digital One Man Band (LIVE Vocals & Lead Guitar, backed by iPad band - a singing, guitar slinging DJ) you can't get more bang for your buck. Oldies to Contemporary Hits. Only top 10 hits!!
Played 10 years in 30+ bands overseas and now Tri-State 16 years as a full-time Events Musician, Matthew brings an unparalleled level of savvy & passion.
Exotic instruments: a double neck & 2 custom-carved acoustics and a digital guitar - sounds to wow your crowd with 1,200+ songs. Hire Matthew Cutillo and your event will be another in over 750+ 5 star ratings online
---
---
Booking Info
Gig Length: 15 - 240 minutes
Languages: Dutch, English, French, German, Italian, Portuguese, Spanish
Insurance: $1,000,000 - Liability insured
What to Expect
Cutillo arrives early, stays late and takes no breaks. All music, no dead air for hours on end. That's the success recipe.
About
Best Modern & Classic Hits Schooled 10 yrs Touring Europe. 5 Star Rated by Time Warner, Empire Entertainment, Preston Bailey, Vineyard Vines, Tommy Bahama & over 450 more. A coincidence ?? Most Versatile, Hard-Working, Whole Package - when a guy & guitar just aren't enough, ask for the One Man Band: a singing, guitar-slinging DJ ! Times are changing, so let's DANCE ! Party LIGHTING a new addition.
Classical Guitar, Acoustic Guitar / Vocal Solo and the most realistic sounding One-Man Band available ! Dance, Rock, Pop, Country, Soul, Americana, Motown, you name it! Full band sound for 1/5 of the price: Vocals / Lead Guitar performed with musical backing tracks featuring many of the actual artists' bands. Topped myself again this year, reactions have been stellar.
* Quadruple Rising Star Award Top Acoustic Guitar *
Author of Best-Seller "How to Be #1 on GigMasters"
Over 1/4 Million Dollars in Past Bookings all with rave reviews. A fluke ?
Offering Holiday Music, Classical Guitar, James Taylor, Billy Joel, Jack Johnson, Peppers, Cash, Elvis, Elton, Foo, Stones, Croce, George Michael, Pearl Jam, Buble', Sublime, Sinatra, Mraz, Johns Lennon & Mayer, DMB, Bowie, Who & Zep, Springsteen, Buffett, Denver, Bons Iver & Jovi, Oasis, 80's, Macklemore, New Wave, Counting Crows, Green Day, Tony Bennett, Kenny Rogers, Peter Gabriel, Ben Harper, Cat Stevens, Al Green, Depeche Mode, Van Morrison, Floyd, Skynyrd, Barrys White & Manilow, Bobs Dylan & Marley, Neils Diamond & Young, Police, Dead, Petty, NIRVANA, Clapton, U2, Santana, 50's & Oldies, endless TRADITIONALS, SURF LUSH INSTRUMENTALS.
HARDEST-WORKING: You can not find an entertainer who delves into the most minute detail and pours every ounce of their energy into your event the way I do. The keys to my success are passion & dedication.
TASTY & TASTEFUL: I live and breathe every song - first picked up the guitar at 1 1/2 years old, this is vocation and sacred privilege. Upon booking I will learn to play ANY song your heart desires; making your special day even more special is my M.O. treating EVERY PERFORMANCE as if it could be my last, hence client ratings. Allow me to show you the way to a musical event to look back on and speak of fondly for decades to come. To me the small things add up to a big picture: early arrival, cordiality and full attentiveness are the only things you'll receive other than the music.
A full-time MUSICIAN ON A MISSION; start to finish the eye & ear for detail you want - great experience and mind-blowing performance EVERY TIME ; the easy part of your event. For even more ease in the most rustic settings high quality battery-powered amplification (i.e. outdoor weddings) to eliminate need for electric-outlets or a 2,000 watt PA system with sonic enhancement hardware for bigger events, or a mid-size vocal / guitar amp perfect for backyards and living rooms.
MODERN & OLD SCHOOL: Purist Solo Acoustic Performance AND / OR inclusion of iPad One Man Band !!
NO CHEESE: Showcasing real deal musicianship regardless of Beethoven or Beatles.
HIGHLY-SKILLED & HARD-WORKING: change everything the day before the event and I will accommodate every last request. You are hiring a 100% PRO when you use my services who plays all week full-time.
First on stage at age 12 and proceeded to do many cover bands & solo acoustic performances until going to Germany from '94 to '04 & learned about hands-on musician work cutting CDs in recording studios to playing at Wolter's Brauerei in Braunschweig for 22,000 and Berlin New Year's 2000 for 12,000 & telecast throughout Germany; smoke-filled Irish pubs for smaller audiences - now appearing all over the US, a very blessed musical life with opportunities abound.
Besides singing hundreds of gigs on Germany's Irish Pub circuit solo on acoustic guitar also studied classical guitar under master Joerg Schein, performed 70's pop on lead guitar / vocals in Holland, Turkey and Greece; playing countless galas, TV performances and FESTS in cities like Hamburg, Antalya, Athens, Amsterdam, Frankfurt, Munich & Berlin to name only a few. Fronted numerous other groups performing disco, party, and pop rock covers and sang with several prominent German film-stars & international artists in 2 of the biggest venues in Hamburg... STADTPARK & GROSSE FREIHEIT where the Beatles and Stones got their start and every big star still plays today.
A lively performer, energetic and positive - most of all love to see people have fun and forget about their everyday lives; always performing encore sets regardless of pay when you and your guests want more. Well-known for non-stop 4 hour marathon sets packed with great music appropriately & seamlessly transitioning from background to foreground...
Thank you for considering me, book me now and I will go every extra mile to make you glad you did.
Additional Booking Notes
Cutillo provides all top quality sound equipment
Services Offered
Past Booked Events
September 04, 2021

•

5:30pm - 6:00pm
Wedding Ceremony

August 13, 2021

•

4:00pm - 9:30pm
Wedding Reception

July 17, 2021

•

2:00pm - 3:30pm
House Party

May 19, 2021

•

6:00pm - 8:00pm
Cocktail Party

March 26, 2021

•

1:00pm - 1:15pm
Birthday Party

October 24, 2020

•

4:30pm - 5:15pm
Wedding Ceremony

October 01, 2020

•

5:00pm - 5:15pm
Personal Occasion

October 12, 2019

•

12:00pm - 1:00pm
Nonprofit Event

October 05, 2019

•

8:00pm - 10:30pm
Birthday Party

June 29, 2019

•

6:30pm - 8:30pm
Birthday Party

July 22, 2018

•

9:00am - 11:30am
Personal Occasion

November 05, 2017

•

4:30pm - 7:00pm
Birthday (Adult)

August 14, 2017

•

3:00pm - 4:00pm
Wedding Reception

July 22, 2017

•

7:00pm - 8:30pm
Dinner Party

May 14, 2016

•

4:00pm - 7:00pm
Birthday (Adult)

April 30, 2016

Wedding Cocktail Hour

October 16, 2015

Prank/Surprise

September 20, 2015

Birthday (Child)

September 03, 2015

Dinner Dance

August 01, 2015

Wedding Engagement

June 26, 2015

Birthday (Adult)

June 10, 2015

Wedding Engagement

May 09, 2015

Private Party

March 07, 2015

Birthday Party

December 06, 2014

Birthday Party

November 29, 2014

Other

November 23, 2014

Birthday Party

November 01, 2014

Wedding Reception

October 04, 2014

Wedding Ceremony

September 19, 2014

Birthday Party

September 13, 2014

Anniversary Party

September 06, 2014

Wedding Reception

August 09, 2014

Private Party

July 23, 2014

Birthday Party

July 19, 2014

Wedding Reception

June 06, 2014

Anniversary Party

May 03, 2014

Other

February 14, 2014

Restaurant
Set List
you shook me all night long - a c / d c space age love song - a flock of seagulls goody two shoes - adam ant antmusic - adam ant grow old with you - adam sandler baby face - akst & davis let's stay together - al green blue spanish eyes - al martino it's 5 o'clock somewhere - alan jackson man in the box - alice in chains got me wrong - alice in chains no excuses - alice in chains would - alice in chains rooster - alice in chains heaven beside you - alice in chains sweet melissa - allman brothers statesboro blues - allman brothers whipping post - allman brothers blue sky - allman brothers ramblin' man - allman brothers soulshine - allman brothers / gov't mule forever young - alphaville witch doctor - alvin & the chipmunks yankee doodle - Americana i've been working on the railroad - Americana big rock candy mountains - Americana oh susanna - Americana jimmy crack corn - Americana camptown races - Americana: stephen foster flower - amos lee rehab - amy winehouse don't let me be misunderstood - animals like a stone - audioslave doesn't remind me - audioslave feel like making love - bad company silver, blue & gold - bad company if i had a million dollars - barenaked ladies i can't smile without you - barry manilow copa cobana - barry manilow my first my last my everything - barry white sloop john b - the beach boys i get around - the beach boys god only knows (inst) - the beach boys god only knows - the beach boys here, there and everywhere - the beatles blackbird - the beatles elanor rigby - the beatles when I'm 64 - the beatles something - the beatles let it be - the beatles michelle ma belle - the beatles yellow submarine - the beatles here comes the sun - the beatles hey jude - the beatles a little help from my friends - the beatles all you need is love - the beatles birthday song - the beatles two of us - the beatles rocky raccoon - the beatles i started a joke - bee gees let your love flow - bellamy brothers stand by me - ben e king waiting on an angel - ben harper say you will - ben harper forever - ben harper happy ever after in your eyes - ben harper steal my kisses - ben harper rock around the clock - bill haley & the comets ain't no sunshine - bill withers a new england - billy bragg people are crazy - billy currington downeaster alexa - billy joel scenes from an italian restaurant - billy joel only the good die young - billy joel just the way you are - billy joel it's still rock & roll to me - billy joel piano man - billy joel new york state of mind - billy joel always a woman - billy joel you may be right - billy joel uptown girl - billy joel miami 2017 (seen the lights) - billy joel i gotta feeling - black eyed peas changes - black sabbath paranoid - black sabbath war pigs - black sabbath no rain - blind melon all the small things - blink 182 spinning wheel - blood, sweat & tears the bad touch - bloodhound gang fire water burn - bloodhound gang hook - blues traveler run around - blues traveler forever young - bob dylan wedding song - bob dylan how does it feel - bob dylan tangled up in blue - bob dylan subterranean homesick blues - bob dylan knockin' on heaven's door - bob dylan one love - bob marley three little birds - bob marley redemption song - bob marley no woman no cry - bob marley high tide or low tide - bob marley against the wind - bob seger rockin' robin - bobby day don't worry be happy - bobby mcferrin re: stacks - bon iver blood bank - bon iver skinny love - bon iver livin' on a prayer - bon jovi dead or alive - bon jovi you give love a bad name - bon jovi i'll be there for you - bon jovi something to talk about - bonnie raitt then - brad paisley the first day of my life - bright eyes gonna hang me up a sign - brother jack mcduff out in the street - bruce springsteen hungry heart - bruce springsteen rosalita - bruce springsteen born to run - bruce springsteen thunder road - bruce springsteen the river - bruce springsteen just the way you are - bruno mars locked out of heaven - bruno mars marry you - bruno mars count on me - bruno mars heaven - bryan adams have you ever really loved a woman - bryan adams summer of '69 - bryan adams everything i do i do it for you - bryan adams peggy sue - buddy holly i'll never fall in love again - burt bacharach turn turn turn - the byrds you're so vain - carly simon morning has broken - cat stevens peace train - cat stevens wild world - cat stevens crazy - cee-lo & gnarls barkley forget you - cee-lo green hawaaiian wedding song - charles king the devil went down to georgia - charlie daniels band surrender - cheap trick i want you to want me - cheap trick dream police - cheap trick no surprise - chris daughtry lady in red - chris deburgh santa claus is coming to town - Christmas (springsteen version) twelve days of christmas - Christmas: austin arrangement jingle bell rock - Christmas: beale & booth all i want for christmas is my two front teeth - Christmas: donald yetter gardner deck the halls - Christmas: hughes & ddall arrangement white christmas - Christmas: irving berlin jingle bells - Christmas: james lord pierpont joy to the world (inst) - Christmas: lowell mason rudolph the red-nosed reindeer - Christmas: marks & may silent night - Christmas: mohr & gruber sailing - christopher cross ride like the wind - christopher cross arthur's theme(best that you can do) - christopher cross johnny b. goode - chuck berry under the milky way - the church joy to the world (inst) - classical guitar jingle bells (inst) - classical guitar silent night (inst) - classical guitar the first noel (inst) - classical guitar o come all ye faithful (inst) - classical guitar when i'm 64 (inst) - classical: beatles a little help from my friends (inst) - classical: beatles all you need is love (inst) - classical: beatles claire de lune - classical: claude debussey can't help falling in love (inst) - classical: Elvis wedding march - classical: felix mendelsohn la grima - classical: francisco tarrega over the rainbow / wonderful world (inst) - classical: Iz version bourre - classical: j s bach air - classical: j s bach minuet in g - classical: j s bach L O V E (inst) - classical: kaempfert & gabler (arr. mcutillo) fr elise - classical: ludwig van beethoven moon river (inst) - classical: mancini romanza - classical: salvador bacarisse charlie brown - the coasters viva la vida - coldplay yellow - coldplay shine - collective soul accidentally in love - counting crows mr jones - counting crows big yellow taxi - counting crows round here - counting crows mrs potter's lullaby - counting crows linger - the cranberries ode to my family - the cranberries mmmm mmm mm m - crash test dummies have you ever seen the rain - creedence clearwater revival down on the corner - creedence clearwater revival our house - crosby, stills & nash karma chameleon - culture club just like heaven - the cure friday I'm in love - the cure i just died in your arms - cutting crew true colors - cyndi lauper time after time - cyndi lauper at the hop - danny & the juniors no surprise - daughtry one sweet world - dave matthews ants marching - dave matthews you and me - dave matthews crash into me - dave matthews #41 - dave matthews changes - david bowie a man who sold the world - david bowie modern love - david bowie tonight - david bowie / iggy pop i will follow you into the dark - deathcab for cutie enjoy the silence - depeche mode thank you - dido run-around sue - dion the first time ever i saw your face - diverse artists volare (nel blu di pinto di blu) - domenico modugno american pie - don maclean listen to the music - doobie brothers long train running - doobie brothers alabama song (whiskey bar) - the doors under the boardwalk - drifters movin' on up (good times theme) - du bois & barry little martha - duane allman fields of athenry - dubliners ordinary world - duran duran hungry like the wolf - duran duran save a prayer - duran duran desperado - eagles hotel california - eagles take it easy - eagles could not ask for more - edwin mccain i'm still standing - elton john daniel - elton john i guess that's why they call it the blues - elton john rocket man - elton john don't let the sun go down on me - elton john your song - elton john crocodile rock - elton john levon - elton john tiny dancer - elton john your song (inst) - elton john (arr. mcutillo) don't be cruel - Elvis put your hand in the hand - Elvis love me tender - Elvis suspicious minds - Elvis can't help falling in love - Elvis jailhouse rock - Elvis hound dog - Elvis burning love - Elvis alison - elvis costello everyday i write the book - elvis costello veronica - elvis costello unchained melody - elvis presley tenderness - english beat save it for later - english beat oh lamour - erasure a little respect - erasure layla - eric clapton tulsa time - eric clapton wonderful tonight - eric clapton at last - etta james sweet dreams - eurythmics santa monica - everclear what it's like - everlast all i have to do is dream - everly brothers wake up little susie - everly brothers your hand in mine - explosions in the sky more than words - extreme sunrise, sunset - fiddler on the roof signs - five man electrical band go your own way - fleetwood mac cruise - florida georgia line best of you - foo fighters all my life - foo fighters what if i do ? - foo fighters miracle - foo fighters i'll stick around - foo fighters times like these - foo fighters cold day in the sun - foo fighters everlong - foo fighters big me - foo fighters my hero - foo fighters build me up buttercup - foundations the way you look tonight - frank sinatra fly me to the moon - frank sinatra my way - frank sinatra summerwind - frank sinatra cheek to cheek - frank sinatra new york, new york - frank sinatra can't take my eyes off of you - frankie valli walk like a man - frankie valli & four seasons if tomorrow never comes - garth brooks friends in low places - garth brooks freedom90 - george michael faith - george michael careless whisper - george michael / wham! speak o lord - the gettys falling slowly - glen hansard i will survive - gloria gaynor king of wishful thinking - go west iris - goo goo dolls wreck of the edmund fitzgerald - gordon lightfoot when the saints come marching in - Gospel walk with me - Gospel uncle john's band - grateful dead touch of grey - grateful dead sugar magnolia - grateful dead truckin' - grateful dead time of your life (good riddance) - green day when I come around - green day she - green day sweet child o' mine - guns 'n roses patience - guns 'n roses sweet child o' mine (inst) - guns n roses (arr. mcutillo) you make my dreams come true - hall & oates sarah smile - hall & oates i saw the light - hank williams hey good lookin' - hank williams cats in the cradle - harry chapin hear me in the harmony - harry connick jr let her cry - hootie & the blowfish hold my hand - hootie & the blowfish they hung Him on a cross - huddie leadbelly ledbetter version don't you want me?? - the human league lust for life - iggy pop the passenger - iggy pop never tear us apart - inxs devil inside - inxs whiskey in the jar - Irish drunken sailor - Irish beer, beer, beer - Irish sweet molly malone - Irish the irish rover - Irish (pogues' version) chocolate salty balls - isaac hayes somewhere over the rainbow - israel kamakawiwo ole' version upside down - jack johnson sitting, waiting, wishing - jack johnson do you remember - jack johnson better together - jack johnson we're gonna be friends - jack johnson version laid - james sweet baby james - james taylor shower the people - james taylor fire and rain - james taylor country road - james taylor how sweet it is - james taylor something in the way she moves - james taylor secret o' life - james taylor carolina in my mind - james taylor handyman - james taylor mockingbird - james taylor /carly simon you've got a friend - james taylor version sweet potato pie - james tayor / ray charles jane says - jane's addiction I'm yours - jason mraz you belong to me - jason wade version hava nagila - many more
Team
| | |
| --- | --- |
| Matthew Cutillo | Guitars & Vocals |
Influences & Inspiration
James Taylor, Santana, Elvis, Allmans, Sinatra, Hendrix, Beatles, Red Hot Chili Peppers, Billy Joel, Kiss, Zep, Who, Doors, Cash, Michael Jackson, too many to name, but that's a few
Setup Requirements
One electrical outlet