Your list is empty.
Save musicians, entertainers, speakers, and services, and they'll appear here.
Free Quick Quote
This vendor provides virtual services
Back to Classical Ensembles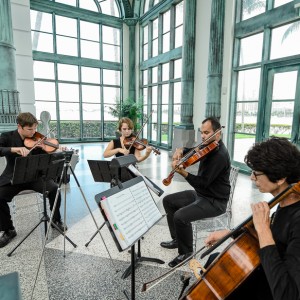 Master Musicians, Inc.
4.6
(9 reviews)
Delray Beach, FL
Travels up to 120 miles
$225 and up
Get a Free Quick Quote
Overview
We're here to make your event spectacular! Our talented Quartets, Trios, Duos & Soloists perform all styles of music from Classical to Contemporary.
We have a wide range of talented instrumentalists who play the Harp, Flute, Guitar, Cello, Violin, Piano, Saxophone,Steel Drums,multi-talented musicians and more! We pride ourselves on our boutique style service as we help guide you in choosing the best ensemble/instrumentalists based on the soundscape you wish to create for your big day.
Master Musicians has been providing Award Winning Performances in South Florida for over 20 years! It's our honor to share our music with you for Weddings,Private Parties, Corporate/Social events and more.
---
---
Booking Info
Insurance: $1 - We carry Liability Insurance
What to Expect
From the time you reach out to our staff for a quote, then continue onto the musician Booking process and then planning your song selections, our team is with you all the way! Our Personal Music Consultants work with you providing sound samples, video samples, and song suggestion lists to help guide you in selecting the best ensemble and song selections for your big day.
Our Musician pricing is industry standard and is dependent on the instrumentation and ensemble size. We work with you in customizing music options to meet your vision and budget.
While we understand budgeting can become a big factor when planning a special occasion, selecting a musician can either 'make or break' your big day. Our musicians are not only talented but will be there for you! There's nothing worse than having silence at your wedding ceremony because the Solo musician you hired never showed up -- yes, we hear those horror stories all the time. Master Musicians works with the best talent and are proud of our musicians professionalism, experience, and reliability!
About
Founded in 2000, Master Musicians has been a trusted name in the South Florida Entertainment Industry for over 20 years, providing clients with some of the best musicians in the area. We have been a part of over 7,000 special events and we are excited to continue providing our Award Winning Musicians & Ensembles to couples, companies, and families throughout South Florida! Specializing in providing customers with a boutique-style experience, we create customized music experiences for any special event! Our staff works one-on-one with clients to customize their live music experience from start to finish.
We can arrange for any size ensemble including Quartets, Trios, Duos and our talented musicians perform all genres from Classical to Contemporary, Pop music, Jazz, Latin, Rhythm & Blues, Reggae, Rock and more. Our instrumentalists include Strings, Harps, Guitars, Saxophone, Trumpets, Pianos, Steel Drums, Bagpipers and more who will create an unforgettable experience for all to enjoy!
Our Personal Music Consultants are trained musicians who will guide you in choosing the perfect ensemble/instrumentation based on the mood and soundscape you wish to create for your special day. We value the relationships we build with our clients and are available to assist during every stage of the planning: from determining the perfect ensemble and deciding special music requests, to post-event follow up.
A "2020 Brides Choice Award" winner and proud to be chosen as "The Knot Best of Wedding" every year since 2007, we understand that each client has a unique vision for their wedding day. We know your Wedding Day will be one of the most important and treasured experiences of your life. We guide you in selecting the best ensemble/instrumentation based on the mood/soundscape you wish to create and our talented musicians will make your special day spectacular!!
Master Musicians is proud to have a professional staff consisting of Board Certified Music Therapists (MT-BC), as well as musicians who hold advanced degrees in music. In addition to performing at events, our musicians can be found spending their time educating students in music and performing for the South Florida area elderly, as well as, children and adults with special needs and aiding in recovery addiction. We love what we do and it shows in our music!
Whatever type of affair you are having, once you have determined the mood you wish to create, everything falls into place such as the location, decorations, special touches, lighting, and most importantly the music. It is the music that you and your guests will enjoy setting the tone for an amazing affair!
We hope you reach out to us! You can look us up on our web site and social media sites -- we're fairly new within this forum but look forward to hearing from you and making your upcoming event spectacular!!
Additional Booking Notes
ABOUT SOME INSTRUMENTS
Harp Ensembles:
An important factor to consider is the venue you have chosen and whether it can accommodate a Harp. Harps typically weigh around 80+ pounds which makes them difficult to move and is typically moved with a Harp Dolly. This instrument may not be ideal for all venues. If your event is on a sandy beach, or outdoors without four walls containing the sound, or if the musician is expected to perform for more than 1 hour in two separate areas of the venue, we request that you provide us with more details before making this important decision. The Harpist should have a detailed idea of the load-in; how many stairs, if there is an elevator, etc. The instrument should be kept away from pets and children.
The Harp is a delicate instrument and must be on a flat, hard solid surface. Harps cannot be on grass or sand or sandy beaches. Alternative surface option may apply with some venues: You should provide a 4x6 hard platform/board for the musician to perform on Or we offer a board rental. Please ask us about this if your venue is outdoors.
Covering must always be provided for Outdoor Events/No Direct Sun: Harps are very delicate and valuable instruments and cannot take any sun or moisture. Here in Florida, Harps should be in the shade especially during the day. In winter months, depending on weather circumstances, time of day, direct sun may be okay for a short period but is NOT preferred. Wet weather plan is recommended as the instrument cannot be rained on.
Harp Sound Outdoors: When set up outdoors, without four walls, containing the sound may be too delicate to project well especially if there is a large guest count. The Harp may be lovely for a Wedding Ceremony but may not be ideal for the Cocktail Hour, if you have a large guest count.
Harp Special Amplification Upon Request: Equipment fee will apply (30 mins to install and 30 mins to uninstall).
______________
Steel Drums:
An important factor to consider is the venue you have chosen and whether it can accommodate the Steel Drums. Covering must always be provided for Outdoor Events/No Direct Sun. Here in Florida, during the hotter times of the year, the Steel Drums needs to avoid direct sunlight, which changes the size of the steel and throws off the pitch of the instrument. An umbrella is needed to shade the musician. The instrument cannot be on a sandy beach as it needs a flat and stable surface for the instrument and equipment. A 4' x 4' board is needed to insure the Musician has a flat and stable surface for his instrument and equipment if your venue is in an outdoor space. Please let us know any details as we do offer a board rental if needed. The musician should also have a detailed idea of the load-in; how many stairs, if there is an elevator, etc.
______________
PERFORMANCE TIME/OVERTIME:
Our musicians are hired and paid for the performance time requested. While our musicians are professional and will use their discretion, they typically will not leave during a Ceremony, Cocktail Hour, or Reception because they reached their scheduled performance "end time" after your event was running late. We encourage you to plan your timing accordingly and can add extra performance time beforehand in increments of 15 minutes.
Please reach out to us about timing in advance of booking. Any additional performance time is considered "Overtime" and is billed in 30 minute increments which must be paid on the day of the event in cash form.
Services Offered
Past Booked Events
December 06, 2020

•

6:00pm - 7:00pm
Birthday Party

March 07, 2020

•

4:30pm - 5:00pm
Wedding Ceremony

January 31, 2020

•

2:30pm - 3:00pm
Wedding Ceremony

January 18, 2020

•

5:30pm - 6:00pm
Birthday Party

December 20, 2019

•

5:30pm - 9:00pm
Christmas Party

December 07, 2019

•

4:00pm - 6:00pm
Dinner Party

December 06, 2019

•

4:00pm - 4:30pm
Cocktail Party

November 29, 2019

•

12:30pm - 1:15pm
Wedding Ceremony

November 23, 2019

•

5:00pm - 5:30pm
Wedding Ceremony

November 17, 2019

•

2:30pm - 3:30pm
Baby Shower

November 09, 2019

•

6:30pm - 7:30pm
Wedding Reception

November 09, 2019

•

4:30pm - 6:30pm
Wedding Ceremony

October 25, 2019

•

4:30pm - 6:00pm
Wedding Ceremony

October 12, 2019

•

1:00pm - 3:00pm
Personal Occasion

July 12, 2019

•

9:00pm - 9:30pm
Surprise

June 23, 2019

•

6:30pm - 7:30pm
Birthday Party

June 06, 2019

•

11:00am - 11:30am
Funeral/Memorial Service

March 26, 2019

•

2:00pm - 4:00pm
Retirement Community Event
Setup Requirements
2nd Set Up: If your event is held in different locations, or even if it is at the same venue but in separate areas of the venue, a "2nd Set Up Fee" may apply for some instrumentalists as the musician needs to breakdown equipment/relocate/set up