Your list is empty.
Save musicians, entertainers, speakers, and services, and they'll appear here.
Free Quick Quote
This vendor provides virtual services
Back to Mariachi Bands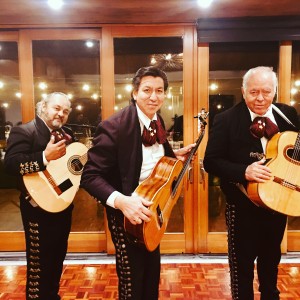 Mariachi Trio Estrellas De Oro
4.95
(24 reviews)
San Jose, CA
Travels up to 150 miles
$200.00 and up
Get a Free Quick Quote
Overview
"Mariachi Trio Estrellas de Oro" The Best Trio
100% Satisfaction Guarantee. Professional Musicians and Singers.
If you are seeking the Best of the Best Mariachi Trio for your Quinceaneras, Weddings, Fiestas, Manianitas, Serenades, Funerals, Family Reunions, Anniversaries,
Festival, or maybe a simple party........you will not be disappointed.......This mariachi Trio has one of the most amazing,soothing,romantic, energetic sounds and must be
seen live to believe!
Mariachi Trio Estrellas De Oro has been recognized by our society one of the best mariachi Trio in town. Our performance are done with ethics and charisma, besides our punctuality is one of our best assets.
---
---
Booking Info
Price Range: $200.00 and up
Gig Length: 30 - 300 minutes
Languages: English, Spanish
What to Expect
"Trio Estrellas De Oro" invites you to celebrate the Fiesta Latina this September 25, 2011 with the Oakland Raiders where we will be peforming for all fans. Come and enjoy!
About
Mariachi Trio Estrellas De Oro
El Trio se Formo en el Año 1984
la misma gente les dio el nombre en una fiesta alguien dijo
ustedes cantan y tocan muy bonito son unas Estrellas
en otra fiesta unas personas dijeron ustedes si que valen Oro.
y asi juntaron Estrellas De Oro compuesto por tres talentosos y profesionales elementos
desde 1984 hasta la fecha siguen resibiendo muchos aplausos, y haciendo felices a toda la gente donde se presentan.
***********************************************************************
The Trio was formed in 1984. They got their name when at a party someone said: "You sing and play very nice, you are stars". In another event someone said that they are as good as gold. We brought those two compliments together and came up with Golden Stars comprised of three talented and professional Elements "Trio Estrellas de Oro".
As of 1984 to date we continue to receive much applause and enjoy making everyone happy from the time we arrive.
Past Booked Events
May 04, 2018

•

8:00am - 9:00am
Corporate Event

July 29, 2017

•

6:00pm - 8:00pm
Cocktail Party

March 24, 2016

Birthday (Adult)
Set List
La Bamba - Guantanamera - El Mariachi loco - Coco Un Poco Loco -La Malagueña - El Soldado De La Evita - Caminos de michoacan - El Corrido De Los Perez -
Libro Abierto - El Ausente - Mi Luna Mi Estrella - El Rey - Volver - Volver -
Hermoso Cariño - Las Botas De Charro - Tragos De Amargo Licor - Un Riconcito En El Cielo - Desperado From The Movie El Mariachi - Deja - Tu Solo Tu - Mi Luna Y Mi Estrella
El Columpio, Mi Gusto es - El herradero - La feria De las Flores - Cruz de Olvido- Maria huchena - Guadalajara - Jalisco Jalisco - Me voy Pal Pueblo - Quien Sera Sera -
Deja - A mi manera - Alma De Cristal - Amemonos - Amor Eterno - Amor Mio - La Barca - Arrepentida - Asi - Besame mucho - Perfidia - Cariño Verdad - carta fatal - Celoso - Chacha linda - Cheque en blanco - Como un duende - consentida - Contigo - Crei - Desden - Dios me lo a dicho - El andariego - El Cariño que perdi - El diablo y yo - ella - Enrramada - Esposa Mia - estoy perdido - Falsa - flor sin retoño - Gema - Inresistible - Jacaranda - La gloria eres tu - La Hiedra - La hora y siempre - la Media Vuelta - La puerta - Cerca del mar - Llamarada - Mar y cielo - Maria Bonita - Me Voy Pal Pueblo - Mi linda esposa - Mia - Mil besos - Mil Noches - Morenita Mia - Motivos - Mucho Corazon - Mujer Ladina - Negrura - Nosotros - Novia Mia - Nuestro juramento - Odiame - Ojos cafes - Orgullo - Perdida - Peregrina - Tres Regalos - Gema - Pagina Blanca - que cosa es el amor - Quien Sera - Quiero Habrazarte tanto - Rayito de luna - Reloj - Sabor a mi - Sentencia - Si nos dejan - Sin Ti - suspenso infernal - tiempo - Esclavo y Amo - Tu eres el Camino - Tu eres mi destino - Un Motivo - Un sueño de tantos - Y - Cariño - Rosa Maria, Maria Isabel, La Bella tomasa - La Del Moño Colorado, La Yaquesita - etc...
Influences & Inspiration
Panchos, Dandys, Vicente, Jose Alfredo etc...
Testimonials
Tuesday, January 12, 2010 5:35 PM
From: "Valenzuela, Elena" <eva@RAIDERS.com> To: serenatasdirecto@yahoo.com
Trio Estrellas de Oro demonstrated professionalism and great charisma during our 2009 Hispanic Heritage Game. The Raiders celebrated a Fiesta Latina at the Oakland Coliseum and to do so it was of utmost importance to work with the best in the business, Serenatas Directo. The trio brought much delight to Raider fans due to their talent at singing authentic Mexican songs. The musicians were punctual and accountable for their service which is why we highly recommend Serenatas Directo to make your event a true success.
Elena.
– Elena
Services Review From: "jaime villarreal"<jaime_a_villarreal@.com>Add sender to Contacts To: serenatasdirecto@yahoo.com, serenatasdirecto.com Thanks you for providing superior services for my event. The soloist exceeded expectations and I also got alot of positive comments from the listeners. They wanted him to play more but he had a previous engagement. I would recommend this group to anyone seeking this kind of music to their next function.
– Jaime Villarreal (09/08/09)
From:
"Cynthia Gonzalez" cindy10311l@.com Saturday, July 25, 2009 1:14 PM
To:
serenatasdirecto@yahoo.com
El Trio made my proposal to my fiance that much more romantic, I was very pleased with their songs they were the life of the proposal. These three gentlemen are incredible to hear and very professional, I would definitely hire them again.
– Cynthia Gonzalez
Muchas Gracias!?
From: eric.dyce@.com
Sent: Tue 6/30/09 10:14 PM
To: serenatas directo (serenatasdirecto@yahoo.com)
Rigo. Gracias por la excelente musica! Mi madre era muy contenta.. Un abrazo!

Eric.
– Eric
Excelencia
Tuesday, June 23, 2009 8:41 AM
From:
"Emily De Flores" <guilleremily@.com>
Add sender to Contacts
To:
"RigobertoJimenez Serenatas" <serenatasdirecto@yahoo.com>
Excelencia,
Asi es como describo el servicio que brindan. Nuestro evento estuvoi alegre, lleno de vida y excelencia gracias a Serentas directo.com Mucho profesionalismo y asi es con la clase de personas que me gusta trabajar. Un gusto averlos conocido, y estamos muy pendientes para las actividades por venir.
Que Dios me los Bendiga siempre y que los mantenga llenandolos de pasion por la musica y por lo que hacen. Felicidades!
– Emily De Flores
Gracias
Saturday, June 20, 2009 4:42 PM
From:
This sender is DomainKeys verified
"elvia alfaro esparza." <avile17028@.mx>
Add sender to Contacts
To:
"serentas p phone" <serenatasdirecto@yahoo.com>
Buenas tardes,
Quisiera agradecer q por medio de la musica se pueda expresar los mas lindos sentimientos que en ocasiones con palabras no es posible u tal vez no nos atravemos.
serenatasdirecto, me brindo esta oportunidad MUCHAS GRACIAS!!
ea.AGS.MEX.
– Elvia Alfaro Esparza
--- On Tue, 7/15/08, Bob Valerio wrote: From: Bob Valerio Subject: Thank You To: serenatasdirecto@yahoo.com Date: Tuesday, July 15, 2008, 9:00 PM Rigo: I just want to tell you how happy my mother was and that everyone at her party enjoyed your music. I know that I wanted to have a live demo from you before purchasing the trio package, because I did this this purcahes online. I was not disappointed, you showed up on time and made my mother happy on her 90th birthday and made my aunt's and uncles happy and all my other family too. Thank you. Bob Valerio
– Bob Valerio
Dear - Serenatas Directo Tuesday, May 27, 2008 11:39 AM From: This sender is DomainKeys verified "Maricela Duarte" Add sender to Contacts To: "Serenatas directo" Maricela Duarte wrote:
Buenos Dias, Queria agradecerle por el servicio de Serenatas Directo.com Mi mama no tenia palabras para expressar su emocion de felicidad y alegria y eso se lo devo a ustedes. Tengan por seguro que recomendare su servicio a mis amigos y familia. Gracias por hacer un dia tan especial para mi madre, inonvidable. Bendiciones, Maricela
Duarte. …
– Maricela Duarte