Your list is empty.
Save musicians, entertainers, speakers, and services, and they'll appear here.
Free Quick Quote
This vendor provides virtual services
Back to Mariachi Bands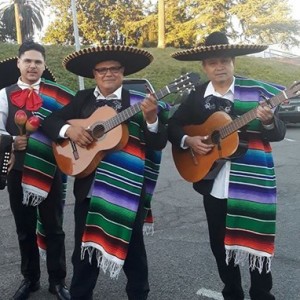 Mariachi Trio El Mexicano
4.68
(95 reviews)
Vallejo, CA
Travels up to 120 miles
Contact for rates
Get a Free Quick Quote
Overview
The Mariachi Trio El Mexicana is an extremely talented, entertaining, and professional band. Jorge Soto, the lead singer has more than 25 years of music experience. Mariachis band - the best Mexican music in Fairfield, Vallejo, Sonoma, San Francisco, Napa, Benicia.
---
---
Booking Info
Price Range: Contact for rates
Gig Length: 60 - 180 minutes
Languages: English, Spanish
What to Expect
The best Mariachi Band, trio for wedding or any events.
About
Mariachi Mexicano, Jorge Soto is the best singer Mariachi in the Bay Area.
Additional Booking Notes
Mariachi in San Francisco.
Services Offered
Upcoming Booked Events
September 25, 2021

•

3:00pm - 4:00pm
Birthday Party

September 25, 2021

•

5:00pm - 6:00pm
Birthday Party

September 25, 2021

•

6:00pm - 7:00pm
Birthday Party

September 25, 2021

•

6:00pm - 7:30pm
Dinner Party

November 06, 2022

•

3:00pm - 4:00pm
Wedding Ceremony
Past Booked Events
September 18, 2021

•

6:00pm - 6:30pm
Birthday Party

September 04, 2021

•

6:00pm - 7:00pm
Birthday Party

August 28, 2021

•

6:30pm - 7:30pm
Birthday Party

August 22, 2021

•

3:00pm - 5:00pm
Children's Birthday Party

August 21, 2021

•

8:00pm - 9:00pm
Birthday Party

August 21, 2021

•

4:00pm - 6:00pm
Birthday Party

August 07, 2021

•

5:00pm - 7:00pm
Birthday Party

August 06, 2021

•

9:00am - 9:15am
Birthday Party

July 28, 2021

•

12:30pm - 1:30pm
Funeral/Memorial Service

July 22, 2021

•

1:00pm - 1:45pm
Cocktail Party

July 18, 2021

•

8:30pm - 10:30pm
Reunion

July 17, 2021

•

5:30pm - 6:30pm
Wedding Cocktail Hour

July 10, 2021

•

5:00pm - 6:00pm
Birthday Party

July 10, 2021

•

3:00pm - 4:00pm
Dinner Party

June 26, 2021

•

5:30pm - 7:00pm
Wedding Engagement

June 26, 2021

•

4:00pm - 7:30pm
Personal Occasion

June 26, 2021

•

12:00pm - 1:00pm
Birthday Party

June 19, 2021

•

6:00pm - 10:00pm
Birthday Party

June 12, 2021

•

3:30pm - 7:30pm
Birthday Party

June 12, 2021

•

2:00pm - 3:00pm
Birthday Party

June 05, 2021

•

6:00pm - 7:00pm
Cocktail Party

June 05, 2021

•

3:00pm - 5:00pm
Birthday Party

June 04, 2021

•

7:00pm - 7:30pm
Anniversary Party

June 03, 2021

•

5:30pm - 8:30pm
Reunion

May 30, 2021

•

4:00pm - 6:00pm
Birthday Party

May 29, 2021–May 30, 2021

•

9:00pm - 5:00am
Festival

May 29, 2021

•

9:30am - 12:30pm
Corporate Event

May 23, 2021

•

4:30pm - 5:15pm
Wedding Reception

May 16, 2021

•

5:00pm - 6:00pm
Birthday Party

May 15, 2021

•

6:30pm - 8:00pm
Birthday Party

May 10, 2021

•

6:00pm - 8:00pm
Birthday Party

May 09, 2021

•

4:00pm - 7:00pm
House Party

May 09, 2021

•

2:30pm - 3:00pm
Personal Occasion

May 08, 2021

•

8:00pm - 10:00pm
Birthday Party

May 08, 2021

•

8:00pm - 10:00pm
Birthday Party

May 08, 2021

•

6:00pm - 8:00pm
Reunion

May 05, 2021

•

5:00pm - 8:00pm
Dinner Party

May 05, 2021

•

12:30pm - 2:00pm
Holiday Party

May 04, 2021

•

5:00pm - 5:30pm
Corporate Event

May 01, 2021

•

6:00pm - 9:00pm
House Party

April 24, 2021

•

4:00pm - 5:00pm
Birthday Party

April 24, 2021

•

4:00pm - 5:00pm
Surprise

April 17, 2021

•

6:00pm - 7:00pm
Birthday Party

April 04, 2021

•

6:00pm - 7:00pm
Birthday Party

March 06, 2021

•

7:00pm - 9:00pm
Birthday Party

March 06, 2021

•

4:00pm - 4:45pm
Birthday Party

March 05, 2021

•

1:00pm - 2:00pm
Funeral/Memorial Service

February 25, 2021

•

1:30pm - 2:00pm
Funeral/Memorial Service

December 25, 2020

•

6:00pm - 7:00pm
Surprise

October 31, 2020

•

7:00pm - 7:15pm
Birthday Party

October 17, 2020

•

4:00pm - 4:15pm
Anniversary Party

October 03, 2020

•

6:00am - 6:15am
Birthday Party

September 26, 2020

•

5:00pm - 6:00pm
Surprise

September 20, 2020

•

6:00pm - 7:00pm
Birthday Party

September 19, 2020

•

6:00pm - 7:00pm
Birthday Party

September 16, 2020

•

5:00pm - 6:00pm
Birthday Party

September 10, 2020

•

6:00pm - 6:30pm
Birthday Party

September 05, 2020

•

3:00pm - 4:00pm
Birthday Party

September 02, 2020

•

6:00pm - 8:30pm
Birthday Party

August 01, 2020

•

7:00pm - 9:00pm
Wedding Ceremony

July 20, 2020

•

6:30pm - 9:30pm
Birthday Party

July 18, 2020

•

8:00pm - 9:30pm
Birthday Party

June 21, 2020

•

4:00pm - 5:00pm
Surprise

June 20, 2020

•

2:00pm - 2:30pm
Birthday Party

June 13, 2020

•

5:00pm - 6:00pm
Birthday Party

June 07, 2020

•

4:30pm - 5:00pm
Birthday Party

June 05, 2020

•

7:00pm - 9:00pm
Personal Occasion

May 28, 2020

•

5:30pm - 6:15pm
Graduation

May 16, 2020

•

5:00pm - 7:30pm
Birthday Party

May 05, 2020

•

12:00pm - 2:00pm
Retirement Community Event

April 11, 2020

•

12:00pm - 12:45pm
Surprise

March 14, 2020

•

9:00pm - 10:00pm
Birthday Party

March 13, 2020

•

7:00pm - 7:30pm
Surprise

February 29, 2020

•

5:00pm - 7:00pm
Wedding Ceremony

February 22, 2020

•

3:30pm - 6:30pm
Corporate Event

February 15, 2020

•

5:00pm - 5:30pm
Funeral/Memorial Service

December 21, 2019

•

7:30pm - 8:30pm
Cocktail Party

December 07, 2019

•

3:30pm - 5:30pm
Christmas Party

November 30, 2019

•

3:00pm - 4:00pm
Birthday Party

October 27, 2019

•

1:00pm - 1:15pm
Wedding Engagement

October 24, 2019

•

7:30pm - 8:30pm
Dinner Party

October 19, 2019

•

4:00pm - 6:00pm
Birthday Party

October 12, 2019

•

2:00pm - 3:00pm
Cultural Event

October 05, 2019

•

7:00pm - 7:30pm
Birthday Party

September 21, 2019

•

3:00pm - 5:00pm
Birthday Party

August 31, 2019

•

6:30pm - 8:00pm
Birthday Party

August 31, 2019

•

6:00pm - 7:00pm
Birthday Party

August 28, 2019

•

8:00pm - 9:00pm
Birthday Party

August 24, 2019

•

5:00pm - 6:00pm
Birthday Party

August 17, 2019

•

3:00pm - 4:00pm
Birthday Party

August 04, 2019

•

3:30pm - 4:30pm
Birthday Party

August 03, 2019

•

1:30pm - 3:30pm
Birthday Party

July 13, 2019

•

2:30pm - 4:30pm
House Party

June 15, 2019

•

3:00pm - 7:00pm
Birthday Party

June 08, 2019

•

2:30pm - 3:30pm
House Party

June 08, 2019

•

2:00pm - 3:30pm
Children's Birthday Party

June 01, 2019

•

6:00pm - 7:00pm
Birthday Party

June 01, 2019

•

4:30pm - 7:30pm
Graduation

May 25, 2019

•

5:00pm - 7:00pm
Graduation

May 18, 2019

•

6:00pm - 7:00pm
Birthday Party

May 18, 2019

•

3:30pm - 6:30pm
Wedding Ceremony

May 18, 2019

•

3:00pm - 4:00pm
Anniversary Party

May 17, 2019

•

6:00pm - 7:00pm
Dinner Party

May 05, 2019

•

6:00pm - 8:00pm
Holiday Party

May 04, 2019

•

5:00pm - 6:00pm
Birthday Party

May 03, 2019

•

12:00pm - 1:00pm
Retirement Community Event

May 03, 2019

•

12:00pm - 1:00pm
Retirement Community Event

April 27, 2019

•

4:00pm - 5:00pm
Birthday Party

April 20, 2019

•

6:30pm - 7:30pm
Birthday Party

April 05, 2019

•

1:30pm - 2:30pm
Reunion

April 05, 2019

•

1:30pm - 2:30pm
Reunion

March 30, 2019

•

5:00pm - 6:00pm
Birthday Party

March 23, 2019

•

5:00pm - 7:00pm
Reunion

March 17, 2019

•

12:00pm - 12:45pm
Birthday Party

January 10, 2019

•

7:30pm - 8:00pm
Birthday Party

December 15, 2018

•

7:30pm - 8:30pm
Surprise

November 10, 2018

•

5:00pm - 7:00pm
Birthday Party

November 10, 2018

•

5:00pm - 6:00pm
Quinceañera

November 03, 2018

•

6:30pm - 8:30pm
Corporate Event

October 13, 2018

•

4:00pm - 6:00pm
Birthday Party

September 29, 2018

•

5:30pm - 8:30pm
Surprise

September 22, 2018

•

6:30pm - 7:30pm
Birthday Party

September 08, 2018

•

4:30pm - 5:30pm
Birthday Party

September 02, 2018

•

2:00pm - 3:30pm
Birthday Party

September 01, 2018

•

4:00pm - 6:00pm
Birthday Party

August 11, 2018

•

2:00pm - 4:30pm
Children's Birthday Party

August 10, 2018

•

7:00pm - 8:00pm
Rehearsal Dinner

July 28, 2018

•

5:30pm - 6:30pm
Dinner Party

July 28, 2018

•

4:00pm - 5:30pm
Reunion

July 22, 2018

•

4:00pm - 4:45pm
Birthday Party

July 21, 2018

•

7:00pm - 8:00pm
House Party

July 14, 2018

•

2:00pm - 3:00pm
Birthday Party

July 07, 2018

•

6:00pm - 8:00pm
Birthday Party

July 06, 2018

•

7:00pm - 8:00pm
Dinner Party

June 16, 2018

•

4:00pm - 7:00pm
Wedding Engagement

June 09, 2018

•

6:30pm - 8:30pm
Graduation

June 02, 2018

•

8:00pm - 9:00pm
Wedding Reception

June 02, 2018

•

2:00pm - 2:30pm
Birthday Party

May 12, 2018

•

4:30pm - 5:00pm
Nonprofit Event

May 11, 2018

•

6:00pm - 7:00pm
Birthday Party

May 05, 2018

•

6:00pm - 8:00pm
Holiday Party

May 05, 2018

•

5:00pm - 8:00pm
Festival

May 05, 2018

•

2:00pm - 5:00pm
Wedding Reception

May 05, 2018

•

1:00pm - 2:00pm
Holiday Party

May 05, 2018

•

12:00pm - 2:00pm
Dinner Party

May 05, 2018

•

11:00am - 1:00pm
Nonprofit Event

May 04, 2018

•

12:30pm - 1:30pm
Holiday Party

April 22, 2018

•

7:30pm - 7:45pm
Birthday Party

April 14, 2018

•

5:30pm - 7:30pm
Wedding Reception

March 31, 2018

•

5:00pm - 7:00pm
Fundraiser

February 10, 2018

•

5:30pm - 6:00pm
Wedding Engagement

February 03, 2018

•

3:30pm - 5:30pm
Baby Shower

January 13, 2018

•

4:00pm - 6:00pm
Retirement Party

December 17, 2017

•

2:00pm - 2:30pm
Birthday Party

December 09, 2017

•

7:00pm - 8:00pm
Birthday Party

December 09, 2017

•

5:00pm - 10:00pm
Wedding Reception

November 23, 2017

•

5:00pm - 6:00pm
Reunion

November 11, 2017

•

9:00am - 10:30am
Personal Occasion

October 29, 2017

•

1:00pm - 2:30pm
Anniversary Party

October 14, 2017

•

5:00pm - 7:00pm
Birthday (Adult)

October 14, 2017

•

4:30pm - 7:30pm
Nonprofit Event

October 04, 2017

•

12:00pm - 12:30pm
Corporate Event

September 16, 2017

•

7:00pm - 9:00pm
Personal Occasion

September 09, 2017

•

8:30pm - 9:30pm
Birthday (Adult)

September 03, 2017

•

5:30pm - 6:30pm
Wedding Cocktail Hour

September 02, 2017

•

5:00pm - 6:30pm
Wedding Reception

August 26, 2017

•

5:30pm - 7:00pm
Dinner Party

August 26, 2017

•

5:30pm - 6:30pm
Wedding Reception

August 26, 2017

•

5:00pm - 9:00pm
Dinner Party

August 18, 2017

•

7:00pm - 7:45pm
Birthday (Adult)

August 14, 2017

•

8:00pm - 9:00pm
Birthday (Adult)

August 13, 2017

•

6:30pm - 6:45pm
Birthday (Adult)

August 12, 2017

•

5:00pm - 8:00pm
Birthday (Adult)

August 05, 2017

•

6:00pm - 8:00pm
Dinner Party

August 05, 2017

•

6:00pm - 7:00pm
Corporate Event

August 05, 2017

•

4:00pm - 5:00pm
Birthday (Adult)

July 29, 2017

•

5:00pm - 6:00pm
Birthday (Adult)

July 29, 2017

•

4:00pm - 5:00pm
Birthday (Teen)

July 29, 2017

•

1:00pm - 2:30pm
Birthday (Adult)

July 28, 2017

•

11:00am - 1:30pm
Funeral/Memorial Service

July 22, 2017

•

5:00pm - 7:00pm
Wedding Ceremony

July 22, 2017

•

3:30pm - 5:30pm
Wedding Reception

July 15, 2017

•

5:00pm - 6:00pm
Birthday (Adult)

July 08, 2017

•

5:00pm - 6:30pm
Reunion

July 01, 2017

•

8:00pm - 9:00pm
Birthday (Adult)

June 30, 2017

•

5:00pm - 6:00pm
Birthday (Adult)

June 24, 2017

•

8:00pm - 8:45pm
Wedding Reception

June 24, 2017

•

11:00am - 11:45am
Anniversary Party

June 22, 2017

•

5:00pm - 6:30pm
Retirement Party

June 21, 2017

•

7:00pm - 7:15pm
Birthday (Adult)

June 17, 2017

•

2:00pm - 3:00pm
Birthday (Adult)

June 17, 2017

•

1:00pm - 2:00pm
Fundraiser

June 10, 2017

•

6:00pm - 8:00pm
Graduation

June 03, 2017

•

6:00pm - 8:00pm
Wedding Engagement

May 27, 2017

•

5:30pm - 7:30pm
Graduation
Set List
Weddings
• Baptisms
• Sweet 16
• Church events/Mass
• Family parties
• Serenades
• Graduations
• Anniversaries
• Birthdays
• Funerals
• Bodas
• Bautizos
• Quinceañeras
• Misas
• Fiestas Familiares
• Serenatas
• Graduaciones
• Aniversarios
• Cumpleaños
• Funerales