Your list is empty.
Save musicians, entertainers, speakers, and services, and they'll appear here.
Free Quick Quote
This vendor provides virtual services
Back to Violinists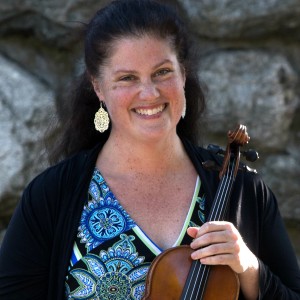 Karen Burciaga, violinist and fiddler
4.86
(28 reviews)
Boston, MA
Travels up to 60 miles
$150-500
Get a Free Quick Quote
Overview
Karen Burciaga is a versatile violinist and fiddler based in Boston. She performs classical music, pop songs, soundtracks, Irish tunes, and more in many different settings including concert halls, churches, historic homes and colonial taverns. Karen often performs along with cello, guitar, harp, or bagpipes but is always available for solo engagements.
Karen is happy to work with clients to find just the right music for each and every occasion!
Additional musicians:
Daniel Meyers — uilleann pipes, Irish flute, bodhran
Shelley Otis — harp
Matthew Wright — guitar, Irish bouzouki, vocals
Rebecca Shaw/Arreaux Strings — cello and string trios/quartets
Björn Wennås — guitar
Joy Grimes — fiddle
---
---
Booking Info
Gig Length: 30 - 180 minutes
Languages: English, German
About
A classically trained musician with a Master of Music degree, Karen has explored various folk fiddle traditions. She plays with Seven Times Salt, an early music ensemble dedicated to music of the 16th-17th centuries. Her trio, Ulster Landing, plays Celtic music on fiddle, harp, and uilleann (Irish) pipes. She recently became the fiddler for Newpoli, a Southern Italian folk band. In addition, her knowledge of classical violin repertoire gives her a wide variety of music to select from.
Upcoming Booked Events
June 24, 2023

•

4:00pm - 5:00pm
Wedding Ceremony

October 07, 2023

•

4:30pm - 6:30pm
Wedding Ceremony

October 13, 2023

•

4:00pm - 6:00pm
Wedding Ceremony
Past Booked Events
November 12, 2022

•

1:30pm - 3:00pm
Wedding Ceremony

October 15, 2022

•

12:30pm - 1:30pm
Wedding Ceremony

October 06, 2022

•

6:30pm - 8:00pm
Cocktail Party

September 23, 2022

•

4:00pm - 5:00pm
Wedding Ceremony

June 23, 2022

•

6:00pm - 9:00pm
Birthday Party

June 11, 2022

•

5:00pm - 6:00pm
Wedding Ceremony

May 22, 2022

•

5:00pm - 6:00pm
Wedding Ceremony

May 19, 2022

•

2:00pm - 3:00pm
Retirement Community Event

May 07, 2022

•

4:30pm - 6:00pm
Wedding Ceremony

March 20, 2022

•

10:00am - 11:30am
Religious Celebration

October 17, 2021

•

3:30pm - 4:30pm
Wedding Ceremony

September 05, 2021

•

5:30pm - 6:30pm
Wedding Ceremony

August 06, 2021

•

5:30pm - 6:30pm
Wedding Ceremony

July 15, 2021

•

5:00pm - 7:00pm
Wedding Ceremony

November 09, 2020

•

12:30pm - 1:00pm
Birthday Party

October 18, 2020

•

1:00pm - 1:30pm
Wedding Ceremony

October 11, 2020

•

4:00pm - 5:00pm
Wedding Ceremony

September 05, 2020

•

6:00pm - 6:45pm
Wedding Ceremony

September 05, 2020

•

2:00pm - 4:00pm
Wedding Ceremony

August 01, 2020

•

3:00pm - 4:00pm
Wedding Ceremony

July 11, 2020

•

4:00pm - 6:00pm
Wedding Ceremony

June 14, 2020

•

4:30pm - 5:30pm
Wedding Ceremony

November 07, 2019

•

6:00pm - 7:00pm
Corporate Event

October 19, 2019

•

3:30pm - 4:30pm
Wedding Ceremony

September 21, 2019

•

10:00am - 11:00am
Wedding Ceremony

September 14, 2019

•

4:00pm - 5:30pm
Wedding Ceremony

September 02, 2019

•

12:00pm - 1:00pm
Wedding Ceremony

July 19, 2019

•

4:00pm - 5:00pm
Wedding Ceremony

April 27, 2019

•

6:00pm - 7:00pm
Nonprofit Event

March 30, 2019

•

8:30pm - 10:30pm
Birthday Party

February 19, 2019

•

12:00pm - 12:45pm
Wedding Ceremony

January 19, 2019

•

4:00pm - 4:45pm
Funeral/Memorial Service

January 11, 2019

•

3:00pm - 3:30pm
Wedding Ceremony

December 31, 2018

•

5:00pm - 6:30pm
Dinner Party

December 16, 2018

•

4:00pm - 5:00pm
Dinner Party

November 24, 2018

•

12:00pm - 1:30pm
Funeral/Memorial Service

October 06, 2018

•

5:00pm - 6:00pm
Wedding Cocktail Hour

November 27, 2017

•

5:30pm - 6:30pm
Christmas Party

August 05, 2017

•

5:00pm - 5:30pm
Wedding Ceremony

July 01, 2017

•

4:30pm - 5:30pm
Wedding Ceremony

May 28, 2017

•

3:00pm - 4:00pm
Wedding Ceremony

January 20, 2017

•

4:00pm - 4:30pm
Wedding Ceremony

December 17, 2016

•

3:30pm - 4:00pm
Wedding Ceremony

October 25, 2016

•

6:30pm - 7:30pm
Cocktail Party

September 17, 2016

Wedding Ceremony

September 09, 2016

•

6:30pm - 8:00pm
Cocktail Party

August 20, 2016

•

4:00pm - 5:00pm
Wedding Ceremony

August 19, 2016

•

4:30pm - 5:00pm
Wedding Ceremony

July 03, 2016

Wedding Ceremony

May 21, 2016

Wedding Ceremony

May 14, 2016

•

2:00pm - 3:00pm
Wedding Ceremony

November 14, 2015

Funeral/Memorial Service

October 17, 2015

Wedding Reception

October 04, 2015

•

7:00pm - 8:00pm
Wedding - Portsmouth, RI

October 03, 2015

•

7:00pm - 8:00pm
Concert - Amherst, MA

September 27, 2015

•

7:00pm - 8:00pm
Wedding - Mashpee, MA

September 26, 2015

•

7:00pm - 8:00pm
Wedding Reception - Gloucester, MA

September 24, 2015

•

7:00pm - 8:00pm
Concert - Somerville, MA

September 18, 2015

•

7:00pm - 8:00pm
Wedding - Providence, RI

September 12, 2015

•

7:00pm - 8:00pm
Wedding - Plymouth, MA

July 26, 2014

Wedding Ceremony
Set List
All I Want is You U2
All my Loving LENNON/MCCARTNEY
All of Me JOHN LEGEND
All of Me SUNG BY FRANK SINATRA
All the Single Ladies BEYONCE
All You Need is Love BEATLES
Alleluia LEONARD COHEN
Always on My Mind SUNG BY WILLIE NELSON
Amazing Grace TRADITIONAL
Annie's Song JOHN DENVER
Arioso J.S. BACH
Ashokan Farewell JAY UNGAR
As Time Goes By FROM "CASABLANCA"
A Thousand Years CHRISTINA PERRI
At Last SUNG BY ETTA JAMES
Banish Misfortune TRAD. IRISH
Be Thou My Vision TRAD. IRISH
Beautiful Day U2
Beauty Charming, Fair and Young SCOTTISH TRADITIONAL
Best Day of my Life AMERICAN AUTHORS
Blue Skies IRVING BERLIN
Both Sides Now JONI MITCHELL
Can You Feel the Love Tonight from "The Lion King" ELTON JOHN
Canon in D JOHANN PACHELBEL
Can't Help Falling in Love SUNG BY ELVIS PRESLEY
The Circle of Life FROM "THE LION KING"
Concerning Hobbits FROM "THE HOBBIT"
Count on Me BRUNO MARS
Dirty Water THE STANDELLS
A Dream is a Wish your Heart Makes FROM WALT DISNEY'S "CINDERELLA"
Faithfully JOURNEY
Fanny Power TRAD. IRISH
Fields of Gold STING
Flowers of Edinburgh SCOTTISH TRADITIONAL
From this Moment On SHANIA TWAIN
Game of Thrones theme RAMIN DJAWADI
Gartan Mother's Lullaby IRISH TRADITIONAL
God Only Knows THE BEACH BOYS
The Greatest Love of All SUNG BY WHITNEY HOUSTON
Happy Together THE TURTLES
Haste to the Wedding IRISH TRADITIONAL
Hole in the Wall HENRY PURCELL
Home EDWARD SHARPE AND THE MAGNETIC ZEROS
Hornpipe from Water Music G.F. HANDEL
I Will BEATLES
I'm Shipping up to Boston DROPKICK MURPHYS
Jesu Joy of Man's Desiring J.S. BACH
Just the Way You Look Tonight SUNG BY FRANK SINATRA
La Vie en Rose EDITH PIAF
L'Appuntamento ORNELLA VANONI
Lass o' Peatie's Mill SCOTTISH TRADITIONAL
Last Dance SARAH MCLACHLAN
"Last of the Mohicans" theme D. MACLEAN
Love Story TAYLOR SWIFT
Lovers' Waltz JAY UNGAR
The Luckiest BEN FOLDS
Mairie's Wedding TRAD. SCOTTISH
Make You Feel My Love BOB DYLAN/ADELE
Man in the Mirror SUNG BY MICHAEL JACKSON
Marry Me TRAIN
Marry You BRUNO MARS
Matchmaker, Matchmaker FROM "FIDDLER ON THE ROOF"
Moon River HENRY MANCINI
My Darling Asleep TRAD. IRISH
Ode to Joy L. VAN BEETHOVEN
One Hand, One Heart from "West Side Story" LEONARD BERNSTEIN
The Prayer SUNG BY CELINE DION
Rights of Man TRAD. IRISH
Sea of Love PHIL PHILLIPS
Sheep May Safely Graze J.S. BACH
Shelter from the Storm BOB DYLAN
Shipping Up to Boston DROPKICK MURPHYS
Siman Tov Mazel Tov JEWISH TRADITIONAL
Skye Boat Song SCOTTISH
Someday my Prince will Come FROM WALT DISNEY'S "CINDERELLA"
Someone Like You ADELE
Somewhere over the Rainbow FROM "THE WIZARD OF OZ"
Song Sung Blue NEIL DIAMOND
Speak Softly Love from "The Godfather" NINO ROTA
"Spring" from the Four Seasons ANTONIO VIVALDI
Strangers in the Night SUNG BY FRANK SINATRA
Summertime GEORGE GERSHWIN
Sunrise, Sunset FROM "FIDDLER ON THE ROOF"
Take Five DAVE BRUBECK
Time after Time CYNDI LAUPER
Trumpet Voluntary JEREMIAH CLARKE
Tumbalalaika
Watermark ENYA
Wedding March from "Midsummer Night's Dream" FELIX MENDELSSOHN
What a Wonderful World SUNG BY LOUIS ARMSTRONG
When You Wish Upon a Star
A Whole New World FROM "ALADDIN"
Yellow COLDPLAY
You Raise Me Up SUNG BY JOSH GROBAN