Your list is empty.
Save musicians, entertainers, speakers, and services, and they'll appear here.
Free Quick Quote
This vendor provides virtual services
Back to Singing Guitarists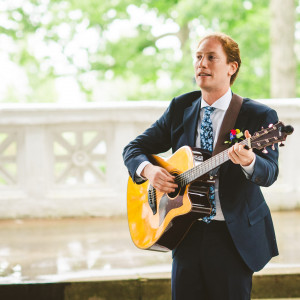 Justin Elliot
4.97
(44 reviews)
Charlotte, NC
Travels up to 1500 miles
$200 and up
Get a Free Quick Quote
Overview
I am a solo acoustic guitarist (also available to play electric upon request) with a background in Rock & Roll, Soul and A Cappella. I am happy to play and learn nearly any genre of music. What makes my act unique is my ability to connect with the audience and play to the crowd- I am always happy to take on the spot requests. I would love to play at your party, wedding, engagement, proposal or anything else!
Song list of 500+ songs!
---
---
Booking Info
Languages: English, Spanish
What to Expect
An energetic singer with experience performing and engaging an audience (also happy to perform less engaging background music).
Accompanied by my acoustic guitar.
About
I am a soulful/blues/rock singer. I have an a cappella and choral background. You can expect to hear a number of great covers done by me and my acoustic guitar. Songs by The Band, Mumford and Sons, Van Morrison, CCR and many others.
Additional Booking Notes
I currently own a microphone and PA system. All that is needed is an electrical outlet.
Upcoming Booked Events
May 27, 2022

•

6:00pm - 10:00pm
Rehearsal Dinner
Past Booked Events
April 23, 2022

•

7:30pm - 9:00pm
Personal Occasion

April 21, 2022

•

7:30pm - 9:30pm
Cocktail Party

March 31, 2022

•

4:30pm - 6:30pm
Corporate Event

March 22, 2022

•

5:00pm - 6:30pm
Corporate Event

November 20, 2021

•

11:00am - 2:00pm
Holiday Party

November 04, 2021

•

5:00pm - 6:00pm
Corporate Event

September 11, 2021

•

7:00pm - 9:30pm
Birthday Party

August 06, 2021

•

7:00pm - 9:00pm
Birthday Party

June 12, 2021

•

5:00pm - 8:00pm
Graduation

May 15, 2021

•

6:00pm - 10:00pm
Graduation

October 28, 2020

•

6:00pm - 8:30pm
Birthday Party

October 02, 2020

•

5:30pm - 9:30pm
Wedding Reception

September 12, 2020

•

5:00pm - 7:00pm
Birthday Party

April 26, 2020

•

6:00pm - 6:45pm
Virtual Event

February 29, 2020

•

5:30pm - 8:30pm
Wedding Reception

December 14, 2019

•

7:00pm - 7:30pm
Wedding Engagement

December 14, 2019

•

10:00am - 2:30pm
Wedding Ceremony

November 26, 2019

•

4:00pm - 4:30pm
Wedding Engagement

October 27, 2019

•

12:00pm - 2:00pm
House Party

October 05, 2019

•

4:00pm - 5:30pm
Wedding Ceremony

September 28, 2019

•

6:00pm - 9:00pm
Birthday Party

September 28, 2019

•

4:30pm - 5:15pm
Festival

September 21, 2019

•

4:00pm - 6:00pm
Wedding Ceremony

August 17, 2019

•

7:30pm - 7:45pm
Wedding Engagement

July 20, 2019

•

3:00pm - 5:00pm
Fundraiser

June 28, 2019

•

4:00pm - 7:00pm
Corporate Event

June 27, 2019

•

6:00pm - 8:00pm
Product Promotion

June 07, 2019

•

11:30am - 3:00pm
Surprise

May 11, 2019

•

7:00pm - 10:00pm
Birthday Party

May 06, 2019

•

12:00pm - 1:30pm
Surprise

April 27, 2019

•

6:00pm - 6:45pm
Dinner Party

March 30, 2019

•

4:00pm - 6:30pm
Wedding Ceremony

February 16, 2019

•

12:00pm - 12:15pm
Personal Occasion

December 22, 2018

•

3:30pm - 4:00pm
Personal Occasion

December 19, 2018

•

6:00pm - 6:15pm
Personal Occasion

December 09, 2018

•

8:30pm - 8:45pm
Surprise

December 01, 2018

•

8:00pm - 11:00pm
House Party

November 06, 2018

•

7:00pm - 8:30pm
Corporate Event

September 20, 2018

•

4:30pm - 8:30pm
Cocktail Party

September 16, 2018

•

10:30am - 12:30pm
Wedding Ceremony

September 16, 2018

•

10:00am - 12:00pm
Wedding Ceremony

September 02, 2018

•

2:00pm - 5:00pm
House Party

July 28, 2018

•

4:00pm - 7:00pm
Graduation

July 14, 2018

•

7:30pm - 10:00pm
Dinner Party

June 23, 2018

•

6:00pm - 8:00pm
Personal Occasion

June 09, 2018

•

5:30pm - 8:30pm
Personal Occasion

May 18, 2018

•

7:00pm - 10:00pm
Birthday Party

February 05, 2018

•

6:30pm - 9:30pm
Corporate Event

December 16, 2017

•

7:00pm - 10:30pm
Christmas Party

December 13, 2017

•

6:30pm - 8:00pm
Holiday Party

December 08, 2017

•

6:30pm - 8:00pm
Holiday Party (Christmas)

November 11, 2017

•

3:00pm - 3:15pm
Personal Occasion

October 01, 2017

•

10:00am - 10:15am
Surprise

September 23, 2017

•

8:30pm - 10:30pm
Birthday (Adult)

August 24, 2017

•

6:00pm - 8:30pm
Wedding Reception

October 28, 2016

•

1:00pm - 1:30pm
Birthday (Adult)

June 25, 2016

•

4:00pm - 9:00pm
Graduation

April 27, 2016

•

8:00pm - 11:00pm
Cocktail Party

February 06, 2016

Wedding Engagement

January 29, 2016

Anniversary Party

December 18, 2015

Holiday Party (Other)
Set List
Adele- Hello
Air Supply- Making love out of nothing at all
Al Green- Tired of Being Alone
Alan Jackson- Little Bitty
Aloe Blacc- Wake me up
Amy Winehouse- Valerie
Arcade Fire- Rococo
Avett Brothers- Head full of doubt
Avett Brothers- I wish I as
Badfish - Sublime
Bastille- Pompeii
beach boys-god only knows
Ben E King- Stand by me
Ben Rector- Follow you
Bill Withers- Lovely Day
Bill Withers- Lean on me
Billy Joel- Only the good
Bing Crosby- White Christmas
Blind Pilot- One red Thread
Blues Traveler- Hook
Bob Dylan- Dont Think Twice its alright
Bob Marley- No woman no cry
Bob Marley- One Love
Bob Seger- Night Moves
Bob Seger- Against the Wind
Bob Seger- Turn the Page
bon iver-Skinny Love
Bon Jovi- Living on a Prayer
Boyz II Men- A song for Mama
Bruce Springsteen- Born to run
Bruce Springsteen- Dancing in the dark
Bruce Springsteen- Im on Fire
Bruce Springsteen- Santa Claus
Bruce Springsteen-Atlantic City
Bruno Mars- Marry You
Bruno Mars-Grenade
Cage the elephant - Cigarette Daydreams
Cage the Elephant- Aint no rest for the Wicked
CCR-Bad Moon Rising
CCR-Fortunate Son
CCR-Have you ever seen the rain
CCR-Lodi
CCR-Lookin out my back door
CCR-Wholl stop the rain
Chris Stapleton- Tennessee Whiskey
Chris Stapleton-Broken Halos
Chris Stapleton-trying to untangle my mind
Coldplay- Clocks
Coldplay- Yellows
Counting Crows- Mr Jones
CSN- Southern Cross
Curtis Mayfield- People Get Ready
Damian Marley- Patience
Darius Rucker- Wagon Wheel
Dawes- If I wanted someone
Dawes- When my time comes
Dear Evan Hanson- Waving through a Window
Death Cab- I will Follow you into the Dark
Def Leopard- Pour Some Sugar
Dierks Bentley- Free and Easy
Don Mclean- American Pie
Eagle Eye Cherry- Save Tonight
Earth Wind and Fire- Boogie Wonderland
Earth Wind and Fire- Lets Groove
Earth Wind and Fire- September
Ed Sheeran- Perfect
Ed Sheeran- shape of you
Ed Sheeran- Thinking out loud
Edward Sharpe Magentic Zeroes- Home
Eli Young Band- Even if it Breaks your Heart
Ella Fitzgerald- Aint Misbehavin
Elton John- Tiny Dancer
Elvis- Cant Help falling in Love
Elvis- Cant Help falling in Love
Elvis- HOund Dog
Eurythmics- Sweet Dreams
Fitz and the Tantrums- Handclap
Florence and the Machine- Shake it Out
Florence and the Machine- The Dog Days are Over
Foo Fighters- Best of You
Frank Sinatra- Come Fly with me
Frank Sinatra- New York New York
Frankie Valli- Cant Take my Eyes off of you
George Harrison- My Sweet Lord
Glen Hansard- leave
Glen Hansard- Say it to me Now
Gloria Gaynor- I will survive
Goo Goo Dolls- Iris
Goo Goo Dolls- Slide
Graham Nash - Better days
Grateful Dead- Sugaree
Greenday-Good Riddance
Hootie and the Blowfish- Hold My Hand
Hootie and the Blowfish- Only wanna be with you
Hozier- Someone New
Hozier- Work Song
Imagine Dragons- Demons
Imagine Dragons- On top of the world
Israel K- Somewhere over the Rainbow
Jackie Wilson - Higher and higher
Jackson Browne- Doctor My Eyes
Jackson Browne- Running on empty
Jackson Browne-These days
James Arthur- Say you wont let go
James Bay- Let it go
James Brown- I got you I feel Good
James Taylor- Sweet Baby James
james taylor-how sweet it is
Jason Mraz- I'm Yours
JEff Buckley- Hallelujah
Jim Croce-Bad Bad leroy Brown
Jim Croce-Walking back to Georgia
Jimi Hendrix- Little Wing
John Legend- All of me
John Lennon- Happy Xmas
John Mayer- Gravity
John Mayer- Waiting on the World
John Mayer-XO
John Mellencamp-Jack and Diane
John Mellencamp- PInk Houses
John Mellencamp- Small Town
Johnny Cash- I Walk the Line
Johnny Cash- Ring of Fire
Justin Bieber- I would
Kaleo- All the pretty girls
Kevin Morby- I have been to the mountain
Lana Del Ray- Young and Beautifu;
Leon Bridges-River
Leon Bridges-Smooth Sailin
Lindsay Buckingham- Holiday Road
Lord Huron-night we met
Luis Fonsi- Despacito
Lukas graham- 7 Years
Lynyrd Skynard- Simple Man
Maggie Rogers-Alaska
manchester orchestra-the gold
Manchester Orechestra- April Fool
Mariah Carey- All i want for Christmas
Maroon 5 - Sugar
Maroon 5 - SUnday Mornings
Marshall Tucker Band- Cant You See
Meghan Trainor- LIke Im Gonna Lose You
Michael Buble- everything
Michael Buble-feeling good
Michael Buble-Home
Michael Jackson- Beat it
Michael Jackson- Billie Jean
Misc- Jingle Bells
Misc- O Holy Night
Misc-Happy birthday
Misc-Winter Wonderland
Modest Mouse- Float On
Mumford and Son- Fare the well
Mumford and Sons- Winter Winds
Mumford and Sons-White Blank Page
Muse- Hysteria
Nate Rateliff- Howling at Nothin
Nate Rateliff-SOB
Neil young- Heart of Gold
Neil Young-Old Man
Oasis- Wonderwall
Of monsters and Men- Little talks
One Republic- Counting Stars
Otis Redding- Sittin on the doc
P!nk- Try
Pail Simon- Slip Sliding Away
Panic at the Disco- Death of a bachelor
Passenger- Let Her Go
Pearl Jam - Better man
Peter Garbiel- Solsbury Hill
Pinegrove- Angelina
Pink Floyd- Breathe
Pink Floyd- Time
Pink Floyd- Wish you were here
Pippin-Corner of the Sky
Plain White T's- Hey there Delilah
Ray Lamontagne- How Come
Rascal Flatts- My Wish
Red Hot Chili Peppers-Otherside
Red Jumpsuit Apparatus- Face Down
Rick Springfield-Jessies Girl
Rod Stewart- Maggie May
Rolling Stones- beast of burden
Sam Cooke- A Change is gonna come
Sam Cooke- What a wonderful World
Sam Cooke-Twistin the night away
Sam Smith- Latch
Sara Baraeilles- King of Anything
Semi-sonic- Closing Time
Simon and Garfunkel - Bridge over troubled Water
Simon and Garfunkel- The Boxer
SoundGarden-Black Hole Sun
Steppenwolf-Werewolves on London
Stevie Wonder- Superstition
Sublime- Lay me down
Sublime-Badfish
The Animals- House of th RisingSun
The Band- The Weight
The Band- Up on Cripple creek
The Band-Atlantic City
The beatles - in my life
The Beatles- Come Together
The Beatles- Get Back
The Beatles- Ive just seen a face
The Beatles- Let it be
The Beatles- Here comes the sun
The Beatles- Little Help from my Friends
The Beatles- Penny Lane
The Beatles- Something
The Beatles-A Hard Days Night
The Decemberists- Dont Carry it All
The Doors- Riders on the storm
The Doors- Roadhouse Blues
The Eagles- One of these nights
The eagles- Take it easy
The Eagles- Tequila Sunrise
The Eagles-Desperado
The Head and the Heart- Rivers and Roads
The hollies- Long cool woman in a black dress
the kooks - seaside
The Lumineers- Angela
The Lumineers- Hey Ho
The Lumineers- Long way from home
The Lumineers- Stubborn Love
The Red Hot Chili Peppers- under the bridge-
The Shins-New Slang
The Strokes- SOmeday
The Strumbellas- Spirits
The Temptations-My Girl
The war on Drugs- Pain
The Who- Behind Blue Eyes
Tim Mcgraw- My LIttle Girl
Tina Turner- Proud Mary
Tom Petty- Mary Janes Last Dance
Tom Petty- Refugee
Tom Waits- Come on up to the House
Toto-Africa
Tracy Chapman- Fast Car
Tracy Chapman- Gimme one reason
Train- Meet Virginia
U2-I still havent found what Im looking for
UB40- Red Red Wine
Van Morrison- Caravan
Van Morrison- Crazy Love
Van morrison- Sweet Thing
Van morrison- Wild Nights
Van Morrison-Moondance
Vance Joy- Fire and the Flood
Vance Joy- Riptde
Vulfpeck-Wait for the Moment
Walk the Moon- Shut up and Dance
X Ambassadors- unsteady
Young the Giant- Cough Syrup
Zac Brown Band Knee Deep
Zac Brown Band Natural Disaster
Zac Brown Band Remedy
Zac Brown Band- Home grown
Influences & Inspiration
The Band, Led Zeppelin, Sam Cooke, Jackie Wilson, Stevie Wonder, James Taylor, Metallica, Van Morrison, Freddie Mercury, CCR, Mumford & Sons, CSNY
Setup Requirements
Electric outlet!