Your list is empty.
Save musicians, entertainers, speakers, and services, and they'll appear here.
Free Quick Quote
This vendor provides virtual services
Back to Singing Guitarists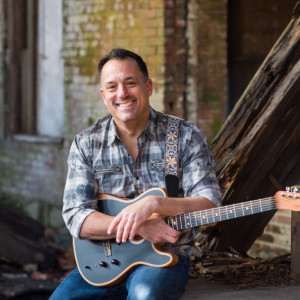 John Polino
5.0
(7 reviews)
Winthrop, MA
Travels nationwide
Rates starting at $300
Get a Free Quick Quote
Overview
I am a Guitarist/Vocalist who specializes in providing popular, upbeat music for all occasions. From Elvis to Imagine Dragons, I've got it covered.
Wheather you're looking for a "Singer/Songwriter" vibe using only guitar & vocal or a "Live Band" feel with background tracks and stage lighting, I can make it happen.
Can't decide if you want Live Music or a DJ... You don't have to. I do both! Many clients chose to incorporate a set of LIVE music during cocktail hour or dinner, then dance the night away to DJ music!
Give me a shot and I'll work with you to make sure the vibe is exactly what you want. Thanks, John
---
---
Booking Info
Price Range: Rates starting at $300
Gig Length: 60 - 240 minutes
What to Expect
In most cases I will arrive at the performance location approximately 30 - 45 minutes ahead of the scheduled start time. Set up typically takes me about 10 minutes. I require minimal power and space. During a typical 3 hour gig, I would perform 3, 45-50 minute sets and provide pre-recorded music during set breaks.
About
Hello Live Music Fan,
I have been singing, playing guitar and entertaining audiences for almost 30years. I've played in some of Boston's most popular cover bands (Hot Mess, Dick n Jane, Fat Tuesday) and have travelled across New England and abroad to play some large, high profile gigs and some small, intimate performances. I have the ability and experience to read an audience and tailor my set list to needs and vibe of the event. Whether it's a classic Zeppelin tune, a folksy singer-songwriter standard or re-vamped 80's Hit, I do my best to touch upon many different genres of music to keep listeners of all ages engaged and entertained. If drinks are flowing and people are singing along, then it's time for the "sing-a-longs" (i.e. Brown Eyed Girl, Margaritaville, Chicken Fried, etc.). If I am required to be more "in the background", then I draw from my vast catalog of classic songs from the 60s through today to add ambiance to your event.
Bottom line is that I will not try to "steal the show"...unless you want me to.
My musical equipment is top of the line and compact. I don't take up much space and I can play as loud or as quiet as situation calls for, and I love taking requests.
I will work with you from start to finish, and return all calls and emails in a timely manner. This is a very fun job, and I take it very seriously! Can't wait to play for you!
Best,
John
Services Offered
Set List
3 AM - MATCHBOX 20
All For You - SISTER HAZEL
American Girl - TOM PETTY
Ant's Marching - DAVE MATTHEWS
Black - PEARL JAM
Blackbird - THE BEATLES
Blue on Black - KENNY WAYNE SHEPPARD
Born to Run - BRUCE SPRINGSTEEN
Boys of Summer - DON HENLEY
Breakdown - TOM PETTY
Breakeven - THE SCRIPT
Breathe - ANNA NALICK
Brian Wilson - BARENAKED LADIES
Broken Halos - CHRIS STAPLETON
Brown Eyed Girl - VAN MORRISON
Budapest - GEORGE EZRA
Carolina in my Mind - JAMES TAYLOR
Castle on a Hill - ED SHEERAN
Chicken Fried - ZAC BROWN BAND
Closer to Fine - INDIGO GIRLS
Closing Time - SEMISONIC
Colder Weather - ZAC BROWN BAND
Collide - HOWIE DAY
Come on Get Higher - MATT NATHANSON
Crash - DAVE MATTHEWS
Crazy - GNARLES BARKLEY
Cruise - FLORIDA GEORGIA LINE
Dancing in the Dark - BRUCE SPRINGSTEEN
Danny's Song - LOGGINS AND MESSINA
Die a Happy Man - THOMAS RHETT
Don't Dream It's Over - CROWDED HOUSE
Down Under - MEN AT WORK
Drift Away - DOBIE GRAY
Drive - INCUBUS
Easy - THE COMMODORS
Elderly Woman... - PEARL JAM
Elenor Rigby - THE BEATLES
Fire and Rain - JAMES TAYLOR
Free Fallin' - TOM PETTY
Give a Little Bit - SUPERTRAMP
Gone, Gone, Gone - PHILLIP PHILLIPS
Good Love is on the Way - JOHN MAYER
Handle with Care - THE TRAVELLING WILBURYS
Here Comes The Sun - THE BEATLES
Hey Jealousy - GIN BLOSSOMS
Hide Your Love Away - THE BEATLES
Ho Hey - THE LUMINEERS
Home - MICHAEL BUBLE
Home - PHILLIP PHILLIPS
How Sweet it is - JAMES TAYLOR
I am The Highway - CHRIS CORNELL
I Will Wait - MUMFORD AND SONS
I'll Be - EDWIN MCCAIN
I'm Still Standing - ELTON JOHN
I'm Yours - JASON MRAZ
If You Could Only See - TONIC
In My Life - THE BEATLES
In your Eyes - PETER GABRIEL
Inside Out - EVE 6
Into The Mystic - VAN MORRISON
Jack and Dianne - JOHN MELLENCAMP
Jessie's Girl - RICK SPRINGFIELD
Just Like Heaven - THE CURE
Just The Way You Are - Bruno Mars
Just The Way You Look Tonight - FRANK SINATRA
Kyrie - MR. MISTER
Lean On Me - BILL WITHERS
Let Her Cry - HOOTIE & THE BLOWFISH
Let My Love Open The Door - PETE TOWNSHEND
Life by the Drop - STEVIE RAY VAUGHN
Living on a Prayer - BON JOVI
Losing my Religion - R.E.M.
Love The One Your With - STEPHEN STILLS
Lovely Day - BILL WITHERS
Loving You Easy - ZAC BROWN BAND
Margaritaville - JIMMY BUFFET
Maybe it's Time - BRADLEY COOPER
Mean to Me - BRETT ELDREDGE
Melt with You - MODERN ENGLISH
Moondance - VAN MORRISON
Mrs. Robinson - SIMON & GARFUNKLE
Needle and the Damage Done - NEIL YOUNG
Night Moves - Bob Seger
Norwegian Wood - THE BEATLES
Nothing Compares to U - PRINCE / SINEAD O'CONNOR
Nutshell - ALICE IN CHAINS
Old Apartment - BARENAKED LADIES
Old Man - NEIL YOUNG
Only The Good Die Young - BILLY JOEL
Overkill - MEN AT WORK
Pinball Wizard - THE WHO
Pinch Me - BARENAKED LADIES
Pink Houses - JOHN MELLENCAMP
Plush - STONE TEMPLE PILOTS
Pride & Joy - STEVIE RAY VAUGHN
Radioactive - IMAGINE DRAGONS
River of Deceit - MAD SEASON
Rocket Man - ELTON JOHN
Rule The World - TEARS FOR FEARS
Running on Empty - JACKSON BROWNE
Shanty - JONATHAN EDWARDS
She Talks To Angels - THE BLACK CROWES
Shooting Star - BAD COMPANY
Simple man - LYNYRD SKYNYRD
Sledgehammer - PETER GABRIEL
Soulshine - THE ALLMAN BROTHERS BAND
Subdivisions - RUSH
Sweet Caroline - NEIL DIAMOND
Sweet Home Alabama - LYNYRD SKYNYRD
Take it Easy - THE EAGLES
Take On Me - A-HA
Tempted - SQUEEZE
TennesseyWhiskey - CHRIS STAPLETON
The A Team - ED SHEERAN
The Downeaster Alexa - BILLY JOEL
The Fool on the Hill - THE BEATLES
The Letter - THE BOX TOPS
The Middle - JIMMY EAT WORLD
The Rising - BRUCE SPRINGSTEEN
The Way it Is - BRUCE HORNSBY & THE RANGE
The Way You Make Me Feel - MICHAEL JACKSON
These days - JACKSON BROWNE
Times Like These - FOO FIGHTERS
Tiny Dancer - ELTON JOHN
Toes - ZAC BROWN BAND
Trouble - RAY LAMONTAGNE
Twin Rocks Oregon - SHAWN MULLINS
Use Me -BILL WITHERS
Viva la Vida - COLDPLAY
Wagon Wheel - DARIUS RUCKER
Waiting For My Real Life To Begin - COLIN HAY
Wake Me Up - AVICII / ALOE BLACC
Walkin' in Memphis - MARC COHN
What Would You Say - DAVE MATTHEWS
When I fall - BARENAKED LADIES
Whipping Post - Allman Brothers Band
Whiskey& You - CHRIS STAPLETON
Who Say You Can't Go Home - BON JOVI
Why Georgia Why - JOHN MAYER
Wild World - CAT STEVENS
Wildflowers - TOM PETTY
Without You - KEITH URBAN
Wonderwall - OASIS
Won't Get Fooled Again - The Who
Woodstock - JONI MITCHELL
You & Tequila - KENNY CHESNEY
You Are The Best Thing - RAY LAMONTAGNE