Your list is empty.
Save musicians, entertainers, speakers, and services, and they'll appear here.
Free Quick Quote
This vendor provides virtual services
Back to Singing Telegrams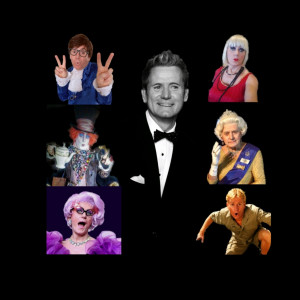 Jason Thompson
4.96
(41 reviews)
West Hollywood, CA
Travels nationwide
$150-2000
Get a Free Quick Quote
Overview
Queen Elizabeth Impersonator, Austin Powers Impersonator, Dame Edna Impersonator, Mad Hatter Impersonator, Steve Irwin Impersonator, Drag Queen Miss Shirley Shagwell and more. Jason Thompson can perform as Himself or as one of his hilarious characters.
He is a sought after comical Emcee, Host, Meet and Greet Roving Entertainer for both the corporate or private sector and can spice up any event with His quick wit. Jason's strength is improvisation comedy both onstage or off. He is a professional singer too as just Himself or in the accents of each of his characters. Loves to also take photo opps with guest to while He is doing the Meet / Greet and Roving performing with guests.
---
---
Booking Info
Gig Length: 30 - 300 minutes
Languages: English, Italian, Some Greek
Insurance: $1,000,000 - Public liability
What to Expect
The Multi talented Comedic impersonator / Entertainer
WHAT JASON GENERALLY DOES AT EACH EVENT
CORPORATE PARTIES / LARGE EVENTS
His performance generally starts off with meeting and greeting guests as they arrive on the red carpet in one of His many characters (he often works with the client's video crew and mic interviewing guests, which is great as a keep sake for clients). After the meet and greet He then arrives with a big entrance on stage to MC the themed event by singing a fun song as he walks through the crowd to the stage or sometimes being lowered from the ceiling, arriving on a motor bike or even a pink Cadillac depending what client wants. Then a big welcome and a bit of improvised comedy.
Throughout the event Jason comes down off stage and continues mingling with guests with more interactive comedy. He then returns to the stage (generally with another song) to further MC the event, announcing other performing acts, CEO's, Auctions, special guests etc. This is discussed with the client depending on their needs.
DANCING WITH STARS (Interactive game show style with guests)
Then just before the time of the night when you would like the dancing to kick off, Jason does an approximately 20 min dance game show (This can be shorter or longer depending on amount of time client wants and can be tailored by the amounts of contestants that are pulled up). This interactive game show is on the stage or dance floor is called "Dancing with the Staff" ("Dancing with the Stuffed" if a private event). This is great fun, very easy and works very well. He grabs guests from the audience (Birthday guest, Special guests or even CEO's and Managers if client requires). One by one He pulls out each of the contestants and briefly interviews them with an improvised laugh or two. This is done with the help of a game show assistant (as staff member provided by the client) who writes their name on a fun colored star shaped name tag and sticks it on them.
Contestants are all placed in one horizontal straight line facing the audience with Jason in one of his many characters standing in front of them all. He briefly explains the name of the game which is: for the contestant to copy the sexy, funky and hilarious moves of the character. (accompanied with themed music he supplies). Jason then asks the audience to be the judges with their applause that He calls the " clap-o-meter". After the music stops he ask the crowd how each guest went by who got the loudest clap, Finally Jason then narrows it down to the last two contestants (another quick dance off between them and winner gets a prize supplied by client. (Champers or a holiday etc.).
Straight after this live game show whilst the contestants are still on the dance floor Jason announces the band or DJ to crank it up for remaining guests to get up and dance too. Jason believes: "This is a great opportunity to kick off the dancing. The dance game achieves a similar effect to a bridal Waltz at weddings and is a great way to invite the remaining guests up to dance way into the night.
Jason continues dancing and roving amongst the guests and gets them all going to the end of the event.
PRIVATE EVENTS / SMALLER EVENTS (eg: birthday parties etc)
Big surprise entrance by Singing a song as he walks through the crowd to the performance area (I bring mp3 or cd backing tracks client to provide sound system). Jason welcomes everyone and proceeds to invite birthday person up to the stage area to sing her another song, then some improvised comedy amongst audience and birthday person. Then sing the happy birthday song while birthday person is still on stage area. Then the cutting of the cake and continue to host with improvised situational comedy and then invite friends or family to do speeches if any. Then an interactive Dance off game show style called "Dancing with the stuffed" with some of birthday person's friends that I help choose from audience. Guests have to copy the funky moves of whatever character I am performing with music of birthday person's choice and include audience to be the judges via what I call the "Clapometer". The one who gets the loudest clap wins a prize (supplied by client). Once finished the dance comp you can immediately flow into the DJ or band that playing that night. This dance off is a fab way of kicking of the nights dancing because then remaining guest join the contestants on stage to continue dancing throughout the night. Jason then comes down amongst guest and does some meet and greet roving around guests with interactive situational comedy.
For your peace of mind
Jason is good at reading each crowd differently. Jason says "My goal is to uplift people and to make them laugh but not to offend. As a guide I work and tailor my performance like the movie censorship ratings like PG, M or R etc, (depending on the event and what the client wants), which I believe is key as a corporate / private entertainer". Above all Jason desires to make people feel good have lots of laughs and make the audience happy.
Note:
He is available to do all the above or just meet and greet, roving performing only if require.
He also can Emcee events out of characters and Host just as himself if needed.
He can do more than just one character per event.
With Jason distinct style full of charm and positive energy, you'll find He's funny, warm, friendly and suitable for any occasion.
Testimonies
For client testimonies see reviews left by previous clients on this Gigsalad site.
He does some of best themed parties both for the high-end corporate and private sector. Whether it is a Gala Dinner, Charity Ball, Convention, Conference, end of year Christmas party, Awards night, Wedding, Bar Mitzvah, Birthday event, Hens / Bachelor parties, expo or for any film or TV work Jason is there!
About
The Multi talented Comedic impersonator / Entertainer
Jason Thompson is an Emcee, Host, Presenter, Singer, Impersonator, Actor and Comedian. He does this either as himself or as a one of his many celebrity characters or his original ones. Some of his celebrity characters are: Austin Flowers, Dame Edna Average, Queen Elizabeth II, Steve Ir-Winner and The Mad Hatter. His own original characters are: Shirley Shagwell, Indian character Vin Daloo, Russian Character Youra Pissmeoff or Circleman the wise Oracle.
Jason is base in West Hollywood, CA and is also one of the most sought after comical Emcee/Host and improv Roving performer for some of the biggest live events throughout Australia, USA and Asia. He does some of best themed parties both for the high-end corporate and private sector. Whether it is a Gala Dinner, Charity Ball, Convention, Conference, end of year Christmas party, Awards night, Wedding, Bar Mitzvah, Birthday event, Hens / Bachelor parties, expo or for any film or TV work Jason is there!
Background
Born and raised in Adelaide, South Australia, Jason began performing as a young boy in the School choir. Most Saturdays he would join the church choir up in the balcony with his red robe and white thrill collar and sing for just $2 per wedding. From there he was destined to entertain the world. As he grew older He continued to sing and became a renowned Gospel singer in his mid twenties and would sing and entertain people from all different denominations. He then ventured out into the secular world and was a two time winner of the national Australian talent show 'Pot Luck and 'New Faces'. He recorded two albums and with His Jazz band would perform in bars or clubs around Adelaide.
After years of singing Jason added Acting, Television Hosting comedy and Emcee/Host work to his repertoire. He eventually left Adelaide to expand his career and moved to Sydney Australia. After furthering his career of ten years in Sydney, Jason expanded himself further and after winning the 'American green card lottery' so now has a base in Los Angeles USA also.
During his career he's been a regular guest singer on the 'Bert Newton Show' in Melbourne Australia, has sung with artists like Michael Bolton and acted alongside such greats as 'Dustin Hoffman'. He's hosted a variety television show called 'Rapture' and has acted in programs such as 'Australia's Most Wanted' and 'Rove Live'. American TV series: 'Royal Pains' and 'Luck'. Movies: 'To Hell and Back' 'Run Chrissie Run' recently 'We want some" filmed in LA. Had a regular comedy spot on radio '5AA' and co-hosted on 'Bondi FM' in Australia. He recently made an appearance on 'Jimmy Kimmel live' recorded in Los Angeles as his character 'Queen Elizabeth 11"
Additional Booking Notes
For small performances like during Covid when there is only singing telegrams he brings his own bluetooth speaker with his Mp3 backing tracks.
For large events I generally require a sound system, cordless mic and MP3 player for my backing tracks when I sing songs and on stage intro music. I like to email client the tracks prior to the event. Client to arrange all the above. Note: Jason does not arrange or pay for sound system, mics etc this is up to client.
Setup Requirements
PA sound system with mic (cordless preferable but can work without)
Charge room or bathroom with mirror