Your list is empty.
Save musicians, entertainers, speakers, and services, and they'll appear here.
Free Quick Quote
This vendor provides virtual services
Back to Jugglers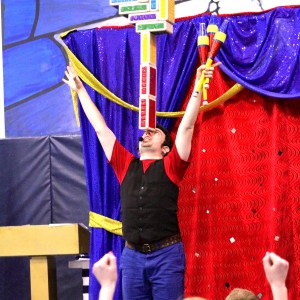 Jason Kollum
0
(0 reviews)
Niles, IL
Travels up to 200 miles
Contact for rates
Get a Free Quick Quote
Overview
Jason Kollum is a 34yr old Professional Kids, Family, and Corporate Entertainer. With technical skill, high-energy style, charisma, zany comedy and improvisation with the audience, he'll be a hit at your next event!
Performances at Chicago's Navy Pier, Millennium Park, The Taste of Chicago, the Chicago Bulls and the Chicago White Sox, plus around 350 events a year at festivals, park districts, schools, libraries, camps, cub scouts, parties and tons of other venues.
Entertainment includes a Variety Juggling Comedy Show, Balloon-Twisting, Stilt-Walking, Strolling Entertainment, and Total-Participation, Interactive Workshops in Juggling/Circus Arts and Balloon Twisting! Fully Insured!
---
Reviews
Be the first to review Jason Kollum
---
Booking Info
Price Range: Contact for rates
Gig Length: 30 - 480 minutes
Insurance: $1,000,000 per occurrence - Entertained is fully-insured, with a policy covering $1,000,000 per occurrence, or $2,000,000 aggregate. Fully insured for all juggling performances, stilt-walking, balloon-twisting, or workshops. All venues that contract with Jason Kollum automatically receive additional insured status and are insured under his policy, without the need to request an Additional Insured Certificate, though this can be provided at no cost. Upon your request, any venue contracting with Jason Kollum can receive a Certificate of Insurance along with the Additional Insured Status Form indicating this status.
Unions: International Jugglers' Association Member In Good Standing
What to Expect
Clients that hire Jason Kollum for an event receive a Professional Entertainer with years of experience who will provide fantastic entertainment that will be hassle-free. The client can relax knowing that they have hired exactly the professional they had hoped for, making other staff happy, making parents and other adults happy, and making the kids happy. Plus, having the comedy and interactive entertainment of Jason Kollum will make a great impression upon the overall venue.
The audience receives fun, laughter, and smiles all around, with an interactive, amazing, and lasting experience. Entertainment is clean and family-friendly, where everybody is made to feel a part of the action. Plus, with the entertainment of Jason Kollum, kids become the real stars, and they'll leave the event saying "I could really do it!"
About
The high-energy and comedy entertainment of Jason Kollum is fantastic for all ages of kids as well as parents and adults…..even the "sometimes-hard-to-please" teen crowd! With hundreds of performances a year all throughout Chicagoland and the MidWest, and experience working a huge variety of venues, when you hire Jason Kollum, you're getting a true Pro at your event, who will keep the kids and parents laughing and engaged the entire time!
Below are all the fantastic entertainment options offered to you. One or more of the below options may be perfect for your event, or, let Jason Kollum assist you in deciding which option is the best fit for you!
1. THE COMEDY VARIETY JUGGLING SHOW: This show will WOW all ages of kids and families, as balls, clubs, rings, spinning balls, giant beanbag chairs, and much more will all be sent flying into the air, all leading up to the big balancing and juggling finale that will have everybody on the edge of their seats! This show has tons of comedy, audience participation, lots of energy and excitement, and will keep kids of all ages and families laughing, clapping, engaged, and amazed!
2. STILT-WALKING: A Stilt-Walker who juggles on Stilts! Totally interactive, and one of the tallest Stilt-Walkers around! Costumes to fit any holiday, season, or special event. Perfect for indoors or outdoors. Stilt-Walking takes place everywhere at the event, small or large, with constant interaction with all ages of kids, parents, and adults! This is entertainment that is noticed and stands way above the crowd! Parents always love to take photos of their kids next to the giant stilt-walker! Great humor, great interaction, and a super upbeat personality with great skills on stilts!
3. BALLOON-TWISTING: Fast Twisting. Cool Balloons. Big Laughs. Amazing balloon sculptures that bring smiles to all ages of kids, even the "big" kids! Using professional equipment, balloon creations are made at lighting speed, with a whole variety of balloon creations available for all kids. These balloon creations are visual and lots of fun, and so much more than "just dogs and swords." And, with lots of comedy and interaction, kids and families are entertained while balloon sculptures are being created! Balloon sculptures can be customized to fit the theme of your event!
4. STROLLING (WALK-AROUND) ENTERTAINMENT: Interactive, funny, and hands-on entertainment that moves all throughout the event, entertaining small groups or large groups of kids and adults at an any given time, and allows kids a chance to try out a whole variety of skills that they can do! A variety of juggling, circus skills, skill toys, and balance props are all used and everything is interactive. Kids get to see a small demonstration of a new and unique prop, and then try it out for themselves! This is entertainment that is constantly moving and changing. It's a great addition before or after a performance, or just by itself.
5. WORKSHOP #1: "SEE A JUGGLER! BE A JUGGLER!" Total-Participation Circus Program
KIDS OF ALL AGES become the rock star jugglers and performers! They become the real stars!
This amazing, energetic fun-filled program gets EACH AND EVERY CHILD PARTICIPATING! Nobody sits out and nobody feels left out. This is appropriate for ALL AGES, where every child gets an opportunity to try out skills on their own! Depending on their age, kids get to try out balancing skills with peacock feathers, juggling skills with colorful nylon scarves or beanbag balls, and even skills with plastic spinning plates, juggling sticks, Chinese Yo-Yo's, and more! With both individual and group instruction, everyone learns skills that are appropriate for their age so everybody feels included! This program is performed at park districts, libraries, schools, camps, daycares, and many more venues.
Everybody is participating at the same time, all learning something new and different, with upbeat music playing in the background.
Everyone is encouraged to do their best and to help each other! Tons of fun! Jason Kollum works with thousands of kids each year, and understands that every child learns at their own pace, and helps each child to learn in a way that is right for them. Can involve a show/workshop, or just workshops.
6. WORKSHOP #2: "U TWIST IT!" Total-Participation Balloon Workshop
KIDS OF ALL AGES become the Rock Star Balloon Artists!
Kids become the Balloon Artist in this 100% interactive program! Kids get to make their own balloon creations that they then get to keep! First, a super cool and advanced balloon sculpture is created right before their eyes! Kids learn that by using their imagination and keeping an open mind to something new and different, we can create anything! Kids also get to see all the cool supplies that pro balloon twisters use to create amazing balloon sculptures. Then, everybody gets a chance to make their own creations! Jason Kollum teaches simple and easy to follow techniques as kids learn how to twist a balloon into a simple dog, a simple light saber, a totally fun balloon game using clear twisted balloons, a huge balloon hat using multiple balloons, and finally, each child participates in the Grand Finale....they get to build a giant octopus out of balloons!!! Each child gets to take home the balloon creations that they made during the workshop! Awesome!
Additional Booking Notes
Technical needs vary depending on the type of event, the type of entertainment performed, and location of the event (indoors vs. outdoors). In general, all that is needed is access to a standard electrical outlet for all stage performances, indoors or outdoors, though that can be flexible. Entertainer provides his own PA system, wireless microphone (or hand-held microphone if needed), music, backdrop, and all props. There is no set requirement in terms of the space needed for a performance, either on a stage or on the floor, but an adequate amount of space for the show (to accommodate lots of movement and juggling, and audience volunteers) would be needed. These factors can usually be discussed on the phone or through email prior to the event, or at the event, before the event begins. If there is a stage for the performance, stairs or ramps are needed for the performer to travel from the stage to the audience, and back to the stage again, as well as for volunteers to get onto and off of the stage safely.
Overall, any technical needs and other factors are always discussed at the time of booking.
For some performances, a standard-sized table would be needed.
Services Offered
Past Booked Events
December 21, 2018

•

8:00pm - 8:30pm
Nonprofit Event
Set List
The list of all performances/entertainment offered includes:
1. Variety Juggling Comedy Show
2. Balloon-Twisting
3. Stilt-Walking
4. Strolling (Walk-Around) Entertainment
5. "See a Juggler! Be a Juggler!" Interactive Circus Arts/Juggling/Balancing Workshop
6. "U Twist It!" Interactive Balloon-Twisting Workshop
Influences & Inspiration
Influences include Stand-Up Comedy acts--both past and present, Variety Vaudeville Performances--both past and present, Circuses, Cirque Du Soleil, comedy and improvisation sketch shows and juggling and circus performers of the past and present.
Setup Requirements
Access to an electrical outlet is optional, but highly recommended. A standards-sized table is needed at some types of venues.
A standard-sized table is occasionally needed for a performance.
Bottles of cold water are occasionally needed at a performance venue.