Your list is empty.
Save musicians, entertainers, speakers, and services, and they'll appear here.
Free Quick Quote
This vendor provides virtual services
Back to Polynesian Entertainment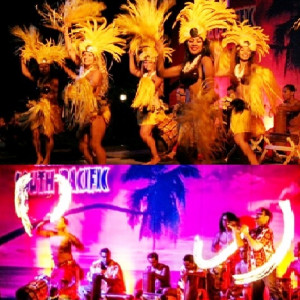 Island Breeze Entertainment
4.83
(49 reviews)
Hayward, CA
Travels up to 200 miles
$100.00 - $2500.00
Get a Free Quick Quote
Overview
We provide Hula Dancers, Fire Dancers, Hawaiian style Bands and Musicians, Ukulele players, Steel Pan Drummers, Slack Key guitarists, and Luau Entertainment for your Party, Wedding or Event.... We also play Rock'n Tropical Surf Music..as well as... Country & Western Swing dance music.
---
---
Booking Info
Price Range: $100.00 - $2500.00
Insurance: $1,000,000 - General Liability
About
We can provide authentic Female Polynesian dancers that dance to Cd's on a provided small sound system and perform a variety of Hawaiian and Tahitian dances with multiple costume changes. for 30 to 40 minutes. They also include a fun hula lesson for your guests.
We have Polynesian Fire dancers that perform for a 15 to 20 minute performance. We also do Lei Greetings and Dance Instruction.
We have the best Hawaiian musicians available as soloists , duets , trios or full bands. Instruments included are : Ukulele, Steel Guitar, Slack Key Guitar and Bass Guitar.
We play Weddings, Parties and Corporate Events. We can size a group to fit your Budget.
Past Booked Events
November 04, 2022

•

6:00pm - 6:45pm
Corporate Event

August 27, 2022

•

6:00pm - 6:45pm
Birthday Party

July 14, 2022

•

2:30pm - 5:30pm
Cocktail Party

June 08, 2022

•

11:00am - 12:00pm
Camp Event

April 09, 2022

•

6:00pm - 6:30pm
Nonprofit Event

March 26, 2022

•

8:00pm - 8:30pm
Birthday Party

June 26, 2021

•

6:00pm - 7:00pm
Teen Birthday Party

June 25, 2021

•

4:00pm - 5:00pm
Cocktail Party

June 20, 2021

•

11:30am - 12:30pm
Holiday Party

June 05, 2021

•

6:00pm - 7:00pm
Children's Birthday Party

May 22, 2021

•

8:00pm - 8:30pm
House Party

May 20, 2021

•

5:00pm - 5:15pm
Corporate Event

May 16, 2021

•

5:00pm - 6:00pm
Birthday Party

May 08, 2021

•

6:00pm - 7:00pm
Birthday Party

May 01, 2021

•

4:00pm - 5:30pm
Birthday Party

September 12, 2020

•

1:30pm - 2:00pm
Children's Birthday Party

August 23, 2020

•

10:00am - 11:00am
Children's Birthday Party

August 08, 2020

•

5:00pm - 6:00pm
Children's Birthday Party

December 07, 2019

•

6:30pm - 11:00pm
Corporate Event

December 07, 2019

•

5:00pm - 7:00pm
Christmas Party

September 28, 2019

•

4:00pm - 5:00pm
Birthday Party

September 20, 2019

•

6:00pm - 8:00pm
Nonprofit Event

August 17, 2019

•

1:30pm - 3:00pm
Retirement Community Event

June 15, 2019

•

5:30pm - 5:45pm
Birthday Party

December 14, 2018

•

5:30pm - 6:00pm
Birthday Party

December 12, 2018

•

8:30pm - 9:00pm
Christmas Party

October 06, 2018

•

7:00pm - 7:45pm
Birthday Party

September 06, 2018

•

7:00pm - 7:30pm
Corporate Event

September 03, 2018

•

12:30pm - 1:15pm
Personal Occasion

August 26, 2018

•

5:30pm - 7:00pm
Graduation

August 19, 2018

•

1:30pm - 1:45pm
Wedding Reception

August 18, 2018

•

1:30pm - 3:00pm
Cocktail Party

August 11, 2018

•

5:30pm - 6:15pm
Fundraiser

July 28, 2018

•

2:30pm - 3:00pm
Birthday Party

July 21, 2018

•

7:30pm - 7:45pm
Wedding Reception

July 21, 2018

•

7:00pm - 7:45pm
Dinner Party

July 14, 2018

•

8:00pm - 9:30pm
Corporate Event

July 06, 2018

•

9:00pm - 9:30pm
Birthday Party

June 23, 2018

•

10:00pm - 11:00pm
Birthday Party

June 16, 2018

•

7:00pm - 7:45pm
Personal Occasion

June 16, 2018

•

4:00pm - 4:45pm
Children's Birthday Party

June 01, 2018

•

6:00pm - 7:00pm
Corporate Event

May 26, 2018

•

7:00pm - 7:45pm
Birthday Party

May 26, 2018

•

5:00pm - 8:00pm
Graduation

May 22, 2018

•

3:30pm - 4:15pm
Nonprofit Event

May 19, 2018

•

2:00pm - 2:30pm
Personal Occasion

May 05, 2018

•

3:00pm - 4:00pm
Teen's Birthday Party

April 28, 2018

•

5:30pm - 5:45pm
Fundraiser

April 28, 2018

•

12:30pm - 1:00pm
Children's Birthday Party

April 07, 2018

•

8:00pm - 8:30pm
Birthday Party

April 01, 2018

•

5:30pm - 6:15pm
Easter Party

March 23, 2018

•

7:30am - 8:30am
Campus Event

February 03, 2018

•

9:30pm - 10:00pm
Birthday Party

December 16, 2017

•

1:00pm - 2:00pm
Christmas Party

December 15, 2017

•

6:30pm - 7:00pm
Corporate Event

December 08, 2017

•

6:30pm - 8:30pm
Corporate Event

December 02, 2017

•

2:00pm - 3:00pm
Birthday (Child)

October 27, 2017

•

4:00pm - 4:30pm
Cultural Event

October 26, 2017

•

4:00pm - 6:00pm
Corporate Event

October 21, 2017

•

3:00pm - 4:00pm
Birthday (Child)

October 09, 2017

•

10:00am - 11:30am
Corporate Event

October 08, 2017

•

3:00pm - 4:00pm
Birthday (Child)

October 06, 2017

•

5:30pm - 5:45pm
Corporate Event

September 30, 2017

•

6:30pm - 7:00pm
Fundraiser

September 30, 2017

•

11:30am - 12:00pm
Birthday (Child)

September 24, 2017

•

2:30pm - 2:45pm
Retirement Party

September 23, 2017

•

4:00pm - 5:30pm
Wedding Cocktail Hour

September 09, 2017

•

4:30pm - 6:00pm
Birthday (Child)

August 26, 2017

•

1:30pm - 2:15pm
Cultural Event

August 19, 2017

•

6:00pm - 7:30pm
Birthday (Adult)

August 19, 2017

•

4:00pm - 5:00pm
Birthday (Child)

August 19, 2017

•

1:00pm - 2:00pm
Personal Occasion

August 12, 2017

•

7:30pm - 8:30pm
Nonprofit Event

August 05, 2017

•

6:30pm - 8:00pm
Birthday (Child)

July 20, 2017

•

6:00pm - 8:00pm
Sporting Event

June 10, 2017

•

4:00pm - 6:00pm
Birthday (Child)

June 03, 2017

•

7:00pm - 7:45pm
Birthday (Child)

April 30, 2017

•

1:00pm - 1:15pm
Launch Party

April 29, 2017

•

2:30pm - 3:30pm
Birthday (Child)

October 23, 2016

•

12:30pm - 2:30pm
Nonprofit Event

August 06, 2016

•

7:30pm - 8:00pm
Birthday (Adult)

July 30, 2016

•

4:00pm - 4:45pm
House Party

June 25, 2016

•

5:00pm - 5:45pm
Birthday (Adult)