Your list is empty.
Save musicians, entertainers, speakers, and services, and they'll appear here.
Free Quick Quote
This vendor provides virtual services
Back to Magicians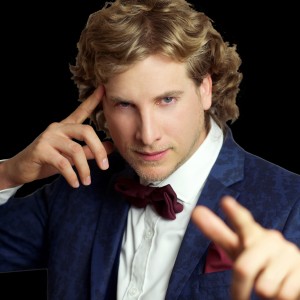 Illusionist Matias' Live & Virtual Magic Shows
4.96
(112 reviews)
New York City, NY
Travels nationwide
$2,500-$15,000
Get a Free Quick Quote
Overview
Matias Letelier is a Chilean-American illusionist and mentalist. With over 20 years of experience, Matias' unique blend of top-notch magic, mentalism, and pickpocketing, has helped him become one of New York's favorite entertainers for small and large events.
Even though he lives in New York, Matias constantly travels around the world to perform at corporate & private events, trade shows, colleges, and exclusive private events along with the new off-Broadway show Speakeasy Magick at the famous McKittrick Hotel.
And now he brings an exclusive ONLINE MAGIC SHOW during the #socialdistancing era!
---
---
Booking Info
Price Range: $2,500-$15,000
Gig Length: 30 - 240 minutes
Languages: English, Portuguese, Spanish
Insurance: $3,000,000 - Covered by Specialty Insurance, who only covers the best professional magicians.
What to Expect
Matias offers live and virtual magic shows that will be specifically tailored to your particular needs
* VIRTUAL MAGIC SHOW
Illusionist Matias has created a unique magical experience that you can enjoy from your house, and we guarantee everyone is going to have a great time, making your online event fun, exciting, and memorable!
* STAGE ILLUSION SHOW
Las Vegas style magic show for those who wants a high energy show, full of amazing illusion and more! Matias can also have your guest of honor magically appear! This show could be as short as 10 minutes, to up to 60 minutes.
* LARGE STAGE SHOW
mixes comedy and magic into a fun and unique experience. The show incorporates world-class illusions with Matias' assistant Natasha, and many interactions with your guests. This show could last 20, 30, 45 or 60 minutes.
* ONE-MAN SHOW
This is a one man show (no assistant) for small groups (up to 80 attendees). The Show includes some great illusions and lots of audience interaction but doesn't require a big stage area, lighting and sound system as the large Stage Show. This show could last 30, 45, 60 or 90 minutes.
* CLOSE-UP MAGIC
Keep your guests entertained and amazed during the reception or cocktail hour. These are quick and high impact tricks like changing five $1 into $500! In addition, Matias perform spectacular iPad Magic. And Matias will also pickpocket your guests!
* IT'S ALL ABOUT TEAMWORK
Matias has created a motivational speech that conveys the main points through special illusions, making it fun, engaging and entertaining. Meetings won't be the same after Matias' experience!
* CUSTOM: Matias can also create a custom show for you!
About
Every love has its beginning, and Matias Letelier's began in early 2005—perhaps almost a decade earlier when he discovered for the first time the mind twister games (like separate two nails!). He immediately fell for this ingenious apparatus.
The first magic box Matias encountered belonged to his older brother, Julio—who said "Thanks" but looked elsewhere for adventure. Matias could not resist, and this is how everything started. Very fast he learned how to manipulate the basic elements of a good trick: cards, bills and other illusions. At a young age, he discovered a talent for amazing people.
In his college days, when Matias was pursuing his Business and Marketing Degree, a terrible family accident took place and his uncle, Jorge Barriga (photo on the left), who was a great magician on his twenties, died. Matias inherited part of his uncle's magic library. That was the moment he decided to take his hobbyist's interest in magic to the professional level fusing it with his knowledge of business and marketing.
So he studied his Uncle Jorge's books and learned the arts of Theory, Promotional Magic, Corporate Magic, Theatrical Magic, Psychology in Magic, Non-Verbal and Verbal Communication Skills. Then he developed his show, an immersive experience in which guests become part of the magic. Why? Because magic is not about the magician… it is about performer and audience together letting their imaginations flow with one astonishing effect after the next.
With everything Matias learned in business school, he started his entertainment business in Chile where he performed for thousands of people at private parties, clubs, schools and corporate events. At a young age, he became one of that nation's most popular magicians. He joined the Chilean Magic Circle, an association of professionals, and rapidly became an influential magician who gave lectures both in marketing and in children's magic.
In his shows there is always one trick magician Matias will do to honor the memory of his uncle! This is his way of saying "thank you Uncle George, wherever you are". Check it out on your show!
Matias currently lives in New York, where he started performing at the longest NY running magic show, Monday Night Magic, where Matias met some famous magicians. After three hard-working years, where Matias was awarded best comedy show in NY, he positioned himself as one of the new hottest NY Illusionist & Mentalist for Private and Corporate Events.
Even though he lives in New York, Matias constantly travels around the world to perform at colleges, corporate & private events, and he is one of the residents at Speakeasy Magick at the famous McKittrick Hotel in NY. In his show, Matias mixes comedy and magic that will have everybody laughing, entertained, amused, and amazed. His performances include active audience participation, stage illusions, levitations, and mind reading demonstrations. Oh, and you might get pickpocketed as well!
We know you will be pleased after checking Matias' references. You can be doubly sure he is ready to amaze you!
In March 2017 Matias became a US Citizen and since then continues to amaze his new family-audience.
We know you will be pleased after checking Matias' references. You can be doubly sure he is ready to amaze you!
WHY CHOOSE MATIAS?
==================
Because Matias is one of the top Magicians, Illusionist & Mentalist in NY. In addition Matias has the highest ranking and reviews within the magic community and was awarded Best Professional Magician (check out his credentials). With more than 22 years of experience in Magic Shows and Entertainment in Spanish, English and Portuguese and over 300 shows per year, Matias knows exactly how to keep your guests engaged, entertained, amused and amazed.
What Matias' clients love about him is the high quality of my show and how He takes care of them, attending to every detail to make sure they will have the most personalized and unique magical experience. And with Matias' style, his charming accent, his passion for magic shows and his great stage presence and communication skills, he is definitely ready to take make your event not only entertaining but also memorable.
This is why Matias always tell his clients when they're looking for a top NY Magician for their party, to leave the entertainment in his hands!
ARTISTIC PROFILE
================
Name Matías Letelier, 36 years, Chilean-American
Date of Birth February 14th, 1984 in Santiago, Chile
US Citizen since: March 31st, 2017
Artistic Name Illusionist & Mentalist Matias Letelier
Years in Magic: 22+ years
College Studies
Degree in Economics & Business Administration
MBA in Marketing, Pontifical Catholic University of Chile
Artistic Studies
Magic Theory
Promotional Magic
Corporate Magic
Magic Psychology
Communication Skills and Corporal Expression.
Perform Styles
Strolling Close-Up Magic for cocktails and receptions (view program)
One man Show for Corporate and Private Events (view program)
Stage Illusion Show for Corporate and Private Events (view program)
Mentalist Show for Corporate and Private Events (view program)
Magic&Wine for Corporate and Private Events (view program)
Member of
Magic Circle of Chile
International Brotherhood of Magicians (IBM)
Society Of American Magicians (SAM)
Yale Magic Society
Magnets Magic Club
Languages
Native Spanish
Fluent English
Medium Portuguese
Basic French
Insurance Covered by Specialty Insurance (view Certificate Of Liability Insurance)
Additional Booking Notes
We will bring everything we need so you don't have to worry about anything!
Past Booked Events
August 05, 2022–August 06, 2022

•

10:30pm - 12:00am
Birthday Party

December 20, 2021

•

6:00pm - 7:30pm
Corporate Event

November 19, 2021

•

10:00pm - 10:30pm
Dinner Party

November 18, 2021

•

7:00am - 7:15am
Corporate Event

June 17, 2018

•

2:00pm - 3:00pm
Religious Celebration

May 05, 2018

•

9:00pm - 10:00pm
Birthday Party

March 24, 2018

•

8:00pm - 9:30pm
Camp Event

March 23, 2018

•

6:00pm - 9:30pm
Nonprofit Event

March 17, 2018

•

10:30pm - 11:00pm
Birthday Party

March 17, 2018

•

9:00pm - 9:45pm
Birthday Party

March 12, 2018

•

11:00am - 12:00pm
Nonprofit Event

March 11, 2018

•

3:00pm - 4:30pm
Children's Birthday Party

December 03, 2017

•

1:00pm - 2:00pm
House Party

November 23, 2017

•

8:00am - 11:00am
Holiday Party

November 11, 2017

•

6:00pm - 8:00pm
Bar/Bat Mitzvah Party

November 02, 2017

•

6:30pm - 8:30pm
Corporate Event

September 16, 2017

•

1:30pm - 3:00pm
Birthday (Teen)

April 26, 2015

Birthday Party

March 27, 2015

Holiday Party
Set List
Description of the tricks will be send to your email along with the full description of Matias' show!
You can also watch the videos to see some of the tricks that Matias perform in his show!
Team
| | |
| --- | --- |
| Marlana Letelier | Wife and Personal Assistant |
| Alexandria | Partenaire, aerialist |
Influences & Inspiration
- David Copperfield
- Dani Lary
- Juan Tamariz
- Dani DaOrtiz
- Ren Lavand
- Pepe Carrol
- Juan Esteban Varela
- Radagast
- Daniel Garber
- Luis de Matos
And many more!
Setup Requirements
See technical information above