Your list is empty.
Save musicians, entertainers, speakers, and services, and they'll appear here.
Free Quick Quote
This vendor provides virtual services
Back to Trumpet Players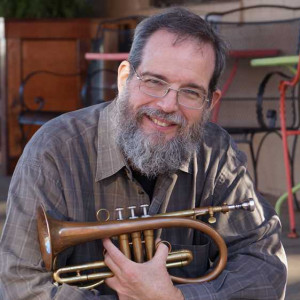 Houston Trumpet Player
4.85
(6 reviews)
Houston, TX
Travels up to 120 miles
$175 (Solo) - $5,4000 (20 Piece Big Band)
Get a Free Quick Quote
Overview
Eddie Lewis is a full time, professional musician. He has been one of Houston's top trumpet players since the early 90's and his vast experience covers all genres that utilize trumpet. For your event, Eddie will pull from a network of seasoned pros, the same pros he has worked with for decades.
Eddie provides a large variety of classical and jazz bands. For jazz he offers 1 - 20 musicians. For classical Eddie offers groups of 1 - 12 trumpets or 1 - 10 mixed brass.
As a solo act, Eddie can perform acoustically by himself or he can perform with tracks and a PA system.
The main theme here is flexibility. If Eddie's first quote doesn't work, then he will work with you to fit your budget.
---
---
Booking Info
Price Range: $175 (Solo) - $5,4000 (20 Piece Big Band)
Gig Length: 10 - 360 minutes
About
Eddie Lewis has been a full time, professional trumpet player since he quit his last day job, delivering pizzas for Dominos Pizza, in 1988. He has been living the life that most trumpet players only get to dream about.
Eddie's career as a performer includes performances in almost every musical genre that uses trumpet. While he is most widely known as a jazz trumpet player, Eddie also has significant experience in funk, salsa, tejano, cumbias, top 40/pop, rock, country western, and even klezmer music.
Upcoming Booked Events
October 29, 2021

•

3:00pm - 3:45pm
Birthday Party

November 20, 2021

•

4:30pm - 5:30pm
Wedding Ceremony
Past Booked Events
August 06, 2021

•

12:00pm - 12:45pm
Funeral/Memorial Service

June 27, 2021

•

8:30am - 12:00pm
Worship Service

June 06, 2021

•

7:00pm - 8:00pm
Funeral/Memorial Service

April 08, 2021

•

7:30pm - 7:45pm
Funeral/Memorial Service

November 10, 2018

•

7:30pm - 10:00pm
Birthday Party

September 22, 2018

•

11:00am - 12:00pm
Funeral/Memorial Service

September 11, 2018

•

10:00am - 11:00am
Funeral/Memorial Service

March 17, 2018

•

10:00am - 10:15am
Personal Occasion

February 11, 2018

•

2:30pm - 3:30pm
Personal Occasion

May 06, 2017

•

7:00pm - 7:30pm
Fundraiser
Set List
We don't have a firm set list. Eddie and the musicians he hires know literally thousands of songs. If you require a specific song that we don't know, then Eddie will make sure that we either have sheet music for that song, or if there is time, we will even memorize it before the event (which is sometimes necessary if we are required to walk and play at the same time).
The songs listed here are to help you be certain you are hiring the right kind of band for your event.
[The classical stuff is listed at the bottom.]
JAZZ
We tailor the set list to the mood and atmosphere of your event. For example, if you are having a 1920's themed party, then we will mostly play jazz tunes from that era. The only exception would be if you have specific requests.
Mainstream Jazz:
This is the jazz most people think of when they think about jazz. These are the "standard" jazz tunes that most jazz musicians have been playing for most of their lives.
A Foggy Day
All the Things You Are
Angel Eyes
Autumn Leaves
Beautiful Love
Black Orpheus
Blue Bossa
Blue Room
Ceora
Days of Wine and Roses
Desafinado
Corcovado
Four
Gentle Rain
The Girl from Ipanema
Green Dolphin Street
Have You Met Miss Jones
How High the Moon
How Insensitive
I Love You
Joy Spring
Just Friends
Stella by Starlight
Sugar
Take Five
There Is No Greater Love
What am I Here For?
Swing Band Jazz:
Most jazz has a swing feel, but there is a subgenre of jazz that we call "Swing Bands". The following is a list of tunes done in that style:
April in Paris
As Time Goes By
A String of Pearls
Autumn in New York
Body and Soul
Cherokee
Cottontail
Don't Get Around Much Anymore
The Duke
Easy Living
Falling in Love with Love
I Can't Get Started
I Could Write a Book
In a Mello Tone
In a Sentimental Mood
In the Mood
Lullaby of Birdland
Mood Indigo
Prelude to a Kiss
Stardust
Sentimental Journey
Stompin' at the Savoy
Take the A Train
They Can't Take That Away from Me
Dixie-land Jazz:
Dixie-land is a general term that covers music from the 1920's and some music from the 40's (because the music was revisited in the 40's).
All of Me
Basin Street Blues
Canal Street Blues
Climax Rag
Come Back Sweet Papa
Copenhagen
Dardanella
Dill Pickles Rag
Dipper Mouth Blues
Doctor Jazz
Dogtown Blues
Jazz Me Blues
Jimtown Blues
Johnson Rag
King Bolden on Parade
King Porter Stomp
Limehouse Blues
Milnberg Joys
When the Saints Go Marching In
Sensation Rag
Saint James Infirmary
South Rampart Street Parade
Twelfth Street Rag
Wang Wang Blues
We Danced at the Mardi Gras
Two-beat Society Music:
Eddie and his buddies have played literally hundreds of society gigs and the various country clubs in Houston and other cities. The following list is of tunes commonly played in that classy, "New York Society" style.
Blue Room
Chanson D'amour
Dancing on the Ceiling
Easy to Love
Girl of My Dreams
I Should Care
La Paloma
Like Someone in Love
Love Letters in the Sand
Melody of Love
Mexicali Rose
Michelle
My Foolish Heart
My Romance
Night and Day
Out of Nowhere
Remember When
Satin Doll
The Song is You
Spanish Eyes
Trade Winds
What Is This Thing Called Love?
Yesterdays
So What's New
Bebop:
We can do a show of only bebop jazz. This is the music of Charlie Parker and Dizzy Gillespie and it is the music most jazz musicians study for their entire lifetimes.
Anthroplogy
Au Privave
Blue Monk
Blues for Alice
Confirmation
Dexterity
Donna Lee
Groovin' High
Lady Bird
Oleo
Ornithology
Scrapple from the Apple
Solar
Straight. No Chaser
Tune-Up
Bossa Nova:
Black Orpheus
Blue Bossa
Ceora
Desafinado
Corcovado
Gentle Rain
The Girl from Ipanema
How Insensitive
Look to the Sky
Meditation
My Little Boat
Once I Loved
Pensativa
The Shadow of Your Smile
Summer Samba
Triste
Wave
CLASSICAL
Classical repertoire is different from jazz in that we need arrangements of the music before we can perform it. Eddie has sheet music for trumpet ensembles of all sizes, from duets to duodectets (12 trumpets).
He also has sheet music for brass trio, brass quartet and brass quintet. For larger ensembles it is common to double or triple the parts. So if you need ten brass, then we would basically hire two of each part in the brass quintet. This is actually a very beautiful sound. Very powerful, too.
Funerals:
Taps
Amazing Grace
Il Silenzio
Various Hymns
Special Requests
Weddings:
Clarke - Trumpet Voluntary
Purcell - Trumpet Voluntary
Mouret - Rondeau
Vivaldi - Water Music
Wagner - Bridal Chorus
Mendelssohn - Wedding March
Charpentier - Te Deum
Bach - Jesu, Joy of Man's Desiring
Shubert - Ave Maria
Bach - Sleepers Awake
Bach - Bist Du Bei Mir (If Thou Art with Me)
Mozart - Ave Verum Corpus
Classical Recital or Concert:
Influences & Inspiration
As a trumpet player, people expect me to say that my influences are famous musicians. For me it doesn't work that way. My greatest influences are people who you probably never heard of before. These are the people I have had the honor and privilege to perform with since I began playing professionally in the 80's.
As a trumpet teacher, I always talk about people who I sat next to on the gigs. My music is a product of the gig culture and that culture is made up of people. I have played literally thousands of gigs in my lifetime and every one of the musicians I worked with had an impact on my musicianship.
Yes, I've performed with more than my share of famous acts. But the influences who made the greatest impact in my music were the people sitting next to me on stage, not the famous artist up front.