Your list is empty.
Save musicians, entertainers, speakers, and services, and they'll appear here.
Free Quick Quote
This vendor provides virtual services
Back to Business Motivational Speakers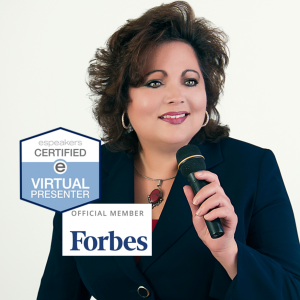 Here Be Dragons!
0
(0 reviews)
Denver, CO
Travels up to 120 miles
Contact for rates
Get a Free Quick Quote
Overview
Does your business give you the joy, excitement, life style, and exceptional income that you desire?
No?
My Dear Intrepid CEO - On your way to your next level of growth, you and your company have entered the land of The Dragons!
Is This You?
1. Climbing the "Stress Mountains" Are you headed for divorce and don't even know it? Heart Attack? Diabetes? Stroke? What do you self-medicate with? Food? Alcohol? Something harder?
2. Drowning in a "Fetid Swamp of Bad Leaders" - Are you making all of the decisions, even closing sales, because no one else can or will?
3. About to be washed away in the "Black Tide of Risk" - Can you afford to have profits drop 22% and productivity 21%?
And so much more!
---
Reviews
Be the first to review Here Be Dragons!
---
Booking Info
Price Range: Contact for rates
Gig Length: 60 - 360 minutes
What to Expect
Hello. I'm Deberah Bringelson. In addition to speaking around the world for the past 25 years, I have hosted dozens of events for thousands of attendees. I understand the difficulty of finding the right speaker. Through those experiences, I learned that some speakers add real value and make events great. Others tell stories that may be amusing, but didn't really do much for attendees.
"Event attendees are clamoring for meaningful content and
value that they can actually use. While a celebrity speaker's old
war stories may be interesting or amusing, do they really
give attendees what they need to go out and do it themselves?"
– Michael T. Denisoff, Denisoff Consulting Group
When I speak, your audience gets clear and valuable takeaways through meaningful content that inspires attendees to create their own success. I deliver my expertise through interactive, multi-learning experiences that activate different parts of the brain and body, more effectively helping participants learn, retain and most importantly utilize what they learn, maximizing the Return On Attendance (ROA) for both attendees and you the host.
Thank you for trusting me.
What You Can Expect From Me
Here is what you can expect from me and my team:
1. Prompt and professional replies to all of your messages.
2. A personal phone consultation with me prior to your event. I want to better understand how I can best serve your audience.
3. A major announcement about your conference on my network. (Assuming your event is open to the public and you want to sell extra seats.)
4. A professionally, innovative, and actionable presentation focused on achieving results for your audience.
5. A custom document page created for your attendees. It will include my slides, along with links to resources I think will be helpful.
6. A follow-up session after the event with me to make sure you are satisfied.
>>> 7. More than a speech - an experience that moves attendees to create real change in their business and life.
My Speaker Reel - https://youtu.be/UijWzMD0Ao0
Every Business Needs Deberah Bringelson - https://youtu.be/TKvbyuUv-IM
Deberah Bringelson Voted Best Speaker - https://youtu.be/zxkxLe3wtLQ
Deberah Bringelson Blew Me Away, I was enthralled - https://youtu.be/yGsbQMKjhf0
Deberah Bringelson Ignites People to Create Their Own Massive Success - https://youtu.be/8XcC10md0WU
In Their Own Words - Real Life Audience and Client Experiences - (link hidden)
Why Quantum Physics to Grow Businesses - https://youtu.be/EG4a--y5Ubw
About
One of the ⭐️Most Profit-Producing⭐️ Business Growth & Empowerment Experts in the World | Forbes Contributor
♦♦"Deberah Bringelson was voted best event speaker!" - Jessica Peterson, Host Ultimate Women's Conference♦♦
♦♦Deberah Bringelson is an amazing speaker, intelligent, entertaining. She blew me away. I was absolutely enthralled. She is everything in one ball of awesomeness!" - Viveka von Rosen, Linked Into Business♦♦
♦♦"The Center For Marine Conservation values Deberah's opinions and work so highly that she has been invited on more than one occasion to speak at the Center's conferences." - Jill Kauffman Center For Marine Conservation♦♦
♦♦"Deberah's Power of 3 training is a unique mix of proven business strategies and smart success tools fueled by ancient laws of manifestation, which she weaves together to help listeners create their own careers, businesses and lives of massive success. Deberah will engage and challenge participants, shaking their core beliefs and leading those who embrace the principles on an incredible journey of self-discovery culminating in their own prosperous future." Joe Roth, International Business Growth Consultant♦♦
I show you how to use Quantum Physics with powerful business strategies to grow your business 100%+ AND have a great life!
★★ Real Verified Results ★★
110% growth - 8 mo. - Discovery Networks
$0 - $67 Mil. - 5 wks. - VoteBash
3,546% growth - 12 months - Zaya

Deberah weaves powerful energy through every presentation, igniting people with excitement so that they leave every event prepared and ready to take action. She is passionately committed to inspiring everyone in the audience to achieve their own massive personal growth and success. She's done it herself and she creates a vision that helps others see themselves doing it too.
She has worked with F100 and 500 CEOs, U.S. Presidents, members of Congress, business titans, like Richard Branson, Tony Robbins, David Packard, Pres Ronald Reagan, Gov Arnold Schwarzenegger and many others.
Deberah is best known for her creative ingenuity and leadership while negotiating the Virgin America deal between Sir Richard Branson and Arnold Schwarzenegger, for which she received the "Steal of the Year" award, for the deal that never should have happened. She is an internationally recognized Business Development and Empowerment Expert
• 3 times "Most Influential Woman In Business"
• Honored by the U.S. Congress
• Honored by the State of California
• Steal of the Year Award
• Women's Hall of Fame
• Increased one company's revenue $602 million / 12 months
• Increased one company's revenue 3,546%
Deberah's clients are empowered to to live their own lives of personal and financial freedom, while at the same time, experiencing explosive results that skyrocket both personal and financial growth. Using Deberah's proven formula, they experience exponential success, combined with a clear understanding that life and business are meant to be easy, abundant, joyful and fun! She has the commitment and expertise to deliver real results, beyond the sale!​
She helps C-Levels and their companies break through the fog of confusion, poor sales, and overwork to increase revenues AND reclaim the time, energy and joy their business has stolen from their life.; taking themselves and their companies to The NEXT LEVEL of personal and business growth. ⭐️More Money! Less Stress! More Fun!⭐️
YOU deserve an incredible, joyful life AND a massively profitable company!
Services Offered
Influences & Inspiration
Tony Robbins
Dr. Joe Dispenza