Your list is empty.
Save musicians, entertainers, speakers, and services, and they'll appear here.
Free Quick Quote
This vendor provides virtual services
Back to Magicians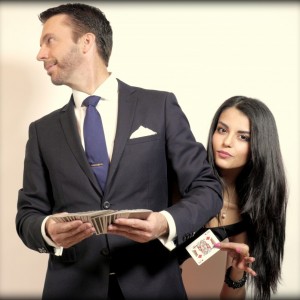 Greg Devereaux
4.93
(59 reviews)
Las Vegas, NV
Travels nationwide
Please contact for details.
Get a Free Quick Quote
Overview
"Expect a lot of 'How did he do that?' moments!"- Las Vegas Review Journal
Why do companies like Universal Pictures, IBM, Hewlett Packard, and Adobe hire
The Magic of Devereaux?
Devereaux brings a fresh take on magic that will guarantee to keep audiences laughing, amazed, and talking about long after the show. From large illusions on the stage to intimate miracles in YOUR hands, this is the experience that will have your event buzzing!
If you are looking for a strong way to promote your organization, he is able to effortlessly incorporate any message or product to make your company/event the star of the program.
Want to make your CEO or VIP appear out of thin air?
---
---
Booking Info
Price Range: Please contact for details.
Gig Length: 30 - 90 minutes
Languages: English, Spanish
About
Magician Greg Devereaux is based out of Las Vegas, Nevada where he performs for corporate events, receptions, cocktail parties, and other venues where only the most exquisite magic and entertainment is required.
Having performed for audiences of 50 to 5,000, Devereaux mixes a blend of astonishment, comedy, music, and audience participation to create a sophisticated presentation designed with the professional audience in mind. If you need walk-around close-up magic while mingling with your guests or a full illusion show on a stage to be seen by everyone at once, Devereaux will rise to exceed your expectations.
Engaging, professional, amazing. Guaranteed.
When you work with Greg Devereaux, you are providing your clientele with a specialist who will make you the star of the event.
​
​​
​
​
​
​
Upcoming Booked Events
January 19, 2022

•

7:30pm - 9:30pm
Corporate Event

June 11, 2022

•

5:00pm - 8:00pm
Wedding Reception
Past Booked Events
December 02, 2021

•

6:00pm - 7:00pm
Dinner Party

November 27, 2021

•

7:00pm - 7:15pm
Surprise

October 15, 2021

•

7:00pm - 7:45pm
Dinner Party

October 05, 2021

•

7:00pm - 9:00pm
Corporate Event

September 25, 2021

•

7:30pm - 8:30pm
Birthday Party

September 11, 2021

•

7:30pm - 7:45pm
Wedding Engagement

September 11, 2021

•

7:00pm - 7:30pm
Birthday Party

September 09, 2021

•

4:00pm - 7:00pm
Convention/Trade Show

September 03, 2021

•

10:00pm - 11:00pm
Birthday Party

August 20, 2021

•

7:00pm - 9:30pm
Festival

July 16, 2021

•

7:00pm - 8:00pm
Bachelorette Party

June 08, 2021

•

12:00pm - 2:00pm
Corporate Event

June 05, 2021

•

7:00pm - 7:30pm
Birthday Party

May 08, 2021

•

9:00pm - 10:30pm
Wedding Reception

January 09, 2021

•

7:00pm - 9:00pm
Dinner Party

August 07, 2020

•

8:00pm - 9:00pm
Birthday Party

June 11, 2020

•

5:00pm - 5:30pm
Surprise

February 24, 2020

•

5:00pm - 5:30pm
Corporate Event

February 12, 2020

•

6:30pm - 8:30pm
Dinner Party

January 19, 2020

•

12:00pm - 1:00pm
Retirement Party

December 12, 2019

•

4:00pm - 5:30pm
Dinner Party

November 06, 2019

•

8:00pm - 9:30pm
Dinner Party

November 04, 2019

•

6:00pm - 8:00pm
Dinner Party

November 02, 2019

•

3:00pm - 3:45pm
Birthday Party

November 01, 2019

•

7:00pm - 8:00pm
Rehearsal Dinner

July 28, 2019

•

7:00pm - 10:00pm
Cocktail Party

May 26, 2019

•

6:00pm - 7:00pm
Birthday Party

April 24, 2019

•

7:00pm - 8:00pm
Camp Event

March 22, 2019

•

7:30pm - 8:30pm
Cocktail Party

March 04, 2019

•

7:30pm - 9:30pm
Corporate Event

January 30, 2019

•

8:00pm - 11:00pm
Corporate Event

January 23, 2019

•

7:30pm - 11:00pm
Corporate Event

January 22, 2019

•

7:00pm - 9:00pm
Corporate Event

January 14, 2019

•

7:30pm - 8:30pm
Dinner Party

December 25, 2018

•

2:30pm - 3:30pm
Christmas Party

November 28, 2018

•

8:00pm - 10:00pm
Cocktail Party

November 13, 2018

•

7:30pm - 9:30pm
Cocktail Party

September 13, 2018

•

5:30pm - 7:30pm
Corporate Event

September 13, 2018

•

2:00pm - 4:00pm
Convention/Trade Show

June 28, 2018

•

9:00am - 9:15am
Corporate Event

May 12, 2018

•

6:00pm - 8:30pm
Wedding Reception

May 03, 2018

•

8:00pm - 9:30pm
Cocktail Party

April 19, 2018

•

6:00pm - 7:00pm
Corporate Event

April 18, 2018

•

3:00pm - 6:00pm
Convention/Trade Show

April 08, 2018

•

6:00pm - 8:00pm
Anniversary Party

April 07, 2018

•

1:00pm - 1:45pm
Children's Birthday Party

March 05, 2018

•

8:00pm - 10:00pm
Corporate Event

February 23, 2018

•

7:30pm - 9:30pm
Corporate Event

February 14, 2018

•

6:30pm - 8:00pm
Cocktail Party

February 12, 2018

•

6:00pm - 6:15pm
Wedding Engagement

January 07, 2018

•

11:00am - 3:00pm
Convention/Trade Show

December 13, 2017

•

8:00pm - 10:00pm
Corporate Event

December 08, 2017

•

7:00am - 11:30am
Convention/Trade Show

November 16, 2017

•

8:00pm - 9:00pm
Corporate Event

November 13, 2017

•

4:00pm - 7:00pm
Convention/Trade Show

November 08, 2017

•

8:00pm - 9:00pm
Corporate Event

November 08, 2017

•

12:00pm - 12:45pm
Convention/Trade Show

November 04, 2017

•

12:00pm - 2:00pm
Birthday (Adult)

October 29, 2017

•

6:00pm - 6:30pm
Corporate Event

October 17, 2017

•

8:00pm - 10:00pm
Corporate Event

September 10, 2017

•

4:30pm - 5:30pm
Dinner Party

May 14, 2017

•

10:00am - 10:30am
Surprise

April 23, 2017

•

7:00pm - 7:30pm
Corporate Event

April 07, 2017

•

6:30pm - 8:00pm
Anniversary Party

March 13, 2017

•

9:00pm - 9:45pm
Wedding Reception

March 08, 2017

•

6:00pm - 8:00pm
Corporate Event

January 18, 2017

•

6:00pm - 8:30pm
Nightclub Event

December 25, 2016

•

1:30pm - 2:15pm
Holiday Party (Christmas)

November 24, 2016

•

6:00pm - 6:45pm
Birthday (Adult)

October 25, 2016

•

6:30pm - 8:30pm
Convention/Trade Show

September 21, 2016

•

7:00pm - 7:45pm
Cocktail Party

September 18, 2016

•

8:30pm - 9:30pm
Corporate Event

September 08, 2016

•

7:30pm - 7:45pm
Wedding Engagement

May 14, 2016

Graduation

April 30, 2016

•

5:00pm - 5:15pm
Wedding Engagement

April 26, 2016

Convention/Trade Show

April 07, 2016

Corporate Event

March 18, 2016

Corporate Event

March 01, 2016

Convention/Trade Show

January 12, 2016

Nonprofit Event

December 31, 2015

Holiday Party (New Year)

November 11, 2015

Corporate Event

August 08, 2015

Wedding Reception

May 26, 2015

Corporate Event