Your list is empty.
Save musicians, entertainers, speakers, and services, and they'll appear here.
Free Quick Quote
This vendor provides virtual services
Back to Magicians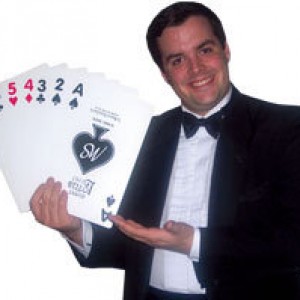 Great Scott Productions
4.89
(42 reviews)
Rockland, MA
Travels up to 60 miles
$100 and UP
Get a Free Quick Quote
Overview
I'm a Magician, Balloon Twister, Puppeteer, Clown, and Character Actor. For my Magic Shows I do Card Tricks, Slight of Hand, Mental effects and even some Magic tricks with no props. I have a Kid's Farm show called, "Fred the Farmer" that includes farm themed magic and barnyard animal puppets. I also can play the following characters, Santa Claus, Easter Bunny, Uncle Sam, Batman, Robin, Darth Vader and Yoda.
---
---
Booking Info
Gig Length: 40 - 70 minutes
What to Expect
A fun time of Amazement and lots of Audience Participation.
About
Scott Galbraith is originally from Massachusetts and has been performing in one way shape or form for over 25 years. He started doing magic when he was six, and now he regularly performs all over the Boston area. He recently finished up an 8 year run as the Kid's entertainer for a McDonald's owner. He appeared in 5 locations regularly and helped make customers smile. He can perform for any age group. Mixed groups of kids and adults together have always been his forte. He is perfect for family fun nights and other events like that.
Additional Booking Notes
Scott brings his magic show in a bag ready to set up anywhere
Upcoming Booked Events
June 25, 2022

•

6:00pm - 8:00pm
Nonprofit Event
Past Booked Events
April 09, 2022

•

8:00pm - 9:00pm
Cocktail Party

December 24, 2021

•

12:00pm - 12:15pm
Surprise

December 16, 2021

•

5:00pm - 6:00pm
Birthday Party

November 14, 2021

•

2:00pm - 2:30pm
Children's Birthday Party

November 06, 2021

•

4:00pm - 5:00pm
Children's Birthday Party

November 03, 2021

•

12:30pm - 1:15pm
Nonprofit Event

October 19, 2021

•

2:30pm - 3:30pm
Personal Occasion

August 21, 2021

•

4:00pm - 4:15pm
Birthday Party

July 24, 2021

•

1:00pm - 1:45pm
Children's Birthday Party

July 18, 2021

•

5:00pm - 5:15pm
Birthday Party

July 17, 2021

•

4:00pm - 5:00pm
Festival

June 20, 2021

•

12:00pm - 1:30pm
Children's Birthday Party

June 11, 2021

•

11:00am - 11:30am
Birthday Party

June 06, 2021

•

12:30pm - 1:00pm
Children's Birthday Party

May 29, 2021

•

12:00pm - 2:00pm
Grand Opening

May 15, 2021

•

5:00pm - 5:15pm
Birthday Party

May 14, 2021

•

7:30pm - 7:45pm
Birthday Party

May 08, 2021

•

7:00pm - 7:15pm
Birthday Party

April 22, 2021

•

5:30pm - 6:00pm
Corporate Event

March 26, 2021

•

6:00pm - 6:45pm
Children's Birthday Party

March 06, 2021

•

2:00pm - 3:00pm
Children's Birthday Party

February 20, 2021

•

3:30pm - 4:00pm
Children's Birthday Party

February 14, 2021

•

6:00pm - 6:15pm
Holiday Party

December 19, 2020

•

5:00pm - 5:45pm
Children's Birthday Party

October 23, 2020

•

8:00pm - 8:15pm
Birthday Party

September 24, 2020

•

10:30am - 10:45am
Personal Occasion

September 19, 2020

•

1:30pm - 2:00pm
Children's Birthday Party

August 01, 2020

•

2:00pm - 3:00pm
Children's Birthday Party

March 07, 2020

•

5:00pm - 8:00pm
Birthday Party

February 10, 2020

•

11:00am - 11:15am
Personal Occasion

January 05, 2020

•

12:00pm - 12:30pm
Children's Birthday Party

December 27, 2019

•

6:30pm - 7:00pm
House Party

December 24, 2019

•

12:30pm - 12:45pm
Birthday Party

October 26, 2019

•

4:00pm - 5:00pm
Children's Birthday Party

October 06, 2019

•

7:30pm - 7:45pm
Birthday Party

September 21, 2019

•

3:00pm - 4:00pm
Children's Birthday Party

July 08, 2019

•

1:30pm - 2:30pm
Nonprofit Event

June 01, 2019

•

4:30pm - 5:30pm
Children's Birthday Party

May 04, 2019

•

3:30pm - 4:30pm
Personal Occasion

March 23, 2019

•

3:30pm - 4:30pm
Children's Birthday Party

March 06, 2019

•

12:30pm - 12:45pm
Birthday Party

January 13, 2019

•

1:30pm - 2:30pm
Children's Birthday Party

October 31, 2018

•

4:00pm - 5:00pm
Halloween Party

October 01, 2018

•

4:00pm - 4:15pm
Birthday Party

September 22, 2018

•

10:00am - 11:00am
Children's Birthday Party

August 11, 2018

•

12:00pm - 12:45pm
Children's Birthday Party

August 04, 2018

•

6:00pm - 7:30pm
Birthday Party

August 02, 2018

•

7:00pm - 8:00pm
Camp Event

July 26, 2018

•

1:00pm - 2:30pm
Camp Event

July 12, 2018

•

6:00pm - 7:00pm
Children's Birthday Party

July 03, 2018

•

5:30pm - 7:30pm
Holiday Party

May 27, 2018

•

5:00pm - 6:30pm
Children's Birthday Party

April 16, 2018

•

12:00pm - 1:00pm
Nonprofit Event

April 13, 2018

•

1:00pm - 1:15pm
Birthday Party

March 12, 2018

•

12:00pm - 12:15pm
Anniversary Party

March 03, 2018

•

7:30pm - 7:45pm
Birthday Party

March 03, 2018

•

4:00pm - 5:30pm
Children's Birthday Party

January 06, 2018

•

12:00pm - 12:45pm
Children's Birthday Party

December 26, 2017

•

11:00am - 12:00pm
Nonprofit Event

December 17, 2017

•

4:30pm - 4:45pm
Birthday Party

December 09, 2017

•

2:00pm - 2:30pm
Christmas Party

November 08, 2017

•

12:00pm - 12:15pm
Birthday Party

November 07, 2017

•

3:30pm - 3:45pm
Birthday Party

October 05, 2017

•

1:30pm - 1:45pm
Surprise

September 09, 2017

•

3:00pm - 4:00pm
Festival

September 03, 2017

•

2:00pm - 3:00pm
Birthday (Child)

August 02, 2017

•

1:00pm - 2:30pm
School Assembly

July 29, 2017

•

2:00pm - 2:30pm
Birthday (Child)

June 06, 2017

•

10:00am - 10:30am
Personal Occasion

June 03, 2017

•

10:30pm - 10:45pm
Birthday (Adult)

April 08, 2017

•

1:00pm - 2:30pm
Birthday (Child)

February 14, 2017

•

1:00pm - 1:15pm
Holiday Party (Other)

February 03, 2017

•

4:00pm - 4:15pm
Surprise

April 10, 2016

•

12:00pm - 3:00pm
Nonprofit Event

April 02, 2016

•

11:00am - 1:00pm
Birthday (Child)

January 23, 2016

Birthday (Child)

December 31, 2015

Nonprofit Event

December 12, 2015

Holiday Party (Christmas)

November 14, 2015

Birthday (Child)

October 20, 2015

Birthday (Adult)

October 10, 2015

Birthday (Child)

September 12, 2015

Birthday (Child)

August 01, 2015

Birthday (Child)
Influences & Inspiration
Slight of hand Skill of David Blaine, Personality of The Great Balantine