Your list is empty.
Save musicians, entertainers, speakers, and services, and they'll appear here.
Free Quick Quote
This vendor provides virtual services
Back to Cover Bands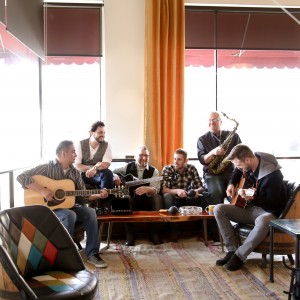 Great Scott!
5.0
(3 reviews)
Grand Rapids, MI
Travels up to 200 miles
Contact for rates
Get a Free Quick Quote
Overview
Great Scott is the hottest cover band in the Midwest, playing the best of the 50's to the new millennium. We can accommodate any budget, from solo keyboard to a full 6-piece band with keyboards, guitars, bass, drums, and sax. With over 20 years of experience, you can rest assured your party will be in excellent hands with the highest quality talent and equipment.
• Up to a 3-hour show, or 4 hours with a 15-20 minute break
• High-def sound system, capable of covering up to 1,000 people
• LED stage lighting system
• Emcee services available with a wireless microphone for announcements
• Cocktail ambient music on mp3 player available
• Casual to formal tuxedo attire available
---
3 Reviews

Scott N.
•
May 9, 2017
Great Scott played for my wife's 50th birthday party at the Amway Grand. We had 75 guests that had a fabulous time. Joe is a musical genius, and kept everyone dancing for 3 hours straight. This is your guy, this is your band, if you are looking for top shelf quality in all aspects of hiring the band and performance. Thanks Joe, you made our event an absolute blast!
Hired as:
Classic Rock Band, Dance Band, Party Band, Rock Band

Verified Review
Brandon P.
•
August 31, 2020
This band was everything you want in a band for your event. Great communication before hand, very professional, and a blast to have at the party. Joe knows how to interact very well with the audience, and the music was AWESOME. They even did a few country covers, and sounded great. Overall, everyone in my neighborhood was asking who the band was because they gave us a rocking party that had everyone dancing by the end of the night!
Hired as:
Party Band, Cover Band

Dawn L.
•
May 22, 2011
We could (and did!) have danced all night! Great band! How do we see where they are playing next??
---
Booking Info
Price Range: Contact for rates
What to Expect
Great Scott is the perfect band for any event looking to have guests up on their feet, dancing and singing along to the greatest songs from the 1950's to the new hits of today. The band's ability to read a room full of people and play the best song at the perfect time makes them stand out against other cover bands. With line up options varying from solo keyboard to a full 6-piece band featuring keyboards, guitars, bass, drums, and saxophone, Great Scott can suit any budget, and can entertain in intimate settings, as well as large venues capable of hosting hundreds of guests.
Upcoming Booked Events
October 23, 2021

•

6:30pm - 11:30pm
Wedding Reception
Past Booked Events
January 09, 2021

•

8:00pm - 11:00pm
Birthday Party

September 04, 2020

•

6:00pm - 11:30pm
Wedding Reception

August 29, 2020

•

7:30pm - 10:00pm
Birthday Party

December 31, 2017–January 01, 2018

•

9:00pm - 1:00am
Wedding Reception

December 20, 2017–December 21, 2017

•

12:00am - 12:00am
NOT AVAILABLE

December 12, 2017–December 13, 2017

•

12:00am - 12:00am
NOT AVAILABLE

December 09, 2017–December 10, 2017

•

9:00pm - 12:00am
Country Club Member Party

December 08, 2017

•

7:30pm - 10:30pm
Corporate Party

December 01, 2017–December 02, 2017

•

8:30pm - 12:00am
Corporate Party

November 25, 2017

•

6:45pm - 10:45pm
Wedding Reception

November 23, 2017–November 25, 2017

•

12:00am - 12:00am
NOT AVAILABLE

November 18, 2017

•

8:30pm - 11:30pm
Public Appearance

November 17, 2017

•

8:00pm - 11:00pm
Fundraiser

November 13, 2017

•

7:00pm - 10:00pm
Corporate Party

November 11, 2017

•

8:00pm - 11:00pm
College Performance

November 10, 2017

•

8:00pm - 11:00pm
Public Appearance

November 04, 2017

•

8:00pm - 11:00pm
Fundraiser

November 03, 2017

•

8:30pm - 11:30pm
Public Appearance

November 01, 2017

•

7:30pm - 10:30pm
Corporate Party

October 28, 2017–October 29, 2017

•

8:00pm - 12:00am
Wedding Reception

October 27, 2017

•

8:30pm - 11:30pm
Wedding Reception

October 25, 2017

•

5:00pm - 9:00pm
Public Appearance

October 21, 2017–October 22, 2017

•

8:00pm - 12:00am
Wedding Reception

October 20, 2017

•

7:30pm - 10:30pm
Country Club Member Party

October 19, 2017

•

7:00pm - 9:00pm
Corporate Party

October 18, 2017

•

5:00pm - 9:00pm
Public Appearance

October 14, 2017–October 15, 2017

•

8:00pm - 12:00am
Wedding Reception

October 07, 2017

•

7:30pm - 11:00pm
Wedding Reception

September 30, 2017

•

7:00pm - 11:00pm
Wedding Reception

September 26, 2017

•

7:15pm - 9:00pm
Corporate Party

September 24, 2017

•

6:00pm - 10:00pm
Public Appearance

September 23, 2017–September 24, 2017

•

8:00pm - 12:00am
Wedding Reception

September 22, 2017

•

7:30pm - 10:30pm
College Performance

September 21, 2017

•

8:30pm - 11:30pm
Public Appearance

September 19, 2017

•

7:15pm - 9:00pm
Corporate Party

September 16, 2017

•

7:00pm - 11:00pm
Wedding Reception

September 15, 2017

•

7:30pm - 11:30pm
Wedding Reception

September 10, 2017

•

7:00pm - 10:00pm
Corporate Party

September 09, 2017

•

6:00pm - 10:00pm
Wedding Reception

September 03, 2017

•

5:00pm - 11:00pm
Wedding Reception

September 03, 2017

•

2:00pm - 4:00pm
House Party

August 30, 2017

•

6:00pm - 9:00pm
Public Appearance

August 26, 2017–August 27, 2017

•

8:00pm - 12:00am
Wedding Reception

August 22, 2017

•

5:45pm - 6:30pm
Public Appearance

August 20, 2017

•

6:00pm - 10:00pm
Public Appearance

August 19, 2017

•

8:00pm - 10:30pm
Public Appearance

August 18, 2017

•

7:00pm - 11:00pm
Wedding Reception

August 17, 2017

•

8:30pm - 11:30pm
Public Appearance

August 16, 2017

•

6:00pm - 8:00pm
Fundraiser

August 15, 2017

•

6:00pm - 10:00pm
Public Appearance

August 12, 2017

•

7:00pm - 10:30pm
Wedding Reception

August 11, 2017

•

4:30pm - 11:00pm
Wedding Reception

August 05, 2017

•

7:30pm - 11:45pm
Wedding Reception

August 04, 2017–August 05, 2017

•

9:00pm - 1:00am
Public Appearance

August 01, 2017

•

6:30pm - 8:00pm
Public Appearance

July 29, 2017

•

7:00pm - 11:00pm
Wedding Reception

July 28, 2017

•

7:00pm - 10:00pm
Country Club Member Party

July 27, 2017

•

5:00pm - 7:45pm
Public Appearance

July 23, 2017

•

7:00pm - 10:00pm
Wedding Reception

July 22, 2017

•

8:00pm - 11:00pm
Wedding Reception

July 21, 2017

•

6:30pm - 9:00pm
Public Appearance

July 15, 2017

•

7:00pm - 10:00pm
Wedding Reception

July 14, 2017

•

7:30pm - 11:30pm
Public Appearance

July 13, 2017

•

6:00pm - 9:00pm
Public Appearance

July 08, 2017

•

8:00pm - 11:00pm
Wedding Reception

July 07, 2017

•

8:30pm - 11:30pm
Public Appearance

July 04, 2017

•

6:00pm - 10:00pm
Public Appearance

July 01, 2017

•

6:00pm - 9:00pm
Wedding Reception

June 30, 2017

•

6:00pm - 10:00pm
Public Appearance

June 29, 2017

•

6:30pm - 8:30pm
Public Appearance

June 26, 2017

•

6:00pm - 10:00pm
Public Appearance

June 25, 2017

•

6:00pm - 10:00pm
Public Appearance

June 24, 2017

•

7:00pm - 11:00pm
Wedding Reception

June 23, 2017

•

7:00pm - 11:00pm
Wedding Reception

June 19, 2017

•

7:30pm - 9:30pm
Corporate

June 17, 2017

•

7:30pm - 11:00pm
Wedding Reception

June 16, 2017

•

7:00pm - 10:00pm
Country Club Member Party

June 15, 2017–June 16, 2017

•

12:00am - 12:00am
NOT AVAILABLE

June 12, 2017–June 13, 2017

•

12:00am - 12:00am
NOT AVAILABL

June 11, 2017

•

5:00pm - 8:00pm
Anniversary Party

June 10, 2017–June 11, 2017

•

9:00pm - 1:00am
Public Appearance

June 09, 2017

•

7:00pm - 11:00pm
Wedding Reception

June 08, 2017

•

8:30pm - 11:30pm
Public Appearance

June 03, 2017–June 06, 2017

•

12:00am - 12:00am
NOT AVAILABLE

June 02, 2017

•

7:30pm - 10:30pm
Fundraiser

June 01, 2017

•

6:00pm - 10:00pm
Public Appearance

May 23, 2017–June 01, 2017

•

12:00am - 12:00am
NOT AVAILABLE

May 22, 2017

•

6:00pm - 10:00pm
Public Appearance

May 20, 2017–May 21, 2017

•

8:00pm - 12:00am
Wedding Reception

May 19, 2017

•

7:00pm - 11:00pm
Public Appearance

May 14, 2017–May 19, 2017

•

12:00am - 12:00am
NOT AVA

May 13, 2017–May 14, 2017

•

8:00pm - 12:00am
Wedding Reception

May 13, 2017

•

7:00am - 1:30pm
Public Appearance

May 12, 2017

•

7:00pm - 11:00pm
Public Appearance

May 07, 2017–May 08, 2017

•

12:00am - 12:00am
NOT AVAILABLE

May 06, 2017

•

8:00pm - 11:00pm
Birthday Party

May 05, 2017

•

7:30pm - 10:40pm
Fundraiser

April 29, 2017

•

7:30pm - 11:30pm
Wedding Reception

April 28, 2017

•

10:00am - 11:00am
History of Rock N Roll Show

April 24, 2017

•

5:00pm - 8:00pm
Public Appearance

April 23, 2017

•

8:00am - 1:30pm
Public Appearance

April 22, 2017

•

7:00pm - 8:30pm
Fundraiser

April 21, 2017

•

8:00pm - 11:00pm
Fundraiser
Set List
3am - Matchbox Twenty
500 Miles - The Proclaimers
Absolutely (Story of a Girl) - Nine Days
Africa - Toto
All About That Bass - Meghan Trainor
All For You - Sister Hazel
All Of Me - John Legend
All Summer Long - Kid Rock
All the Small Things - Blink 182
American Pie - Don McLean
Animal - Neon Trees
Ants Marching - Dave Matthews Band
Any Way You Want It - Journey
Are You Gonna Be My Girl - Jet
Bad Bad Leroy Brown - Jim Croce
Bad Moon Risin' - Creedence Clearwater Revival
Bennie & the Jets - Elton John
Best Day of My Life - American Authors
Better Man - Pearl Jam
Billie Jean - Michael Jackson
Blister in the Sun - Violent Femmes
Blue Suede Shoes - Carl Perkins
Blurred Lines - Robin Thicke
Born to Run - Bruce Springsteen
Breakfast at Tiffany's - Deep Blue Something
Brown Eyed Girl - Van Morrison
Build Me Up Buttercup - The Foundations
Cake By the Ocean - DNCE
Call Me Maybe - Carly Rae Jepson
Can't Stop the Feeling - Justin Timberlake
Carry On - fun.
Centerfield - John Fogerty
Chicken Fried - Zac Brown Band
Closing Time - Semisonic
Come On Eileen - Dexy's Midnight Runners
Come Sail Away - Styx
Comfortably Numb - Pink Floyd
Crazy - Gnarls Barkley
Crazy Little Thing Called Love - Queen
Creep - Radiohead
Crocodile Rock - Elton John
Dance Dance - Fall Out Boy
Devil with a Blue Dress - Mitch Ryder
Do You Love Me - The Contours
Dock of the Bay - Otis Redding
Don't Stop Believing - Journey
Don't Wanna Know - Maroon 5
Drive By - Train
Dynamite - Taio Cruz
Every Little Thing She Does - The Police
Every Morning - Sugar Ray
Everything - Michael Bublé
Faithfully - Journey
Fire Burning - Sean Kingston
Folsom Prison Blues - Johnny Cash
Footloose - Kenny Loggins
Forever - Chris Brown
Forget You - Cee Lo Green
Free Fallin' - Tom Petty
Friends In Low Places - Garth Brooks
Fun Fun Fun - Beach Boys
Get Lucky - Daft Punk
Gimme Some Lovin' - Spencer Davis Group
Gimme Three Steps - Lynyrd Skynyrd
Gives You Hell - All American Rejects
Glory Days - Bruce Springsteen
Good Golly Miss Molly - Little Richard
Good Lovin' - The Young Rascals
Gravity - John Mayer
Great Balls of Fire - Jerry Lee Lewis
Hallelujah - Leonard Cohen
Hang On Sloopy - The McCoys
Happy - Pharell Williams
Hard to Handle - Black Crows
Here I Go Again - Whitesnake
Hey Baby - Bruce Channel
Hey Jealousy - Gin Blossoms
Hey Jude - The Beatles
Hey Ya - Outkast
Home - Michael Bublé
Honey I'm Good - Andy Grammar
Honky Tonk Women - The Rolling Stones
Hotel California - The Eagles
How Sweet It Is - James Taylor
Hurt So Good - John Mellencamp
I Believe in a Thing Called Love - The Darkness
I Got a Feeling - Black Eyed Peas
I Guess That's Why They Call It the Blues - Elton John
I Just Haven't Met You Yet - Michael Bublé
I Saw Her Standing There - The Beatles
I Want It That Way - Backstreet Boys
I Want To Hold Your Hand - The Beatles
I Will Survive - Gloria Gaynor
Ignition (Remix) - R. Kelly
I'm a Believer - The Monkees
I'm Yours - Jason Mraz
In the Air Tonight - Phil Collins
In Your Eyes - Peter Gabriel
Inside Out - Eve 6
Interstate Love Song - Stone Temple Pilots
Jessie's Girl - Rick Springfield
Johnny B Goode - Chuck Berry
Jump - Van Halen
Jumper - Third Eye Blind
Just the Way You Are - Bruno Mars
Keep Your Hands to Yourself - Georgia Satellites
Kiss - Prince
La Bamba - Richie Valens
Laid - James
Land Down Under - Men at Work
Learn to Fly - Foo Fighters
Let It Be - The Beatles
Let It Go - idina Menzel
Let's Twist Again - Chubby Checker
Levon - Elton John
Lights - Journey
Listen to the Music - Doobie Brothers
Livin' On a Prayer - Bon Jovi
Locked Out of Heaven - Bruno Mars
Love Shack - B-52's
Love Yourself - Justin Bieber
Lovin' Touchin' Squeezin' - Journey
Mack the Knife - Bobby Darin
Mainstreet - Bob Seger
Man in the Mirror - Michael Jackson
Mary Jane's Last Dance - Tom Petty
Maybe I'm Amazed - Paul McCartney
More Than a Feeling - Boston
Move Along - All American Rejects
Mr. Brightside - The Killers
Mr. Jones - Counting Crows
Mustang Sally - Wilson Pickett
My Girl - The Temptations
No Rain - Blind Melon
Oh What a Night - The Four Seasons
Old Time Rock & Roll - Bob Seger
Only the Good Die Young - Billy Joel
Paralyzer - Finger Eleven
Party in the USA - Miley Cyrus
Perfect - One Direction
Piano Man - Billy Joel
Pink Houses - John Mellencamp
Play That Funky Music - Wild Cherry
Pour Some Sugar On Me - Def Leppard
Purple Rain - Prince
Push - Matchbox Twenty
Roadhouse Blues - The Doors
Rock Around the Clock - Bill Haley and his Comets
Rockin' Robin - Bobby Darin
Roll with the Changes - REO Speedwagon
Rude - Magic
Run-Around - Blues Traveler
Runaround Sue - Dion
Runaway - Del Shannon
Running on Empty - Jackson Browne
Santeria - Sublime
Say It Ain't So - Weezer
Scenes From an Italian Restaurant - Billy Joel
September - Earth, Wind, & Fire
Shake It Off - Taylor Swift
Shake Rattle & Roll - Bill Haley and his Comets
She Will Be Loved - Maroon 5
Shout - The Isley Brothers
Shut Up & Dance - Walk the Moon
Sister Christian - Night Ranger
Slide - Goo Goo Dolls
Smells Like Teen Spirit - Nirvana
Stacy's Mom - Fountains of Wayne
Stand By Me - Ben E King
Start Me Up - The Rolling Stones
Summer of '69 - Bryan Adams
Surfin' USA - Beach Boys
Sweet Caroline - Neil Diamond
Sweet Child O' Mine - Guns N Roses
Sweet Home Alabama - Lynyrd Skynyrd
Take It Easy - The Eagles
Take On Me - ah-ha
The Boys of Summer - Don Henley
The Joker - Steve Miller Band
The Middle - Jimmy Eat World
The Twist - Chubby Checker
The Way It Is - Bruce Hornsby & The Range
The Way You Look Tonight - Frank Sinatra
The Way You Make Me Feel - Michael Jackson
Ticket To Ride - The Beatles
Tiny Dancer - Elton John
Turn the Page - Bob Seger
Twist & Shout - The Beatles
Two Princes - Spin Doctors
Unchained Melody - The Righteous Brothers
Uptown Funk - Mark Ronson ft. Bruno Mars
Use Somebody - Kings of Leon
Wagon Wheel - Old Crow Medicine Show
Waiting on the World to Change - John Mayer
Walking in Memphis - Marc Cohn
What I Got - Sublime
What I Like About You - The Romantics
What's Up - 4 Non-Blondes
When I Come Around - Green Day
Whole Lotta Shakin' - Jerry Lee Lewis
Wild Night - Van Morrison
Wonderful Tonight - Eric Clapton
Yeah - Usher
You May Be Right - Billy Joel
You Shook Me All Nite Long - AC/DC
Your Love - The Outfield
Your Song - Elton John